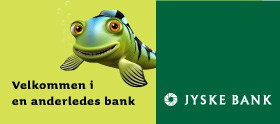 Dänemarks vielleicht größter Bankenskandal während der Eskalation. Neuer dänischer Bankenskandal, der vom Kunden selbst untersucht wird, während andere Anwälte und Banken sich nur um die Kleinigkeit kümmern. Und dieses Mal geht es nicht um Geldwäsche, für die die dänischen Banken bereits bekannt sind. Diesmal ist es eine falsche und betrügerische Angelegenheit bei Dänemarks zweitgrößter Bank, der Jyske Bank. In diesem Fall sind die dänischen Anwälte Lundgrens zutiefst in die Angelegenheit verwickelt, dass die gegen die Jyske Bank erhobene Anschuldigung von Betrug und falschem Dokument dem Gericht nicht vorgelegt wurde, bevor der Mandant selbst im Oktober Beweise und Anschuldigungen vor Gericht vorlegen musste 28. Und warum der Betrug der Jyske Bank gegen ihren kleinen Kunden nach 11 Jahren Betrug noch nicht gestoppt wurde. Was denken Lundgrens über unsere Anschuldigungen und Beweise gegen Jyske Bank über die Betrugsverfolgung? Dan Terkildsen sagte am 13. August, dass der Vorstand der Jyske Bank sich an nichts schuldig gemacht habe. Lundgrens haben keinen Kommentar zu unseren Behauptungen. ? Das ist sehr seltsam WARUM ?. Vor einem Monat, nachdem er bei Lundgrens entdeckt wurde, arbeitet er für die Jyske Bank und arbeitet mindestens seit April 2018 für die Angeklagte Jyskebank Dan Terkelsen ließ seinen Mandanten glauben, dass Lundgrens sein Anwalt war. Gleichzeitig erhielten Lundgrens Anwälte eine Million Honorare, um für die Jyske Bank zu arbeiten. Es ist sehr wahrscheinlich, dass die Jyske Bank Lundgrens bestochen hat, sich vor Gericht zu treffen, ohne die Forderungen des Kunden gegen die Jyske Bank einzureichen, um den Fall zu verlieren. Möchten Sie dem CEO der Konzernleitung Anders Dam mitteilen, dass wir uns nicht täuschen lassen wollen? Wir wollen uns nur mit dem Präsidenten Anders Christian Dam treffen und als Erwachsene miteinander reden, weil dies nicht der Weg ist, um ein faires Bankgeschäft zu betreiben. Und wir haben kein Interesse daran, etwas Unwahres zu schreiben. Die Frage vor Gericht ist, ob wir Recht haben und beweisen können, dass wir Recht haben. Was bedeutet Lundgrens? das hast du uns nie gesagt. Fühlen Sie sich frei, einen Kommentar auf Facebook, Twitter für Updates zu hinterlassen. Bitte rufen Sie uns an unter +45 22 22 77 13 wenn Sie weitere Informationen benötigen. Sehen Sie mehr bei banknyt Link www.BANKNYT.dk Die Verfolgung BS-402/2015-VIB Dies ist nur ein Aufruf zum Dialog, als wir im Mai 2016 das erste Mal das gesamte Board der Jyske Bank angeschrieben haben. Beste Grüße von Storbjerg Geschäft Soevej 5 3100 Hornbaek
---
And wants Jyske Bank's group management to admit that we are exposed to fraud, and the Board has been aware of this fraud and false at least since May 2016.
Lundgren's attorneys must be visually impaired and more blind than their client.
or even Jyske Bank A/S paid Jyske Bank many millions in return commission, to help cover Jyske Bank's fraud and false  and disappoint in residual conditions.
5479 – 4563376 Nykredit
IBAN DK0854790004563376.
Help us stop the criminal Danish banks.
HJÆLP MIG I AT SAGSØGE JYSKE BANK for Bedrageri, falsk svig
Just see the letter of September 1, 2019. to Lundgren's lawyers with clear instructions that the case is a fraud, and we claim that 
Appendix 
1.
a swap from 16-07-2008 is false.
And we will summon 9 witnesses.
Compare the Prosecution 2. which Lundgrens submits to the court on September 2, 2019,
And will share some copies with the client. Lundgrens writes in Prosecution 2.
Nothing that the case is presented with allegations of fraud and false.
Lundgrens has removed 7 of the client's 9th witnesses.
Lundgrens change the client's claim that Appendix 1. is false, that Appendix 1. the swap is agreed.