We already know that the Jyske Bank Group, together with their lawyers, in Lund Elmer Sandager, is constantly lying, although the Board member Philip Baruch, against the court, Jyske Bank strongly denies the fact, that Jyske Bank should have bribed Lundgren's lawyers, we give nothing for that. But remember that as a partner and shareholders in Jyske Bank, you must know that Jyske Bank's top group management is very likely to be responsible for bribery, fraud, and support that Jyske Bank is lying to the court, to disappoint in legal matters.
---
Remember that Lundgren's lawyers must be corrupt
Since what we write and ask Lundgren to present here September 1, 2019.
And like Lundgrens,

the day after September 2, 2019, is Lundgrens presented a chase as is 100% against the client's instructions

02-09-2019  4/5
See the letter and mail of September 1 and what Lundgrens presents to the court on September 2. and without wanting to share a copy with their client.
It must be Denmark's biggest bribery case, where Denmark's next largest bank Jyske Bank A/S has bribed Lundgren's lawyers to counter their client in order to disappoint in legal matters.
Or do the Danish Bank Jyske Bank A/S and Lundgrens have another explanation, then we would like it so that we can share it.
We do not want to accuse Lundgren's lawyers of being a corrupt law firm.
We either want or accuse Jyske Bank A/S of being a criminal.
And we will not at all accuse Jyske Bank A/S of using bribes to prevent Lundgrens from presenting our allegations against Jyske Bank for false and fraud.
Now remember that conversation promotes the understanding of Anders Christian Dam If Jyske Bank has not bribed Lundgren's "hidden as Return Commission" for Lundgrens, not to present their client's fraud allegations against Jyske bank.
Then this entry in the journal banking news should of course be corrected.
This is just one example of the many times Lundgrens since February 5, 2018 And until Lundgrens was fired on September 25, 2019.
Where Lundgrens has, at its most serious, opposed the law, and that which the Danish lawyer community must protect, namely the trust in the Danish lawyers.
When Lundgrens has cheated on their client, and instead worked for the defendant Jyske Bank A/S, in Denmark's most serious case of exploitation and fraud carried out by a large Danish bank A/S, it weakens confidence in the large Danish lawyer's houses.
---
Why do Danish bank clients have to handle their cases themselves, and then when they seek out well-known lawyers for help, and the only thing they meet is corrupt lawyers, if that is misunderstood, call us and let us get an explanation, because it actually looks as if Jyske Bank's Board of Directors paid, or ordered Lundgren's lawyers not to submit the client's claims against Jyske bank, that we thought Jyske bank is a criminal organization, is just our opinion, but if you do not think Jyske bank makes some crimes why does Jyske Bank not even contact the police to get an investigation done which could have happened in 2016 on the case 0100-83966-00085-16
The worst thing is not that Jyske bank exposes us to fraud, but that the entire board – the corporate management is completely indifferent when we are just trying to meet with some in the bank, and also both Rødstenen and Lundgren's lawyers have just ignored us, which is then something totally wrong here.
Remember we do not know what agreements have been made between Lundgrens and Jyske Bank, we only know that Jyske Bank exposes us to a million scams, and that Lund Elmer Sander has lied in legal relationships with lawyers from Jyske bank, and that Lundgrens has done the opposite of what their client has requested them.
SO WHAT THE FUCK HAPPENS IN DENMARK'S BIGGEST BUSINESS COMPANIES.
Read through our diary, and try to understand why danish banks both lie and deceive their customers, unless we're just stupid.
Due to the dishonest lawyers in Lundgrens. Our case has again been exposed, and we have had to hire a new lawyer, and this for the third time since 2015, after the first two, had to work for Jyske bank against our case was presented to the court.
Who could have bribed Lundgrens for not presenting their client's case against Jyske bank.
Or some from Jyske bank will tell us the truth.
Zero women in the top at Jyske Bank They do not want women on their boards Thinking if there were women at the top of Jyske bank, this fraud case against Jyske bank would hardly be found in the customer's diary about Jyske Bank's foundation. Remember that neither Jyske Bank Anders Dam nor others from the other group's management, the board of directors are convicted of complicity in fraud in association, but FACT is Dan Terkildsen, Lundgrens, Anders Dam, Jyske Bank, Philip Baruch, Lund Elmer Sandager, could, in order for a client's charges against Jyske bank, never be presented to the Danish court whether bribery is involved as a return commission, it should be investigated by the Danish police, but unfortunately the state attorney does not want to investigate Jyske Bank's business methods This is just an attempt to get in touch with the board of Jyske bank, which the customer first contacted on May 19, 2016, and directly stated that the customer thought Jyske bank was behind a major fraud, since the entire group has denied anyone contact, but instead agreed to continue the bank's fraud until the court put an end to the fraud. If you have a natural explanation that Lundgrens has not presented the client's charges to the court, and if you do not believe that Jyske Bank has bribed Lundgrens, then we will have an explanation that Lundgren's plan to appear in Viborg Court, without having presented one of the client's claims to make their client laugh, and in this way Lundgren could forever become Jyske Bank's best friend.
For you who fall over this little diary, we write here as no one will talk to us, and Jyske Bank members they are ice cold, and stunned indifferent with this blog from 2016. WE JUST WOULD LIKE TO TALK WITH THEM IN JYSKE BANK. call us +4522227713
Lundgrens for sale? Costamars asked about Lundgrens and Jyske Bank use bribes. ? or is it just a return commission.
Did not think we Danes could be exposed to scams in Denmark on such a high level where bribery also takes place And that Denmark's largest banks and law firms are involved, these pages will be translated into English.
#Training #fundraiser #Funding #StockMarket #Trump #finans #FBI #Denmark #Jyskebank #DanishBanks #AndersDam @AndersDam #Danterkildsen #Lundgrens. LundElmerSandager #LES #PhilipBaruch.
Dan Terkildsen fra Lundgrens Advokater mener ikke at han "Lundgrens" er inhabil, når klienten peger på bisse Interessekonflikter. Den situation, hvor en person eller en virksomhed, for hvilken person arbejder, uanset om virksomheden er offentlig, privat, et mediehus eller en organisation i civilsamfundet, skal vælge mellem af opfylde sine arbejdsmæssige forpligtelser eller tilgodese sine private interesser.
Dan Terkildsen from Lundgren's Attorneys does not believe that he "Lundgrens" is incompetent when the client points out certain conflicts of interest. The situation in which a person or company for which the person works, whether the company is public, private, a media house or civil society organization, has to choose between fulfilling its work commitments or meeting its private interests.
–
Den mest almindelige definition er:"en betaling, der har til formål at få nogen til at gøre noget, der er uærligt, ulovligt eller i strid med vedkommendes pligter med det formål at opnå en uberettiget fordel".
The most common definition is: "a payment intended to induce someone to do something dishonest, illegal or contrary to his or her duties for the purpose of obtaining an unjustified benefit".
Det kaldes aktiv bestikkelse, når man giver, tilbyder eller lover bestikkelse og det kaldes passiv bestikkelse, når man kræver eller accepterer en sådan betaling.
It is called active bribery when you give, offer or promise a bribe and it is called passive bribery when you demand or accept such a payment.
Det er bestikkelse, uanset om betalingen tager form af penge, gaver, rejser eller andre fordele, der kommer modtageren eller hans/hendes nærmeste personligt til gode.
It is bribery, whether the payment is in the form of money, gifts, travel or other benefits, that benefits the recipient or his / her immediate personal.
–
Det er i hvert i fald det som klienten føler, samtide at have føelsen af at Lundgrens advokater har manupleret klienten, til at stole på at Lundgrens advokater ville dem det bedste. Lundgrens diriktion og bestyrelse, må formodes at kende alt til sagen, og være enig med Dan Terkildsen, siden at Lundgrens ikke har tilbagebetalt kundens indbetalinger, hvilket Dan Terkildsen har afvist. –
At least it is what the client feels, at the same time, to have the feeling that Lundgren's lawyers have manipulated the client, to trust that Lundgren's lawyers wanted them the best.

Lundgren's management and board of directors must be presumed to know everything about the case and agree with Dan Terkildsen since Lundgrens has not repaid the customer's payments, which Dan Terkildsen has rejected.
–
SÅ FREMT DER ER TALE OM MISFORSTÅELSER –
SO UNTIL THERE IS TALK OF MISCELLANEOUS
SÅ KAN LUNDGRENS KONTAKTE OS PÅ –
SO LUNDGRENS CAN CONTACT US
0045 22227713 OG DET SKAL VÆRE DEN ØVERSTE CHEF –
AND IT MUST BE THE TOP CHIEF
Eftersom Dan Terkildsen ikke længere har vores tillid. –
Since Dan Terkildsen no longer has our confidence.
–
–
Hvis Lundgrens mener, eller har mistanke om at der i lundgrens, er forgået korruption, og dette er sket i form af returkommission, mellem nogle i Jyske bank og nogle Partnere i Lundgrens, SÅ KONTAKT POLITIET
HVIS LUNDGRENS ADVOKATER UNDLADER AT, KONTAKTE POLITIET, OG LADE POLITIET UNDERSØGE OM JYSKE BANKS KONCERNENLEDELSE, HAR BESTUKKET LUNDGRENS, MÅ DET VÆRE AT FRYGT FOR AT BLIVE AFSLØRET
If Lundgrens believes, or suspects that in Lundgrens, corruption has passed, and this has happened in the form of a return commission, between some in Jyske bank and some Partners in Lundgrens. call the police then arsk them look at the matter, instead of laying for the client.
Lundgrens advokat partner selskab, bør selv kontakte politiet, og anmode om hjælp.
Then Lundgren's lawyer partner company should contact the police themselves, and ask for help.
Altså hvis Lundgrens ikke selv internet magter at løfte opgaven, med en intern undersøgelse. –
If Lundgrens does not even have the internet power to do the task, with an internal investigation.
In Denmark, active and passive bribery between business associations is punished according to §299 of the Penal Code with up to 4 years in prison
Om straffeloven så gælder for store advokatvirksomheder som Lundgrens, Lund Elmer Sandager og danske banker som Jyske Bank.
The penal law applies to large law firms such as Lundgrens, Lund Elmer Sandager and Danish banks such as Jyske Bank.
Det kan man godt have mistanke om ikke er tilfældet. /
It may well be suspected that is not the case
Når klienten påstår Bilag 1. er falsk og frembragt ved SVIG, så skal Lundgrens da fremlægge det.
Det sammen har klienten skrevet til Retten. –
When the client claims Appendix 1. is false and produced by SVIG, then Lundgrens must present it.
The client has written the same to the Court.
MEN BILAG 1. ER FALSK. /
ANNEX 1. IS FALSE
DETTE ER VORES PÅSTAND. /
THIS IS OUR CLAIM.
VI HAR GODKENDT EN SWAP 15-07-2008 BILAG E. SIDE 5 /
WE HAVE APPROVED A SWAP 15-07-2008 ANNEX E. PAGE 5
HVIS VI OPTOG LÅNETILBUDET PÅ 4.328.000 KR. HVILKET NYKREDIT 18-10-2016 BEKRÆFTER IKKE FINDES. /
IF WE ACCEPTED THE LOAN OFFER AT $ 4,328,000. WHAT NYKREDIT 18-10-2016 DOES NOT CONFIRM.
Så spørger vi igen /
Then we ask again
DELS HAR VI IKKE AFTALT NOGET 16-07-2008, VI HAR HELLER IKKE HJEM TARGET NOGET LÅN PÅ 4.328.000 KR. I NYKREDIT. UANSET HVOR MEGET JYSKE BANK LYVER. /
PARTS WE HAVE NOT AGREED AGAIN 16-07-2008, WE HAVE NEVER HAVE TARGED ANY LOAN AT $ 4,328,000. IN NYKREDIT. No matter how much JYSKE BANK lives.
Og så er det lige det at den swap vi har godkendt 15-07-2008 Bilag E. stadig kun var aftalt, hvis vi optager det tilbudte lån på 4.328.000 kr. ja ja jyske bank lyver at det er optaget. /
And then it is just that the swap we approved 15-07-2008 Appendix E. was still only agreed if we borrow the offered loan of DKK 4,328,000 yes yes Jyske bank is lying that it has been raised.
Men det er det ikke, og swappen Bilag E. lukkes 30-12-2008, så der er heller ikke tale om at, Jyske bank bare har byttet bilag ud, Nej Jyske bank laver dokumentfalsk, og så lyver Jyske bank over for retten, samtidige med at Jyske bank har bortskaffet bilag, og lyver om det, for at skuffe i retsforhold, /
But it is not, and the swap Appendix E. closes on 30-12-2008, so it is also not a case that, Jyske bank has just swapped out annex, No Jyske bank is doing document falsification, and then Jyske bank is lying to the court, at the same time that Jyske bank has disposed of vouchers, and is lying about it, to disappoint in legal matters,
Jyske bank har store problemer med deres troværdighed. /
Jyske bank has major problems with their credibility.
FREMLAGTE Bilag 86. 07-08-2018, side 1-5. til bestyrelsen i jyske Bank, det handler om ansvar, men ledelsen ønsker ikke at svare , og fortsætter i stedet med at udsætte os for svig. –
SUBMITTED Appendix 86. 07-08-2018, page 1-5. to the Board of Directors of Jyske Bank, it is about responsibility, but the management does not want to respond, and instead continues to expose us to fraud.
Vi har løbende orienteret Lundgrens, hver gang Jyske bank er blevet kontaktet , men vi ved jo ikke at Lundgrens arbejder for Jyske bank og jo ikke er vores advokat, men bare lader som om, den 15-08-2018 oplyses Lundgrens vores opgørelse på del af tab, og er orenteret om at Ledelsen er blevet orenteret om deres ansvar, første gang Dan Terkildsen svare på Ledelsens ansvar, er 13-08-2019 inde på Lundgrens kontor, hvor Dan Terkildsen siger at bestyrelsen intet ansvar har. /
We have continuously informed Lundgrens every time Jyske bank has been contacted, but we do not know that Lundgrens works for Jyske bank and is not our lawyer, but just pretends that on 15-08-2018 Lundgrens discloses our statement on part of losses, and is informed that the Management has been briefed on their responsibilities, the first time Dan Terkildsen responds to the Management's responsibility, 13-08-2019 is in Lundgren's office, where Dan Terkildsen says that the Board has no responsibility.
Vi spørger på mødet hvad Jyske bank har foreslået af forligs mulighed, hvortil Dan svarer at Jyske Bank har tilbudt at betale deres egen advokat, om det så også er Lundgrens, der jo arbejder for Jyske bank, 🙂 griner det er sørgligt, at vores advokat Lundgrens har valgt at arbejde for Jyske bank mod os i sagen. /
At the meeting we ask what Jyske bank has proposed by settlement, to which Dan replies that Jyske Bank has offered to pay their own lawyer, if it is also Lundgrens who works for Jyske bank, then 🙂 laughs it is sad that our lawyer Lundgrens has chosen to work for Jyske bank against us in the case.
HVIS JYSKE BANK IKKE HAR BETALT LUNDGRENS FOR, IKKE AT FREMLÆGGE PÅSTANDE SOM DENNE. /
IF JYSKE BANK DIDN'T PAY LUND LIMITS FOR NOT MAKING CLAIMS LIKE THIS.
HVORFOR FANDEN SKAL KLIENTEN SÅ SELV FREMLÆGGE RETTEN DERES PÅSTANDE. /
WHY THE FUCK SHOULD THE CLIENT BE SUBMITTING THEIR RIGHT TO THEIR CLAIMS.
–
Når Lundgrens advokater marts 2018. Spørger hvilken vidner vi ønsker indkaldt, og vi fortæller Partner Dan Terkildsen Lundgrens advokater. /
When Lundgren's attorneys March 2018. Ask which witness we want to call, and we tell Partner Dan Terkildsen Lundgren's attorneys.
Hvilket vidner som skal indkaldes, vidner der skal bekræfte, bilag og sagsforløbet. /
Which witnesses to call, witnesses to confirm, supporting documents and the course of proceedings.
–
HER ER EN AF MANGE KOPIER TIL LUNDGRENS, MED VIDNER OG KONTAKT INFORMATIONER. 23-11-2018. /
HERE IS ONE OF MANY COPIES FOR LUNDGRENS, WITH KNOWLEDGE AND CONTACT INFORMATION. 23-11-2018.
Og her er et brev fra 10-03-2019, til Lundgrens /
And here is a letter from 10-03-2019, to Lundgrens
Som heller ikke bliver besvaret. /
Which is not answered either.
HVIS DU IKKE MENER AT LUNDGRENS ER OPLYST OM VORES PÅSTANDE. SÅ LÆS IGEN. /
IF YOU DO NOT THINK LUNDGRENS ARE INFORMED ABOUT OUR CLAIM. SO READ OUT.
KLADDE TIL LUNDGRENS 27-08-2019 VI ØNSKER IKKE AT LUNDGRENS SKAL SIGE DE IKKE FORSTÅR DET VI SKRIVER. /
DRAWING TO LUNDGRENS 27-08-2019 WE DON'T WANT LUNDGRENS TO SAY THEY DON'T UNDERSTAND WHAT WE WRITE.
Men de svare os ikke, og fremlægger 02-09-2019 selv et processkrift 2. med hvad Lundgrens ønsker at fremlægge, og nok efter aftale med Jyske bank. /
But they do not answer us, and on 02-09-2019 even submit a petition 2. with what Lundgrens wants to present, and probably in agreement with Jyske bank.
Did not think we Danes could be exposed to scams in Denmark on such a high level where bribery also takes place And that Denmark's largest banks and law firms are inolved, this page will be translated into English, and a several of languages
#Training #fundraiser #Funding #StockMarket #Trump #finans #FBI #Denmark
22-12-2018 beder vi lundgrens fremlægge disse bilag, vi får ingen svar, og derfor fremlægger vi 28-12-2018 Bilag 28-101. som Lundgrens får væk igen. /
22-12-2018 we ask Lundgrens to present these annexes, we get no answers, and therefore we submit 28-12-2018 annex 28-101. as Lundgrens gets away again.
HER KAN DU SE HVILKEN VIDNER LUNDGRENS SKRIVER PÅ 2. september. /
HERE YOU CAN SEE WHAT WITNESSES LUNDGRENS WRITES ON September 2.
–
Og at det sker 02-09-2019 præcis 2 timer før 4 ugers fristen. inden hovedforhandling er aftalt. hvorfor der ikke kan fremlægges mere i sagen, du kan jo spørger dig selv om hvorfor. /
And that it happens 02-09-2019 exactly 2 hours before the 4 week deadline. before the main negotiation is agreed. why no more can be presented in the case, you can ask yourself why.
Emil Lundgrens vælger ikke at dele og sende klienten en kopi af dette Processkrift 2. /
Emil Lundgrens does not choose to share and send the client a copy of this Procedure 2.
But first see what we have "again" written 30-08-2019 just before Emil Hald Winstrøm 02-09-2019 presents something different to the court than what we have repeatedly said and continuity has written to Lundgrens.
Unless Lundgren's attorneys have been bribed for failing to submit the Client's allegations and Lundgren's failure to comply with the Client's instructions. what the hell is happening.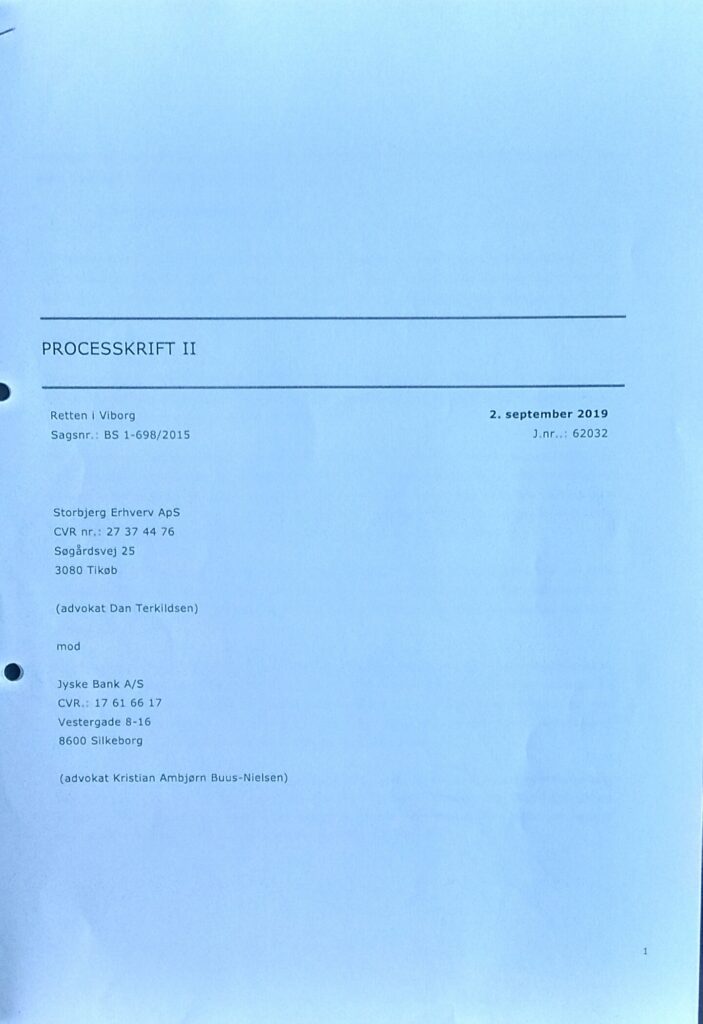 Er det god advokatskikk, at Lundgrens direkte mod klientens instrukser, undlade at skrive de af sagsøgers oplyste vidner på listen til retten, og så selv skrive en Lars Aaqvist på uden dette har været på tale. /
Is it a good legal practice that Lundgrens directly against the client's instructions, fail to write the witnesses' stated witnesses on the list to the court, and then even write a Lars Aaqvist without this has been the case.
Det skal hertil oplyses, at vi 3 oktober 2019, får en kopi af Processkrift B. af dato 20 marts 2019, Men af ukendte årsager vælger Lundgrens ikke at dele dette med klienten. /
It should be noted that on October 3, 2019, we will receive a copy of Prosecution B. dated March 20, 2019, but for unknown reasons, Lundgrens chose not to share this with the client.
Her i processkrift B. skriver Kristian Ambjørn Buus-Nielsen side 3, skriver Lund Elmer Sandager, altså 20-03-2019 at Jyske Bank ønsker at indkalde Lars Aaqvist, Nicolai Hansen, Casper Dam Olsen. /
Here in litigation B. Kristian Ambjørn Buus-Nielsen writes page 3, writes Lund Elmer Sandager, ie 20-03-2019 that Jyske Bank wants to convene Lars Aaqvist, Nicolai Hansen, Casper Dam Olsen.
Kristian Ambjørn Buus-Nielsen skriver også 20 marts, at de dokumenter (Bilag 28 – 101.) som Carsten Selv har fremsendt til retten mellem jul og Nytår 2018 ikke er omfattet af sagen, hvilket ikke stemmer med hvad Emil fra Lundgrens kun 2 dage efter 22. marts bekraftede over for Carsten, hvor Emin mundtlig / telefonisk bekrafter, at alle medtags i retten, hvilket Emil, senre og samme dag, på SMS bekrafter . " vi har meddelt retten at samtlige bilag medtages." –
Kristian Ambjørn Buus-Nielsen also writes on March 20 that the documents (Appendices 28 – 101.) that Carsten Self submitted to the court between Christmas and New Year 2018 are not covered by the case, which does not correspond to what Emil from Lundgrens only 2 days after March 22 confirmed to Carsten, where Emin verbally / telephonically confirms that everyone is included in the court, which Emil, late and the same day, confirm by SMS. "We have notified the court that all the annexes are included."
–
Det er selvfølge dig som læser med, der selv må vurdere om Jyske bank har bestukket Lundgrens Advokater, til at arbejde for Jyske Bank mod os, i sagen mod jyske bank. Og at det sker samtidig med at Lundgrens lader som om de arbejder for os. /
It goes without saying that you, the reader, must decide whether Jyske bank has bribed Lundgrens Advokater to work for Jyske Bank against us, in the case against Jyske bank. And that it happens at the same time that Lundgrens pretends to work for us.
Og samtidig med de skal forsøge at overfakturer os, for at øknomisk ud matte os.
JA DET LYDER MÆRKELIGT MEN FAKTA VI HAR KÆMPET MOD JYSKE BANKS BEDRAGERI OG MOD VORES EGEN ADVOKAT, DER SOM LUND ELMER SANDAGER HAR DÆKKET OVER MILLIONSVINDEL /
And at the same time they must try to over-invoice us, in order to economically exhaust us, yes it sounds strange
BUT FACTS WE HAVE FIGHT AGAINST JYSKE BANK'S FRAUD AND AGAINST OUR OWN ATTORNEY WHO LUND ELMER SANDAGER COVERED FOR MILLION PROFITS
.
.
MEN DET MÅ STÅ KLART FOR LUNDGRENS, AT DE ARBEJDER DIREKTE IMOD DERES KLIENTS INTERESSER, OG DET SKER FOR AT HJÆLPE JYSKE BANK, DIRÆTE IMOD DERES KLIENT. /
BUT IT MUST BE CLEAR TO LUNDGRENS THAT THEY WORK DIRECTLY TO THE CLIENT'S INTERESTS AND IT DOES TO HELP JYSKE BANK DIRECTLY TO THEIR CLIENT.
JA UNDSKYLD MEN HVIS INTRESSER VARERTAGER LUNDGRENS ADVOKATER, HVIS DET IKKE ER JYSKE BANKS INTERESSER /
YES EXCUSE BUT IF INTERESTS LUNDGREN'S ADVOCATES ARE TAKEN IF IT IS NOT JYSKE BANK'S INTEREST
Eller har Lundgrens advokater bare med Jyske Bank aftalt en skjult dagsorden, om ikke at fremlægge klientens svig påstande mod jyske bank. /
Or have Lundgren's lawyers just agreed with Jyske Bank on a hidden agenda, not to present the client's fraud allegations against Jyske Bank.
Samt har Lundgrens bevidst og uhæderligt undladt at indkalde de vidner, klienten gentagne gange har anmodet Lundgrens advokater indkalde. /
As well as, Lundgren has deliberately and dishonestly failed to summon the witnesses the client has repeatedly requested Lundgren's attorneys.
–
Hvad er ellers grunden til at klienten, 25. september 2019. er nødsaget til at sparke Lundgrens advokater i røven, og med Retten CC. /
What else is the reason for the client, September 25, 2019. is forced to kick Lundgren's lawyers in the ass, and with the Court CC.
Og hvorfor skal klienten selv, 28 oktober fremlægge retten deres påstande, samt oplyse hvilken vidner der skal indkaldes. /
And why, on October 28, should the client himself present the court their allegations, as well as state which witnesses to call.
–
Her er en smule af det, som vi selv 28 oktober 2019. har fremlagt i et afsluttende processkrift, og har måtte ansætte en ny advokat, til at fremlægge vores påstande i et påstandsdokument, (retter div. skrive og stave fejl.) /
Here is a bit of what we ourselves presented on October 28, 2019. In a closing petition, and have had to hire a new attorney to present our claims in a plea, (correct miscalculation and spelling).
Vores påstande stadig ikke er blevet fremlagt for retten, eftersom Lundgrens ikke var vores advokat, kan de jo naturligvis heller ikke fremlægge vores påstande. /
Our claims have still not been presented to the court, since Lundgrens was not our lawyer, of course, they can not present our claims either.
VI SKAL BEKLAGER, AT VI IKKE HAR OPDAGET DET SVIG OG PROBLEMET MELLEM JYSKE BANK OG LUNDGRENS TIDLIGERE, MEN LUNDGRENS OG JYSKE BANK MEGET SMARTE. /
WE WOULD regret that we did not detect the fraud and the problem between JYSKE BANK and LUNDGRENS PREVIOUSLY, BUT LUNDGRENS AND JYSKE BANK VERY SMART.
Vi siger det meget klart og tydeligt til Lundgrens advokater, ved Dan Terkildsen, under første møde i marts / april 2018. Da Dan Terkildsen, selv spørger hvilket vidner vi vil have indkaldt i svig sagen mod Jyske bank. /
We say this very clearly to Lundgren's lawyers, at Dan Terkildsen, during the first meeting in March / April 2018. When Dan Terkildsen, himself asks what witnesses we would have called in the fraud case against Jyske bank.
Lundgrens advokaten, Dan Terkildsen oplyses, at Anders Dam, og Philip Baruch samt Morten Ulrik Gade, er nogle af de vidner vi vil have indkaldt, samt Casper Dam Olsen og Nicolai Hansen samt Birgit Buch Thuesen. /
Lundgren's lawyer, Dan Terkildsen, stated that Anders Dam, and Philip Baruch and Morten Ulrik Gade, are some of the witnesses we will have called, as well as Casper Dam Olsen and Nicolai Hansen and Birgit Buch Thuesen.
"In Denmark, active and passive bribery between business associations is punishable by section 299 of the Penal Code with up to 4 years in prison. Its scope is not fully clarified in practice, as it is formally addressed to "the one who is in charge of another's property affairs"."
J
30 september skulle Dan Terkildsen i retten, afhøre disse 6 vidner, alle fra Jyske bank, hvilket skal bevise at vores påstande mod 🏦 banken er sande, banken har fået udsættelse, og vi har fået en ærlig advokat. /
On September 30, Dan Terkildsen was due in court to hear these 6 witnesses, all from Jyske bank, which must prove that our allegations against the 🏦 bank are true, the bank has been exposed and we have got an honest lawyer.
At der er klienten selv som 28 oktober 2019, må oplyse retten disse vidner, kan du jo tænke over. /
That there is the client himself as October 28, 2019, must inform the court these witnesses, you can think about.
Nu er Lundgrens advokater fyret, for ikke at fremlægge nogle af klients påstande, og skal istedet hjælp med at styrke mistanken om at, Jyske Bank har betalt Lundgrens retur kommision, for at Lundgrens netop ikke måtte, indkalde klientens vidner, og ej heller må fremlægge, nogle af klientens påstande mod jyske bank for millionsvindel, og tænk dig det eneste vi ønsker er et møde, hvor vi som voksne kan se sagens bilag i gennem. /
Now Lundgren's lawyers have been fired for not presenting any of the client's claims, and should instead help reinforce the suspicion that, Jyske Bank has paid Lundgren's return commission, that Lundgren just did not have to summon the client's witnesses, nor must he present. , some of the client's claims against Jutland bank for millions fraud, and imagine the only thing we want is a meeting where we as adults can see the case documents in through.
Dan Terkildsen Lundgrens skal NU OGSÅ indkaldes som vidne, og i retten forklare hvornår Lundgrens blev ansat, til at fører svig sag mod Jyske bank, og hvorfor Lundgrens ikke fremlage klientens påstande. /
Dan Terkildsen Lundgrens must now also be summoned as a witness, and explain in court when Lundgrens was hired to bring fraud case against Jyske bank and why Lundgrens did not present the client's claims.
Bemærk dato 5. Februar 2018, og mappens tykkelse. derudover har Rødstenen fremsendt alt de har fået. /
Note the date of February 5, 2018, and the thickness of the folder. In addition, the Red Stone has sent everything they have received.
CLICK ON LINK AND SEE ANNEXES, UNDER PHOTOS ON FACEBOOK, New Appendices No. on the appendices submitted.
Hvorfor Lundgrens har modarbejdet deres egen klients påstande mod Jyske bank, blev fremlagt, og forsøgte at ville møde op i Viborg domstol, uden at have fremlagt en eneste af klientens påstande. /
Why Lundgrens has countered their own client's claims against Jyske bank, was presented, and tried to appear in Viborg court, without having presented any of the client's claims.
Det er et spørgsmål du må stille Bestyrelsen i Lundgrens advokater. /
This is a question you must ask the Board of Lundgren's lawyers.
Vi forsøger her, bare at opklare om LUNDGRENS ADVOKATER er KORRUPTE, for vi ved jo godt at Jyske bank er kriminelle, og deres advokater lyver overfor retten, for at skuffe i retsforhold, men om Lundgrens har taget mod bestikkelse, for ikke at fremlægge vores svig påstande mod Jyske bank, det bør Lundgrens anmode politiet om at undersøge. /
We try here to find out if LUNDGREN'S ATTORNEYS are CORRUPT, because we know that Jyske bank is a criminal and their lawyers lie to the court, to disappoint in legal matters, but whether Lundgrens has taken bribe, not to submit our fraud claims against Jyske bank, Lundgrens should ask the police to investigate.
Uanset om hverken Jyske Bank eller Lund Elmer Sandager er enige, så handler det nu om beviser. /
Whether Jyske Bank or Lund Elmer Sandager agree, this is now about evidence.
Og hvornår Lundgrens blev kontaktet af Jyske bank. – And when Lundgrens was contacted by Jyske bank.
Det er efter marts 2018 og før 21-06-2018 /
It is after March 2018 and before 21-06-2018
Samt hvem i Jyske bank kontaktede Lundgrens, til at rådgive Jyske Bank i en handel til over en halv milliard danske kroner, hvis det ikke er Lungrens der lige skulle have ringet til Anders Dam, og sagt hej Anders har du ikke lige brug for at Lundgrens hjælper dig. 🙂 en Joke /
And who in Jyske bank contacted Lundgrens, to advise Jyske Bank in a trade for over half a billion Danish kroner, if it is not Lundgrens who should have just called Anders Dam, and said hello Anders you do not just need Lundgrens helping you. 🙂 and Joke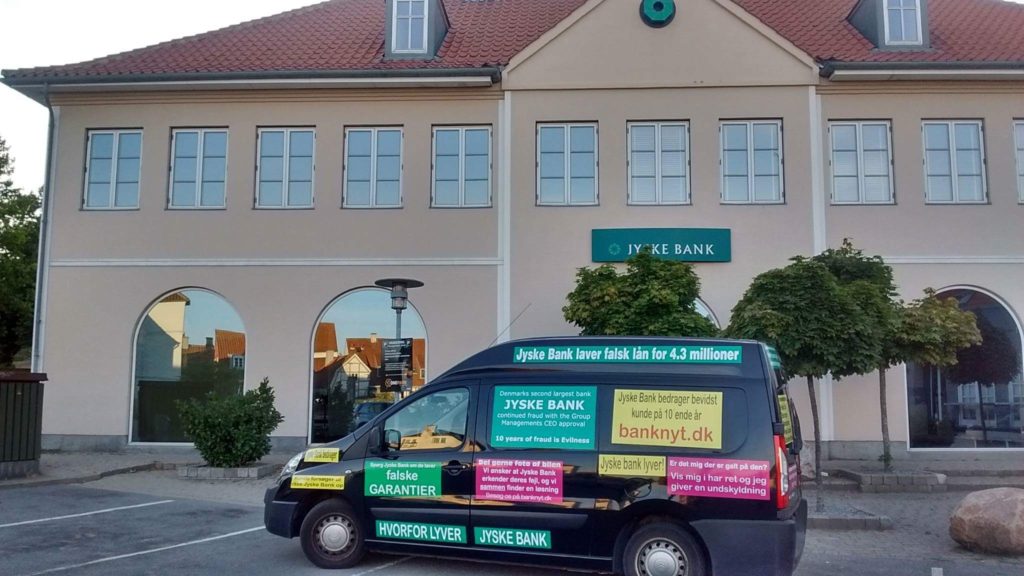 Dan Terkildsen skal forklare, hvorfor Lundgrens i svarskrift 1. 28. September 2018. ikke fremlægger det SVIG / Bedrageri vi har fremlagt er sagen. /
Dan Terkildsen has to explain why Lundgrens in defense 1 September September 2018. does not had present the Fraud / False that we have presented is the case.
–
Men hvad er det for påstande klienten, beder Lundgrens fremlægge –
But what is the allegation the client asks Lundgren to present
–
Sammenlign det så med hvad Lundgrens fremlægger, hvilket må siges at være i direkte modstrid med klientens instrukser. /
Then compare it with what Lundgrens presents, which must be said to be in direct contradiction with the client's instructions.
Her en mappe, indhold er afleveret / overbragt. 10-10 og 15-10 Lundgrens svarer ikke. /
Here a folder, content is delivered / transferred. 10-10 and 15-10 Lundgrens do not answer.
–
03-11 overbringer klienten selv, deres egen mappen med kopier, Lundgrens svare stadig ikke /
03-11 transfers the client themselves, their own folder of copies, Lundgrens still does not answer
Det afsluttende processkrift 18. December 2018. –
The closing plea of ​​18 December 2018.
–
KAN DU SE NOGET DER ER BLEVET VÆK FOR LUNDGRENS ADVOKATER –
CAN YOU SEE ANYTHING THAT HAS BEEN AWAY FOR LUNDGREN'S ADVOCATES
ELLER KAN DU FORKLARE DE MANGLENDE PÅSTANDE.
OR CAN YOU EXPLAIN THE FAILURE CLAIM.
Proses skriftet laves 18-12-2018 efter kl 18, og sendes til retten og klienten, uden mulighed for at gøre indsigelser, eller indføre rettelser. /
The writ process is made on 18-12-2018 after 18:00 and is sent to the court and the client, without the possibility to object, or make corrections.
Eftersom Lundgrens imod klientens instrukser, 18-12-2018 ikke fremlægger, nogle af klientens påstande, bliver klienten bange for at deres påstande, ikke kan komme med, og vælger selv at fremlægge deres påstande. 28 & 29-12-2018 /
Since Lundgrens does not present any of the client's claims against the client's instructions, 18-12-2018, the client becomes afraid that their claims cannot come up and chooses to present their claims themselves. 28 & 29-12-2018
som BILAG 28-101. der dog desvære ikke kom med, selv om lundgrens 22-03-2019 bekrafter på SMS og telefonisk at de medtages. –
as ANNEX 28-101. however unfortunately did not come along, even though Lundgrens 22-03-2019 confirms by SMS and by telephone that they are included.
Som du forhåblig vil give os ret i, skal vi ikke kun kæmpe mod Jyske bank, men også mod vores egen advokater. –
As you will hopefully give us right, we must not only fight against Jyske bank, but also against our own lawyers, like first Redstone
Først Rødstenen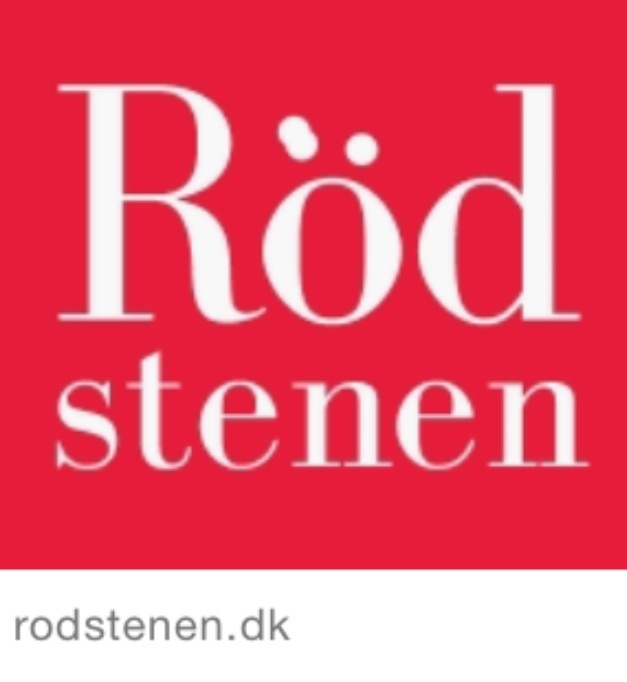 Og derefter Lundgrens / And then Lundgren's st
Desvære blev de ikke fremlagt, men ? så 02-09-2019 løkkes de os at få fremlagt oprindeligt Bilag 100. & 101. som Bilag 164. /
Unfortunately, they were not presented, but? then 02-09-2019 they succeeded in getting us originally presented Annex 100. & 101. as Annex 164.
Men igen 2. September 2019. Lundgrens har Ikke fremlagt nogle af de mange påstande, klienten har derfor selv 28. September 2019. måtte fremlægge dem. /
But again September 2, 2019. Lundgrens has not made any of the many claims, so the client has himself 28 September 2019. had to present them.
VI leder efter 2 ord. SVIG og FALSK /
We are looking for 2 words. FRAUD and FALSE
Kan Lundgrens ikke selv se, at det er et problem, når klienten selv som både ordlind og bare en lille lussede amartør, selv må gå op i mod, ikke kun danmarks anden største bank "Jyske Bank" men at klienten selv skal kæmpe, ikke mod imod Lund Elmer Sandager, men også har kæmpet for at få Lundgrens til at fremlægge deres påstande. /
Can Lundgrens not even see that it is a problem when the client himself, as both wordlind and just a little wacky amateur, must go up against themselves, not only Denmark's second largest bank "Jyske Bank" but that the client himself must fight, not against Lund Elmer Sandager, but have also struggled to get Lundgrens to present their claims.
I synes sikkert det her er meget morsomt. /
You probably think this is a lot of fun.
MEN DET GØR VI IKKE. / BUT, WE DON'T.
Det kan godt være at i alle sammen i Lund Elmer sandager, Lundgrens og Jyske Bank, er ved at brække jer af grin, enten over os små, ubetydelige kunder. /
It may well be that in everyone in Lund Elmer's cases, Lundgrens and Jyske Bank, are bursting out laughing, either at us, small, insignificant customers.
Eller om ikke andet, så over den magt i fået i det danske samfund. /
Or if nothing else, then over the power gained in Danish society.
Men griner, det gør vi ikke, i skulle skamme jer. / But laugh, we don't, you should be ashamed.
LAD OS NU I STEDET MØDES. DET KRÆVER ALTSÅ 2 TIL TANGO. /
LET US NOW INSTEAD MEET. IT REQUIRES 2 FOR TANGO.
Partner Dan Terkildsen spørger på første møde marts april 2018. om det er nødvendigt, at Anders Dan og Philip Baruch skal indkaldes som vidner. /
Partner Dan Terkildsen asks at the first meeting March April 2018. whether it is necessary for Anders Dan and Philip Baruch to be called as witnesses.
Hvilket vi på mødet holder fast i, og forklare at Philip Baruch flere gange har løjet overfor retten i sagen, imens Dan skriver deres navne ned på den lille blok. /
Which we hold at the meeting and explain that Philip Baruch has lied to the court several times while Dan writes their names down on the small block.
Vi har gentagne gange siden vi mødtes med Lundgrens advokater, sagt hvilket vidner der skal indkaldes, senest 1. september 2019 gentager vi dem på mail. /
We have repeatedly said since we met with Lundgren's attorneys what witnesses to call, by September 1, 2019, we will repeat them by mail.
Først efter Lundgrens bliver fyret 25 oktober, finder vi ud af at Lundgrens advokater blot dagen efter, hvor vi 1 september, igen skriver til Lundgrens advokater, og gentager vidne listen, for at der ikke må være misforståelser. /
As Lundgrens gets fired on October 25, we find that Lundgren's lawyers, just the day after we September 1, write to Lundgren's lawyers again, repeating the witness list, so there must be no misunderstandings.
Lundgrens der i direkte modstrid med deres klientens instrukser, ikke har fremlagt de vidner i processkrift 2. Med dato 2 september 2019. /
Lundgrens who, in direct contravention of their client's instructions, has not presented the witnesses in Prosecution 2. With date September 2, 2019.
Lundgrens deler ikke sagen, eller processkrifter med deres klintet, og sender heller ikke klienten en kopi af processkrift 2. Lige som processkrifter B og C. også er blevet tilbageholdt overfor klienten. /
Lundgrens does not share the case, or litigation with their client, nor send the client a copy of litigation 2. Just as litigation B and C. have also been withheld from the client.
I processkrift 2. fra 2. September 2019, har LUNDGRENS undladt at skrive klientens vidner på, og Lundgrens advokater har stadig ikke fremlagt, nogle af klientens påstande om svig og falsk. /
In Petition 2 of September 2, 2019, LUNDGRENS failed to write the client's witnesses, and Lundgren's attorneys have still not presented some of the client's allegations of fraud and fraud.
MEN KLIENTEN VED JO HELLER INTET OM, AT JYSKE BANK, HAR KØBT DERES ADVOKATER, DER NU HAR FÅET EN MILLION AFTALE MED JYSKE BANK. / BUT THE CLIENT DOES NOT KNOW ABOUT JYSKE BANK HAS PURCHASED THEIR ATTORNEYS WHO HAVE MADE A MILLION AGREEMENT WITH JYSKE BANK.
Det er ihvertfald en udmærket grund, til at Lundgrens advokater, har ført sag mod jyske bank, for det som Jyske banks bestyrelse og partneren i Lundgrens advokater har været enige om. /
This is at least an excellent reason why Lundgren's lawyers have brought a case against Jyske Bank, for what Jyske Bank's Board of Directors and the partner in Lundgren's lawyers have agreed.
Og at det er sket uden at spørge klienten, om de mener der bare er tale om dårlig rådgivning, som er det eneste Lundgrens vil fremlægge. /
And that this has happened without asking the client if they think it is just bad advice, which is the only thing Lundgrens will provide.
IT'S NOT THE ONE YOU HAVE TO CHOOSE IF YOU WANT A HONORABLE LAWYER.
Synes dette at være grunden, til at Lundgrens advokater, direkte har modarbejdet og manupleret med klientens interesser, og ikke fremlagt klientens påstande, eller skrevet hvilket vidner klinten har sagt skulle indkaldes. //
This seems to be the reason why Lundgren's attorneys have directly countered and manipulated the client's interests, not presented the client's claims, or written what witnesses the client has said should be summoned.
Spørger her om Jyske bank, ved CEO Anders Christian Dam, om Jyske Bank har bestukket vores advokater, Rødstenen og Lundgrens, til at modarbejde vores sag mod Jyske bank for groft SVIG og FALSK. /
Ask here about Jyske bank, by CEO Anders Christian Dam, whether Jyske Bank has bribed our lawyers, Rødstenen and Lundgrens, to counter our case against Jyske bank for gross fraud and FALSE.
En sag som i høj grad handler om at de Danske banker som overtræder loven, og ved udnyttelse laver og fortsætter Svig mod bankens kunder, dette skal stoppes, selv om bestyrelsesmedlemmer alle står sammen, og bag at bankens svig forretninger skal fortsætte. //
A case that is very much about the Danish banks violating the law, and when exploiting, fraud and perpetuating fraud against the bank's customers, this must be stopped, even though board members are all standing together and behind the bank's fraud business to continue.
Det kan også oplyses at Lundgrens advokater mindst siden 16 april 2018, jævnligt har fulgt med på BANKNYT.dk således viste Lundgrens alt til beskyldninger, inden million aftalen med Jyske Bank. /
It can also be stated that at least since April 16, 2018, Lundgren's lawyers have regularly followed up on BANKNYT.dk, thus Lundgrens showed everything to accusations, before the million agreement with Jyske Bank.
Og værd er det at bemærke, første besøg kom fra en Google søgning, efterfølgende har Lundgrens direkte fulgt os på BANKNYT.dk hvilket vi ikke har bedt vores advokat om. /
And worth noting, the first visit came from a Google search, after which Lundgrens has directly followed us on BANKNYT.dk which we have not asked our lawyer.
HVORNÅR VAR DET LIGE LUNDGRENS ADVOKATER INDGIK SAMARBEJDET MED JYSKE BANK FOR MILLIONER. /
WHEN WAS THE LUNDGREN'S ADVOCATES WORKED WITH THE JYSKE BANK FOR MILLIONS.
Det var et sted imellem marts og Juni 2018, og hvornår var det at Lundgrens advokater fik sagen mod Jyske bank for svig og falsk, det var med beviser og påstande i mappen 5. Februar 2018.
It was somewhere between March and June 2018, and when was it that Lundgren's lawyers got the case against Jyske bank for fraud and fraud, it was with the evidence and allegations in the folder February 5, 2018.
Så forstår faktisk ikke at Lundgrens nægter at tilbagebetale vores overførte 💰 penge, Lundgrens advokater har jo klartmodarbejdett klintens påstande, mod Jyske bank for svig er blevet fremlagt. /
So don't actually understand that Lundgrens refuses to repay our transferred 💰 money, after all, Lundgren's lawyers have clearly countered the client's allegations against Jyske bank for fraud.
Hvis vi ikke bare var nogle dumme kvulianter. /
If we weren't just some stupid culprit. that is, they are right in being exposed to fraud
Kunne man tro vi kunne have ret i, at Lundgrens advokater, selv har fulgt os her på siden, for at vide om Lundgrens samarbejde med Jyske bank var blevet opdaget, hvilket kunden har fundet beviser for 20. September 2019. /
Could we believe that we were right that Lundgren's lawyers, even following us here on the page, to know whether Lundgren's cooperation with Jyske bank had been discovered, which the client has found evidence for September 20, 2019.
At Lundgrens advokater stadig følger med på BANKNYT er uforståeligt. /
The fact that Lundgren's lawyers still follow BANKNYT is incomprehensible. They have our account number in Jyske Bank, so they can just pay
LUNDGRENS I ER FYRET FORSTÅ DET NU, OG TILBAGE BETAL SÅ DE PENGE VI HAR INDSAT PÅ JERES KONTO. /
LUNDGRENS I IS FIRED UNDERSTAND IT NOW, AND PAY BACK SO THE MONEY WE HAVE WERE IN YOUR ACCOUNT.
DA VI TROEDE LUNDGRENS VAR VORES ADVOKATER
WHEN WE BELIEVED LUNDGRENS WERE OURS LAWYERS
Bestyrelsen i Jyske Bank har sat bestyrelsesmedlem og stifteren af Lund Elmer Sandager Advokater, Philip Baruch til at bekæmpe kunden, som nok mod bankens forventninger, har opdaget, Jyske Bank faktisk både laver, og fortsætter svig. "million svindel" /
The board of Jyske Bank has appointed the board member and the founder of Lund Elmer Sandager Attorneys, Philip Baruch to fight the client, who, probably against the bank's expectations, has discovered that Jyske Bank is both doing and continuing fraud. "million scams"
Kan en bank som bevidst laver og fortsætter svig mod bankens kunder, have Finanstilsynet godkendelse til at lave bankdrift i Danmark. /
If a bank that deliberately makes and continues to fraud against the bank's customers, has the Financial Supervisory Authority's approval to conduct banking operations in Denmark.
Musen og 1 advokat imod elefanten Jyske banks samlede bestyrelse og 💯 vis af måske dygtige advokater, der dog har deres egen lovbog.
The mouse and 1 lawyer against the elephant Jyske Bank's overall board and some wise lawyers who, however, have their own law book.
Hvis jyske Bank bare ville overholde bankens egne vedtægter, og drive en redelig bankvirksomhed. Ville dette her opslag slet ikke findes. /
If Jyske Bank just wanted to comply with the bank's own articles of association and run a fair banking business. Wouldn't this posting at all exist.
Men koncernen ledelsen forsøger at udmattet kunden, og dregne kunden økonomisk, ved at fortsætte bankens bedrageri, for at kunden ikke skal have økonomi til en advokat der kan stoppe Jyske banks bestyrelses fortsatte svig imod deres egen kunde. / B
ut the group management is trying to exhaust the customer, and drain the customer financially, by continuing the bank's fraud, so that the client does not have the finances for a lawyer who can stop Jyske Bank's board's continued fraud against their own client.
Kunden er overbevist om at Jyske banks ledelses har bestukket deres seneste 2 advokater, måske er det ligefrem Anders Dam personligt, men lav nu en undersøgelse Anders, Har Jyske bank betalt RØDSTENEN & LUNDGRENS, til ikke at videreføre svig påstande fra stævningen, og underbygge svig påstande imod Jyske bank med beviser. /
The client is convinced that Jyske Bank's management has bribed their last 2 lawyers, maybe it is Anders Anders personally, but now make an investigation allegations against Jyske bank with evidence.
At vi så også har påstået at Jyske bank laver falsk, passer nok hverken Philip Baruch, Anders Dam, Thomas Schioldan Sørensen, Dan Terkildsen, siden de alle sammen har ingurereret vores påstande. /
The fact that we have also alleged that Jyske bank is making a mistake probably fits neither Philip Baruch, Anders Dam, Thomas Schioldan Sørensen, Dan Terkildsen, since they have all ingratiated our claims.
HVORFOR GØR I DET HER MOD OS KUNDER. /
WHY DO YOU DO THIS FRAUD, AGAINST US CUSTOMERS. HAVE WE DONE SOMETHING WRONG, ABOUT BEING VERY SICK
Kunden siger Jyske Bank helt sikkert ikke har lavet skriftlige aftaler, om ikke at fremlægge vores påstande, da dette ville kunne opdages, og en så stor organisation som jyske bank, sørger for at skjule deres spor. /
The customer says Jyske Bank has certainly not made written agreements, not to present our claims, as this could be discovered, and such a large organization as Jyske Bank, makes sure to hide their tracks.
Kunden påpeger dog, at der er rigtig mange indikationer, for at både Rødstenen og Lundgrens advokater, har modtaget en eller anden form for bestikkelse af Jyske bank koncernen ledelsen, for ikke at fremlægge klientens påstande mod Jyske bank for svig. /
However, the customer points out that there are many indications that both Rødstenen and Lundgren's lawyers have received some form of bribe from the Jyske bank group management, in order not to present the client's claims against Jyske bank for fraud.
Beviser for at Jyske Bank laver bevidst Bedrageri er fremlagt 2. September 2019, men svarskrift og påstande dokument, skal følge. /
Evidence of Jyske Bank deliberately doing Fraud is presented on September 2, 2019, but a defense and allegations document must follow.
EN LEDELSE SOM SJOVT NOK OVERHOVEDET IKKE VIL TALE MED OS. /
A MANAGEMENT THAT FUNNY IS NOT ATTEMPT TO TALK TO US.
Jyske Banks bestyrelse er kontinuerligt anmodet om dialog, hvilket ledelsen har ingurereret. /
Jyske Bank's Board of Directors is continuously requested for dialogue, which the management has instigated.
Bestyrelsen er kontinuerligt siden maj måned 2016, anmodet om at undersøge og stoppe jyske banks mulige svig forretninger, mod bankens kunder, altså imod Storbjerg Erhverv. /
The Board of Directors has been continuously since May 2016, requested to investigate and stop Jyske Bank's possible fraud business, against the Bank's customers, ie against Storbjerg Erhverv.
HVILKET KONCERNEN LEDELSEN NÆGTER AT GØRE NOGET VED.
WHAT GROUP MANAGEMENT REFUSES TO DO ANYTHING.
DERFOR SKRIVES DER FLERE STEDER, OM AT JYSKE BANK BEVIDST BESVIGER KUNDE
THEREFORE, MORE PLACES ARE WRITTEN IF JYSKE BANK consciously fails
Desværre vil Lundgrens overhovedet ikke svare os.
Unfortunately, Lundgrens will not answer us at all.
Og det er jo ikke fordi vi ikke forsøger, vi spørger gentagende igen og igen, sender mails, sender SMS, overbringer breve hvor vi rykker /
And it's not because we don't try, we ask repeatedly over and over, send emails, send SMS, send letters where we move
MEN LUNDGRENS VIL IKKE SVARE OS.
BUT LUNDGRENS WON'T ANSWER US.
En kunde med 1 ny advokat, går imod en milliard koncern, hvor ledelsen i foreningen syntes, at stå bag Banks million bedrageri, mod kunde i Jyske bank. /
A client with 1 new lawyer goes against a billion group, where the management of the association seemed to be behind Bank's million fraud, against a customer in Jyske bank.
Jyske bank har 100 advokater, og har sat alle sejl til for at skuffe i retsforhold. Lund Elmer Sandager har advokater som Henrik Høpner der er eksperter i straffeloven, Philip Baruch der er ekspert i ledelses ansvar. /
Jyske bank has 100 attorneys, and has made every effort to disappoint in legal matters. Lund Elmer Sandager has lawyers like Henrik Høpner who are experts in the Criminal Code, Philip Baruch who is an expert in management responsibility.
Jyske Banks bestyrelse satser alt på Lund Elmer Sandager Advokater, der er taget i at lyve overfor domstolen i sagen, ved at fremlægge falske beviser / oplysninger /
Jyske Bank's Board focuses everything on Lund Elmer Sandager Attorneys, who are taken to lie to the court in the case, by providing false evidence / information
Da Jyske Bank i forvejen samarbejder med vores nu tidligere advokat, syntes Jyske bank at have styr på, at vores påstande om SVIG Bedrageri ikke er blevet fremlagt. /
Since Jyske Bank is already cooperating with our now former lawyer, Jyske bank seems to have realized that our allegations of SVIG Fraud have not been presented.
Svig er da også skrevet ind i stævningen fra 2015, hvilket Philip Baruch skriver, i svarskrift fra 10 september 2015 er udokumenterede. /
Fraud has also been entered into the 2015 petition, as Philip Baruch writes, in the defense of September 10, 2015 is undocumented.
Hvilket vi så i 2016 gerne vil have fremlagt, og dokumentere overfor retten, men det vil vores advokater altså ikke have, og som her får vores Lundgrens derefter million opgaver for Jyske Bank A/S. /
Which in 2016 we would like to have presented and document to the court, but our attorneys do not want to, and as here our Lundgrens then gets a million tasks for Jyske Bank A / S.
Vi stiller spørgsmål ved, om det er bestikkelse, for at holde vores påstande om svig og falsk, samt vores beviser ude af sagen. /
We question whether it is bribery, to keep our allegations of fraud and false, as well as our evidence out of the case.
DU MÅ SELV VURDERE OM LUNDGRENS ADVOKATER ARBEJDER FOR JYSKE BANK OG DERFOR NÆGTER AT FREMLÆGGE VORES PÅSTANDE.
YOU MUST EVALUATE ABOUT LUNDGREN'S ADVOCATES WORKING FOR JYSKE BANK AND THEREFORE REFUSING TO PROMISE OUR CLAIM.
Men nu kommer der en ny advokat på som ikke er i lommen på den danske Bank Jyske bank. /
But now comes a new lawyer, who is not in the pocket of the Danish Bank Jyske bank.
Synes godt nok jeg har lavet mange kopier af samme bilag igen og igen de sidste 43 måneder.
Seems like I've made many copies of the same document over and over the last 43 months.
Nu er vi ved at printe et nyt sæt bilag ud til en ny Advokat.
Now we are printing a new set of documents to a new lawyer.
Et komplet sæt med den Jyske svindel banks bilag og vores bilag. A complete set of Jyske fraud bank's attachments and our annexes.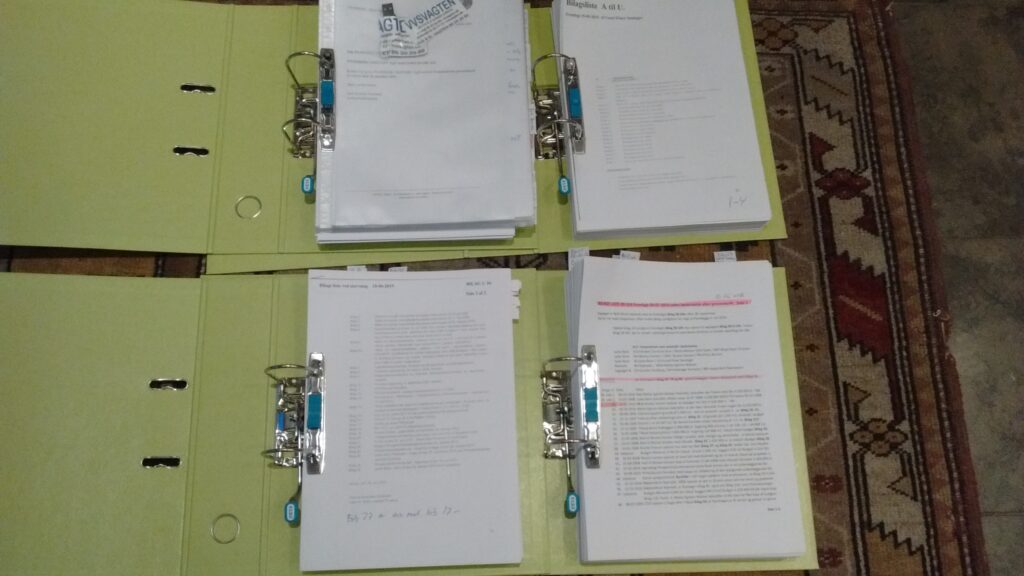 Vores påstande.
Vores tab.
Hvilket Dan Terkildsen Lundgrens advokater. Var ligeglad med efter Lundgrens fik en million opgaven af den jyske svindel bank "jyske bank" for rådgivning i en sag for over én HALV MILLIARD.
–
Rødstenen advokater, og Lundgrens advokater, har modtaget stribevis af kopier, af det vil vil have fremlagt og fremsat i vores påstand.
Men hverken advokat Thomas Schioldan Sørensen Rødstenen advokater, eller Dan Terkildsen Lundgrens Advokatpartnerselskab
Har formået at fremlægge en eneste af deres klients påstande mod jyske bank for svig og falsk.
–
–
Lundgrens advokater har heller ikke skrevet til retten, at vi har nogle vidner, som er aftalt og ønsket indkaldt.
Lundgrens advokater har bare skrevet de samme 3 på som jyske bank har skrevet for længe siden, heraf er kun Casper Dam Olsen og Nicolai Hansen på vores vidne liste.
–
Det virker meget sandsynligt at jyske bank A/S har bestukket Lundgrens advokater i vores svig sag mod jyske bank, og derfor har Lundgrens advokater modarbejdet at vores påstande er blevet fremlagt.
Er det derfor hverken
CEO Anders Christian Dam. Advokat Philip Baruch. Advokat Morten Ulrik Gade. Inkasso Birgit Buch Thuesen fra jyske bank.
Og Advokat Mette Egholm Nielsen fra Nykridit samt et par flere, er skrevet på vidnelisten, af Lundgrens advokater er blevet fjernet som vidner.
HVAD VI IKKE VISTE, DA LUNDGRENS IKKE HAR OPLYST OS DET.
Er at Lund Elmer Sandager i april 2019 og Lundgrens advokater i september 2019, har skrevet Lars Aaqvist fra jyske bank Vesterbrogade på som vidne, hvilket vi først opdagede 3 Oktober da vi får fat i en kopi af processkrifterne fra Retten.
Det formodes at Lars Aaqvist fra Jyske Bank har haft en finger med i spillet, omkring den Falske Swap Bilag 1. som vil siden 2016 har fremlagt for Rødstenen og Lundgrens advokater er falsk, og som sagsøgeren påstår er lavet af Jyske Bank på Vesterbrogade selv 16-07-2008 uden aftale med Sagsøger, og som flere af Jyske Banks hjælperer, har hjulpet jyske bank med at skjule over for retten og for pengeinstitutankenævnet.
Det ligner mere og mere organiseret kriminalitet, eller bare organiseret svindel, som den samlede Jyske Bank koncernen står bag, med bestyrelsen i ryggen.
It looks more and more like organized crime, or just organized scams that the entire Jyske Bank group is behind, with the board in the back.
Vores nye advokat vil gerne fremlægge vores påstande mod Jyske Bank, modsat Rødstenen advokater og Lundgrens advokater der har valgt at hjælpe Jyske bank, med at dække over bankens svig forretning imod sagsøgeren, en mangeårig og trofast kunde i Jyske bank.
Our new lawyer would like to present our claims against Jyske Bank, as opposed to Rødstenen lawyers and Lundgren's lawyers who have chosen to help Jyske bank, to cover the bank's fraud business against the plaintiff, a long-standing and loyal customer of Jyske bank.
Vi er klar til at gå i krig med den mægtige bestyrelse som vi mener i foreningen står bagved Jyske banks helt bevidste og fortalte svig mod bankens kunde. /
We are ready to go to war with the mighty board that we believe in the association is behind Jyske Bank's fully conscious and told fraud against the bank's customer.
Af vidner som eks. Advokaterne Morten Ulrik Gade og Philip Baruch har løjet og påstået vi 15-07-2008 har lavet og godkendt en swap med dato 16-07-2008, og forsøgte at skjule over for Domstolen at Den swap vi lavede 15-07-2008 lukkes 30-12-2008.
By witnesses such as the attorneys Morten Ulrik Gade and Philip Baruch have lied and claimed that we made and approved a swap dated July 07, 2008 and tried to hide from the Court that the swap we made on 15- 07-2008 closes 30-12-2008.
BANKEN ÆNDRE FLERE GANGE FORKLARING, EFTERHÅNDEN SOM BEVISER FOR JYSKE BANKS LØGNE OPDAGES.
THE BANK CHANGE MULTIPLE EXPLANATION, PREVIOUSLY PROVIDING FOR JYSKE BANK'S LID DETECTED.
–
Vidner som skal indkaldes er fra første møde hos Lundgrens, er blevet oplyst skulle indkaldes, men som Lundgrens ved Dan Terkildsen, ganske belejligt har valgt at glemme, da de sender et processkrift 02-09-2019 efter kl. 22. Kun 4 uger inden hovedforhandlingen 30-09
"vi har fået det fra retten 03-10-2019"
Og ser at 7 eller 8 af vores vidner ikke er indkaldt, samt et vidne fra Jyske Bank vi ikke har talt om.
Også her står det klart, at Lundgrens modarbejde deres klient, ved ikke at skriver vores vidner eller påstande på.
Lundgrens advokater føres klart deres egen sag, som er videreført fra 2013 og 2015, uden at vores påstande fra 2015
Efter vi har opdaget at LES. Philip Baruch har løjet over for retten.
Og at jyske bank ved Morten Ulrik Gade har løjet over for pengeinstitutankenævnet.
Samt at jyske banks medarbejdere som Nicolai Hansen har løjet for kunden om lån der ikke findes.
Og Casper Dam Olsen har løjet over for kunden, at det lån på 4.328.000 kr. som Nicolai Hansen i 2010 lyver optaget, lyver Casper Dam Olsen i 2012 som at dette underlæggnde lån for en rente swap med jyske bank er blevet omlagt.
–
Lund Elmer Sandager Advokater som i forvejen har fremlagt falske oplysninger over for retten, manipulere stadig sagen over for retten, men vores påstande om at jyske bank laver svig er heller ikke blevet dokumenteret.
Hvilket Philip Baruch 10-09-2015 i sagen afviser skulle være sket.
–
Mens vi i 43 måneder har forsøgt at få vores påstande om svig og falsk påstande mod jyske Bank fremlagt.
Lundgrens har ikke engang delt en kopi af processkrift B og C fra Lund Elmer Sandager Advokater
Eller ville dele en kopi af Lundgrens eget processkrift 1 og 2. med os.
Efter Jyske Bank får sagen  udsat, har vi opdaget at et processkrift er afleveret 02-09-2019, dette har vi bedt om kopi af 19-09-2019 men ikke modtaget, vi har 03-10-2019 fået det udleveret.
–
Nu er svarskrifter og Bilag via retten 3. Oktober modtaget og ved at blive læst.
Og kan konstatere at Lundgrens advokater ikke engang har svaret Lund Elmer Sandager Advokater, på deres spørgsmål, så LES beklager sig til retten.
–
–
PÅ HØJE TID AT LUNDGRENS BLEV FYRET
OG AT VI NU SKAL HAVE VORES EGEN ADVOKAT PÅ SVIG SAGEN MOD JYSKE BANK A/S
OG IKKE EN ADVOKAT SOM I DET SKJULTE, ARBEJDER FOR JYSKE BANK, OG HAR TJENT MILLIONER I DERES SAMARBEJDE MED JYSKE BANK.
–
–
Kan se at danmarks største svindler, nok er Jyske Bank i februar 2016 har fremlagt 3 bilag.
Og at Lund Elmer Sandager i den forbindelse skriver vores bilag fra 28 og 29 december ikke regnes medtaget.
Lundgrens advokater modarbejder klientens påstande om jyske bank laver svig, imens Lundgrens advokater skovler millioner af kroner ind på at hjælpe jyske bank.
–
–
Hos Anders Dam, taler vi om at han og ledelsen har tilbageholdt vigtige oplysninger, der kunne afdække Jyske Banks mange løgne.
Hos Philip Baruch, taler vi om at Philip har løjet flere gange i et retsforhold, altså at Philip Baruch har fremlagt manipuleret bevismateriale, skjult oplysninger over for retten, og talt usandt over for retten.
Hos Morten Ulrik Gade, taler vi også om at Morten Gade har løjet over for Pengeinstitutankenævnet, og tilbageholdt vigtige oplysninger over for deres kunde, for at ville skuffe i retsforhold.
–
Generelt gør vi gældende at jyske bank koncernen har udsat deres kunde for grov Udnyttelse og Svig
SVIG er på Dansk oversat til BEDRAGERI.
FALSK er på Dansk oversat til DOKUMENTFALSK.
–
–
Hvis du vil have en advokat der modarbejder klientens ønsker, arbejder imod klientens instrukser, tilbageholder oplysninger, ikke oplyser hvad de laver, arbejder selvstændigt uden dine påstande indgår, og skriver store faktura for at modarbejde dig.
Så skal du vælge Lundgrens advokater, for her ser det ud til at Advokatpartnerselskabet er til salg for højst bydende.
Vi understreger lige vi ikke kan bevise at Lundgrens advokater har modarbejdet vores sag, grundet jyske bank har bestukket Lundgrens advokater, i form af mindst million opgave.
–
–
FAKTA
Lungrens Advokatpartnerselskab fik
5. FEBRUAR 2018 til opgave.
At fører vores svig og falsk påstande imod jyske bank
/
Lundgrens advokater har arbejdet for Jyske Bank, i en periode omkring.
MARTS til JUNI 2018
I en sag, om en handel for over
EN HALV MILLIARD KRONER.
–
Dette er sandsynligvis grunden til at Lundgrens Advokatpartnerselskab har givet os så meget modstand, og direkte har modarbejdet at vores sag derfor ikke er blevet fremlagt for retten.
Derfor er Lundgrens advokater blevet fyret, for at gå jyske banks erne.
Og for at arbejde direkte imod klientens instrukser om at fremlægge deres påstande.
Og for ikke at delagtiggøre klienten i hvad Lundgrens advokater laver.
/
Lundgrens advokater har lavet og sendt 3 meget korte processkifter, i sagen.
Alle uden at efterkomme klintens instrukser.
Alle processkrifter er sendt uden klienten har set eller kunne godkende det, og uden mulighed for at kunne få det rettet.
/
Lundgrens advokater har sendt et lille processkift 02-09-2019 kl. 22
Sidste dato 4 uger inde hovedforhandlingen var aftalt.
Vi har ikke fået kopi CC.
Vi har rykket for en kopi, men ikke fået den.
Vi er nu opdateret at vores advokat ikke har skrevet vores vidner eller påstande på.
/
Lundgrens advokater har også sendt  18-12-2018 sendt et meget kort processkift.
Frist dato.
Dette uden at medtage nogle af vores påstande.
Det er i måneder op til denne dato 18 december 2018, skåret ud i pap, hvad vores påstande er.
Blev da også blevet ringet op af den fuldmægtige fra Lundgrens 18-12-2018 kl ca 17 hvor hun sagde at det var nogle grove anklager vi kom med, i mod jyske bank.
Ja men det er altså vores påstande, men dem nægter Lundgrens advokater så at fremlægge.
Vi ved heller ikke på dette tidspunkt, at Lundgrenens advokater ligesom ligger i ske sammen med Jyske Bank, om rådgivning i forbindelse med et salg til 600.000.000 kr.
Som Lundgrens advokater, vel har fået mange millioner kroner i Honorar for
Vi får en kopi CC.
Af de afsluttende bemærkninger, der altså ikke indeholder nogle af klientens påstande.
/
Lundgrens advokater har også sendt  28-09-2018 sendt et meget kort processkift.
Frist dato.
Fremlægge kun bilag for at der ikke findes noget lån til en SWAP.
Ikke at vi påstår at SWAP bilag 1. Er falsk.
Altså uden at medtage vores påstande.
Vi får en kopi CC.
–
–
Vi har skrevet til jyske bank og direktør Anders Dam at vi ønsker at tale med koncernledelsen, og at vi er udsatte for SVIG
Anders Christian Dam vil ikke i dialog med os, altså det skal afgøres af retten om jyske bank laver svig.
Problemet er at advokaterne direkte i modstrid med god advokatskik, har modarbejdet klintens påstand om svig er blevet fremlagt.
–
I sagen mod jyske bank for svig, er jyske bank repræsenteret af Kristian Buus-Nielsen og Philip Baruch LES
Philip Baruch der er medlem af Jyske Banks bestyrelse, og som var medstifter af Lund Elmer Sandager Advokater, går i front og kæmper indædt for at jyske banks helt bevidste svig mod lille kunde, skal fortsætte mange år ud i fremtiden.
Hvorfor Philip Baruch har løjet og tilbageholdt oplysninger over for retten, for at ville skuffe i retsforhold.
Både Philip Baruch og Retten Viborg er bekendt med anklager mod Philip Baruch for at have løjet over for retten.
Da Philip Baruch fyldte 60 år. Skrev Berlingske
–
–
Nu er Lundgrens advokater fyret og vi skal for tredje gang have ny advokat.
Er nogle uenige i teksten, så retter vi gerne, bare vi modtager den dokumentation vi har skrevet og bedt om.
Kontakt os på 22227713
Søvej 5
3100 Hornbæk
Mvh firmaet
HVORFOR FINDER I IKKE NOGLE ANDRE AT UDSÆTTE FOR BEDRAGERI, VI SYNTES IKKE DET ER SJOVT, PRØV AT SNYD MAERSK ISTEDET
WHY DON'T YOU FIND ANYONE ELSE TO FRAUD, WE DON'T THINK IT'S FUN, TRY TO CHEAT Maersk instead
OG FÅ EN VÆRDIG MODSTANDER, FREM FOR AT SNYDE OS SOM JYSKE BANK NOK BETEGNER SOM NOGLE NEMME OFFER
AND GET A VALUABLE RESPONSE BEFORE CHEATING US AS JYSKE BANK NOK MEANS SOME EASY OFFERS