Her er de første breve sendt til Jyske Banks advokat og Jyske Banks koncernledelse.
Hvor kunde beder Jyske Banks bestyrelse om at holde op med at lave bedrageri.
Alle breve er fremlagt og medtaget i retten.
Bilag 104. 122. 99. 85. 86. 87. 88. 133. 134. Fremlægges 169.
Jyske Bank's group still has not wanted to stop the bank's continued fraudulent transactions, and still refuses dialogue.
while the group's board of directors

Bente Overgaard 2020 nyt medlem
Anker Laden-Andersen 2019
Per Schnack 2019
Sven Buhrkall 2019
Kurt Bligaard Pedersen 2019
Rina Asmussen 2019
Philip Baruch 2019
Jens A Borup 2019
Keld Norup 2019
Christina Lykke Munk 2019
Haggai Kunisch 2018 ud
Johnny Christensen 2019
Marianne Lillevang 2019
Anders Dam 2019
Leif F Larsen 2018 ud
Niels Erik Jakobsen 2019
Per Skovhus 2019
Peter Schleidt 2019
Bente Overgaard 2020 nyt medlem tidligere Koncernchef i Nykredit.
Is all behind Jyske Bank's continuing fraud, which must be to the detriment of the customer as much as possible.
Since these letters have been forwarded to Jyske Bank's group management, the Board of Directors must believe that their client knows nothing about their lawyer from Lundgren's work for Jyske Bank, and that may be why the Board of Directors refuses to expose special selected weak customers for scams.
---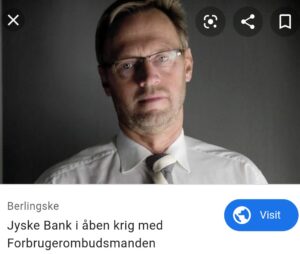 This takes advantage of the large Danish bank Jyske Bank's board, which, like a bunch of criminal finance people, stand together to deceive their customer.
With a board of directors refusing to stop the group board, fraudulent transactions against the bank's customer, which has stood alone for the past 43 months.
And a Danish police, who has refused to investigate Jyske Bank A/S and the bank's management for complicity in fraud.
This has probably been to cover the crime of Danish banks, such as Document False, Fraud, Mandate fraud conducted by Jyske Bank A/S
Where client has been fighting since February 2016.
Just to get their now former lawyers who is.
Thomas Schioldan

Sørensen from Rödstenen Attorneys from Aarhus.
And then.
Dan Terkildsen from Lundgren's lawyers from Copenhagen.
To present their many allegations against Jyske Bank A/S for exploitation and gross fraud.
As you can see in the shared letters, how difficult it is to get "corrupt" lawyers to help their clients present their claims in court.
We refer directly to Lundgren's lawyer partner company.
Laughing it wasn't just hard.
🙂
Butquite impossible, which is pretty easy to see, when you read what the Client has continuously, written and instructed their attorneys as several of Lundgren's attorneys to present.
Andread the many times we have given, the clearly corrupt Lundgren's lawyers, Instructions on submitting our fraud allegations against the Jyske Bank Group, and where we repeatedly make Jyske Bank's board responsible for the bank's continued fraud.
Please read by letter which we share with date.
This small fraud case for Jysk bank should lie in the criminal court.
But when such a powerful organization as the Jyske Bank group is fraudulent, the bank's board also has many powerful friends who obviously do not want the Danish banks to comply with the applicable law, nor for financial companies.
It is a huge societal problem when Danish banks are allowed to deceive their customers, without the police will intervene, and certainly also

  socially harmful business.
---
Afleveret til Lundgrens at Dant Terkildsen til 03-11-2018 Bilag i tidslinje bedes fremlagt i sagen, kort forklaret
11-12-2018 KOPI gennen gang af sag som vi ønskes den fremlagt procesuelt inden 18-12-2018, såfremt jyske bank ikke selv ønsker at giver indrømmelser og forlige sagen.
---
Lundgren's lawyers never comment on or respond to the Client's claims, as the case against Jyske Bank A/S for fraud is of such serious nature and Lundgren's lawyers have not answered the client.
The client is therefore afraid that Lundgren's lawyers have not understood
🙂
What the client must say.
Which is

why we send our own folder with copies to the reception before 18-12-2018, with instructions that it is important Mette Marie Nielsen gets the folder to present, and information we would like to have our copy back soon. We do not get any response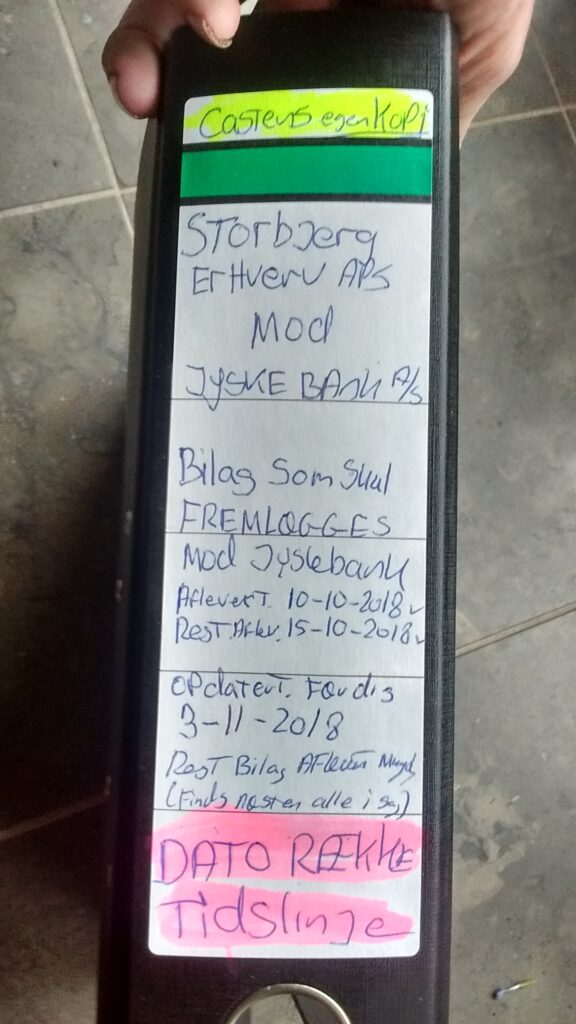 This is more to Lundgren's information, we have taken photos of contents in our own delivered folder as well, as we took pictures of hospital records, so that we ourselves could present a copy, in somewhat inferior quality.
Lundgren's lawyers still have not retuned the material of our case on 28-03-2020, which we wrote when we fired Lundgrens.
---
As you can also read in the timeline, with our claims, we give Lundgren's attorneys instructions on 3-11-2018 to present our claims.
Just as we make the Management co-responsible in Jyske Bank's continuing fraud business.
The first time Lundgren's lawyer partnered company, responding to our charges against the Board of Directors, and the Board's involvement and responsibility is 18-08-2019.
Where Lundgren's Partner Dan Terkildsen rejects that Jyske Bank's Board of Directors has some responsibility.
---
---
Read what Lundgrens partner Dan Terkildsen chooses to present in court.
---
---
---
28-10-2019. Afsluttende Processkrift sagen BS-402 2015-VIB påstår Bilag 1. er falsk dato 27-10-2019 er fremlagt med en del stave og skrivefejl, da Lundgrens modarbejde sagens fremlæggelse
---
And think about how many corrupt and lying lawyers there are in Denmark.
Danish lawyers who directly oppose that a judge can do their job and judge by the evidence.
Aswhen Lund Elmer Sandager Attorneys provide false information in legal matters, and has presented manipulated "false" evidence, and deliberately conceals evidence with a view to disappoint in legal matters.
We have repeatedly stated to the court that Lund Elmer Sandager Advokater has lied in legal matters, that is, lied to the court.
The Court has not ruled on this information.
We regularly share the many letters to and from the lawyers who are supposed to have received payment or bribes from Jyske Bank's group management, of course hidden as Return Commission.
Jyske Bank's group must have paid Lundgren's bribe, in order not to present some of their client's fraud allegations against Jyske Bank A/S.
If there is something you think is missing or do not understand.
Orsome in Jyske Bank's group, Lund Elmer Sandager Attorneys, Lundgren's lawyers and Rödstenen lawyers who do not understand what we write.
So help us to correct any misunderstandings and start by re-reading our many letters calling for dialogue.
This post is a call to DIALOG.
Feelfree to send an SMS to 004522227713
🙂
We are a small customer, a small client who is deceived by Jyske Bank's group. 
But we are also a small mosquito, against Jyske Bank, which has a tremendous strength, which the Group exploits in the large unequal strength relationship, which by continuing fraud, in the hope that the bank's victim can not afford to get a lawyer, to bring Jyske Bank's gross fraud crimes against their customers to court.
Now that the police prefer to allow Jyske Bank to continue crimes against their customers, rather than to investigate whether the customer is right and Jyske Bank's group are in fact criminals.
---
---
---
30-04-2017 Kære Anders Dam * til Jyske Bank Vestergade 8-16. 8600 Silkeborg. koncern ledergruppe og Juridisk direktør Peter Stig Hansen att Anders Dam mener at Jyske Bank bedrager kunde. er pt ikke fremlagt. Page 1-9. har indsat side nummer. / Anders Christian Dam Ordførende direktør Afdeling: Koncerndirektion E-mail:direktion@jyskebank.dk / Peter Stig Hansen Direktør Afdeling: Juridisk E-mail:psh@jyskebank.dk
Koncernen ledergruppe
Anders Dam
PeterStig Hansen
---
---
---
---
---
---
---
Følg med her Se alle link på bloggen. Til opdelt Bilag.