Afsluttende Processkrift 28-10-2019.
Og nede under Processkrift 2. 02-09-2019.
Hvad er det lige Lundgrens advokater glemmer at fremlægge, og indkalde af vidner, men vælger at undlader at følge klientens interesser.
Har Jyske Banks afdeling i Helsingør ved Anette Kirkeby og Casper Dam Olsen, tvunget kunde til at sælge en byggegrund, og dermed nedbringe gælden i det lån 4.328.000, Jyske Bank har påstået hjemtaget, og så påstår omlagt til en swap med Jyske Bank. 
Ledelsen i Jyske Bank ved godt at banken udsætter bankkunde for bedrageri, men håber på at bliver banken ved med at udsætte kunde for groft bedrageri, vil det danske politi sikkert dække over det, som det syntes være sket siden Jyske Bank blev anmeldt for svindel.
Nedenunder kan du se hvad Lundgrens advokater har fremlagt. 2. septemper 2019 og iøvrigt uden at udlevere en kopi til deres klient, selv om Lundgrens er blevet anmodet om at dele processkrift med klienten.
Mere i sagen mod jyske bank kommer, men spørg lige dig selv om jyske bank har bestukket, eller betalt Lundgrens advokater, i form af honoraret, for ikke at fremlægge klientens påstande mod jyske bank for svig.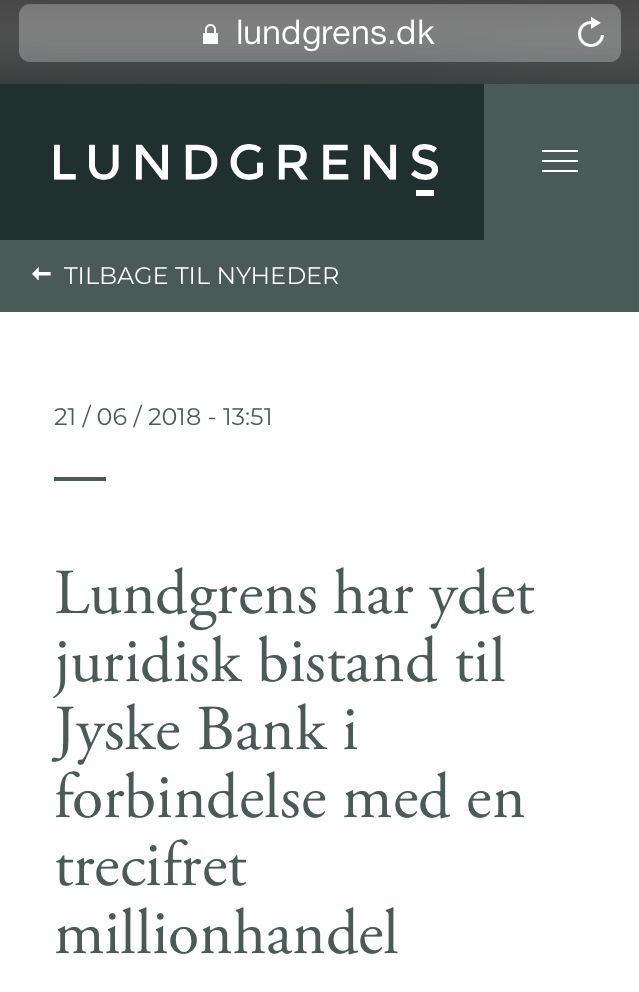 PROCES SKRIFT 2. af 02-09-2019
Dette ville lundgrens ikke give klienten en kopi af, selv om Lundgrens på mail blev anmodet om at dele en kopi med deres klient.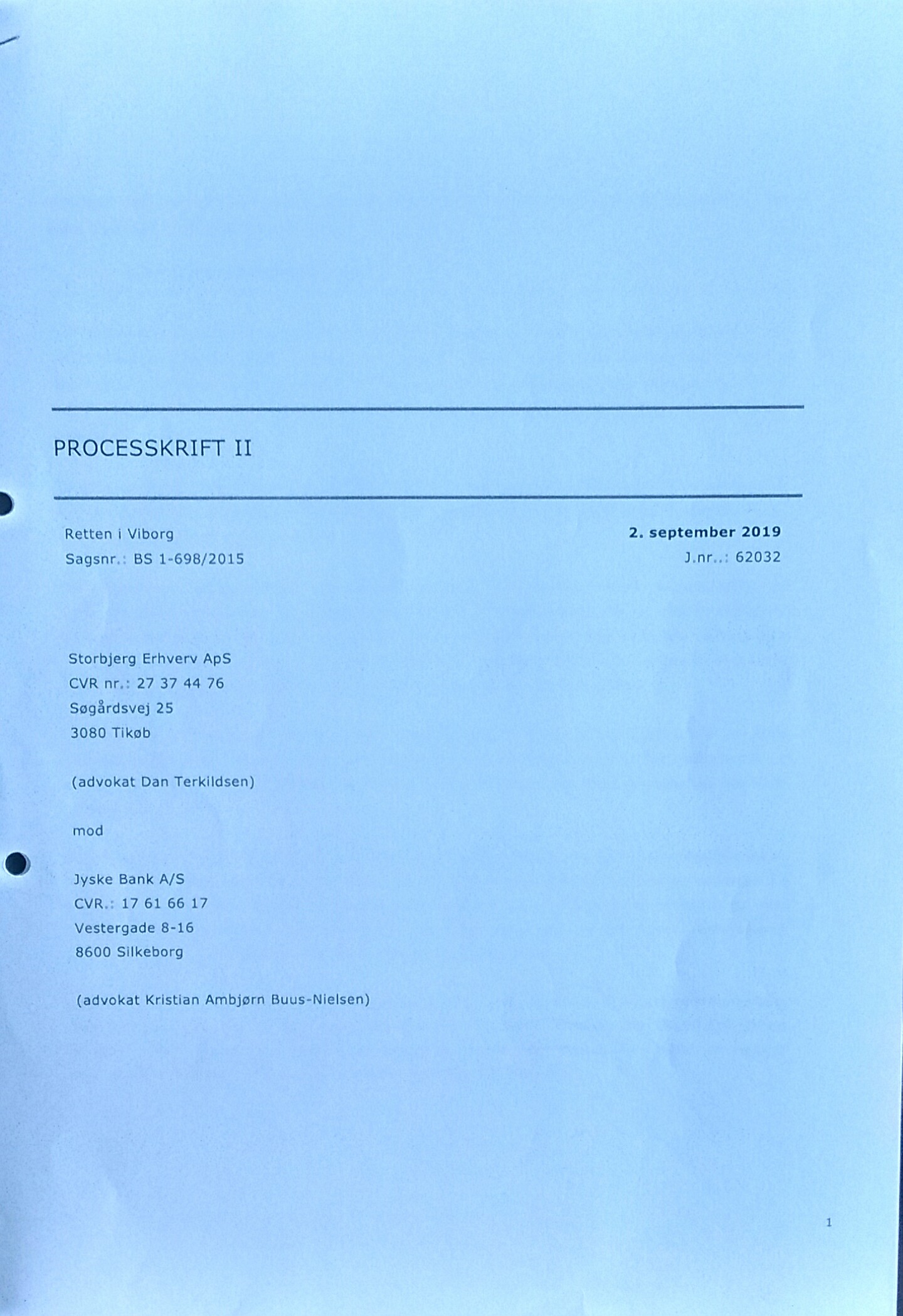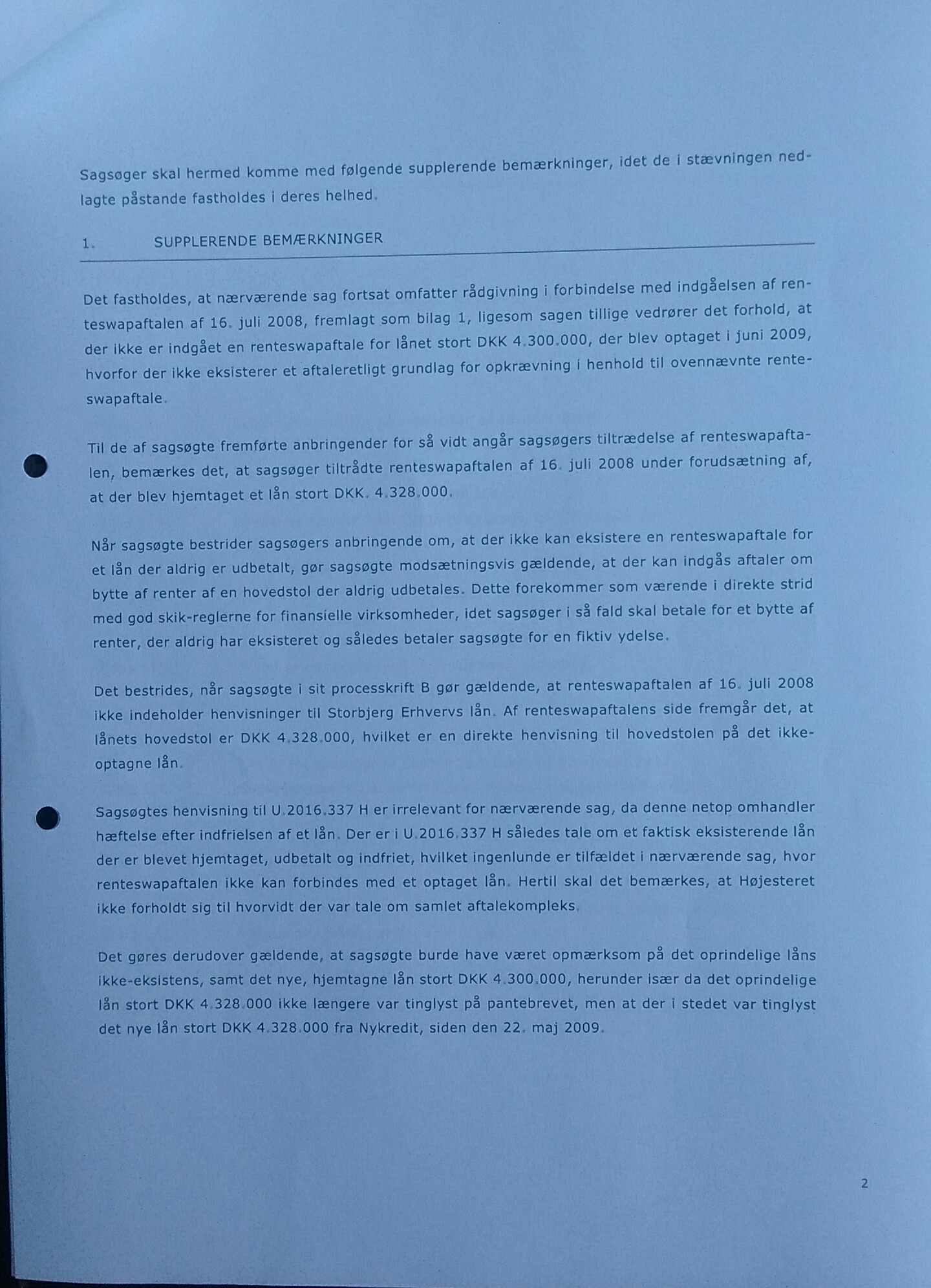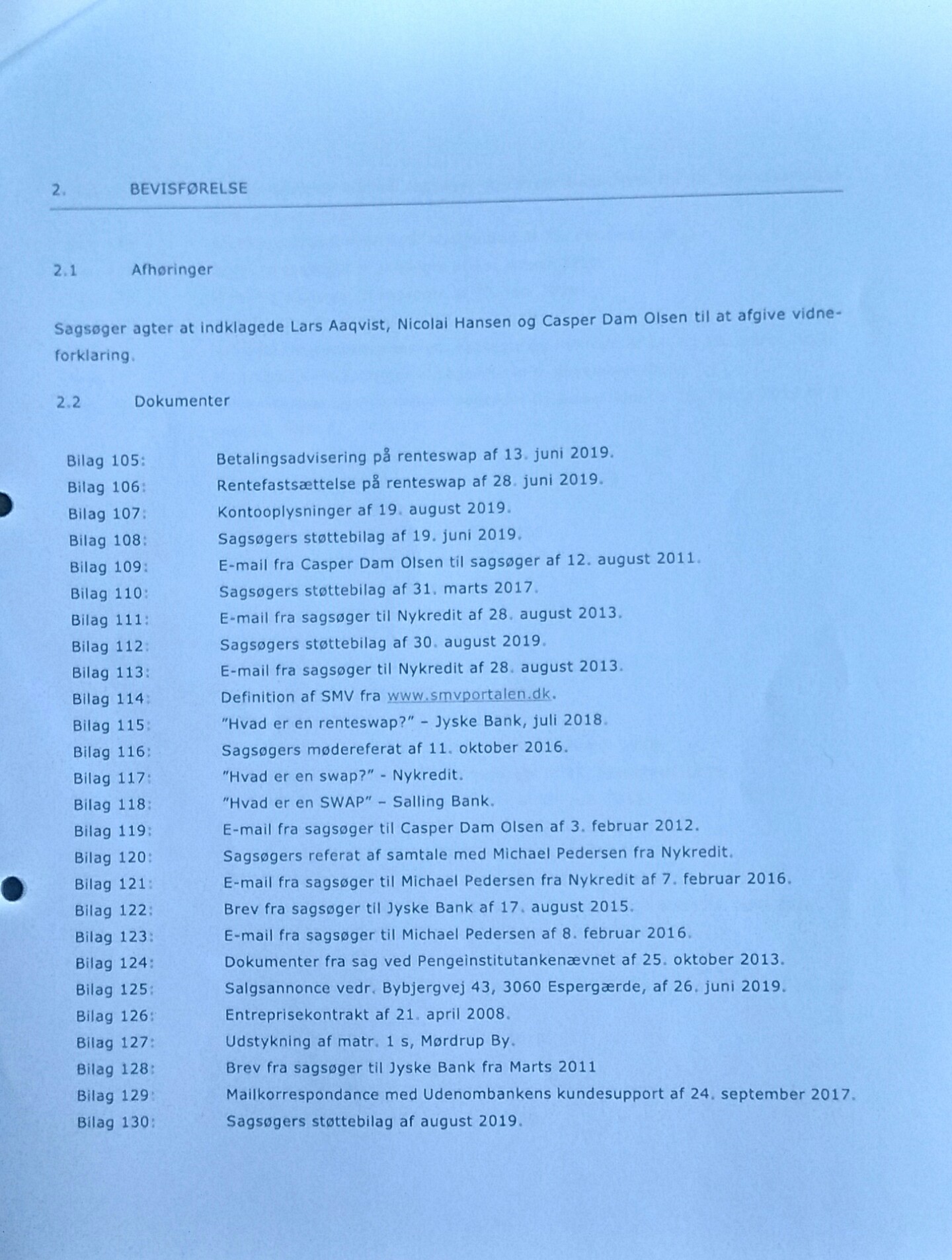 Lundgrens advokater glemte at indkalde vidner.
Meget morsomt at klienten så selv må skrive dem op
Danish customers believe That 

Lundgren's Law firm is jeopardize legal certainty in Denmark.
Therefore the former client, complaining about Lundgren's lawyers, for having acted saddely and in loyalty to their own client.
Which was after Defendant Jyske Bank initiated their million co-operation, with Plaintiff's attorney Lundgren's lawyers.
Lundgren's Partner Dan Terkildsen writes that there are conspiracy theories, and nothing to wear.
A case of a major Danish bank's financial fraud, document false, and that Lundgren's Attorney's negligence, which by countering the client's claims against Jyske Bank will not be presented to the courts, in order to help the defendant the Danish Jyske bank to disappoint in legal matters.
🙁
This is just what the former client of Lundgren's attorneys wrote in the submitted closing reply of 28-10-2019.
Why Lund Elmer Sandager Attorneys at Philip Baruch have written to the court.
And Jyske Bank board member Philip Baruch writes that Jyske Bank A/S strongly distances the applicant's accusations against Lundgren's lawyers for having taken bribes.
Without taking away the plaintiff, the defendant accuses Jyske Bank A/S of using bribery, hidden as a return commission.
What is highlighted are some spelling and typing errors we have found. But we have been without a lawyer for the previous 43 months, even though we believed in the latest Lundgren's lawyers, actually working for us, not just sending bills, of about DKK 200,000 to help defendant Jyske Bank A/S not to present plaintiff's claims against Jyske Bank.
30-04-2017 Kære Anders Dam * til Jyske Bank Vestergade 8-16. 8600 Silkeborg. koncern ledergruppe og Juridisk direktør Peter Stig Hansen att Anders Dam mener at Jyske Bank bedrager kunde. er pt ikke fremlagt. Page 1-9. har indsat side nummer. / Anders Christian Dam Ordførende direktør Afdeling: Koncerndirektion E-mail:direktion@jyskebank.dk / Peter Stig Hansen Direktør Afdeling: Juridisk E-mail:psh@jyskebank.dk
Dette processkrift 3. fra 27-10-2019. Jyske Bank kunne have svaret 4 uger efter
Men svare først 14-08-2020.
Desværre arbejder den kriminelle Jyske koncern for at trække tiden ud, og Philip Baruch fra Lund Elmer Sandager meddler at de ikke kan forstå noget af det som er fremlagt, og forlanger at sagsøger skal finde en ny advokate efter, sagsøger opdagede at Jyske banks ledelse havde købt sagers advokat "Lundgrens" til at arbejde for Jyske Bank A/S
Indsætter her Lund Elmer Sandagers svar, da det kun er 4 sider. og så processkriftet fra 27-10-2019. 
Danmarks nok største kriminelle bank Jyske bank A/S giver deres svare 14-08-2020
Jyske bank Vesterbro behind large fraud against customer, through document manipulation, and FALSE Or it is called removing agreement documents, Jyske Bank's group leader group or the Board of Directors of Denmark's second largest bank has no comment, but does not believe that Jyske Bank is doing anything wrong, the Bank does just as Jyske bank always does.
Link to the letter where the customer informs the group management group, and legal director Peter Stig Hansen.
And CEO Anders Christian Dam that Jyske Bank A/S exposes customer to fraud.
Jyske Bank's powerful group management refuses to answer the small customer and will not stop the bank's fraud crimes.
TO THE GROUP MANAGER GROUP HERE.
Where a customer asks the group not to make a fraud against their customers, or at least talk to them.
–
This is how Jyske Bank treats its customers, you can very easily be exposed to the same scams and exploits, and discover that the police will not help stop the largest criminal Danish organizations.
Do you want to support this kind of Banking business as shareholders in Jyske Bank?
ATP and Nykredit know that Jyske bank is fraudulent, but does not care if they make money to support the Jyske Bank Group