Bidrag modtages
Donation to lawyer assistance against Jyske bank A/S for gross fraud
carried out and continued by Jyske Bank's Board of Directors since May 2016
in association. received
IBAN DK0854790004563376.
Help us stop the criminal Danish banks.
It is a great thing for legal certainty in Denmark that a Danish bank is allowed by the police to commit crime.
Or does the new chief of police or the Minister of Justice have a good explanation, no politicians or authorities will help stop Jyske Bank's fraud charges against us customers.
Supreme Court Judge Kurt Rasmussen who, in Loyalty, has worked against justice and by abusing his position of power has covered up the corrupt Lundgren's lawyers.
If Judge Kurt Rasmussen wants to explain himself, and take part in an interview, for use in the books on corruption in Denmark and among large Danish law firms, then please ask the employed judge privately, without Kurt Rasmussen again abusing his position of power in Danish society respond to my request to meet so that we can review my evidence.
My phone number is +4522227713.
You, who are reading this, will tell the Danish Courts Agency and the Ministry of Justice that I want a meeting.
LUNDGRENS ADVOLATER ER KORUPTE
Are Lundgren's lawyers corrupt and is the Danske Bank Jyske bank fraudulent.
Please read some of the many letters we have sent to Lundgrens, the court and Rørdtenen attorneys since 2016, to present our claims against JYSKE BANK FOR FRAUD AND FALSE.
If you have any questions then call +4522227713
best regards The Skaarup family from Hornbaek
Soevej 5. 3100 Hornbark
DK. Denmark.
Main hearing in large fraud case against JyskeBank 30th of September & October 1 is listed after apparent problems with a corrupt lawyer
Who only 30 days before the main hearing, the court submits the client's evidence of fraud, and to file client claims.
A fraud case that ends up being about bribery in some of Denmark's largest law firms and Danish banks.
If CEO Ander Christian Dam has another explanation, our number is +4522227713
And wants Jyske Bank's group management to admit that we are exposed to fraud, and the Board has been aware of this fraud and false at least since May 2016.
Lundgren's attorneys must be visually impaired and more blind than their client.
or even Jyske Bank A/S paid Jyske Bank many millions in return commission, to help cover Jyske Bank's fraud and false  and disappoint in residual conditions.
5479 – 4563376 Nykredit
IBAN DK0854790004563376.
Help us stop the criminal Danish banks.
HJÆLP MIG I AT SAGSØGE JYSKE BANK for Bedrageri, falsk svig
Just see the letter of September 1, 2019. to Lundgren's lawyers with clear instructions that the case is a fraud, and we claim that
Appendix
1.
a swap from 16-07-2008 is false.
And we will summon 9 witnesses.
Compare the Prosecution 2. which Lundgrens submits to the court on September 2, 2019,
And will share some copies with the client. Lundgrens writes in Prosecution 2.
Nothing that the case is presented with allegations of fraud and false.
Lundgrens has removed 7 of the client's 9th witnesses.
Lundgrens change the client's claim that Appendix 1. is false, that Appendix 1. the swap is agreed.
And when we fire Lundgrens you will not repay our money.
they Dan terkildsen think they have done a great job, but it must be for the counterparty Jyske Bank A/S.
---
Økonomisk Støtte i sag mod JYSKE BANK Søges
JYSKE BANK er blevet bedrageri anmeldt i sagen.
HJÆLP MIG MOD JYSKE BANK således jeg ikke skal være bundefanget frem til min pension
Bidrags Yder kan alle få deres navne og eventuelle links oplyst såfremt de måtte ønske dette
Jyske Bank er den 3 største Bank i Danmark
Og med alt deres magt vil de for enhver pris kæmpe for at du taber kampen inden du overhoved er kommet oven på efter deres rådgivning.
Jyske Bank har alle fordele når de rådgiver folk om der er virksomheder eller private, vi kan som privat person og virksomhed godt bruge din økonomiske hjælp i vores krav mod Goliat som her er Jyske Bank.
Jeg kan tilbyde dig oplysninger i sagen hvis dette ønskes.
Jeg kan tilbyde dig reklamer hvis dette ønskes.
Bidrag modtages med taknemlighed på Advokatens klient konto
BIDRAG STORBJERG mod Jyske Bank
Bidrag Kan indsættes her på klient kontoen
5479 – 4563376  i Nykredit
JYSKE BANK SVIG OG BEDRAGERI
hvis du gerne vil hjælpe
JEG TAKKER FOR DIT BIDRAG Carsten S Skaarup
---
Da vi er ved at opdater siden Banking news, der handler om de danske kriminelle banker,
Vi undersøger hvilken danske advokatvirksomheder, der synes villig til at lade sig bestikke.
Og det for at hjælpe kriminelle banker, som her i sagen Jyske Bank A/S. Hvor kunden har opdaget at deres tidligre advokatfirma Lundgrens advokat partnerselskab er blevet købt, af deres bank, Jyske Bank A/S, til at skulle skuffe i retsforhold, ved ikke at fremlægge klientens påstande og beviser imod jyske bank for svig og falsk overfor retten.
En sag der har hvitrækkende konsekvendes for tilliden til den danske bank verden, hvor kunde direkte beskylder Den Danske Bank Jyske Bank A/S for bedrageri.
Sagen er fremlagt som svig og falsk, med først 28-10-2019 da både
&   
Da begge advokatvirksomheder
Direkte imod klientens instrukser.
Bevidst og uhæderligt har modarbejdet klienten, og modarbejdet at klientens anklager og påstande imod Jyske Banks koncern,
og imod Jyske Bank bestyrelse for medvirken til bankens svig og falsk ikke er blevet stoppet.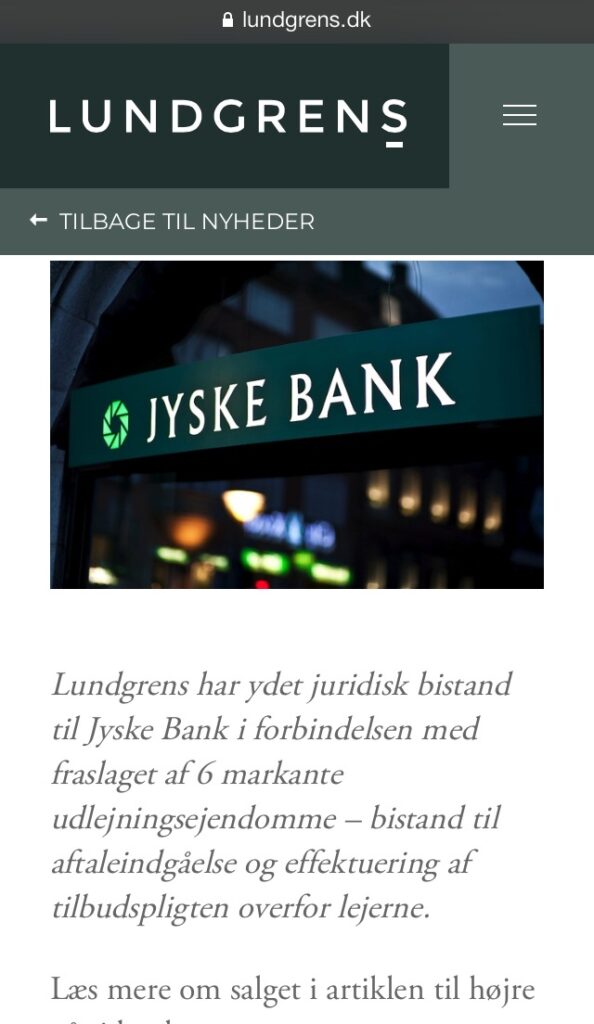 Hvor kunden første gang 19 maj retter henvendelse direkte til koncernledelsen Jyske Banks Ordstyrende formand CEO Anders Christian Dam 
Med påstande som klientens advokater aldrig har blevet fremlagt for retten.
Da klienten opdager at deres advokat Lundgrens reelt arbejder for Jyske Bank A/S. ved Lundgrens Partner Niels Gram-Hanssen.
Bliver Lundgrens naturligvis fyret, du kan læse mere om klientens begrundelse nederst på siden her.
og læse breve der er overbragt til Lundgrens og partner Dan Terkildsen. som synes at være ansat til at hjælpe Jyske Bank A/S med at skuffe i retsforhold ved have planlagt at møde op til hovedforhandling 30 september 2019.
Uden at have fremlagt, en eneste af klientens svig og falsk påstande mod Jyske banks koncern.
Kunden er blevet oplyst af en politimand "uden for referat" at sagen er politisk, hvorfor politiet har nægtet efterforske forbrydelsen mod dem, og at politiet derfor ikke vil hjælpe, med at stoppe bankens fortsatte svig forbrydelser, svig som Jyske Banks koncernledelse er en del af.
Hvis der er tale om misforståelser er koncernen gentagende siden 19. maj 2016 blevet kontaktet for at hjælpe deres kunde.
Kunde der mener at jyske bank har skjult bilag manipuleren med datoer og aftale bilag, og bevidst udsat kunden for svig og lavet falsk.
🙂
Har du spørgsmål, eller fundet noget som ikke er sandt.
Ring til os på +4522227713
Således vi straks kan rette eventuelle fejl på siden. Vi ønsker ikke at beskylde Jyske bank for Bedrageri og at lave dokumentfalsk hvis det ikke passer.
Vi  ønsker heller ikke at beskylde Jyske bank A/S for at have bestukket eller betalt Lundgrens advokater, for ikke at fremlægge vores påstande i retten.
Hvis det ikke passer så skal vi straks rette fejlen og beklage.
Husk det her er kun en anderledes og nok for mange en morsom måde forsøge at komme i dialog og kontakt med Jyske bank, således vi som voksne kan tale om det her.
🙂
---
Det handler lidt om dette her 
Når jyske bank ikke vil svare os som opdager bedrageri
vil du nok også kunne få samme tur, for at blive snydt og bedraget resten af dit liv.
🙂
DU SKAL DERFOR TÆNKE DIG GODT OM, HVIS DU VÆLGER AT TRO PÅ JYSKE BANK
NÅR JYSKE BANK GLAD FORTÆLLER FORTÆLLER DIG
VI OPGIVER AT RINGE JYSKE BANK OP VED ANTYDNINGER OM BEDRAGERI.
DETTE ER IKKE EN ANTYDNING JYSKE BANK LAVER BEDRAGERI VED DOKUMENTFALSK
ER DET LØKKES AT BEDRAGE KUNDE SIDEN 2008 TIL I DAG  
🙂
AT JYSKE BANK IKKE LYVER
AT JYSKE BANK IKKE BEDRAGER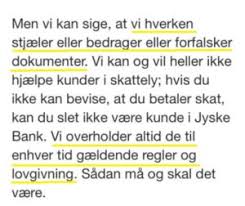 AT JYSKE BANK IKKE RÅDGIVER I OND TRO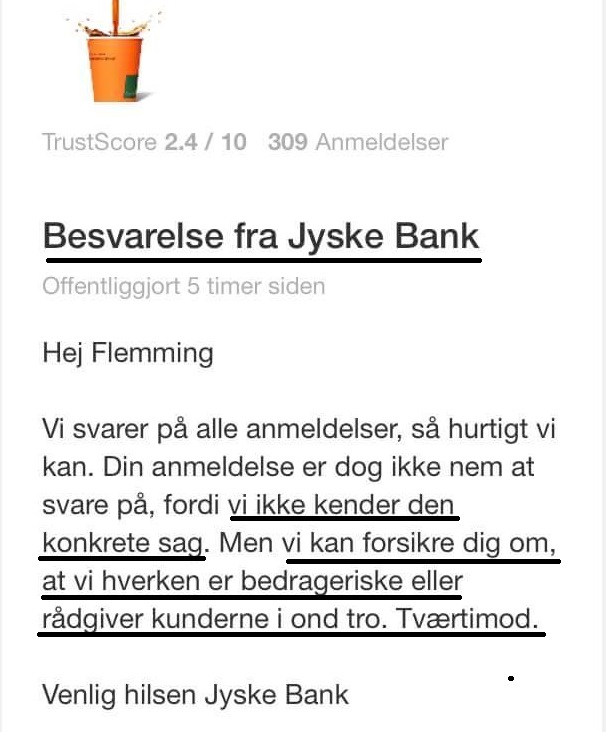 AT JYSKE BANK IKKE LAVER DOKUMENTFALSK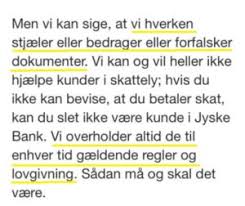 AT JYSKE BANK OVERHOLDER ALLE REGLER
AT JYSKE BANK OVERHOLDER ALLE LOVE.

Vi ligger gerne jyske bank egne opslag op, eller kopier fra jyske banks svare i retten.
FOR JYSKE BANKEN ER JO BUND ÆRLIGE.
Svaret er indspillet og gemt, så er du sikker på at jyske bank altid svare det samme.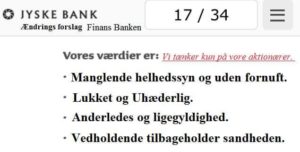 jyske bank siger vi er åbne og hæderlige i handling i ord og handling, og misbruger ikke din tillid.
detter er bare løgn. familien Skaarup fra Hornbæk fåber nu for alvorg op, og siger
Jyske bank laver bedrageri,
Jyske bank har misbrugt fuldmagter. 
Jyske bank har lavet dokumentfalsk 
Jyske bank har taget pant, og overpant for at kunden ikke måtte have penge til at fører en sag 
Jyske bank laver bevidst svindel og ledelsen er bevist om det.
TAL MED OS I STEDET FOR AT PISSE PÅ OS.
Det er for dårligt at Jyske bank som en af Danmarks største banker
på den måde kan udnytte deres magt
Til ikke at svare dem som opdager at jyske bank bedrager dem  
---
This is a WARNING against some of the largest Danish criminal companies, as the Danish Bank JYSKE BANK. 
JYSKE BANK BILEN. / The Banking News. UPDATED LATEST 12-07-2023. Time. 14.20.
Facebook, YouTube and Twitter no one can stop my advertising about the Danish bank. Jyske Banks crime, supported by the Danish state, and the government, and Employees in Lundgrens lawyers, Kromann Reumert lawyers, Horten lawyers, Lund Elmer Sandager lawyers, Dansk Erhverv, Forbrugerklagenævnet, the Danish Court and many more.
ABOUT CORRUPTION IN DENMARK.
A.P. Møller-Mærsk A/S.
Esplanaden 50
1263 København K Danmark.
DLA Piper lawyers.
Simon Levine
160 Aldersgate Street
London
EC1A 4HT
All companies, authorities who have employees, who have actually contributed to organized crime i Denmark, such as those of you who have employees, who have covered up Jyske Bank's crimes, including Jyske Bank bribe Lundgren's lawyers.
You will be found in the many videos and notices, about the corruption that is undermining legal certainty in Denmark.
If you want me to stop my advertising, all you need to do, is make a meeting with me, call +4522227713 and make an appointment.
If the lawyers hus do not believe, that they are governed by cronyism, i.e. corruption, then you Martin Lavesen from DLA Piper lawyers, should at least answer my many inquiries.
I want the legal community to publish, that in all cases where clients complain, that their lawyers have hidden and withheld 1. or more pleadings, in order to keep the client completely out of the client's own legal case, which in my complaint 05-06-2020.
The Danish Supreme Court Judge Kurt Rasmussen chairman of the bar councilas, decided that there was no violation of good legal practice.
I request that the lawyer board will publish, that the board will always come with the same decision, that it is no violation of good legal practice, when lawyers withhold both plaintiff's and defendant's pleadings from their clients.
If the Danish legal community still refuses to answer me, and confirm.
I will write in capital letters, that the Danish legal community is deeply corrupt, i.e. doing  subversive activities against the Danish population, in order to be able to cover up criminal friends as Jyske Bank,  and corrupt lawyers, which Lundgren's lawyers are.
Corrupt lawyers in the Danish bar association, did not show until June 2021.
When it turned out, that there were many corrupt lawyers, and judges in Denmark, who dishonorably, have chosen to cover over the corrupt Lundgrens lawyers.
The corrupt lawyers and the judge were, among other things employés of the following companies Horten lawyers, Kromann Reumert lawyers, and at the Danish Supreme Court.
The will all become part, of the new car commercials for the corrupt Denmark.
It started with Nicolai Hansen from Jyske Bank Hillerød, there together with Jeanett Kofoed-Hansen from Jyske Bank Copenhagen, who together, in union from Jyske Bank Helsingør started this cunning fraud for Jyske Bank A/S.
It is this, that has involved the Danish State, through the government and Prime Minister Mette Frederiksen as contributors.
When the Danish Government by Mette Frederiksen, has chooses to cover up Jyske Bank's obvious fraud and other crimes, the Danish State, and the Prime Minister herself become part, to the extensive fraud against the citizens of the Danish state.
The Danish government and friends, wants to cover this crime up at all costs, and tries to keep its mouth shut, and refuses to respond to some inquiries with questions.
Remember that camaraderie and corruption are the same.
It really starts when the corrupt law firm. LUNDGRENS.
Lundgren's lawyer partner company, shows their dirty tendencies, then the criminal Jyske Bank group, probably led by CEO Ander Christian Dam, together with Philip Baruch Lund Elmer Sandagers lawyers, chose to bribe Lundgren's lawyers, not to present the client's fraudulent case against the Jyske Bank group.
Dan Stampe-Terkildsen was there together, with Mette Marie Nielsen."note that Mette Marie Nielsen Is now employed at Danske Bank A/S." and Emil Hald Vendelbo Winstrøm. "there is now employed at Rambøll A/S." Who all dishonestly chose, to work against the legal certainty of the client in Lundgren's lawyers.
Emil Hald Vendelbo Winstrøm and Dan Stampe-Terkildsen, chose to withhold and hide several pleadings from the client, who was not allowed to know that the Jyske Bank group, had partly bribed Lundgren's lawyers, so that Lundgren's lawyers would keep the client out of his case, by not presenting the client's case against Jyske Bank to court.
Lundgren's lawyers also concealed from the client that they were in fact corrupt.
I have repeatedly proposed a peace agreement to Jyske Bank, CEO Anders Dam is still thinking about my proposal.
From July 11, I will share the latest emails to Maersk, Horten, Kromann Reumert, the Danish government, Prime Minister Mette Frederiksen Lundgrens, and many more here.
Also feel free to ask Foreign Minister Lars Løkke Rasmussen at um@um.dk why the Danish government covers large Danish companies that do business outside of Denmark.
The new large advertisements on the cars, will deal with the corruption found in the bar council, and the lawyers' house, where the management, such as Supreme Court judge Kurt Rasmussen and Martin Lavesen DLA Piper, have deliberately and dishonestly worked to undermine the Danes' legal certainty, by depriving the client of self-determination, and depriving the client the right to a fair trial.
Since the Danish Government has major financial interests in the opposite party, the criminal Danish bank Jyske Bank.
Please share
CORRUPT LAWYERS, AND CRIMINAL BANKS, ARE A BIG PROBLEM, FOR THE LEGAL SECURITY IN DENMARK.
To the Public Notice.
Perhaps Denmark's biggest scandal ever.
Extensive cronyism and corruption among Danish lawyers, is a direct violation of the principles of legal certainty, and not a single one in the Danish parliament wants to stop it.
Read here my open letter 27 Jun. on the website, it's to the Danish government and Ministry of Justice, aswell to the Jyske Bank management, Lund Elmer Sandager, and plise share it with the Prime Minister Mette Frederiksen, and them you now are making busses, with som Danish companies.
Who is behind the subversive business in Denmark.
Some of the people who, in effect, have contributed to organized fraud for Jyske Bank A/S, by depriving victims of Jyske Bank's fraud of the right to decide on their own legal proceedings.
In other words, employees/partners in these companies have deliberately and in bad faith worked against legal certainty and thus they have done subversive activities against the population of the state, by depriving the individual of the right to decide on their own legal case.
A battle between the Danish authorities and the government how together
leads against the people, to deprive the individual of their right to self-determination, and the deprivation of the right to a fair trial.
Which the Danish authorities are behind to cover up, the fact that Jyske Bank has committed organized fraud, and that Jyske Bank in this connection has bribed Lundgren's lawyers, so that they could not present the client's allegations against Jyske Bank, for the many criminal offenses, that can deprive Jyske Bank the right to conduct financial business in Denmark.
Was it deliberate, or was it a mistake, when the Danish State at the government by Prime Minister Mette Frederiksen chose to do subversive activities, to cover up Jyske Bank's crimes against the small customer, which here tells about the problem of cronyism and corruption deep into the Danish authorities.
Again Carsten says you should just call me, and book me for a meeting, because there is something I want to talk to you all about, and that is corruption in Denmark, which you all seem to be a part of.
Who is behind the undermining business in Denmark, when lawyers and judges, together with the authorities, deprive the population of legal certainty, in the fight to protect Jyske Bank, i.e. to cover up Jyske Bank's crimes.
There is 100% agreement among the participating lawyers and judges, that a client who hires a lawyer in Denmark, does not have the right to decide on his own trial,

Jens Steen Jensen from Kromann Reumert lawyers, Birgitte Frølund from Horten lawyers, Kurt Rasmussen from the Supreme Court, Rikke Skadhauge Seerup Krogsgård from the consumer complaints board, and Henrik Hyltoft from the Organization Dansk Erhverv, are agree that the client has no right to decide on his own trial.
A decision that Martin Lavesen from DLA Pipper lawyers all agree with.
So in Danish, these members of the dirty gang have dishonorably decided, that no client has any right whatsoever to see what their lawyers present in their own trial, in that way they cover up, som of the most rotten lawyers of their gang.
Who has really contributed to Jyske Bank's fraud, either actively or by passively covering up the crimes and where they work, in the upcoming advertisements on the cars I will share this information.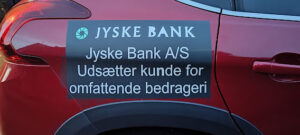 In the Danish Bar Council there is full agreement that.
And the Bar Council emphasizes, that it is not the clients who decide on the case they have hired a lawyer to present, it is only the lawyer who decides on the client's case, and this lawyer does not need to tell the client, what the law firm does, nor tell the client that also the other party in a fraud case, has given the same law firm a large million task.
Who dares to be the first who dares to take a meeting with me, when Jyske Bank's CEO Anders Christian Dam is numbly indifferent, as Jyske Bank also makes a good living by committing fraud.
Which I say the entire Danish government, and the Prime Minister's office know Mette Frederiksen dishonestly cover up.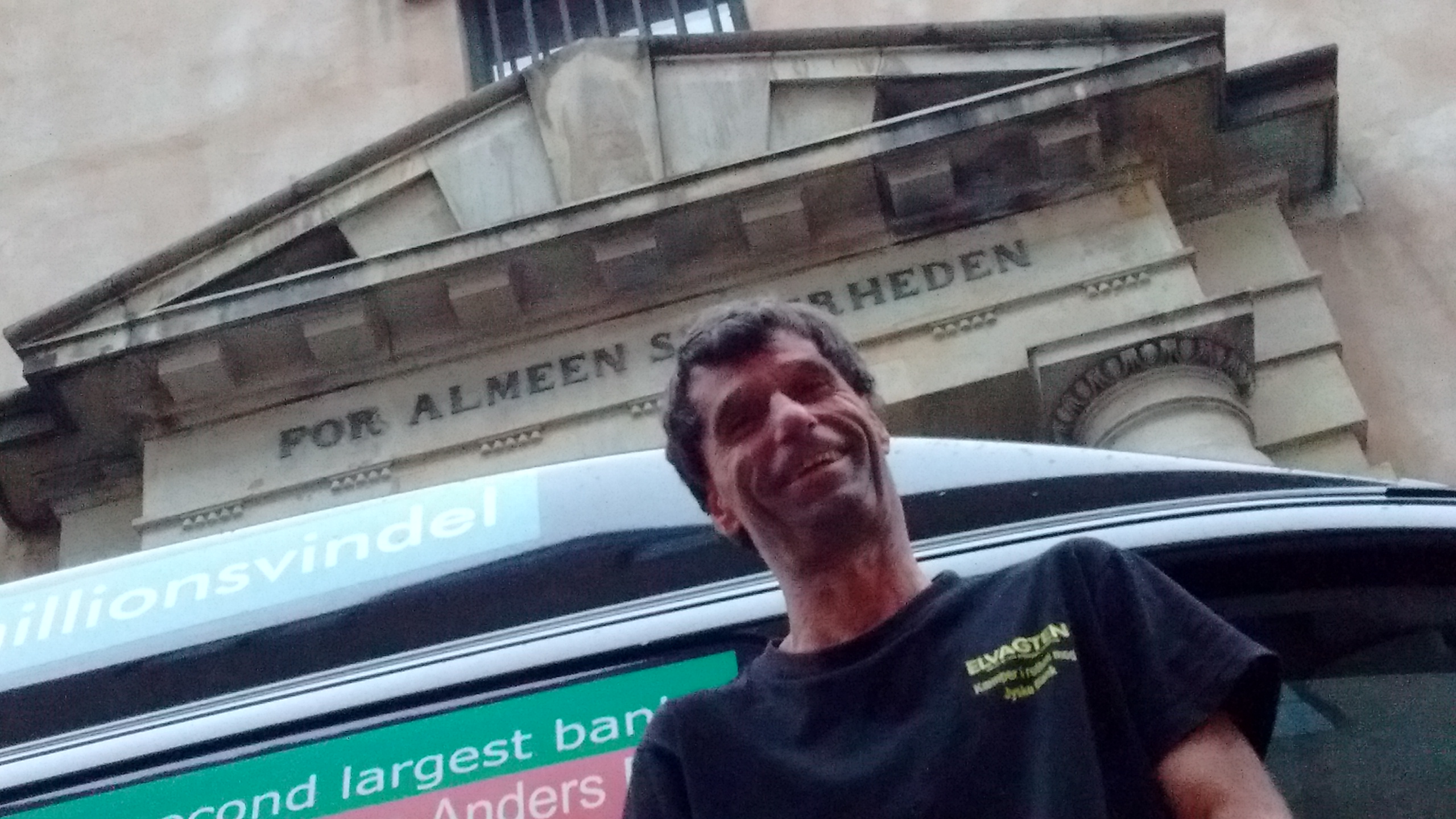 Press release. banking news is become a news newspaper about Danish banks and lawyers, and their power in Danish society. If you have any questions, contact the editors by email here Banknyt@gmail.com or here Bankingnews.press@gmail.com
direktion@jyskebank.dk

,


martin.nielsen@jyskebank.dk

,


lm@jyskebank.dk

,


juridisk@jyskebank.dk

,


Morten Ulrik Gade <MUG@jyskebank.dk>

,


Kristian Ambjørn Buus-Nielsen <kbn@les.dk>

,


Statsministeriet <stm@stm.dk>

,


Justitsministeriet <jm@jm.dk>

,


Kommunikation <kommunikation@nationalbanken.dk>

,


REU@ft.dk

,


Jura og Forretning <jur@domstolsstyrelsen.dk>

,


fm@fm.dk

,


postkasse@advokatsamfundet.dk

,


finanstilsynet@ftnet.dk

,


Folketingets Oplysning <folketinget@ft.dk>

,


denmark@dk.dlapiper.com

,


info@horten.dk

,


info@les.dk

,


info@lundgrens.dk

,


mail@kromannreumert.com

,

SAK@ankl.dk

,


bankdata@bankdata.dk

,


jndata@jndata.dk
The Danish State by the government and the Prime Minister Mette Frederiksen, can't stop the advertisements about Jyske Bank's organized crime, therefore the parliament chooses to keep their mouths shut, because it matters to the Danish State that safe Jyske Bank's survival comes before legal certainty.
Be careful which Danish authorities and companies you work with, and remember that there are criminal or corrupt employees among the Danish law firms and among judges and the other authorities, who are all parties to cover up the crimes of the criminal Jyske Bank, all the mentioned have chosen to oppose justice by doing subversive activities against legal certainty, it is about the actors maintaining power and the right to cover up their criminal friends.
Jyske Bank has not ruled on the email yesterday 20 June, therefore I have sent a new email to Jyske Bank A/S, more if the organization has not understood the earlier emails.
Since Jyske Bank did not respond to my inquiries, and the Danish Parliament, through Prime Minister Mette Frederiksen, has continued to choose, to ignore my many inquiries, in order to cover up Jyske Bank's many violations of the law, several of which are criminal offences.
And the government then leaves it up to the offender for a criminal act which, as here was carried out by a several of the same in association, more precisely, an offense carried out by Denmark's second largest bank "JYSKE BANK", thus the governing parties have decided that it is the victims of Danske banks' crimes against their customers, who have to fend for themselves, as Danish banks are under political protection.
In doing so, the Danish government is helping to undermine legal security for the Danish population, since the state puts the financial interests of Denmark's second largest bank, above the people's right to be able to achieve justice in a society ruled by corruption. "cronyism and nepotism far into Parliament."
The legal community under the Ministry of Justice has also decided and deliberately helped to deprive the Danish people of the right to decide for themselves about their own legal proceedings.
That is while THE DANISH STATE CONSCIOUSLY AND DISHONORABLE CONTINUES TO COVER UP ORGANIZATIONS WHICH, LIKE JYSKE BANK ARE BEHIND A MILLION FRAUD.
I again bring up the problem of corruption / cronyism among judges, Danish lawyers and the government.
And if the Danish press for the editors-in-chief is not allowed to write about the problem of corruption among judges and lawyers in Denmark, then someone else must do it.
And that has become my task, because if I don't write about the corrupt judges and lawyers in Denmark, no one will.
Please read my emails and messages and initiate an impartial investigation of my many accusations against Jyske Bank and against the Danish State for covering up Jyske Bank's offences.
A concerned citizen who wants the Danish state to start fighting corruption in Denmark from within.
Remember that dialogue promotes understanding, and we also avoid misunderstandings if there are some of you who believe that Jyske Bank has not violated a single law or regulation.
If anyone thinks I'm wrong about anything, speak up, because silence is no way to get the truth out.
Carsten Storbjerg Skaarup
Soeevej 5.
3100. Hornbaek
banknyt@gmail.com
+4522227713

When I repeatedly say that it was Nicolai Hansen, together with Jeanett Kofoed-Hansen, who for Jyske Bank A/S and who together in association started the systematic and elaborate fraud against customers of Jyske Bank.
---
LIDT PÅ FACEBOOK 
---
---
Jyske bank
HALD, VINDERØD, RAMLØSE SAND, BÆKKEKROG, RAMLØSE, RAMLØSE SØKROG, RAMLØSE BAKKER, HUSEBY, SKÆRØD, BAKKELANDET, AMMENDRUP, ANNISSE NORD, HØBJERG, HØBJERG ORNED, HUNDESTED, KIKHAVN, NØDEBOHUSE, TORPLILLE, ØSTERBJERG, TØMMERUP, TORPMAGLE, TORUP, HAAGENDRUP, SVERKILSTRUP, ELLINGE, EVETOFTE, HANEHOVED, VINDERØD ENGHAVE, VINDERØD, FREDERIKSVÆRK, BREDERØD, SONNERUP, AUDERØD, AUDERØD SKOV, ANNISSE, NEJEDE, LYKKESHOLM, ALSØNDERUP, TULSTRUP, ULLERUP, LYNÆS, AMAGER HUSE, SØLAGER, STORE KARLSMINDE, KULHUSE, BARAKKERNE, KREGME, LILLE KREGME, ØLSTED, STORE LYNGBY, LILLE LYNGBY, MELØSE, KOVAD, LERET, KAPPELSKOV, TJÆREBY, NY HARLØSE, HORNSVED, NORD SKOVEN, SKOVEN, NYHUSE, ØLSTED, ØLSTED STRAND, STORE HAVELSE STRAND, GRIMSTRUP, LILLE HAVELSE, STRØLILLE, JUNGEN, SKÆVINGE, STRØ, BORUP, GØRLØSE, HARLØSE, FREERSLEV HEGN, NYHUSE, SMEDEHUSE, SEKSGÅRDE, KOBBELGÅRDE, VÆNGET, KOHAVE, ØKSNEHOLM, STORE HAVELSE STRAND, ØLSTED SYDSTRAND, HAVELSE MØLLE, GRÆSE BAKKEBY, APHOLM, SIGERSLEVVESTER, GRÆSE, SIGERSLEVØSTER, MANDERUP, GØRLØSE, KVINDERUP, UVELSE, LYSTRUP, JÆGERSPRIS, OVER DRÅBY STRAND, OVER DRÅBY, NEDER DRÅBY, FREDERIKSSUND, BONDERUP, HØRUP, SUNDBYLILLE, SLANGERUP, JØRLUNDE, JØRLUNDE OVERDREV, SLANGERUP OVERDREV.
Tag.
#JyskeBank, #dkpol, #bank, #atp, #stm, #jm, #fm, #dknews, #banking, #crime, #criminal, #invest, #shares, #economics, #money, #banks, #investment, #dkpol, #dkmedier, #aktie, #AndersDam, #JyskeBank, #Car, #HMC, #Realmægler, #Horten, #KromannReumert, #Lundgrens, #DLAPiper, #Penge, #Investments, #DI, #DA, #Criminals, #Maersk, #MetteFrederiksen, #Realmægler, #Government, #Corruption, #Fraud, #Criminal, #Rödstenen, #DanskeBank, #Folketinget, #Regeringen, #Statsminister, #Parliament, #JensSteenJensen, #BirgitteFrølund, #KurtRasmussen, Rikke, Skadhauge, Seerup, Krogsgård, Rikke Skadhauge Seerup Krogsgård,
Aleksandras Cicasovas, Allan Polack, Amparo Moraleda, Anders Christian Dam, Anders Dam, Anette Holck, Anette Kirkeby, Anne Voss Winkler, Arne Karlsson, Aymeric Chandavoine, Bende Paulsen, Benny Laibach Pedersen, Bente Avnung Landsnes, Bente Bang, Berit Behring, Berit Fredberg, Bernard L. Bot, bestyrelsen, Birger Krøgh Nielsen, Birgit Buch Thuesen, Birgitte Frølund, Bo Ancher Christensen, Caroline Pontoppidan, Carsten Egeriis, Carsten Tirsbæk Madsen, Casper Dam Olsen, CEO, Christian Bornfeld, Christian Wordenskjold B. Andreasen, Christina Bruun Geertsen, Christine Bernstorn, Corrupte advokater, Dam Anders, Dan Stampe-Terkildsen, Dan Terkildsen, dansk erhverv, Dansk Industri, Danske Bank, Danske Banks A/S, Dion Daa Petersen, Ditlev Blicher, DLA Pipper, Dorthe Kirkeby, Emil Hald Vendelbo Winstrøm, Erik Gadeberg, Erik Qvirin Hansen, find advokat, Find Bank, find Danske Bank, Find hæderlige advokater, Find korrupte advokater, Find korrupte dommere, Find Rambøll, Find Real Mæglerne, Frans Woelders, Hanne Birgitte Møller, Hans Christian Nielsson, Heidi Skovbjerg, Helle Isselin Hansen, Helle Valentin, Henriette Hallberg Thygesen, Henrik da Silva, Henrik Hyltoft, Horten, Jacob Dahl, Jacob Høeg Madsen, Jacob Møller, Jakob Hans Johansen, Jan Thorsgaard Nielsen, Jane Rabek Sørensen, Jeanett Kofoed-Hansen, Jens Aakjær Madsen, Jens Grunnet-Nilsson, Jens Rahbek, Jeppe Buskov, Jes Rosendal, Johan Sigsgaard, Johanna Norberg, Julija Voitiekute, Juridisk afdeling, Jyske Bank, Jyske realkredit, Karsten Breum, Karsten Kildahl, Kasper Rørsted, Katharina Poehlmann, Keith Svendsen, Kirsten Ebbe Brich, Klaus Naur, Knud Nørbo, Kriminelle Banker, kristian ambjørn buus nielsen, Kromann Reumert advokater, Kromann Reumert lawyer, kurt rasmussen, Lars Aaquist, Lars Stensgaard Mørch, Lars Waalen Sandberg, Lars-Erik Brenøe, ledelsen, LES, Louise Aggerstrøm Hansen, Lund Elmer Sandager, lund elmer sandager advokater, Lundgrens, lundgrens advokater, Maersk Bestyrelse, Magnus Agustsson, Marc Engel, Marcus Kølbæk-Nyborg, Marianne Granhøj, Marika Fredriksson, Martin Lavesen, Martin Skovsted-Nielsen, Me Sophie Christensen, metnie, Mette Lindekvist Højsgaard, Mette Marie Nielsen, Michael Friis, Morten Møller Enegaard, Morten Ulrik Gade, Narin Phol, Navneet Kapoor, Nicolai Hansen, Niels Erik Jakobsen, Patrick Jany, Peer Roer Pedersen, Per Skovhus, Pernille Borowy, Peter Krüger Andersen, Peter Schleidt, Philip baruch, Rabab Boulos, Raija-Leena Hankonen-Nybom, Rambøll, Rikke Skadhauge Seerup Krogsgaard, Robert Mærsk Uggla, Rotem Hershko, Rune Møller, Sebastian Lysholm, Silvia Ding, Søren Ejdum, Søren Skyum Elbert, Søren Woergaard, Stampe, Steen Jul Petersen, Stefan Klit, Stephan Engels, Stine Kragelund Nielsen, Susana Elvira, Suzanne Holst, Thomas Lindegaard Madsen, Tine Jørgensen, Tine Lundøe Poulsen, Torbjörn Egerdal, Vincent Clerc, Volker Nowak