While we fix the bank news.
If we move the many sub-pages to the block, this is done to tell you more about the many different criminal conditions, where the Jyske Bank Group very clearly violates the Criminal Code, and thus is to be described as criminal.
And individually we will review and explain on the pages, each one of Jyske Bank's many violations of the penal code provisions, and document them with 1st conditions on each page.
As well as making a page. With our total allegations against Jyske Bank A/S for fraud, and insert the said attachments, where they are mentioned in the closing reply letter from 28-10-2019.
The customer accuses Jyske Bank's group management, in association, to stand behind, the bank's continued fraud against Jyske Bank's own customer.
This will be the case with the Danish authorities, which the police do not control, which is why Danish bank customers, in fact, stand alone against the largest and most powerful, apparently criminal organizations in Denmark.
There will also be audio clips shared with the client's former attorneys, so you can hear both.
And
In the shared recorded conversations, you will hear both Lundgrens and Rödstenen employees, even very clearly, and may be clearly informed by telephone.
Partly the client's many repetitive allegations against Jyske Bank A/S for fraud, but not least emphasizes the seriousness of the case, where the client repeatedly, says that it is a fraud and false case.
Which most recently Lundgren's staff, attorney Emil Hald Winstrøm in all telephone conversations has been disclosed.
Emil Hald Winstrøm confirms by telephone, that he has understood. that this is a fraud case.
Nevertheless, on behalf of partner Dan Terkildsen and Lundgren's attorneys on September 2, 2019, Emil Hald Winstrøm presents the case to the court, without including any of the client's claims.
And without sharing Lundgren's claim document with the client.
Although Lundgren's lawyer, and partner Dan Terkildsen is subsequently sued for a copy of their own claim document from 2 September 2019.
(since it has nothing to do with the client's claims.)
Lundgren's lawyers at Dan Terkildsen choose
again
not to share court documents, with their client.
We will continually, share a lot where we can clearly prove, that several Lundgren's attorneys must have planned, not to submit their client's claims.
The client has really been without a lawyer since February 5, 2018 when Lundgrens was hired, and up to Lundgrens 25. September 2019 was fired.
This case clearly shows how some of Denmark's biggest lawyers, by their actions, are a serious threat to legal certainty.
The case here is a terrible example of how Danish lawyers, like here the plaintiffs' lawyers Lundgrens have really, counteracted their client.
At the same time that Plaintiff's Attorneys really worked for Defendants in the case, removing Plaintiff's claims against Defendants.
As here in the case where plaintiff's claims against Jyske Bank A/S were not presented to the court.
Plaintiff's attorney here Lundgrens, in this way, has shown that the law firm, in fact, has work to disappoint in legal matters, by going directly against the client's instructions.
As Lundgrens Advokater chooses not only to work against their client, but also chose to pursue another case against Jyske Bank A/S.
Than the case against Jyske Bank for fraud as the client February 5, 2018, transferred to Lundgren's lawyers.
Lundgren's Attorneys have harmed the confidence of the Danish lawyers, by unethical, dishonesty and possibly by violations of the law, made every effort to prevent their client's claims from being brought to court.
Can clients in the large law firms soon rely on the lawyers they employ if Jyske Bank A/S may pay Lundgrens, or otherwise have caused Lundgrens to do the exact opposite of what their client has 100 times said and written to be presented.
What do we have to do with great Danish lawyers like Lundgren's Lawyers.
The case here is about the big Danish lawyer's houses really to be trusted.
We can prove that several of those employed in Lundgrens, have proven to work against the client, rather than working for the client.
One thing here is that the client wants Denmark's second largest bank, Jyske Bank A/S, to stop the bank's fraud against the customer.
This they asked Lundgrens to help them with, instead Lundgrens is employed by Jyske Bank, and what happened then ?.
The client believes that the Jyske Bank groups have paid Lundgrens for not submitting their client claims to the court.
This is a serious problem for all Danes
And if the same lawyers as here Lundgrens, has clients in the US., ENGLAND, RUSSIA, CHINA, JAPAN, GERMANY Can these clients also get into the same problems as us?
When Danish clients obviously can't trust big Danish lawyer houses like Lundgrens.
Then Lundgrens becomes a major threat to legal certainty.
If you cannot trust the lawyer you hire will be loyal to you, as their client, this is a grave problem.
Lundgrens chose not to answer their client, or to share court documents with the client, which does not look good.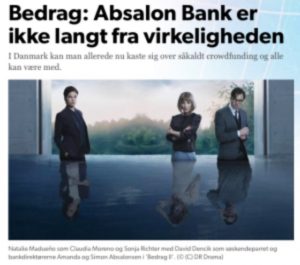 ---
Oversigt
Anmeldelser
Info
LundgrensAnmeldelser
1  •  Middel
www.lundgrens.dk
Anmeldelser
Skriv en anmeldelse
Fremragende0 %God0 %Middel0 %Under middel0 %Dårlig100 %Filtrér efter:Bedømmelse Dansk 
forbruger Mail Carsten.storbjerg@gmail.com91 anmeldelserdanmark, DK
Opdateret den 30. sep. 2019
Lundgrens advokater blev fyret 25 september for ganske ilojialt, at have modarbejdet og skadet deres klintets sag, ved at vælge at samarbejde med sagsøgte Jyske Bank A/S, i en ejendoms handel til 600 millioner kroner. – – Partner Dan Terkildsen som også arbejder som voldgift dommer, mener ikke der er noget galt i at modtage millioner i Honorar af jyske Bank, som Lundgrens advokater af klienten skulle fører en "svindelsag" SVIG sag imod. At Lundgrenens advokater efter modtagelsen, af jyske banks millioner, ikke har ville have vores påstande om svig, bliver fremlagt for retten. Kan Lundgrens advokater ikke se noget galt med. Dan Terkildsen som er partner i Lundgrens, forklarer, at det er mod god advokat skik, at bruge så stærke ord som svig i retten. Og Lundgrens har således forsøgt at manipulere med klients påstande, således at klienten ikke skulle opdage at, Lundgrenens advokater ikke har ville fremlægge en eneste af klientens påstande om svig og falsk imod jyske bank A/S Når Lundgrens advokater har modtaget million af kroner for at hjælpe modparten i en sag, og efterfølgende har modarbejdet klinteten. Ser det ud til at : LUNDGRENS ADVOKATER HAR TAGET IMOD BESTIKKELSE. – – Vi søger derfor en god og hård advokat som ikke er bange for jyske bank, og gerne vil være fremlægge hvordan jyske bank bevidst laver svigforretninger, noget flere advokater er medvirkende til, eller bare dækker over. Skulle være fundet. – SER UD SOM LUNDGRENS AF JYSKE BANK ER BLEVET BESTUKKET DET LIGNER DERFOR KORRUPTION, NÅR LUNDGRENS ADVOKATER, HAR TAGET IMOD MILLIONER FRA JYSKE BANK, OG SÅ SIDEN HAR MODARBEJDET KLIENTENS SAG IMOD #JYSKEBANK FOR SVIG BLEV FREMLAGT Ser mere på BANKNYT dk #dkpol #dkfinans #finans #news – Lundgrens Advokatpartnerselskab ved Partner Dan Terkildsen Fik 5. Februar 2018 vores sag imod jyske bank A/S for Svig og Falsk Lundgrens advokater v/Dan Terkildsen spørger om vi tror jyske bank har lavet altsammen med vilje. Hvilket vi bekrafter, da ingen kan lave så meget ved en fejl. – Lundgrens advokater "Dan Terkildsen" siger at de / Lundgrens ikke har noget problem med at fører vores påstande mod jyske bank for svig. – Problemet med Lundgrens advokatpartnerselskab er at advokaterne direkte imod klientens instrukser, ikke har fremlagt nogle af klientens påstande, som svig, falsk, udnyttelse, vildledning osv. – Lundgrens advokater der fik sagen 5 febuar 2018 mod jyske bank A/S Vælger i perioden, marts til juni 2018 altså lige efter, Lundgrens advokater accepterer at fører vores påstande om svig imod jyske bank Faktisk kun 2 måneder efter Lundgrens påtager sig at føre vores svig og falsk sag, mod jyske bank, tilbyder samme Jyske Bank at Lundgrens kan rådgive jyske bank i en handel til 600.000.000 kr. "600 millioner kroner" – Da Lundgrens advokater vælger at takke jyske bank for million opgaven, og så samtidigt undlader Lundgrens at føre vores sag mod jyske bank for svig. Syntes det at ligne korruption, eller bestikkelse. Bestikkelse / Korruption hvor jyske bank i det skjulte har betalt Lundgrens advokater i form af million honorar, for ikke at måtte fremlægge vores påstande mod jyske bank for svig, og at tilbageholde, klientens oplysninger overfor retten. – Og så at skulle tilbageholde oplysninger, om jyske Banks bestyrelsesmedlem, og advokat, som flere gange har løjet overfor retten, hvilket klienten har opdaget og fremlagt overfor Lundgrens advokater. Nå Lundgrens istedet for at varetage at klientens påstande fremlægges, har valgt at ingurerrere klientens påstande, og helt bevidst vælger at arbejde imod deres egen klient, vokser klientens sag kun. Korruption / bestikkelse her består i at Lundgrens advokater af Jyske Bank, har modtaget et million honorar for at rådgive jyske bank. Det Understreges at sådan ser det ud. – Dan Terkildsen kan ikke se at der er noget forkert i at hjælpe jyske bank i 1/2 milliard kroners sag, og samtidig skulle føre en sag mod jyske bank for millionsvindel, hvilket Dan Terkelsen da også bagefter nægter, og i september 2019 Siger at det er imod god advokat skik at bruge ordet SVIG i retten. – Men måske Lungrens har en anden forklaring, på hvorfor advokat virksomheden direkte har modarbejdet at klientens påstande om at jyske bank laver svigforretninger ikke er blevet fremlagt. Hvis der altså ikke er fordi Lundgrens advokater har lavet en aftale med jyske bank om at stoppe, at Lundgrens klients påstande mod jyske bank for svig og falsk påstande bliver fremlagt retten. – Problemet er at Lundgrens istedet gennem 18 måneder, direkte har modarbejdet at fremlægge deres klientens påstande mod jyske bank for svig. Ikke kun har Lundgrens advokater modarbejdet vores sag, men planlagt at ville møde op til hovedforhandlingen uden at medtage vores påstande. Formoder Lundgrens advokater har modtaget millioner i Honorar af Jyske Bank, som tak for ikke at fremlægge vores påstande om svig imod jyske bank for retten. Dette honorar ligger inde i rådgivningen til jyske bank million ejendomshandel. FAKTA LUNDGRENS ADVOKATER får sagen 5. Februar 2018 "Svig og Falsk sag mod jyske bank" Lundgrens påtager sig opgaven febuar / marts måned 2018 Lundgrens advokater har efter 5 april, 2018 i perioden marts måned 2018 til 21. juni, modtaget million ordre af Jyske Bank Efterfølgende har Lundgrens advokatpartnerselskab vel nok helt bevidst, undladt at svare på spørgsmål om vores mange påstande mod jyske bank. Lundgrens advokater har direkte modarbejdet og vildleder deres klient til at tro klientens beviser for svig var fremlagt for retten, velvidende at ingen af deres klintets påstande eller beviser mod jyske bank er fremlagt. – Når Dan Terkelsen så 13 august 2019 fortæller at han ikke kan udelukke at der er andre advokater på kontoret der arbejder for jyske bank. Er det jo mærkeligt at Dan Terkildsen der jævnligt har partner møder i Lundgrens, ikke har forstået at en af hans partner har rådgivet Jyske Bank i en sag for 600.000.000 kr. Og at der så står på Lundgrens egen hjemmeside, uden at Dan Terkildsen skulle have vidst det. ! Måske Dan Terkildsen bare har ønsket at skjule sandheden, om sammenarbejdet mellem jyske bank og Lundgrens, for nemmere at få vores påstande smadret. – DETTE ER IKKE FOR SMART OG SER NÆRMEST UD SOM OM LUNDGRENS AF JYSKE BANK, ER BLEVET BESTUKKET, TIL AT STOPPE VORES PÅSTANDE MOD JYSKE BANK BLIVER FREMLAGT. LIGNER DET IKKE KORRUPTION, NÅR LUNDGRENS ADVOKATER HAR TAGET IMOD MILLIONER FRA JYSKE BANK, OG SÅ PUDSIGT SIDEN HAR MODARBEJDET LUNDGRENS KLIENT. – Dan Terkildsen bliver spurgt 19. September 2019 om Lundgrens advokater har arbejdet / arbejder for jyske bank og hvis ja hvor længe Lundgrens advokater har arbejdet for Jyske Bank. 20. September 2019 kan vi konstatere at Lundgrenens advokater i perioden efter at have indgået aftale med os, om at fører vores svig og falsk påstande mod jyske bank, vælger Parterne i Lundgrens advokater samtidig at sammenarbejde med jyske bank i en handel til 600 millioner kroner. Lundgrens v / Dan Terkildsen der stadig ikke har svaret 24 september, om Lundgrens advokater har arbejdet for Jyske Banks, bliver herefter fyret. For at være indhabil, og har modstridende økonomiske interesser med jyske bank, og for at have optrådt ganske ilojial over for os som deres klient. Dan Terkildsen Lundgrens advokater har stadig ikke svaret på vores anklager mod Lundgrens, som ser ud til at have modtaget bestikkelse af jyske bank i form af million opgaver for at skade vores sag mod jyske bank, ved ikke at fremlægge klientens "vores påstande om svig" – Hvis Lundgrens advokater har en god forklaring på hvorfor vores påstande ikke er blevet fremlagt, så hører vi gerne. Eller har Lundgrens noget at ville have indført eller rettet kan vi kontaktes på 22227713 – Dan Terkildsen har 27 september skrevet, at Lundgrenens advokater ikke vil tilbage betalte honora og skrevet, at der er intet galt er i at Lundgrens påtager sig en million opgave for Jyske Bank, og samtidig føre vores påstande. Lundgrens skriver også, vi ikke kan finde nogen advokat, der vil fremlægge vores sag med vores påstande, og Lundgrens advokater ikke vil ind i vores univers. Og så igen skriver det er mod god advokat skik at påstå at Jyske Bank laver svig og falsk, og det uden at have kommenteret en eneste af vores påstande med vores beviser. Der er ikke muligt ikke at nævne jyske bank i anmælesen.