Here are the charges against Jyske bank for a million scams, as customer's Lawyer Lundgrens, seems to have been bribed, by the Jyske Bank Group not to present.
We have been writing openly about this since 2016, informing your shareholders as ATP, and Nykredit about it, but they do not care, we must do that ourselves, so when even your shareholders approve, that you are deceiving some of your customers, that we have presented evidence, then it is boring for the people of Denmark, since everyone in the principle, can be exposed to the same fraud as we are exposed to.
This is a hand extension that we are reaching out to meet with those responsible for this in the fourth year, Although Lundgrens has told 13-08-2019 that the management has no responsibility for what we are exposed to when we saw September 21. 2019 discovers that Lundgrens is actually on Jyske bank's paylist.
Or just works for Jyske Bank A/S
As Lundgrens Partner partner Dan Terkildsen writes, it does not matter, and Lundgrens is not incompetent and that Lundgrens can easily lead our case against Jyske bank A / S We are not so sure it was true.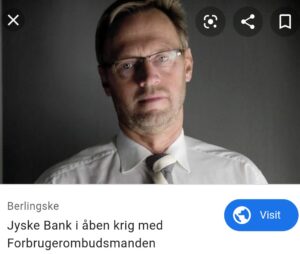 It is lawyers like Lund Elmer Sandager and Lundgren's lawyers who, in their case here in Case BS-402/2015-VIB
Show very clearly these lawyers' disdain for the law, which is very damaging to legal certainty, and in sadness to those clients who need a reputable, honest and indefinite lawyer.
Once you have provided evidence, that Lund Elmer Sandager has not only lied several times in legal matters.
But have also withheld evidence to disappoint in legal matters, and have also presented manipulated evidence, so it is bad with the Danish lawyers.
Why should we be exposed to fraud, Jyske Bank knows well they do.
HALOOO we can't talk about it.
We realize that the danish police will not help the victim here, in the case to stop a continued crime.
with a scuffle with Jyske Bank's foundation in using words such as Fair, Honest, Honest, Credible and that you will comply the law. If we are stupid and we do not understand the law then call +4522227713 and tell us so we can stop writing in our journal here.
That the entire board of directors of Jyske Bank's corporate management refuses dialogue.
And refused to admit fraud, because instead continuing to expose the customer to fraud.
That we do not understand.
Nor do we understand that Jyske Bank A/S should just choose to buy Lundgrens.
Which funny enough after Lundgrens is being bought and paid for, by Jyske bank, suddenly can not see, hear and understand what we have continuously said and written.
DO YOU HAVE AN EXPLANATION
Her er de anklager mod jyske bank for million svindel, som kundes Advokat Lundgrens,
synes at være blevet bestukket, af jyske banks koncern til ikke at fremlægge.
This page has been moved to the Blog on 16-03-2020

As we are updating the Banking news page, which deals with the Danish criminal banks, we are investigating which Danish law firms that seemed willing to be bribed, and that to help criminal banks, as here in the case. Where a client has discovered that their former law firm Lundgren's lawyer partnership has been bought by their bank, Jyske Bank, to disappoint in legal matters, by not presenting the client's allegations and evidence against Jyske bank for fraud and fraud.
A case that has far-reaching consequences for trust in the Danish banking world, where a customer accuses Den Danske Bank Jyske Bank A/S of fraud.
The customer has been informed that the case is political, which is why the police have denied the alleged crime and to help stop the bank's continued fraud, which Jyske Bank's management is part of in case of misunderstandings, the group has been repeating since May 19, 2016 contacted to help their customer who thinks that Jyske bank has hidden vouchers manipulated with dates and appointment vouchers, and deliberately exposed the customer to fraud.
17-10 Det er påstande som disse, om at jyske bank driver en uredelig / svigagtig bankforretning, som vi igen her opdater, de nævnte bilag som er nævnt, er nu fremlagt overfor retten.
–
Først 21. september 2019. kommer snakken, her ind på at jyske bank, muligvis har bestukket Lundgrens advokater, til ikke at fremlægge noget af det Lundgrens, ellers meget klart er blevet bedt om at fremlægge overfor retten.
/
Dan Terkildsen der var vores advokat, frem, til vi valgte at fyrer Lundgrens 25. Septemper 2019. efter mistanke for at Lundgrens har taget mod bestikkelse fra Jyske Bank, i form af million honorar, for at rådgive jyske bank, og derfor bevidst bagefter har modarbejdet vores sag, om million svig mod jyske bank.
Dan Terkildsen der er Dommer i voldgiftsretten, har svært ved at se det kan ligne korruption / bestikkelse, at tage mod million opgaver fra Jyske Bank, og samtidig vælger ikke at fremlægge klientens påstande mod jyske bank for svig og falsk, som Lundgrens advokater var hyret til, bare 1 måneds tid tidligere.
🙂
Vi må vel oplyse, og fremlægge for retten, hvorfor Lundgrens er blevet fyret, og at vi samtidig henstiller Jyske Banks bestyrelsen Philip Baruch, om at Jyske Bank, hverken direkte eller indirekte, indlede noget sammen arbejde, uanset hvor smart koncernenledelsen i jyske bank måtte syntes at det ikke er ment som Korruption.
🙂
Følg med på BANKNYT dk
Her deles vores påstande mod jyske bank for svigagtighed.
–
Spørgsmål er, hvis disse påstande er bevist, om jyske bank dermed også er en samfunds skadelig virksomhed, noget som Lundgrens nok ikke vil overveje er muligt, da Lundgrens direkte selv arbejder for jyske bank.
🙂
Husk at det her er bare for sjovt, og for at prikke lidt til en sikkert hæderlig jysk bank, der er gode til at skjule sandheden, og bestemt også gode til at lyve.
Anders Dam, din gamle sørøver ring nu til os på 22227713.
Har du demens, så tag trøjen du har fået på, så har du nummeret både på ryggen og på brystet.
ALLE BILAG OG DOKUMENTER UDLEVERES GERNE TIL DEM SOM HAR INTERESSE I SAGEN
Her kommer sager om Jyske Banks tag selv bord, efter deres anbefaling af SWAP lån
jyske bank giver dig gode råd
Jyske bank indrømmer 31/5 2016 at tilbuddet 4.328.000 aldrig blev hjemtaget, da banken bruger en dato hvor et andet lån er hjemtaget.
Jyske Bank ville ikke svare, og blev provokeret til indrømmelse, det virkede
Her kommer:
Om det er dårlig rådgivning, rådgivning givet i ond tro, eller om Jyske Bank var viden om at deres anbefaling, var med til at sikker Jyske Bank en sikker indtægt fremover på din bekostning.
Vi gik i Jyske Bank bad om rådgivning, spørger til lån oplyser klart at vi ikke ønsker FLEKSLÅN da banken tilbyder dette siger det tør vi ikke det er for usikkert for sådan et stort beløb
herefter beder vi helt tydeligt og klart om et fastforrentet Obligations lån
Jyske Bank anbefaler SWAP LÅNET som bedre
DET ER DA VIST BONDEFANGERI eller hvad Jyske bank fortæller ikke sandheden
Har lagt op til at Jyske Bank kan komme med bare en antydning af indrømmelse på anmeldelsen som er lagt på trustpilot, HAR INTET HØRT
Har bet om aktindsigt flere gange, HAR INTET FÅET
Har anmeldt Casper dam Olsen for at bryde sin tavshedspligt ved at fortælle mig om min daværendes revisors økonomi, HAR INTET HØRT
Har mange gange spurt til hvordan renten på det swap beregnes uden at få et klart svar, først ved tvangs nedbringelse kunne jeg se renten faktisk var det samme, og derfor har klaget over Jyske Bank for urent trav
Har gentagende bedt Jyske Bank sørger for at modtage penge for den grund jyske bank tvang mig til at sælge for snart 3 år siden, den grund som Jyske Bank benægter overhoved har bet mig sælge, og gør til nu mit problem
FØLER sådan set bare at JYSKE BANK har bondefanget mig, og i den grad snydt og bedraget mig kun med et formål at tjene en masse penge, lige lige nu læner banken sig tilbage og kun venter og håber på at alt bliver forældet, så de med sikkerhed kan beholde de penge de har taget fra mig.
(lige for at slå fast det er ikke en anklage mod Jyske Bank men en følelse af at Jyske Bank økonomisk har voldtaget mig)
Der er lagt op til en politi anmeldelse af jyske bank for bedrageri.
Dette ville ikke ske, såfremt jyske bank ville ændre deres politik, om hvordan de helst vil have, at deres kunder kender dem.
Jyske bank holder stædigt fast, at de driver deres forretning for at tjene penge, de har mange advokater som hjælper dem, dels med at sigte efter forældelse, så et banken ligeglade om de realt har gjort noget galt.
Det er nu engang sådan, jyske bank ønsker at drive deres forretning, de vil kendes på knækket
Eller de konkurser banken måske er skyld i.
Tyv.dk er det bedrageri eller bare fed bank forretning
bilag deles gerne
Dear partner of Lundgren's lawyer partner company. Remember now.
A false or corrupt lawyer is a threat to the Danish legal community.
Remember that we have tried everything since 2016 to enter into dialogue with Jyske Bank's Board of Directors and the Executive Board, and only to avoid misunderstandings, which Lawyer Morten Ulrik Gade has also understood on November 17, 2015.
But if Jyske bank has something the bank wants to hide from the public, it makes sense.
Otherwise, we do not understand that such a large and powerful organization, as Jyske Bank's entire board of directors refuses dialogue, with the customer who has asked management directly since May 2016, and CEO Anders Dam to help investigate whether the customer in Jyske Bank becomes exposed to fraud in even the same Jyske Bank.
Is this a case of bank fraud for millions of Danish kroner, which all friends try to cover, or is the customer right.
Why won't the police and the city attorney investigate Jyske Bank for fraud?
When authorities refuse to investigate the Danish bank's continued fraudulent relationship against the bank's customer, what are the provisions of the Criminal Code?
If you can't understand, the shared documents, maybe you just think we're crazy and that Jyske Bank has not done nothing wrong, so talk to us.
Help us understand why? Jyske Bank's Board of Directors, not even denying the Group, exposes their customer to fraud.
We only ask that Jyske Bank's powerful friends and Jyske Bank's shareholders ask Anders Christian Dam to enter into a dialogue and help the client to review the case together.
If some in Jyske Bank's powerful organization have made mistakes.
Are concessions and an unreserved apology a natural consequence.
So dear everyone at Jyske Bank A/S
Do you want to talk about this here.
The number +4522227713
Is still on the chest of your own T-shirt, similar to Anders Christian Dam
Dear all.
Remember that Dialog promotes understanding, so talk to your customers, if they have a complaint about Jyske Bank's fraud against your customers.
---
Som da Nykredit dækkede over Jyske Banks bedrageri imod bankens kunde, tilbage i 2016.
Hvor Nykredit nægtede at svare på om kunde i Nykredit havde hjemtaget et lån kr. stort 4.328.000 og så senr omlagt dette, først efter Nykredit blev stævnet ville Nykredit svare at der fandtes intet lån på 4.328.000 dkk som Jyske Bank over for retten har hævdet at være et underliggende lån til en swap.
These appendices, including evidence and evidence, show that Jyske bank is doing mandatory fraud, fraud and document forgery, call it what you want, but be aware that JYSKE BANK is cheating on our customers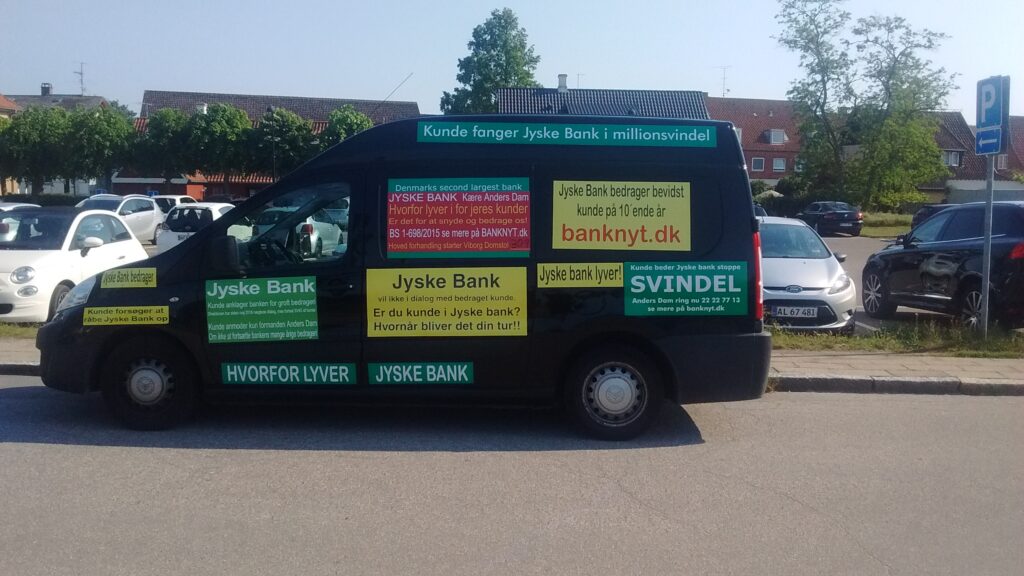 Jyske Bank ved Anette Kirkeby Helsingør har altså sagt til Carsten
At er han er blevet en dårlig kunde, hvad tror du
ordret sagde de i Jyske banken, det var lige efter et af de møder hvor Casper Dam Olsen
ville have lidt noget mere pant, et pantebrev underskrevet på 500.000 kr. og vupti så var jeg blevet en dårlig kunde,
tror det har noget med at bankens SWAP lån at gøre, men det vil banken da aldrig indrømme.
Banken vil i dag heller ikke fortælle mig, hvordan jeg så bliver en god kunde igen, men det har jeg da regnet ud
JEG SKAL HAVE JYSKE BANKS MODBYDELIGE SWAP LÅN SPOLET TILBAGE, det er et falsk dokument indsat uden aftale, så falsk og lavet ved svigagtighed
---
Sager hvor mennesker har måtte gå fra hus og hjem grundet jyske bank
KILDER: DR & Pressen
Her kommer der enkeltsager om dem jyske bank rådgav til at enten få eller omlægge lån, til SWAP
således banken kunne tjene flere penge, her er et eksempel
Fik pistol rådgivning i jyske bank

Jyske Bank Dømt
Der er mange sager fra jyske bank der vil blive lavet direkte links således du nemt kan finde artikler
Læs dommen over Jyske Bank, som bruger millioner på advokater for at de kan slippe afsted med deres små finurligheder
En sætning Erhvervs rådgiveren fra Jyske Bank Casper Dan Olsen selv brugte.
da en af hans hårdt plaget kunder forsøger at redde hans virksomhed efter at have besøgt Ondskabens Hotel