Vil blive opdateret.
Read my email to the criminal danish bank and to the danish state and government which together cover the economic crime I am writing has been done with a lot of evidence.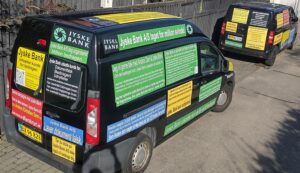 No secrets, Anders Dam I am of course going to overthrow you, if you do not resign yourself and withdraw from all your positions in Jyske Bank, you simply do not have control over what scandal you create for Jyske Bank, by being behind Jyske Bank's fraud against my company.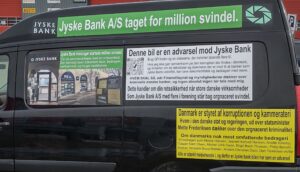 Tor. 14. apr. 2022 time 13.41
Subject: Jeg skrev den 8 og 9 april og i har heller ikke ville svare denne gang, så jeg er en flink fyr, og siger når Jyske Bank A/S står bag organiseret kriminalitet og også bestikkelse af lundgrens advokater, hvilket den danske stat og regeringen ved statsminister Mette Frederiksen ved passivitet dækker over, så skriver jeg om problemet med den økonomiske kriminalitet som Jyske Bank A/S udsætter os små kunder for. Tager jeg fejl så skal jeg gerne sige undskyld, men har jeg ret, så har Danmark et stort problem med korruption og kammerateri.
Cc: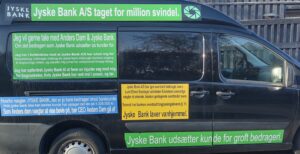 Kære Jyske Bank og Anders Christian Dam.
Og et par enkelte mere.
Håber i nyder jeres kammerateri og jeres dejlige påske ferie, her har i en samlet OPFORDRING
Dialog og samtale, alt andet er for dumt, vil i tillade at Anders Christian Dam skader Jyske Banks blakket omdømme yderligere.
Det kan godt være i er store og jeg er en meget lille lus, som i vil tvære ud.

Men Stop jeres flæbereri, i har gentagende tudet overfor domstolen, siden før jeg ansatte Lundgrens som Jyske Bank efterfølgende bestak, til at modvirke retfærdighed ved ikke at fremlægge klientens anbringer mod Jyske Bank.
🥊
Hvis i altså nogle af jer mener jeg Carsten Storbjerg hænger Jyske Bank ud, så prøv med dialog, i stedet for jeres juridiske nummer.
I har gjort hvad jeg skriver.
Hvis i mener i har nogle indsigelser eller problemer med det, så ring til mig på +4522227713
Eller også ret henvendelse til politiet, og bed dem om at hjælpe Jyske Bank, da i Snyd og udsat min virksomhed for Bedrageri, og sig da at det må Jyske Bank gerne for de danske myndigheder og politikeren.
Hvis i mener jeg lyver og udsætter Jyske Bank A/S for injurier og bagvaskelse, så er sket siden maj måned 2016, og skal i så ikke gå politiet til at fortage en undersøgelse og efterforskning af mine påstande mod Jyske Bank A/S
Jeg spiller med åbne kort, mig mod jer alle sammen, jeg ved godt at jeg ikke alene kan stoppe jeres brug af dokumentfalsk og bedrageri samt bestikkelse og kammerateri med mere.
Jyske Bank A/S lyver og udsætter mindst min virksomhed for million bedrageri.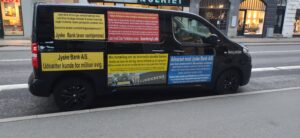 Der er det jeg skriver i opslaget.
Jeg ønsker ikke krig, men at vi taler sammen.
Hvis Jyske Bank A/S ved dig CEO Anders Christian Dam ønsker at jeg skal holde op med at udsætte Jyske Bank for min drillerier.
Så skal Anders Christian Dam blot ringe til mig på, GENTAGER +4522227713
Og spørge mig om jeg gerne vil lade være, svære er det ikke.
Og prøv med dialog og samtale, som de 4 kuglepene, sammen med den T-SHERT
Jeg for flere år siden sendte til dig Anders Christian Dam.
Her ser du Anders Dam og i andre den kommende Kampagne bil, som jeg sætter inde på Vesterbrogade nr 9.
Hvor den vil blive stående i de næste 4 uger.
Og hvis jeres kunder og samarbejdspartnere eller aktionærer spørger hvorfor i ikke vil svare, eller gøre noget ved mine kampagner og videoer samt opslag, der iøvrigt er foregået i perioden 2016 og til nu.

I ved at den første kunde allerede skrev i november 2016, til Jyske Banks afdeling på Vesterbrogade nr 9. Og der spurgte om Brask Thomsen stadig huserede i banken.
Så må i jo svare at Jyske Bank A/S intet kan gøre, da der i Danmark er ytringsfrihed, og det som stå i alle opslag er sandheden.
Derfor skal JYSKE BANK og jeres dygtige medarbejdere og advokater som Lund Elmer Sandager advokater, også stoppe med at tude over for retten, i den sag som selskabet Storbjerg Erhverv ApS føre mod Jyske Bank A/S
Hvis i mener i med urette bliver svinet til, så er det stadig mig og kun mig som personlig hænger Jyske Bank A/S ud som en kriminel organisation.


I kan forsvare jeres uskyldig, hvis da har nogle.
Og i kan også tale med mig, men et er sikkert, når bilen her er færdig dekoreret, vil den blive parkeret foran Jyske Bank A/S afdeling på Vesterbrogade nr 9.
Hvad enten i er ligeglade, eller ikke kan lide det, fordi i er tøse fornærmet.
Læs mit opslag, og har i rettelser, så lav et møde og fremlæg det som i mener er usandt, og vi gennemgår det samme, op mod mine beviser.
Og har jeg taget fejl et sted, så tilbyder jeg igen at rette op.
Venligst hilsen
Jeres aller bedste ven, eller måske sureste kunde.
Husk vi har også et mellemværende omkring mit private pantebrev, som Jyske Bank ved Christian Ambjørn Buus Nielsen ved retsmisbrug nægter at udlevere med en modtager kvittering, ud indført sætninger der der er for at skade min retsstilling.
Det her kunne have været undgået, hvis Anders Christian Dam allerede i maj 2016 ville have rettet op, og ikke være medvirkende til at dække over Jyske Banks organiseret kriminalitet.
Jeg er ikke BANGE for nogle af jer i Jyske Bank, selv om i er en kriminel organisation.
Carsten Storbjerg Skaarup
Søvej 5
3100 Hornbæk
+4522227713
Eller min helt egen personlige mail

SE HERUNDER MIT DELTE FACEBOOK OPSLAG.
Med henvisning til blandt andet www.banknyt.dk
🙈🙉🙊
CEO Anders Christian Dam are you a chicken ?.
Dansk længe nede, hvem dækker over den kriminelle danske bank Jyske Bank.
🐥
When I ask you Anders Dam if you are a scared pants, a squat, a chicken 🐣 who is afraid, and nervous to meet with me, and talk about Jyske Bank's organized crime.🚓
Which the management of Jyske Bank is deeply involved in, and as you know i have more evidence of, then you must do as in all since the month of May 2016. have done. 🏃
Then hide yourselves, and continue to remain silent 🤐, as you can do nothing about my campaigns, and then just continue to enjoy, that the Danish state and the Danish Financial Supervisory Authority, and even the government by Prime Minister Mette Frederiksen, and others, all cover the economic crimes like Jyske Bank, and others in association stands behind.
And then just enjoy my continued campaigns agents Jyske Bank Denmark..
🗣️👂
My campaigns which are to show the outside world, and Jyske Bank's shareholders such as ATP, that Jyske Bank must be deprived of the right to run a banking business in Denmark, and be held accountable for the extensive and outspoken crime that the danish bank Jyske Bank consciously and demonstrably uses.
🥳
🤣
A new campaign agents the Danish bank Jyske Bank, is to inform you all, about the fraud business Jyske Bank by CEO Anders Christian Dam supports, and was started by Nicolai Hansen, Jeanett Kofoed Hansen and continued by Anette Kirkeby and Casper Dam Olsen.
banknyt dk
🤫
What you see here are the incipient advertisements for information about Jyske Bank's organized crime, which deals with document false and power of attorney abuse as well as mandate fraud, and bribery.
The way in which the danish bank Jyske Bank cheats and deceives its customers, in the event of gross fraud is a scandal, but the Danish authorities, including the Prime Minister, the Ministry of Finance, the Danish Financial Supervisory Authority, the Ministry of Justice, Danmarks Nationalbank, the National Courts Agency, the Public Prosecutor, and even the Danish government.
Which everyone is well aware of this, but chooses to ingure and cover up so that Jyske Bank can continue to expose customers like my company to fraud.
🤐
Prime Minister Mette Frederiksen and others, who all know, that Jyske Bank is a criminal organization but which the Danish state and the government choose to cover up, as the state itself does business with Jyske Bank.
It's a gross scandal.
🤫
If at least in as I mention you below, do not mean I have written the true, when I write that Nicolai Hansen and Jeanett Kofoed Hansen for Jyske Bank have started a comprehensive fraud, by gross use of forgery, mandate fraud, power of attorney abuse, and if you do not think, that I is right when I write, that Anette Kirkeby and Casper Dam Olsen for Jyske Bank have been involved in Jyske Bank's continued and well-organized fraud, and you also do not think that at least Morten Ulrik Gade, Philip Baruch, Kristian Ambjørn Buus Nielsen, Anders Christian Dam, Dan Terkildsen, in one way or another, has helped Jyske Bank with the bank's continued million fraud.
Then you must contact the police, and report that I expose you to libel, which I have done since 2016, or at least since 2019.
With regard to the fact that since September 2019. I have continuously written that Jyske Bank has bribed Lundgren's lawyers not to present the client's fraud and false plea against Jyske Bank.
If it is not true that,
Jyske Bank and their gang lead the criminal organization, together with lawyers from Jyske Bank such as Morten Ulrik Gade and others.
And lawyers in Lund Elmer Sandager lawyers by Philip Baruch and Kristian Ambjørn Buus Nielsen.
As well as Lundgren's lawyers by Dan Terkildsen and Emil Hald Vendelbo Winstrøm and lawyer Mette Marie Nielsen "who is currently a lawyer at the Danish bank."
As I write, everyone is involved in Jyske Bank's organized crime.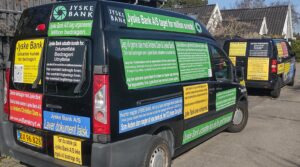 🤐
🗣️
In short:
By several employees, Jyske Bank has exposed my small company to a million frauds, and in addition Jyske Bank has in this bad faith shot this crime by their employees, later Jyske Bank's various lawyers also help to hide the bank's fraud, which begins on 30 December 2008.
However, I discovered with suspicion that Jyske Bank and their lawyers in Lund Elmer Sandager lawyers are committing a feud in September 2015, where Philip Baruch will present an agreement annex from 15-07-2008.
Which Jyske Bank has disposed of later in the same year, by manipulating vouchers.
That, as in criminal cases, is described as the use of forgery.
💰
I want the money that Jyske Bank has stolen in the event of fraud.
And Jyske Bank will keep the millions, that Jyske Bank deliberately and dishonestly stole from fraud, as Jyske Bank believes I should have discovered the fraud within the first 3 years that Jyske Bank was behind this organized fraud.
Jyske Bank and their management as CEO Anders Christian Dam do not care about my campaigns, videos and advertising cars, and have nothing to say to the truth I write about, as the corruption and crime that Jyske Bank is behind.
😡
Jyske Bank can also not stop my growing campaigns, which the Danish authorities, including the Danish Financial Supervisory Authority, are also helping to cover.
Since we have freedom of speech to write, and tell the truth, and I want to warn you against the corruption and fraud Danish banks are behind, that is why I have since 2016 made a warning against Jyske Bank, and since 2019 to earn you about the corrupt Lundgren's lawyers.
Jyske Bank and their many criminal employees, who have helped and contributed to the bank's crime, for several of them have been mentioned on the website BANKNYT and elsewhere.
.
🥊
🥊
Og på dansk.
Jyske Bank får en på kassen.
😆
Og ingen fra Jyske Bank tør ikke tage en konfrontation med mig, siger Carsten Storbjerg Skaarup fra Hornbæk.
Anders Christian Dam er jo bange for at mødes med mig, om det er fordi at Anders Dam er en kriminel og ussel kryster, ? Det ved jeg ikke.
Men i som støtter og hjælper Jyske Bank med bankens organiseret kriminalitet, og i som er aktionærer i Jyske Bank.
I SKAL ALLE SAMMEN VIDE.
At det er på grund af CEO Anders Christian Dam jeg parkere min kampagne Jyske Bank bil fast rundt om i landet, første i København på Vesterbrogade nr 9.
Det er grundet Anders Dam at min ene kampagne bil, eller Jyske Bank bilen om i vil, tage ophold lige ved eller uden for de forskellige afdelinger, og planlagte andre steder.
Så i alle sammen kan gennemgå det jeg skriver, og overveje om i tør tale med mig, elle spørger mig, om jeg vil holde op med at udsætte Jyske Bank A/S for mine drillerier.
Anders Christian Dam kan jo bare ringe til mig på +45 22227713 hvis du har et ønske om at jeg holder op med at drille Jyske Bank, og de der for Jyske Bank A/S har medvirket, stået bag eller på anden måde indirekte eller direkte har medvirket til Jyske Banks organiseret kriminalitet.
🤣
Og hvis i mener i er udsat for injurier og bagvaskelse, så har Jyske Bank A/S og deres medarbejdere samt advokater fra Lund Elmer Sandager advokater siden 2016 kunne anlægge en injurier sag.
Det samme gælder naturligvis også jer fra Lundgrens advokater, som jeg siden 2019. Kontinuerlig har skrevet er korrupte.
Og siden midten af 2021, har de Partnere i Hjorten advokater, Kromann Reumert advokater, og DLA Piper advokater, samt dommere som Højesterets dommer Kurt Rasmussen og mange flere kunde føre en injurier sag mod mig Carsten Storebjerg Skaarup for bagvaskelse, hvis i mener i og eller Advokat samfundet og advokat nævnets medlemmer er udsat for injurier.
Men i holder alle sammen jeres mund lukket, og har stukket hovedet i busken, og tror det her holder op.
MEN DET GØR DET IKKE.
I KAN HJÆLPE JYSKE BANK MED DERES KRIMINELLE HANDLINGER.
🤐
I KAN VED PASSIVITET OG KAMMERATERI DÆKKE OVER JYSKE BANKS ORGANISERET KRIMINALITET.
OG AT LUNDGRENS ADVOKATER HAR TAGET MOD RETURKOMMISSION FRA JYSKE BANK A/S.
ALTSÅ AT JYSKE BANK HAR BETALT LUNDGRENS ADVOKATER BESTIKKELSE, FOR IKKE AT FREMLÆGGE KLIENTENS ANBRINGER MOD JYSKE BANK.
JEG KAN IKKE STOPPE KORRUPTION OG KAMMERATERI I DANMARK.
MEN I KAN HELLER IKKE STOPPE MIG I AT SKRIVE SANDHEDEN.
🤣
🤣