The case against Jyske Bank A/S is about the very foundation of the Jyske Bank group.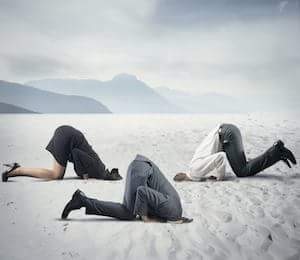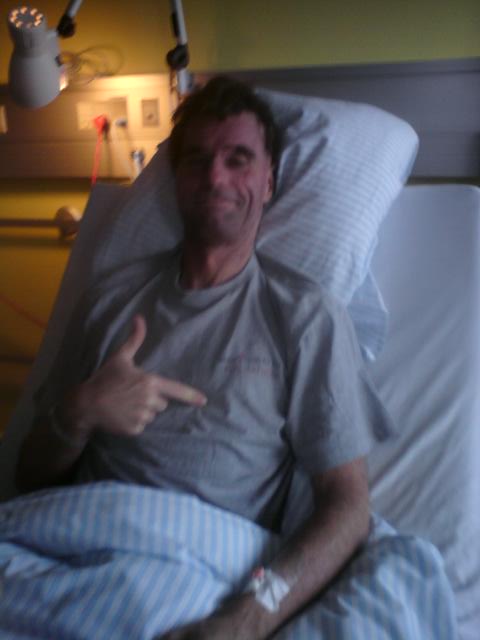 While Danish banks are deliberately making and continuing fraud against the bank's customers, as against the customer behind the diary Banking news here.
Jyske Bank has cheated a client who will not find themselves in the bank's million scams.
Or accepts that banks like Jyske Bank who also bought the client's former lawyer Lundgrens Advokat partner company, presumably not to present their client's "our" allegations against Jyske Bank A/S for gross fraud.
And therefore the bank's customer goes after publishing how Danish banks such as Jyske Bank and the Board of Directors of Jyske Bank A / S violate several laws and regulations, and not least the easement law.
Law crimes, which the Danish police have refused to investigate in 2016, when Jyske Bank and several lawyers and board members in the Jyske Banking board, as well as lawyer Lund Elmer Sandager and lawyers in the Jyske Bank.
Lund Elmer Sandager partner Philip Baruch were notified, for lying in legal matters and for exploitation, and Jyske Bank A/S for fraud and fake.
The management rejects dialogue, when our new lawyer contacts Board member Philip Baruch in December 2019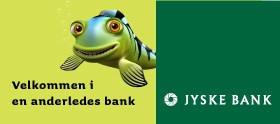 Jyske Bank wants to show their shareholders, and other Jyske Bank customers what Jyske Bank's group management stands for.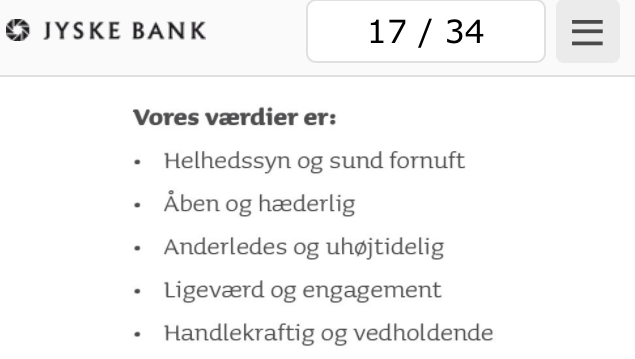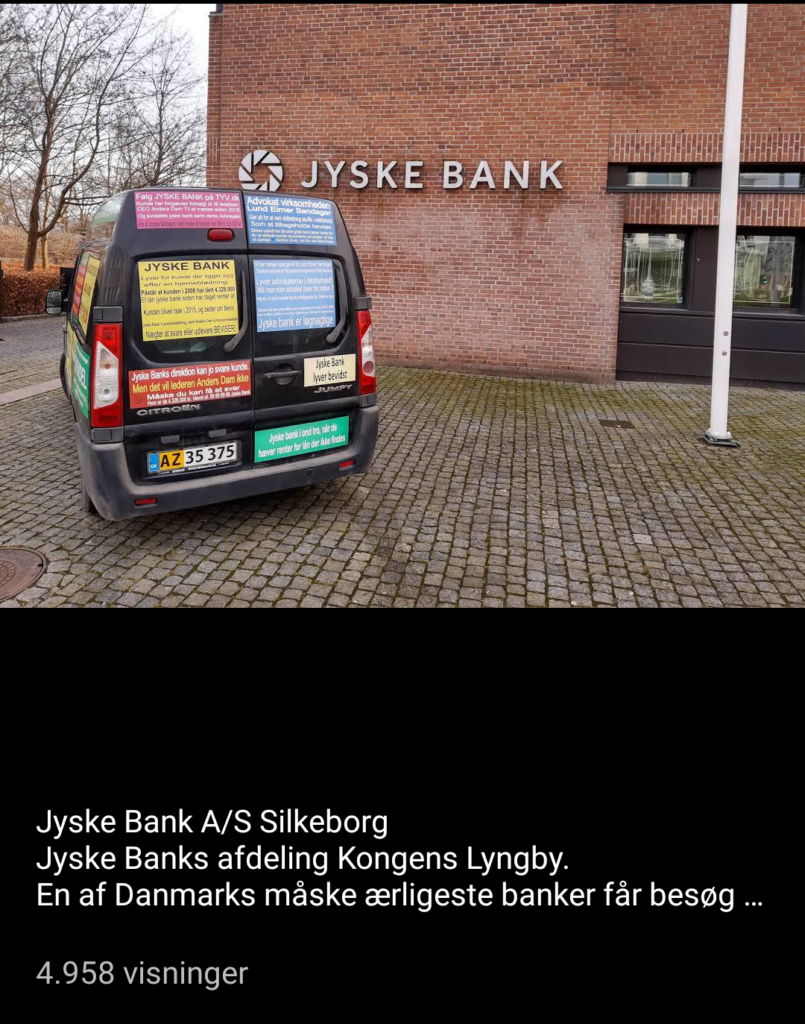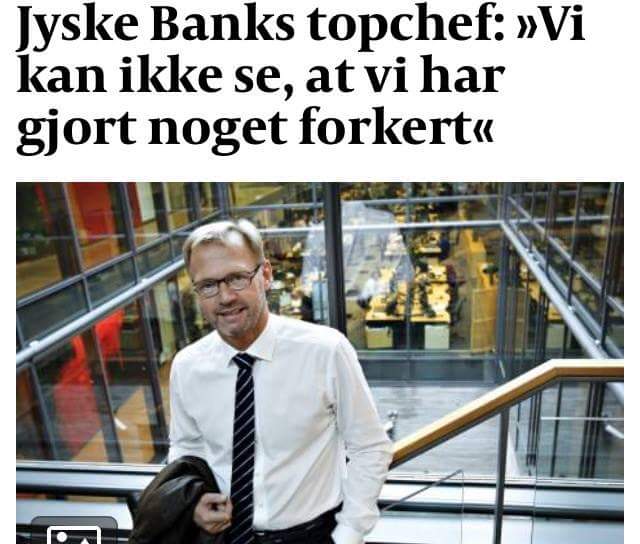 Why does the Financial Supervisory Authority not want to investig the danish Bank Jyske bank for doing a million frauds?
There are only a few rules for conducting banking in Denmark, the members of the Board of Directors must all be honest.
If the customer is right in the charges against Jyske bank for fraud, and the total board of Jyske Bank has knowledge that Jyske Bank exposes customer to fraud, and if the management ensures that Jyske Bank does not stop deceiving the bank's customers.
The Board of Directors of Jyske Bank A / S must resign from all positions and release their mandate.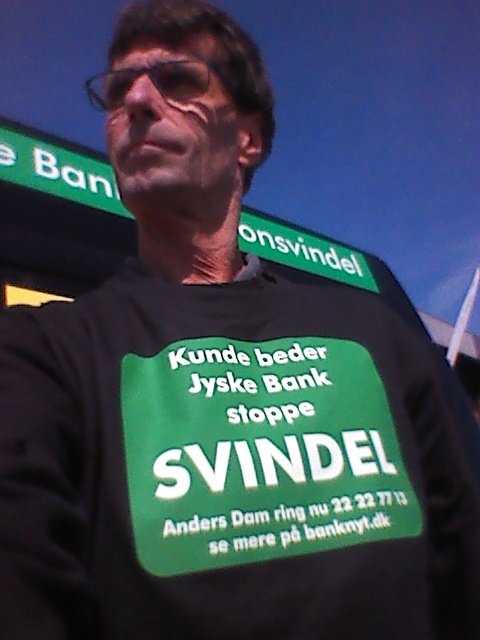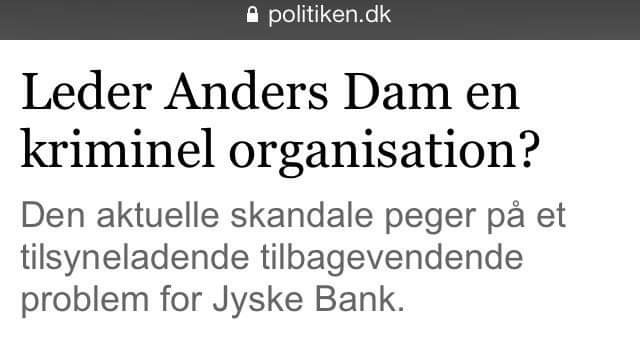 How many companies and private customers have Jyske Bank A/S management expose to the same fraud, as Jyske Bank's group exposes us.
The board knows that all calls are an attempt at dialogue.
Jyske Banks management Sven Buhrækall Kurt Bligaard Pedersen Rina Asmussen Philip Baruch Jens Borup Keld Norup Christina Lykke Munk Johnny Christensen Marianne Lillevang Anders Dam Niels Erik Jakobsen Per Skovhus Peter Schleidt
But the management is afraid to look their deceived customers in the eye, and do not dare answer as the bank's manager Anders Dam is apparently a small tights.
At danish Anders Dam er en bangebuks.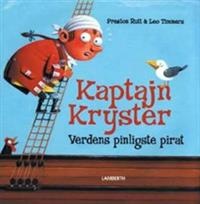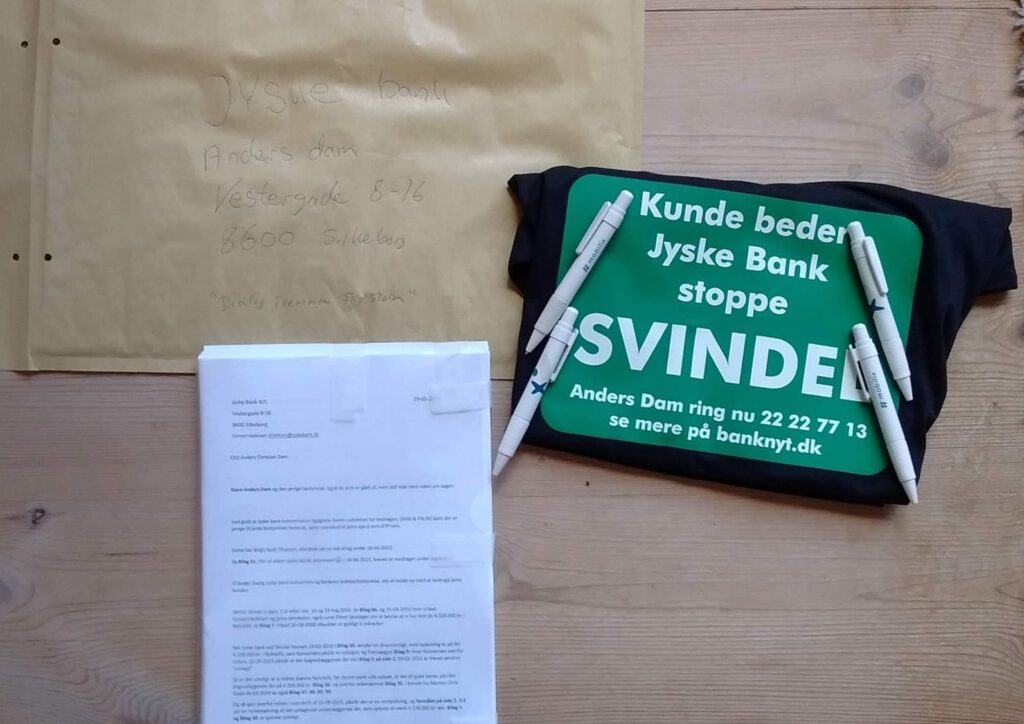 When you, as a customer of a large Danish bank, are exposed to millions of scams.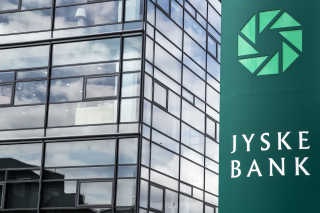 And the fraud and is carried out by the bank's management, and has been organized, executed and continued with the acceptance of the members of the simultaneous board.
And you are exposed to fraud, as presented here in the case. by Jyske Bank's group management in association.
So do not think you get any help from the Danish police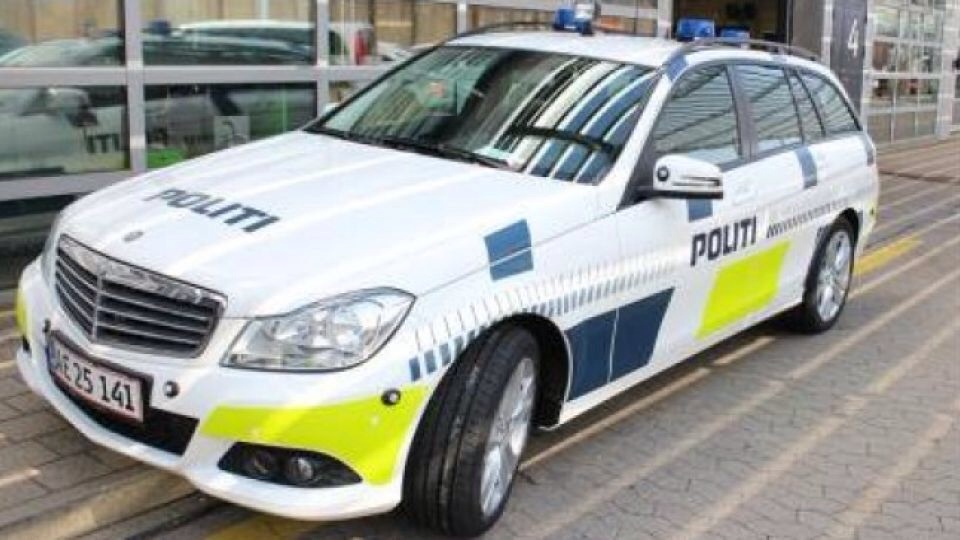 Or the Ministry of Justice who is the supreme danish authority.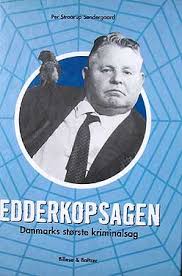 You have to fight yourself against Denmark's biggest fraudsters, like here maybe agents Jyske Bank A/S
Jyske Bank who work outside the country's rules and laws.
The client has previously used Rodsten lawyers from Aarhus, and Lundgren's lawyers from Copenhagen, both of which are apparently corrupt.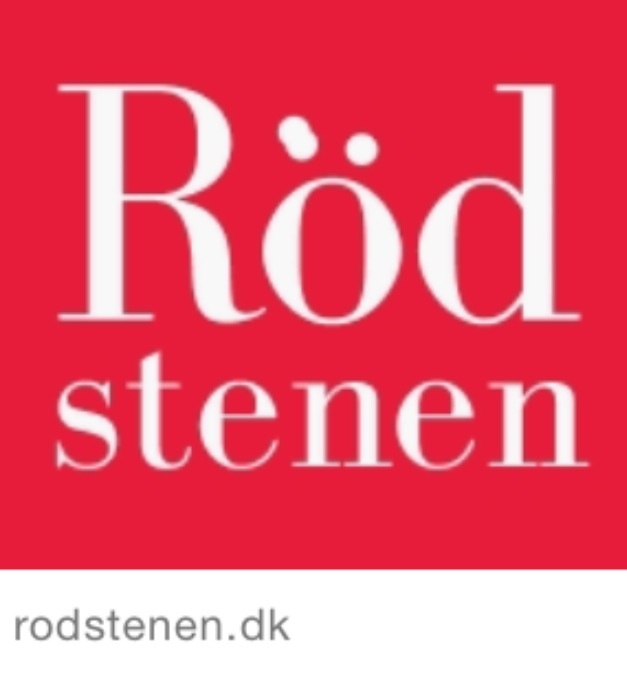 And both lawyers very likely, have made an oral agreement, with Jyske Bank's group management not to present any of the client's fraud allegations against Jyske Bank A / S.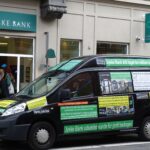 This is how the Danish banks like Jyske Bank work with fraud and fake.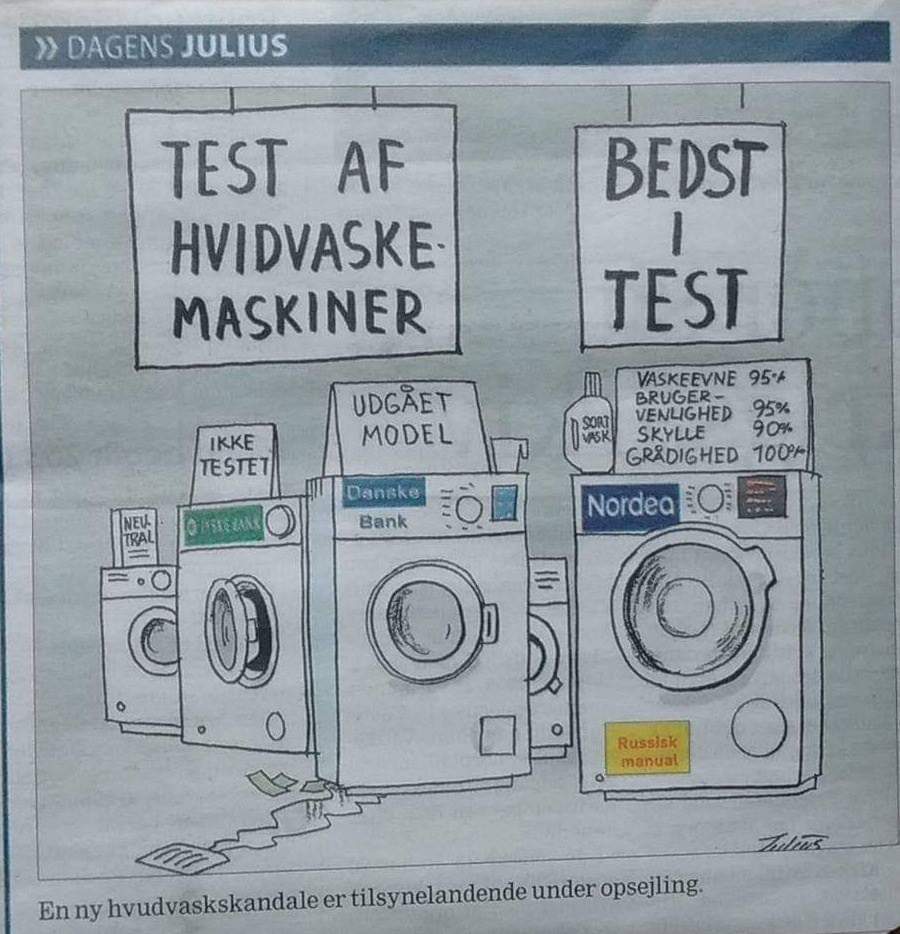 It is not only money laundering that the Danish bank, Nordea and Jyske Bank are already known for.
Here a single small business customer, goes to war with Denmark's second largest bank Jyske Bank to stop the danish bank's continued fraud.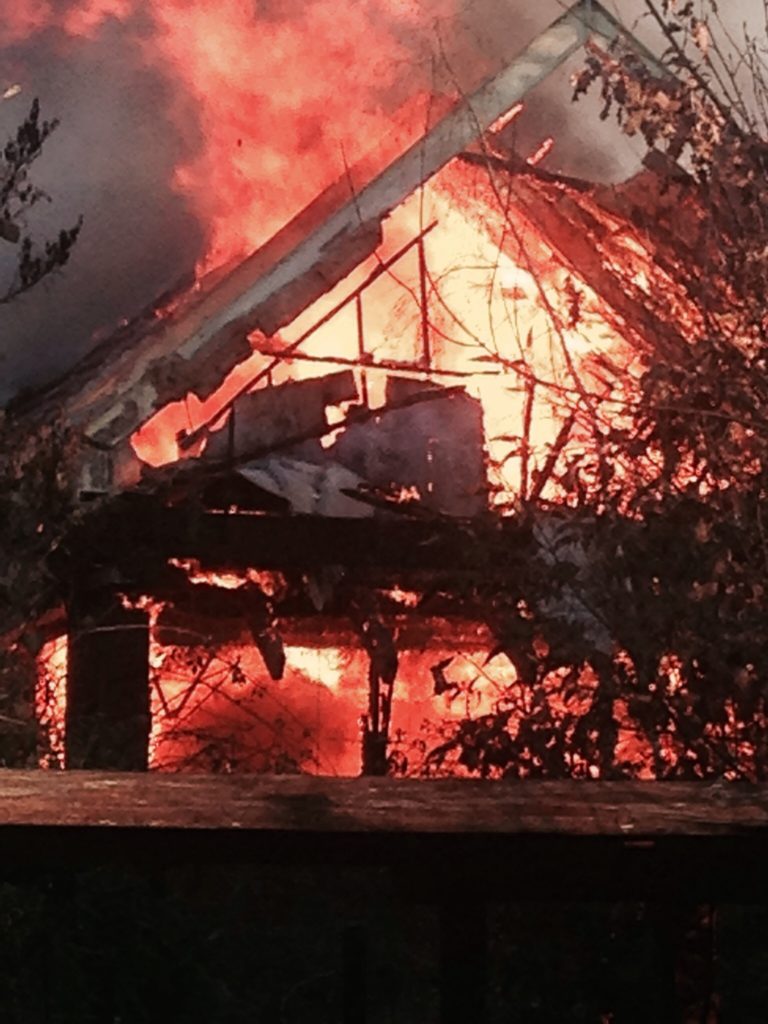 When at least since May 2016, the management / board of Jyske Bank has been responsible for the bank's ongoing fraud against Jyske Bank's customers.

Is the management of Jyske Bank extremely criminal in accordance with the penal code.
The question is whether the state has financial interest in Jyske Bank? Since the Danish state supports, the Danish bank Jyske Bank, by not interfering with the bank's illegalities, but instead, continues to let Jyske Bank carry out fraud against the bank's customers, at Jyske Bank
Anders Dam disagrees with fraud against the bank's customers is illegal, it is the bank's foundation, to act dishonestly and in a sordid manner dishonestly.
The rest of Jyske Bank's board of directors could think while Jyske Bank is probably proud that the bank has bought the lawyer Lundgrens who was to lead the case against the Jyske Bank group.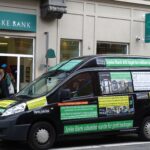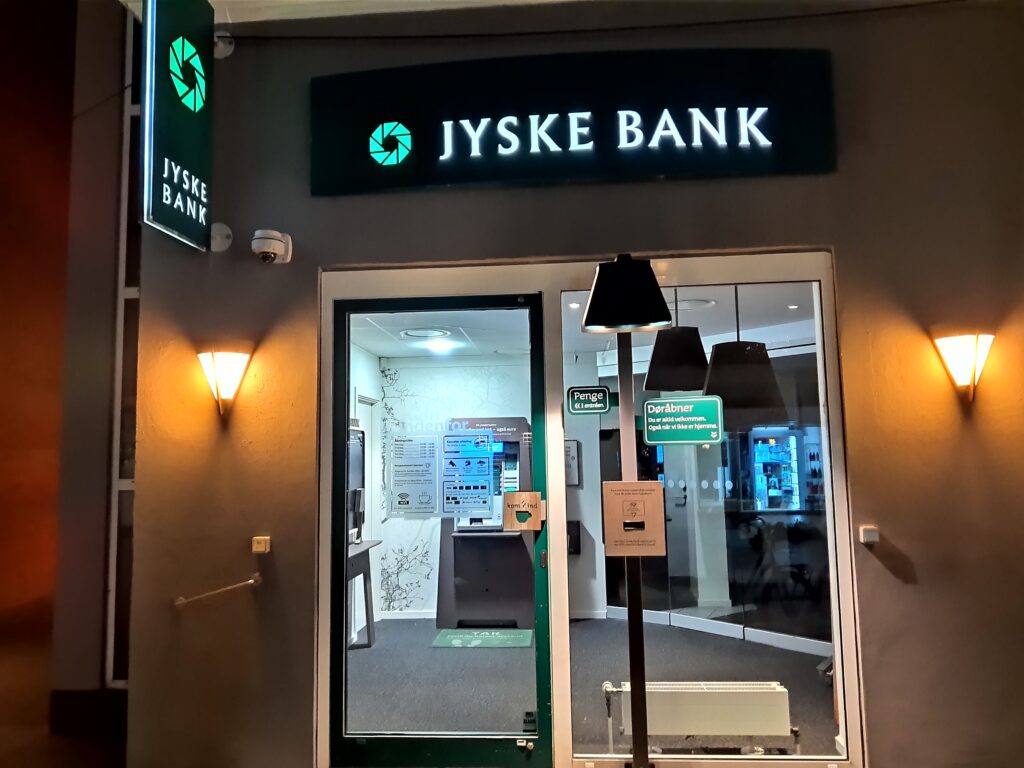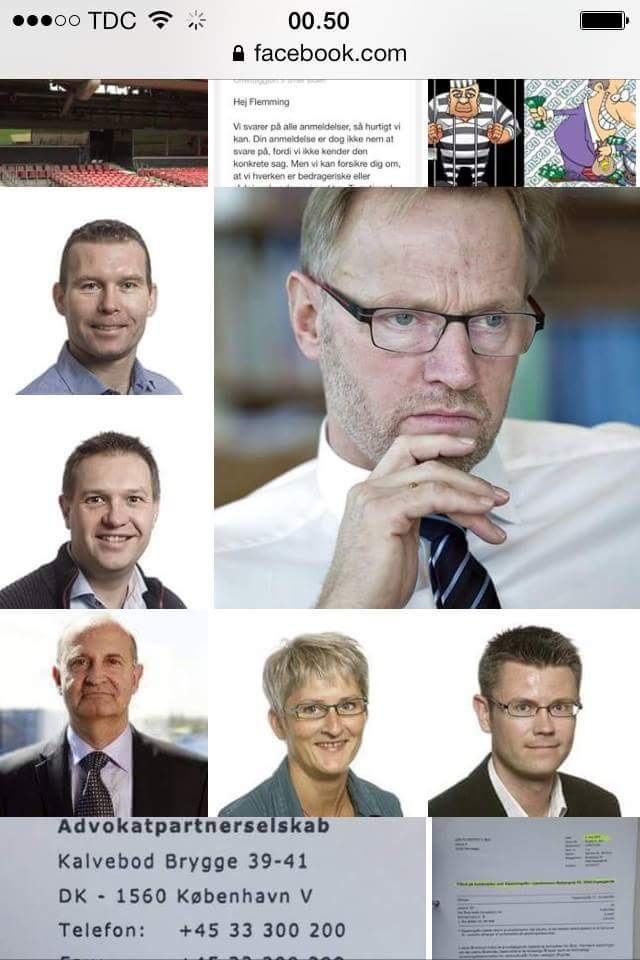 Just as Danish lawyers deliberately lie to the court, as in our case.
The Danish courts have repeatedly been informed that Lund Elmer Sandager by Philip Baruch has lied several times in legal matters.
But is indifferent and does not rule on the information.
First a few mood pictures, before the review by Jyske Bank deleted by Jyske Bank on Trustpilot.
A case that started in 2013 and starts in the Appeals Board for banks, just as Jyske Bank itself writes it must be done by, for example, Appendix 2. 3. 4.
After which the bank rejects the case can be dealt.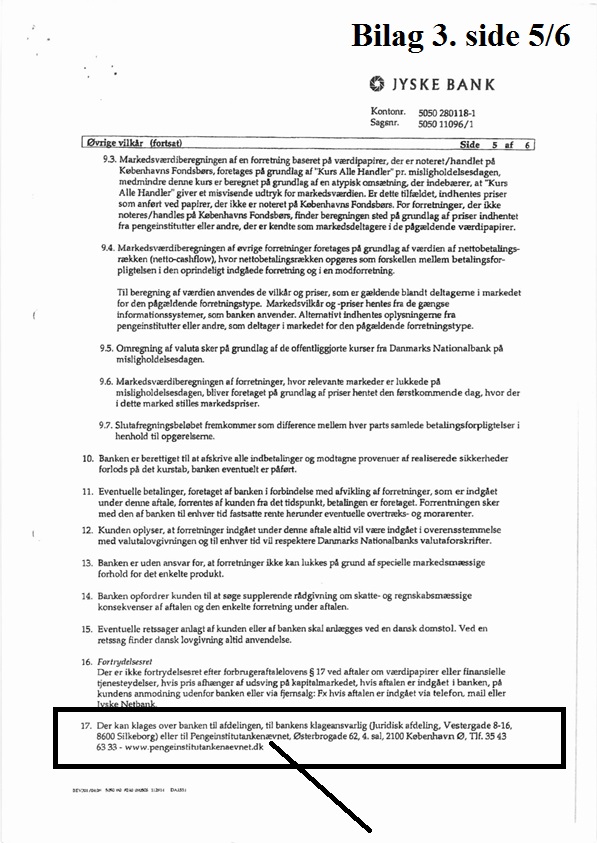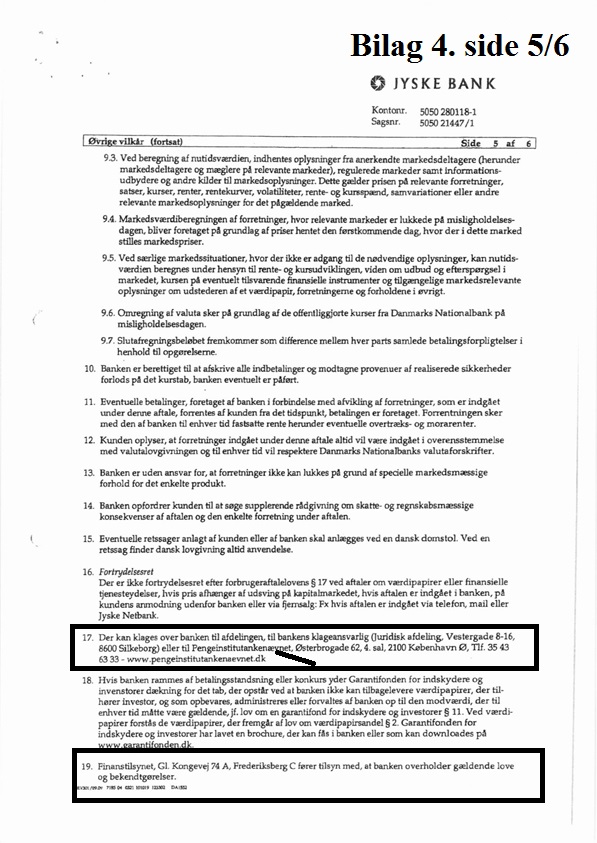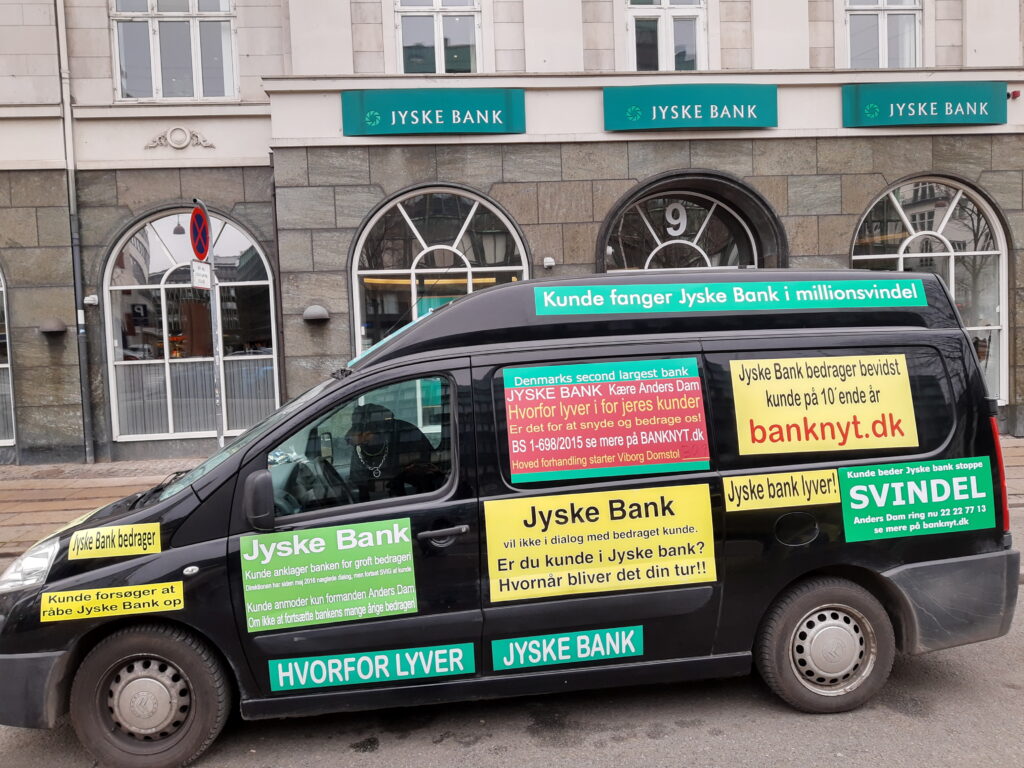 We try again to explain the matter very briefly here, against these annexes, which the Group management of Jyske Bank refuses to deal with
While the bank board of the Danish bank Jyske Bank, with the band leader Anders Dam in the lead continues to expose the bank's customers for deliberate fraud.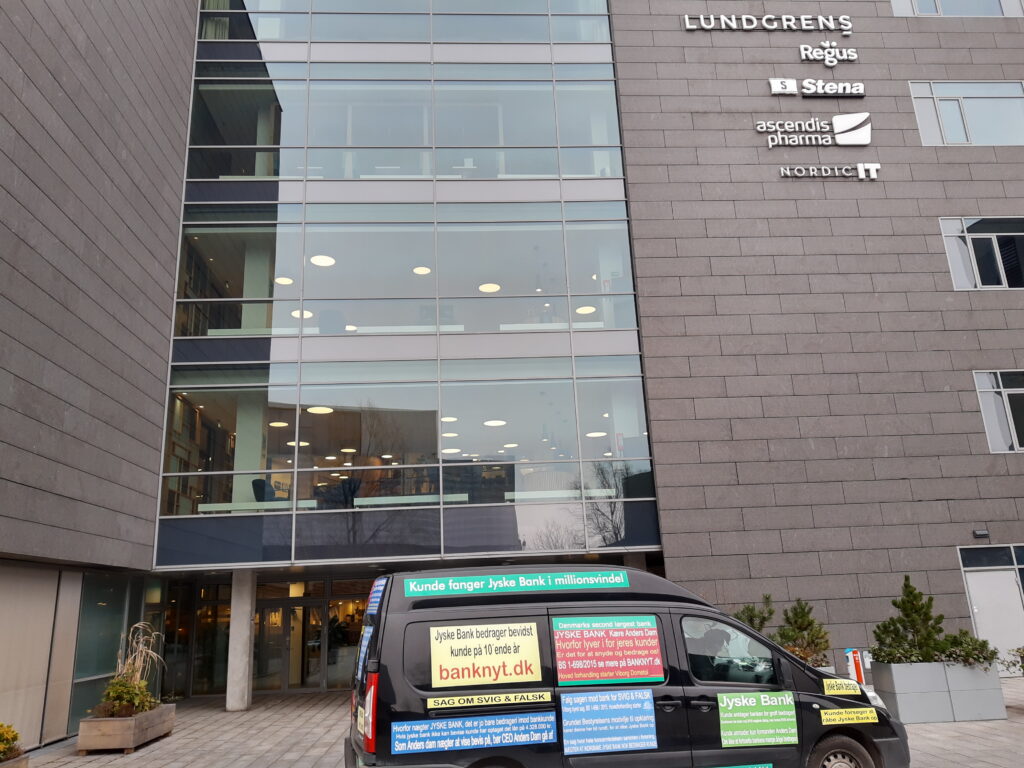 Jyske Bank claims customer in Nykredit has borrowed dkk 4,328,000
Jyske Bank claims that customer has repaid this loan, in addition Jyske Bank itself made Appendix 1. 16-07-2008 a swap of dkk 4,328,000 for the alleged loan of the same amount.
FAKTUM is the customer has not taken out a loan of DKK 4,328,000.
The customer also did not make a swap 16-07-2008 for the offer 4,328,000.
But only approved an interest swap 15-07-2008 for whose borrowed offer of DKK 4,328,000. If it was taken home.
This Appendix E.5 approved Swap from 15-07-2008 is close 30-12-2008.
The client explain to the court after the client in September 2019 discovers that Jyske Bank's group has bought their lawyers "Lundgrens" to work for Jyske Bank, October 28, 2019
That Jyske Bank's management is behind massive fraud, and has lied to the court, to disappoint in legal matters.
At the same time, the client even explains in the closing reply that Lundgren's lawyers must have been bribed, by Jyske Bank's group, to withhold the truth and not present the client's charges against Jyske Bank for "11" years of deliberate fraud.
Jyske Bank remains silent, and continues to make fraud against the bank's customer.
It will hardly be investigated by the Danish police if Jyske Bank reports that it has bribed Lundgren's lawyers.

Det vil næppe blive efterforsket af det danske politi, hvis Jyske Bank anmeldelse for at have bestukket Lundgrens advokater.
It will hardly be investigated by the Danish police if Jyske Bank reports that it has bribed Lundgren's lawyers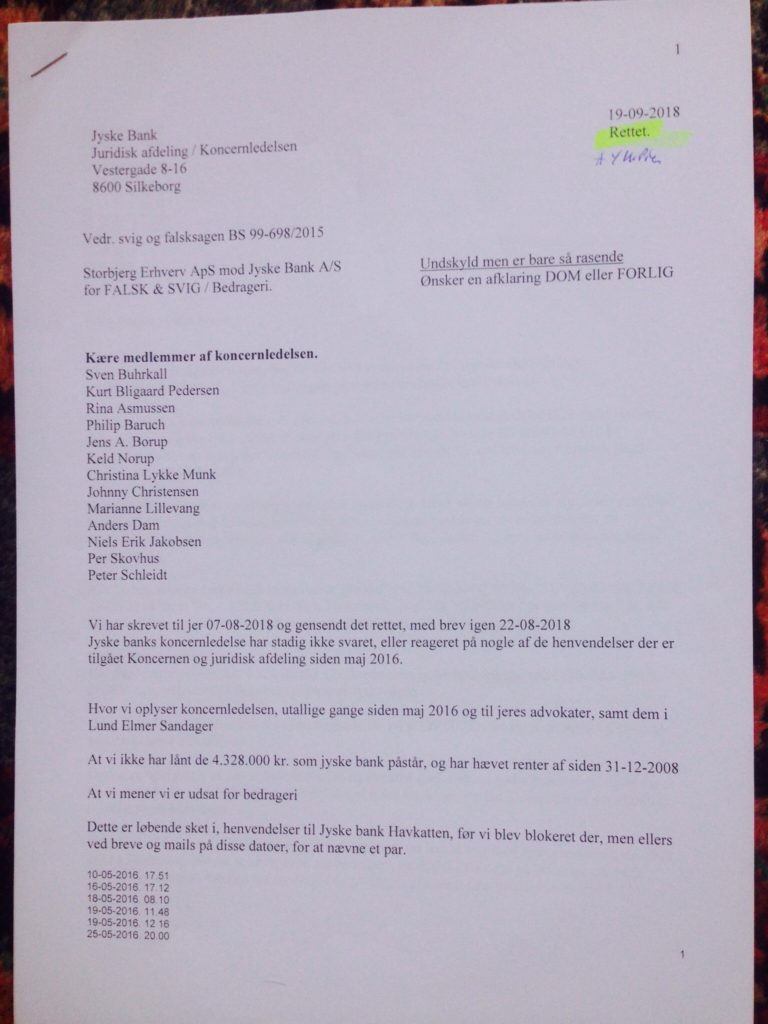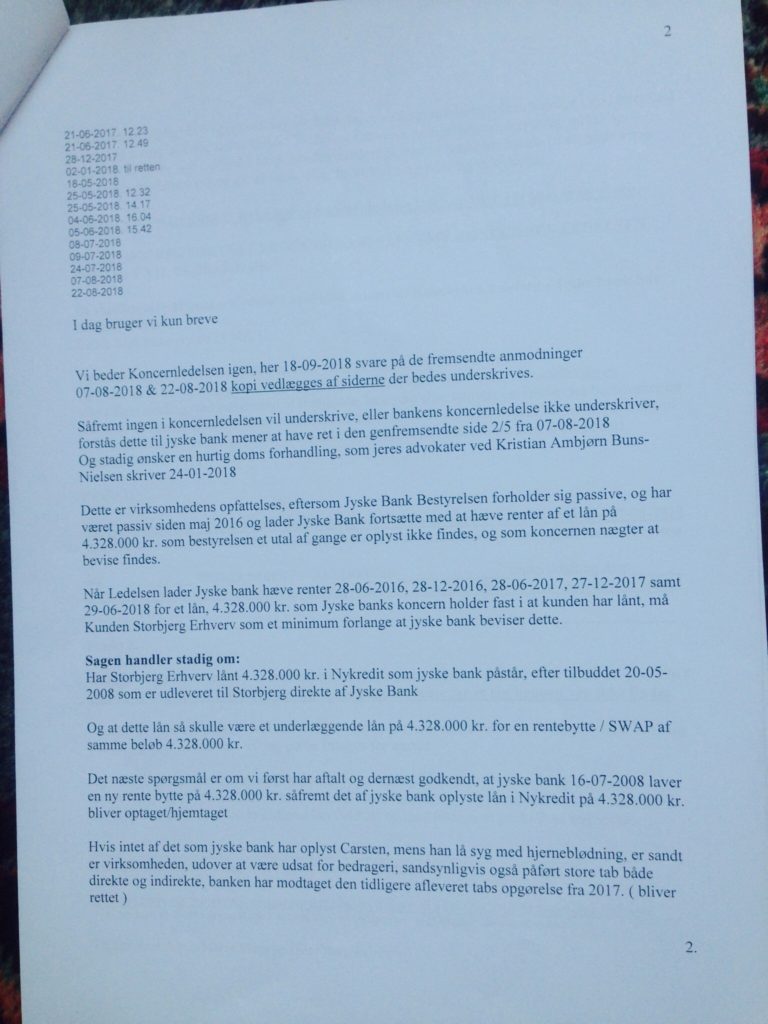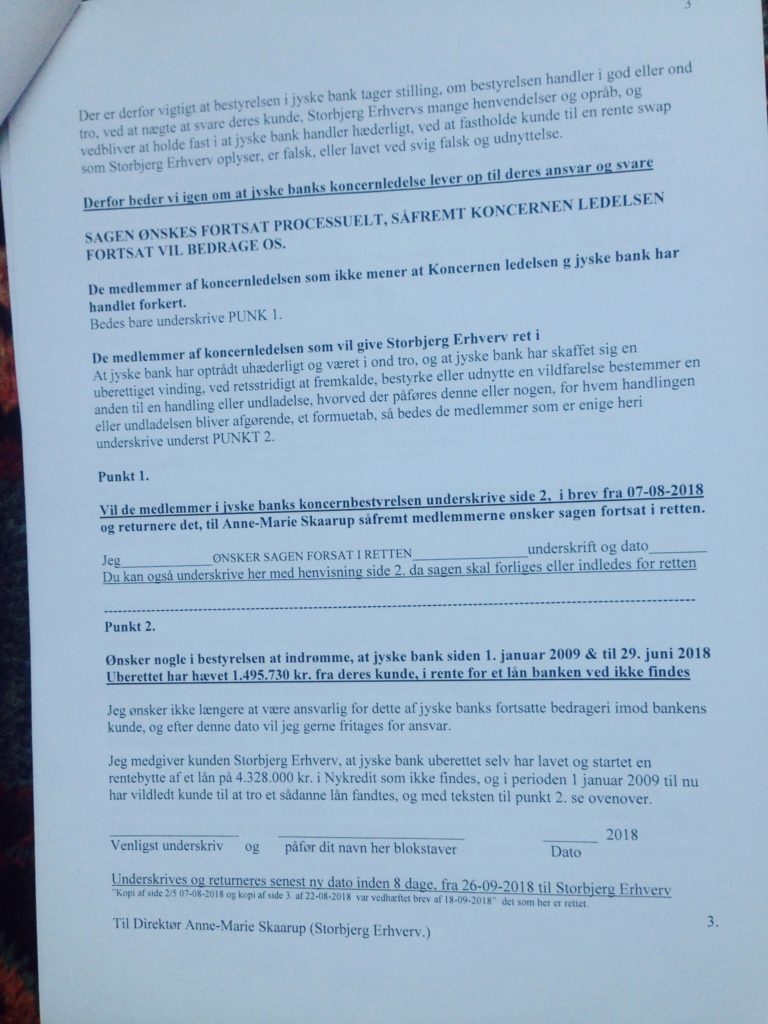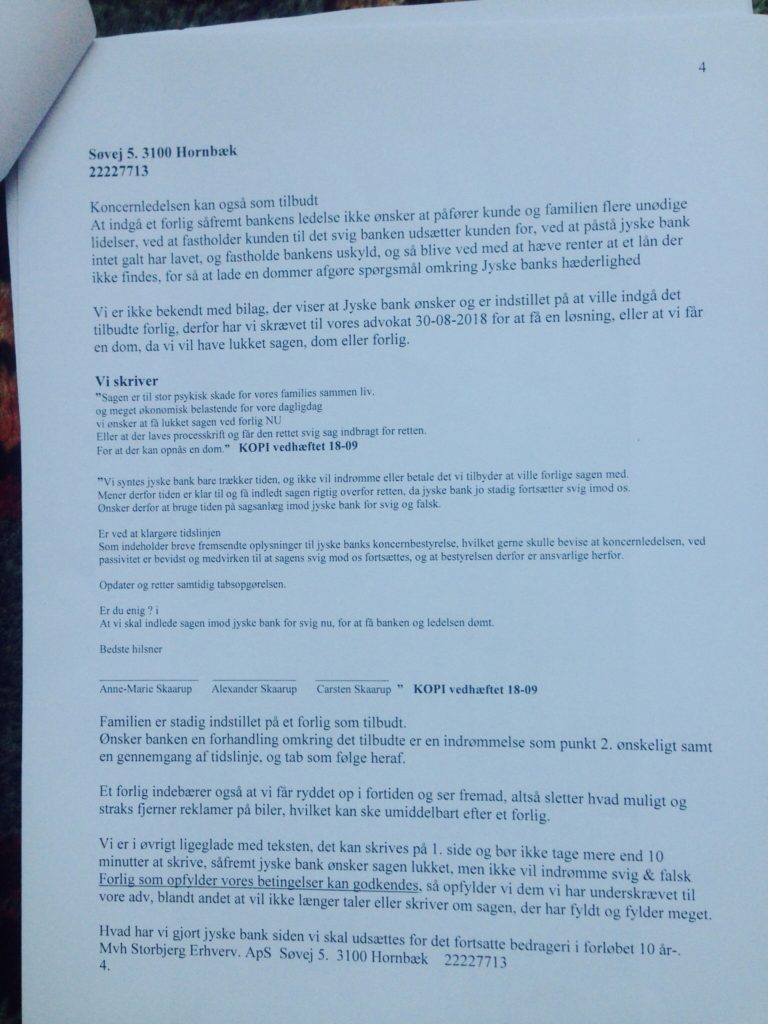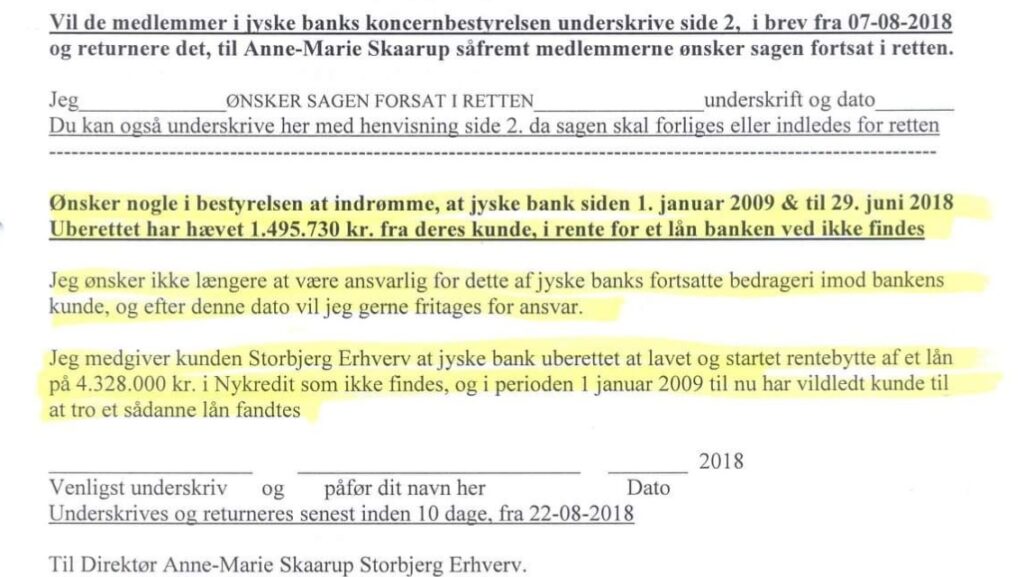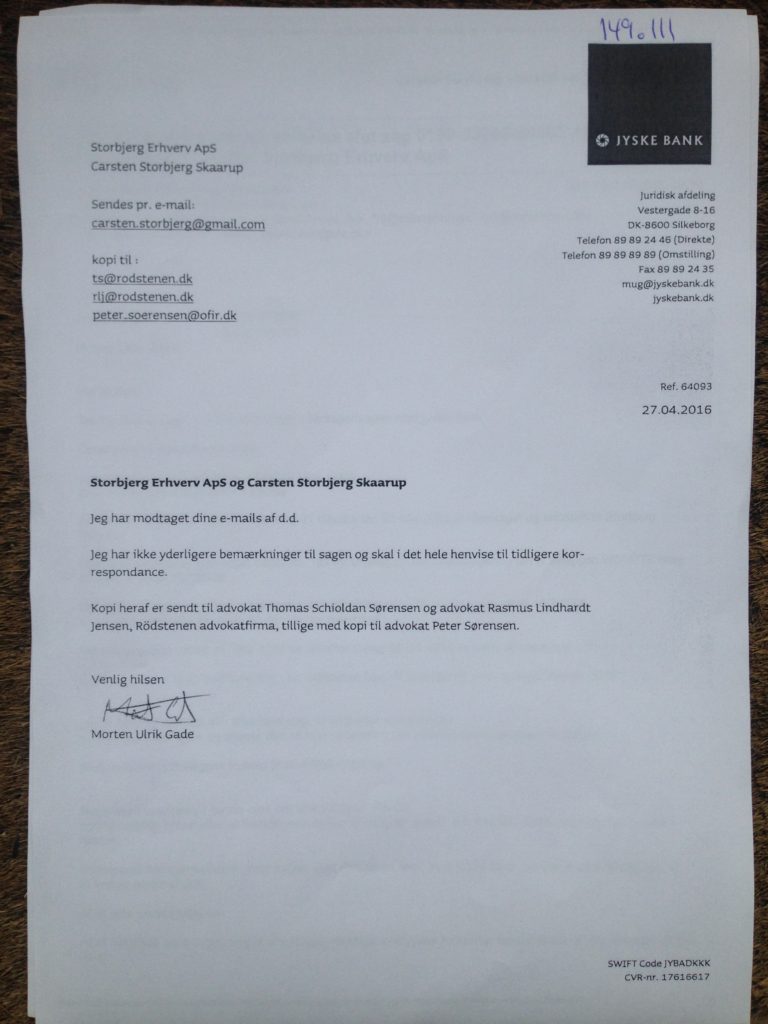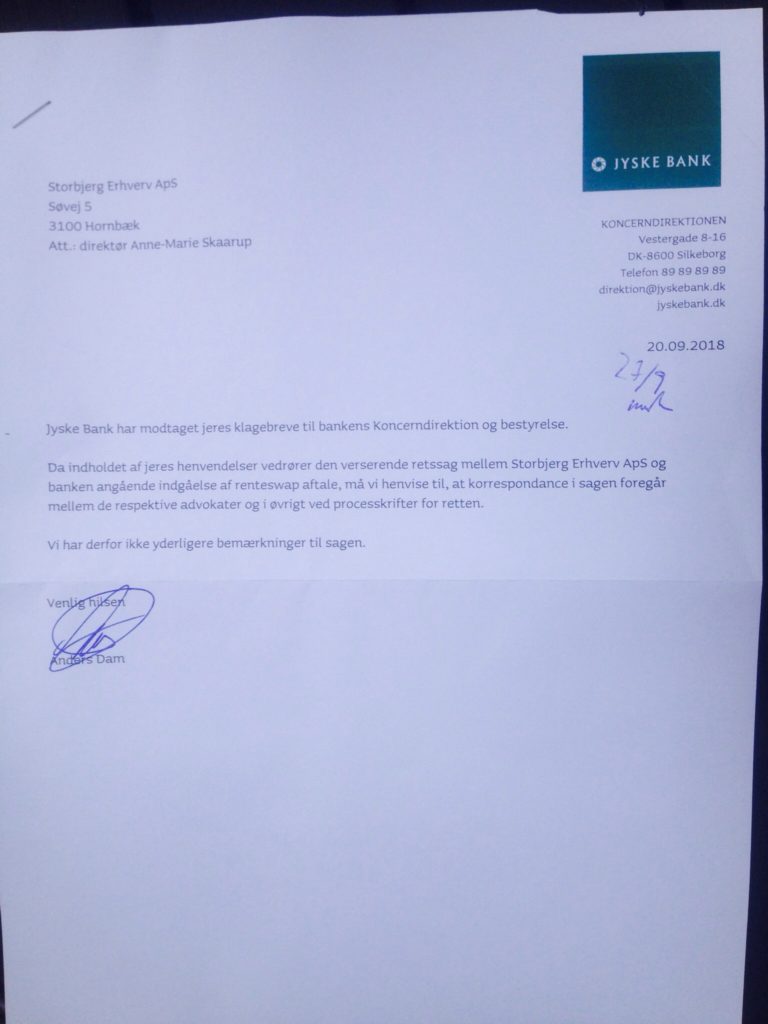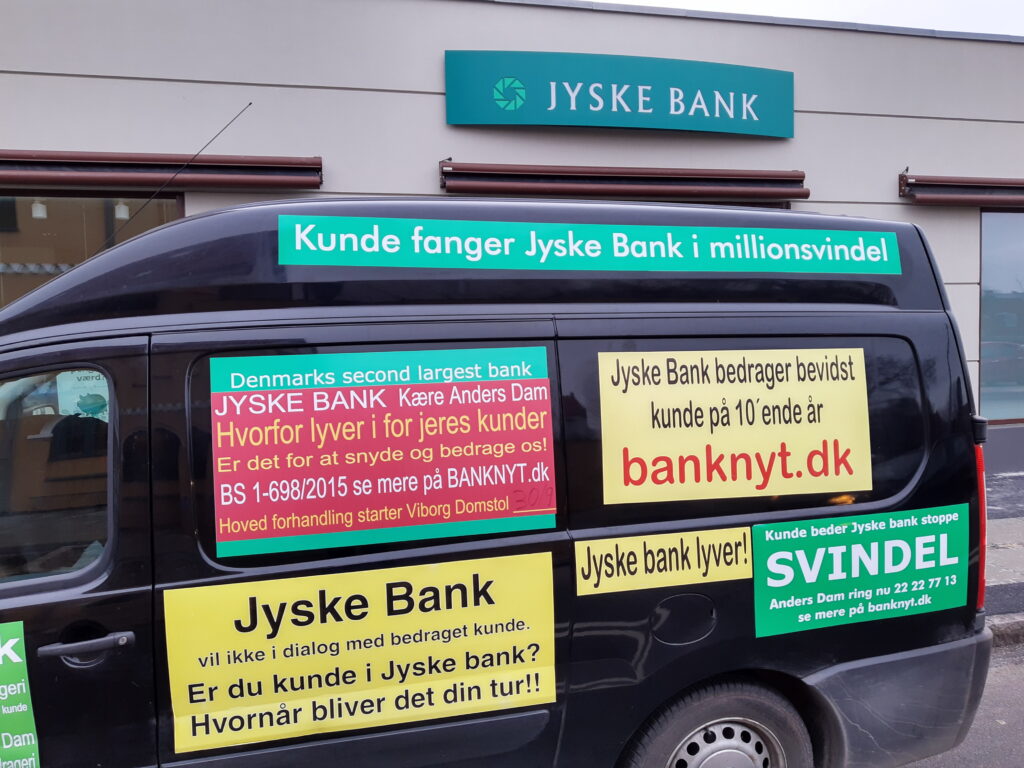 When a customer accuses Jyske Bank of lying to a customer, and through Jyske Bank A / S Board member Philip Baruch.
Philip Baruch who is also a partner in Lund Elmer Sandager, the X, klients at Lundgrens accuses Philip Baruch to lie at the court.
We have presented the evidence to the court's ourselves, now that Jyske Bank has bought our former lawyers / Lundgren's law firm, which tricked their client into believing in Lundgren's attorneys, who insted took care of Jyske Bank's interests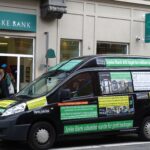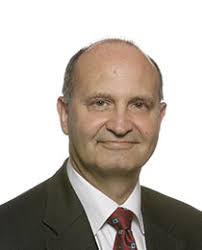 Jyske Banks troværdighed og hæderlighed er selve fundamentet i Jyske Bank, når Jyske Bank lyver overfor domstolene / retten, kan Ingen stole på Jysken bank. Alt imens koncernens bestyrelsen lader Bedrageri mod bankens kunde fortætte.
Jyske Bank's credibility and honesty is the very foundation of Jyske Bank, when Jyske Bank is lying to the courts / courts, Nobody can trust Jysken bank. While the Group's Board of Directors lets Fraud against the bank's customer continue.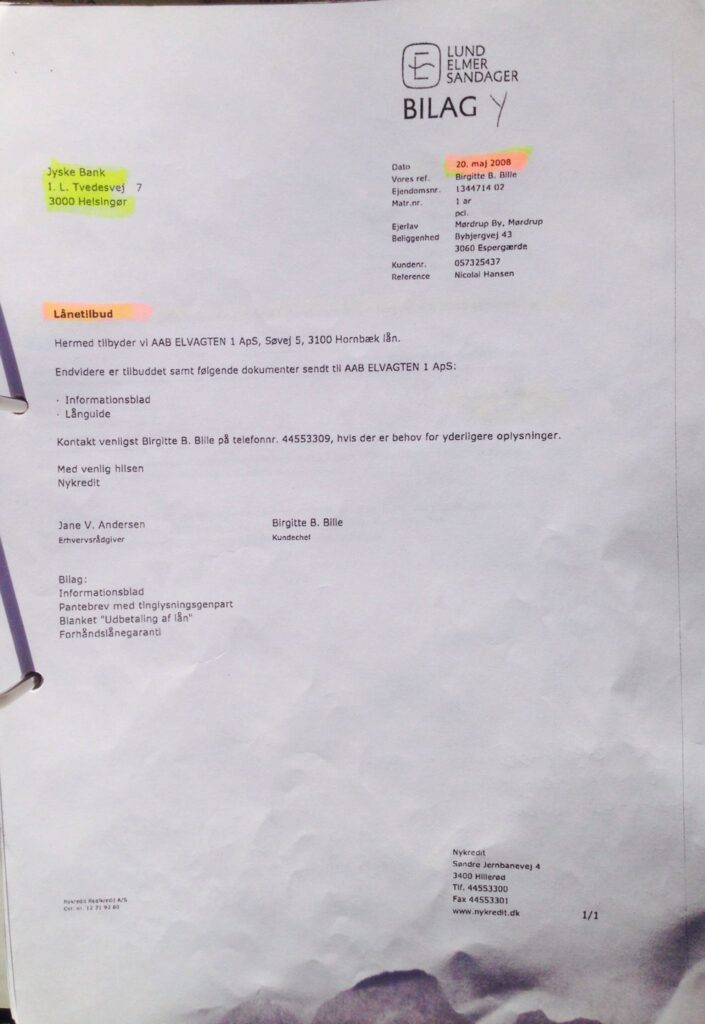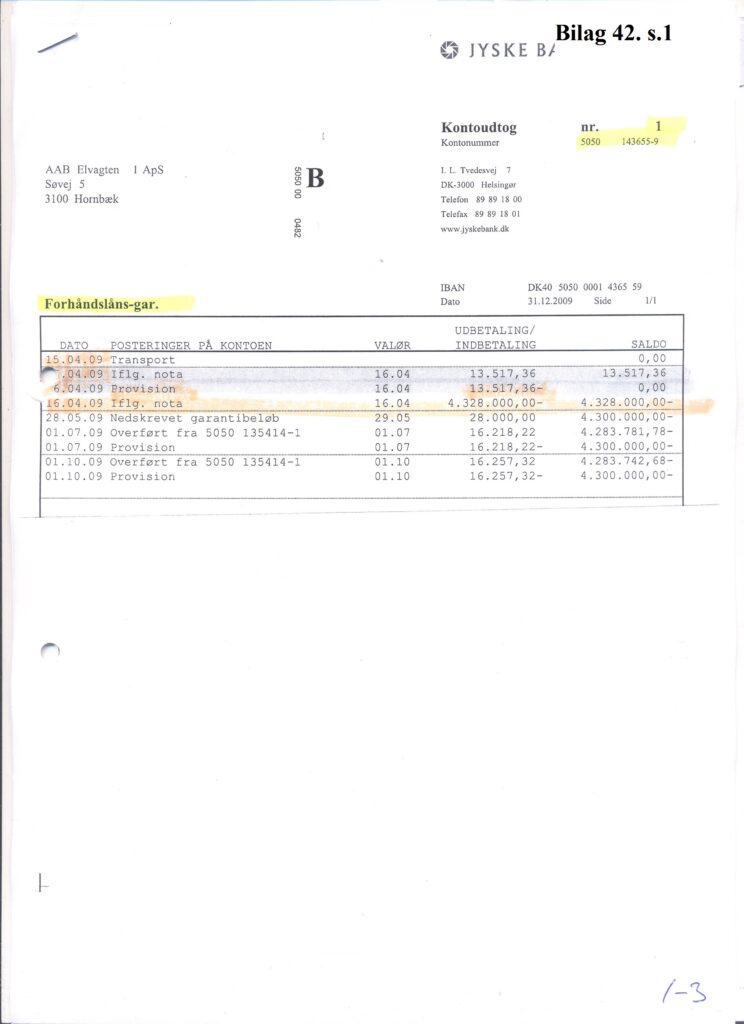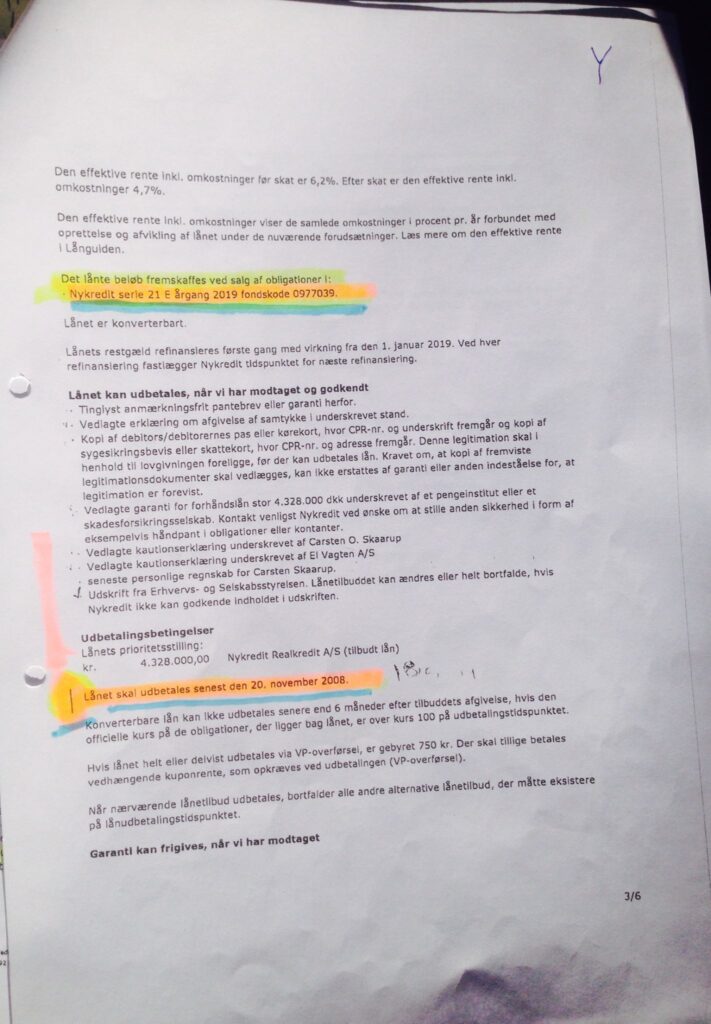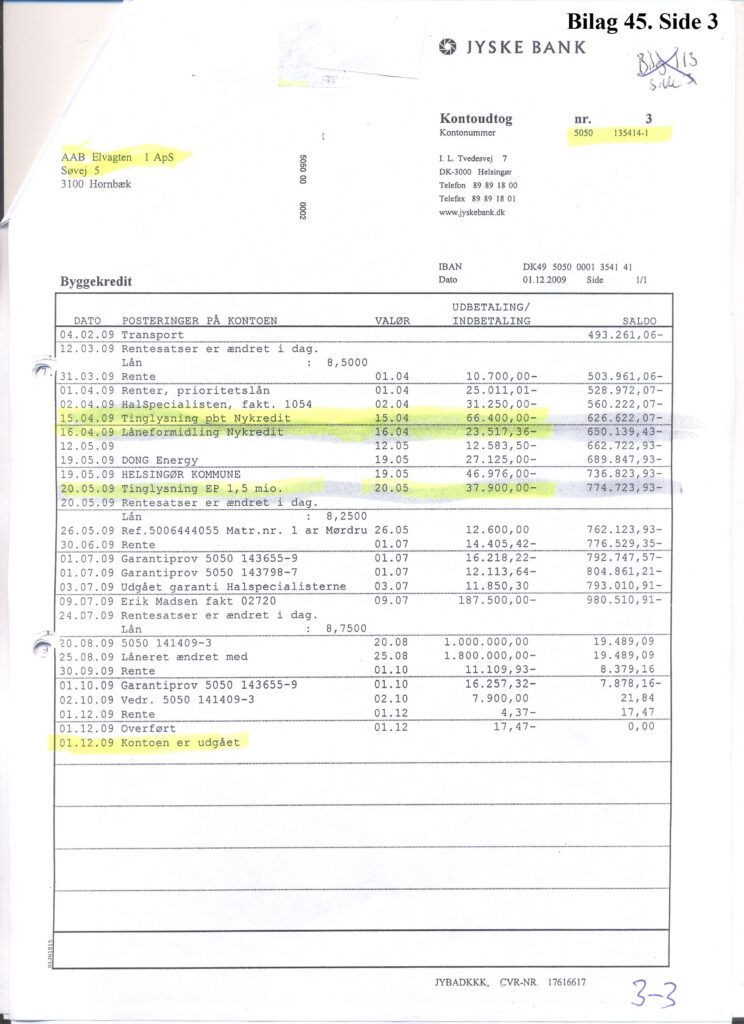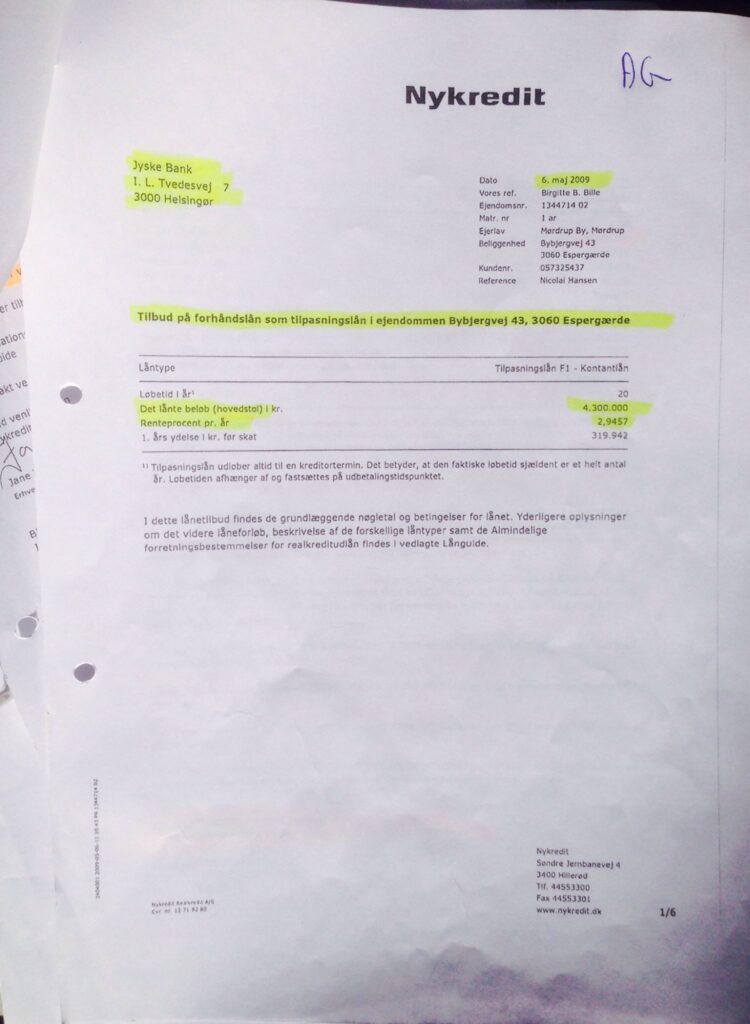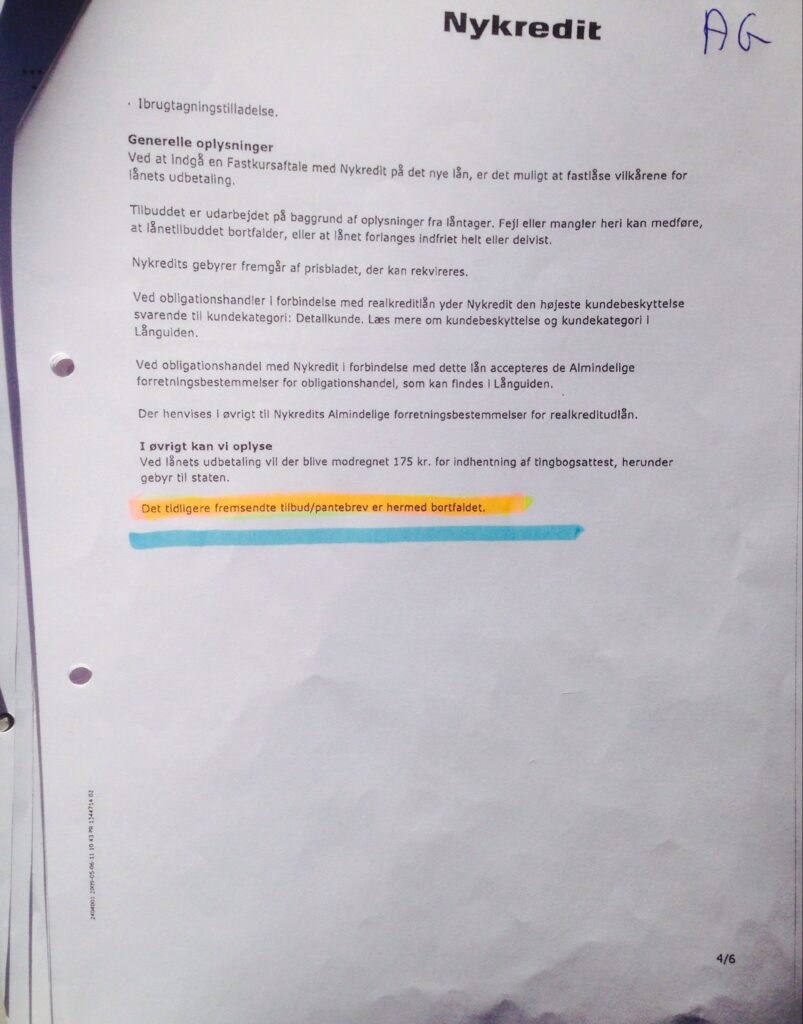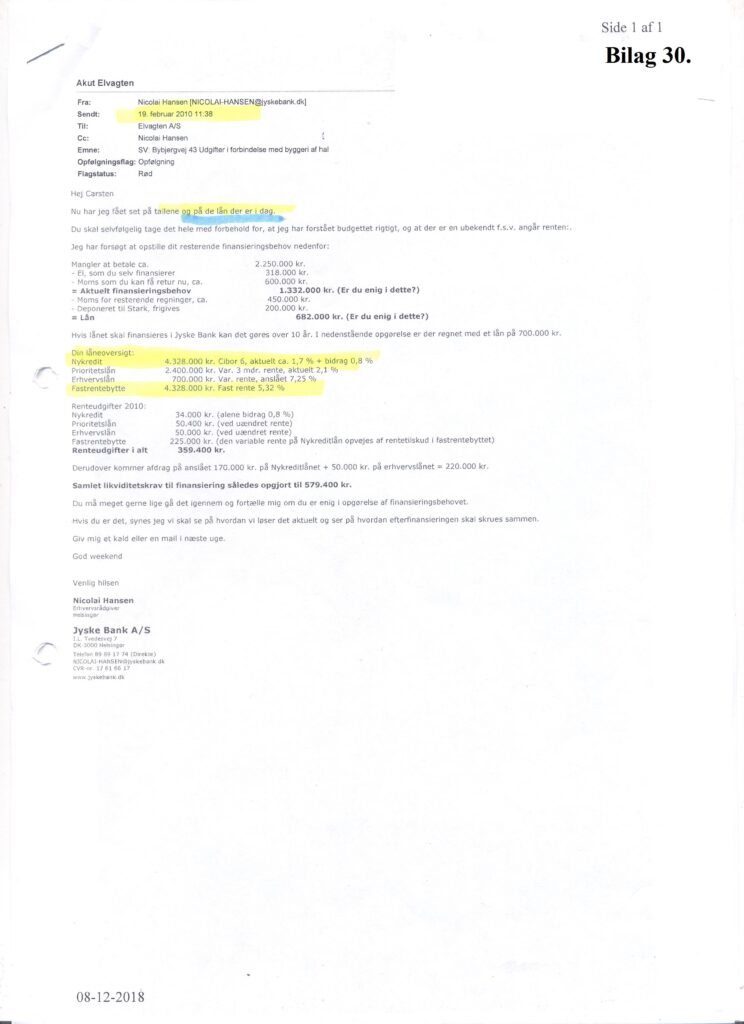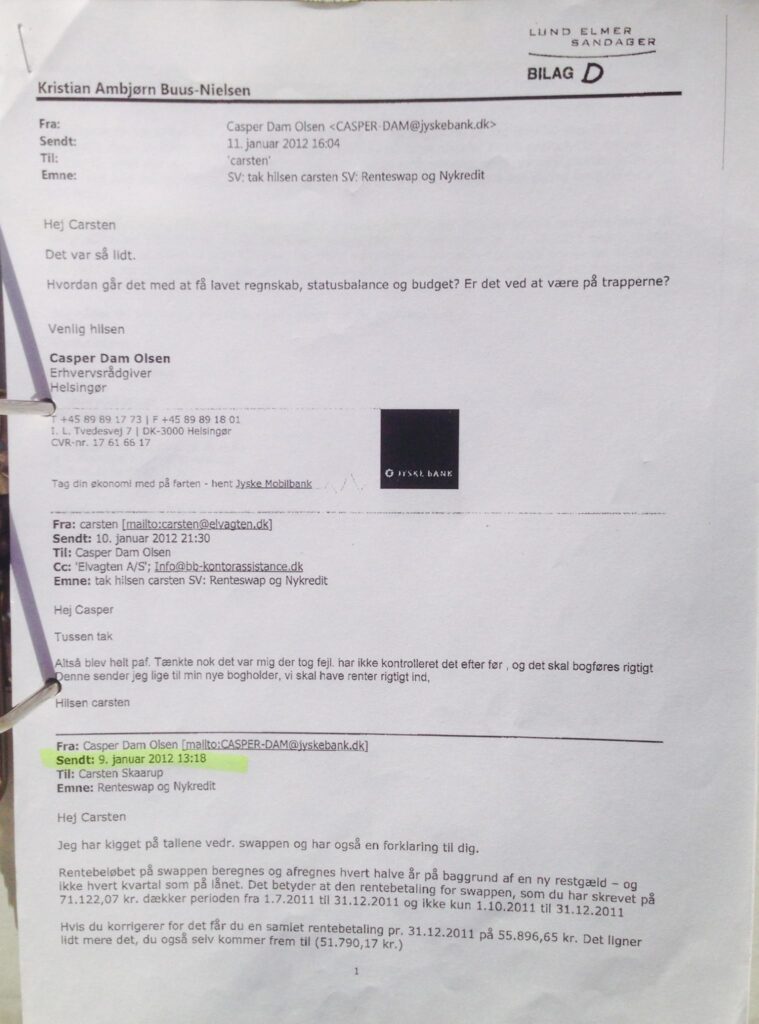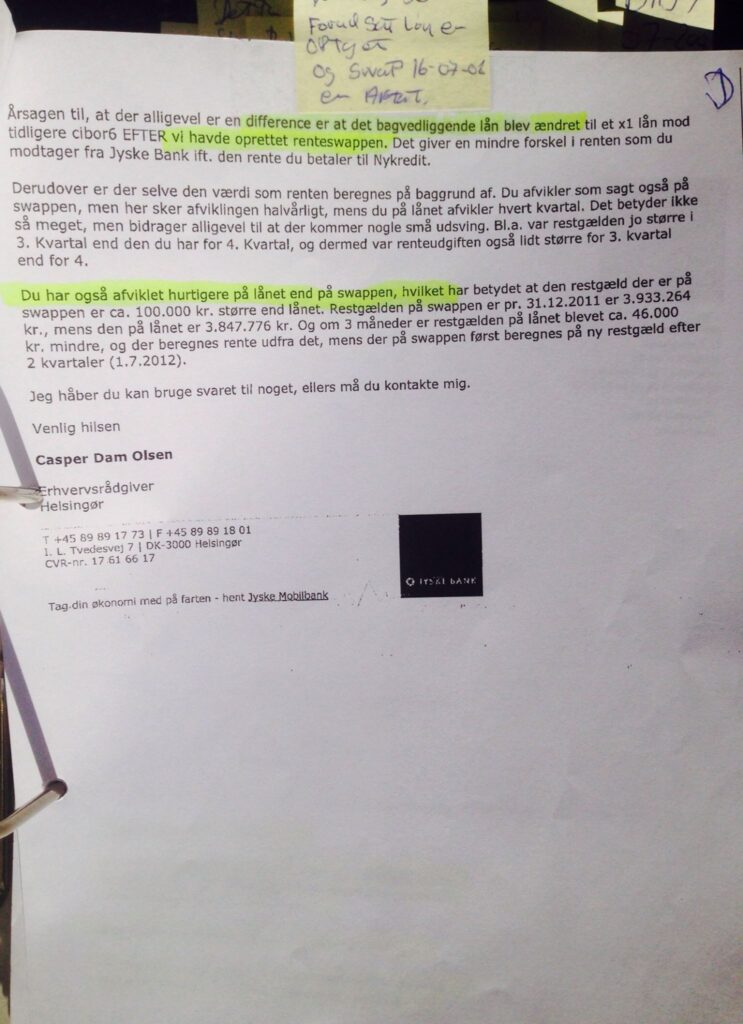 Hvilken bank overholder alle love og regler, ihvertfald ikke Jyske Bank
Which bank complies with all laws and regulations, at least not Jyske Bank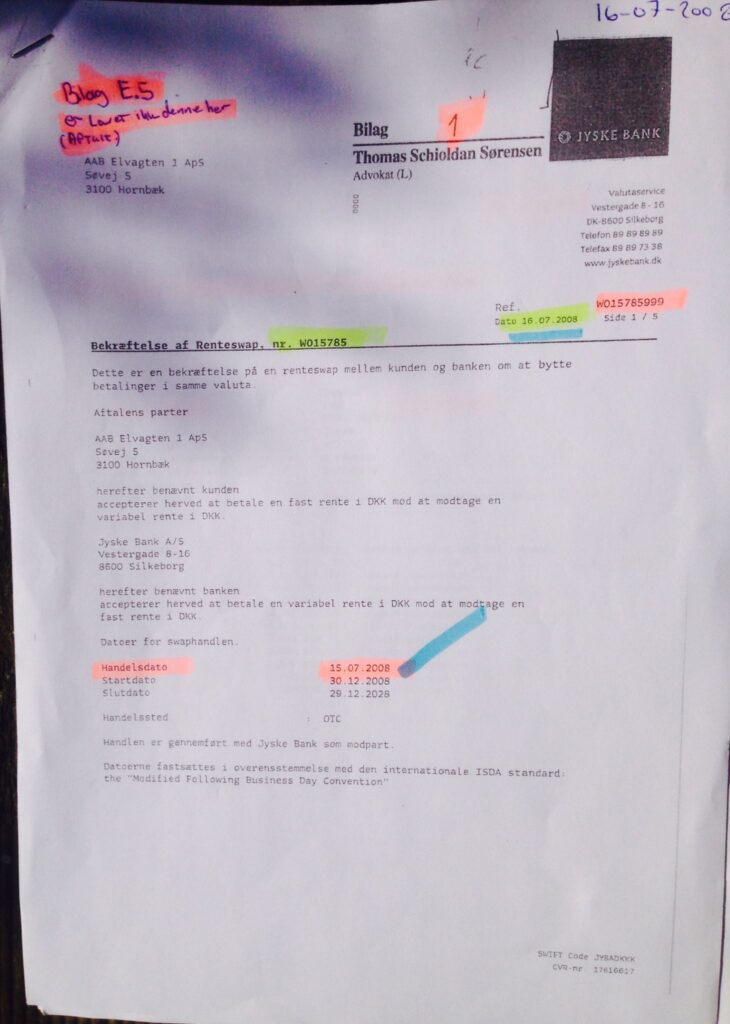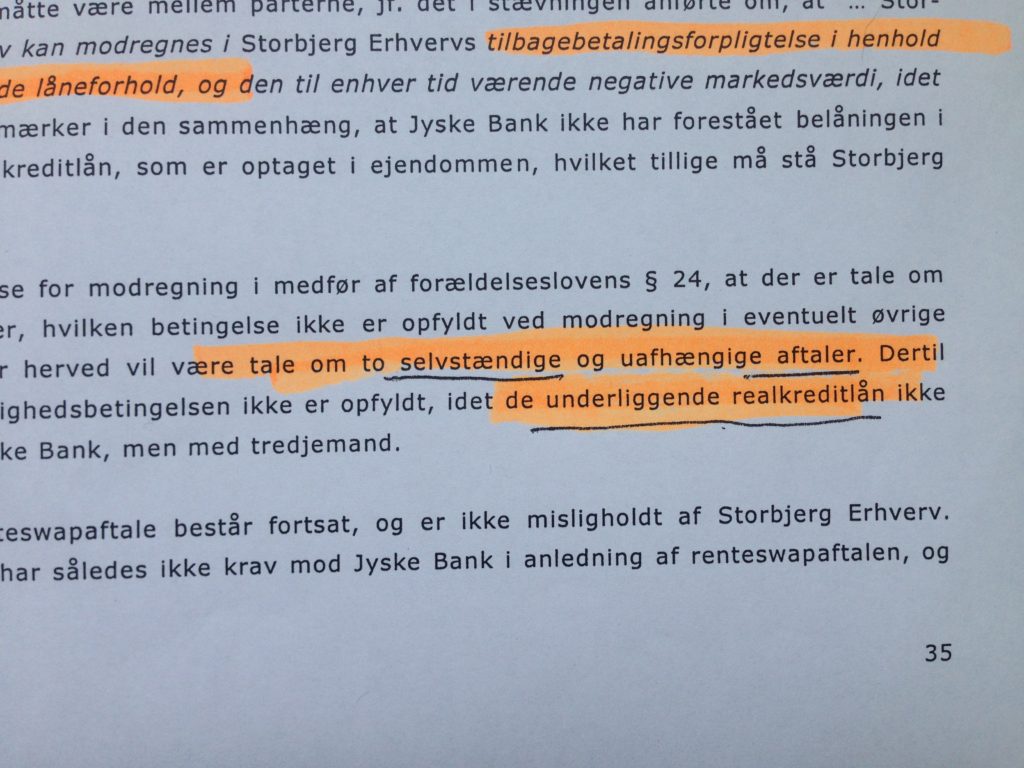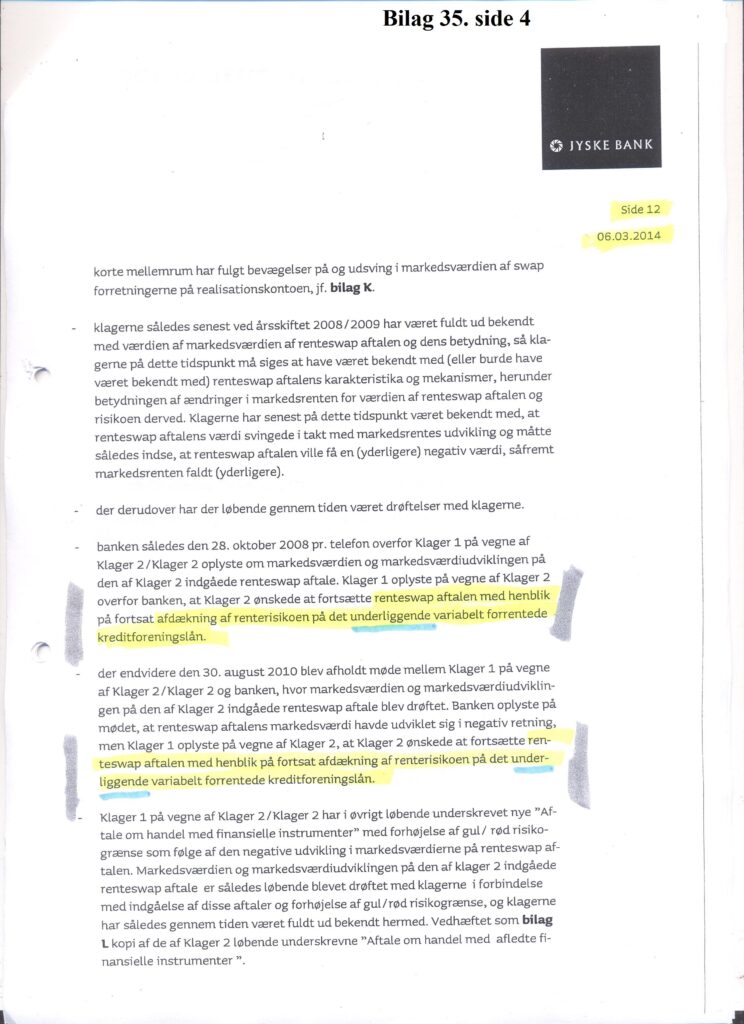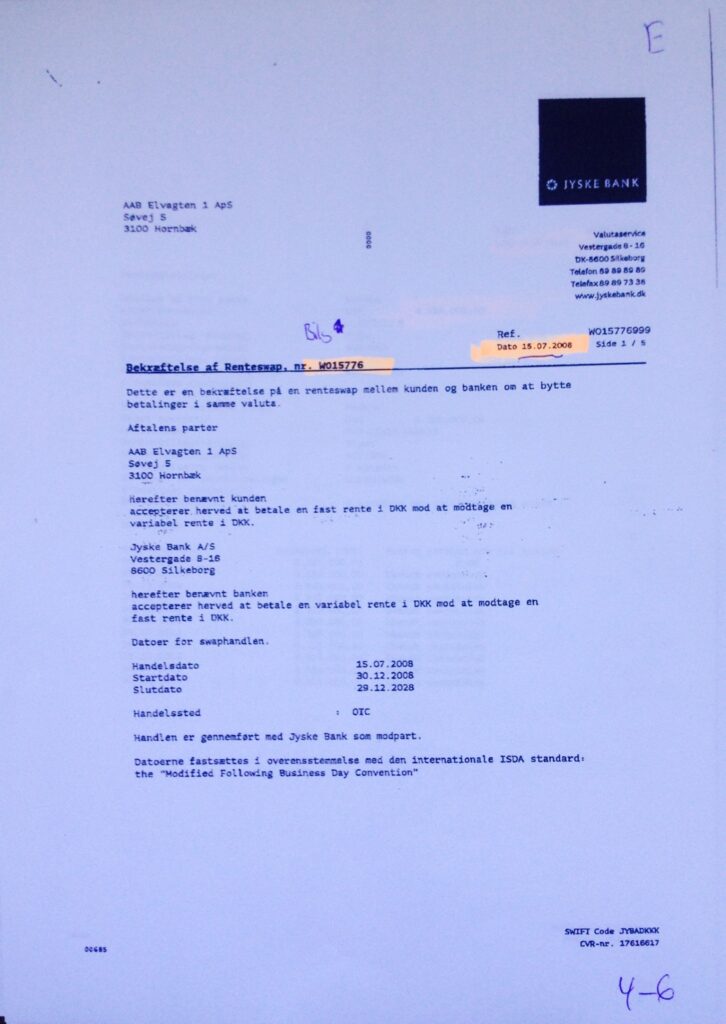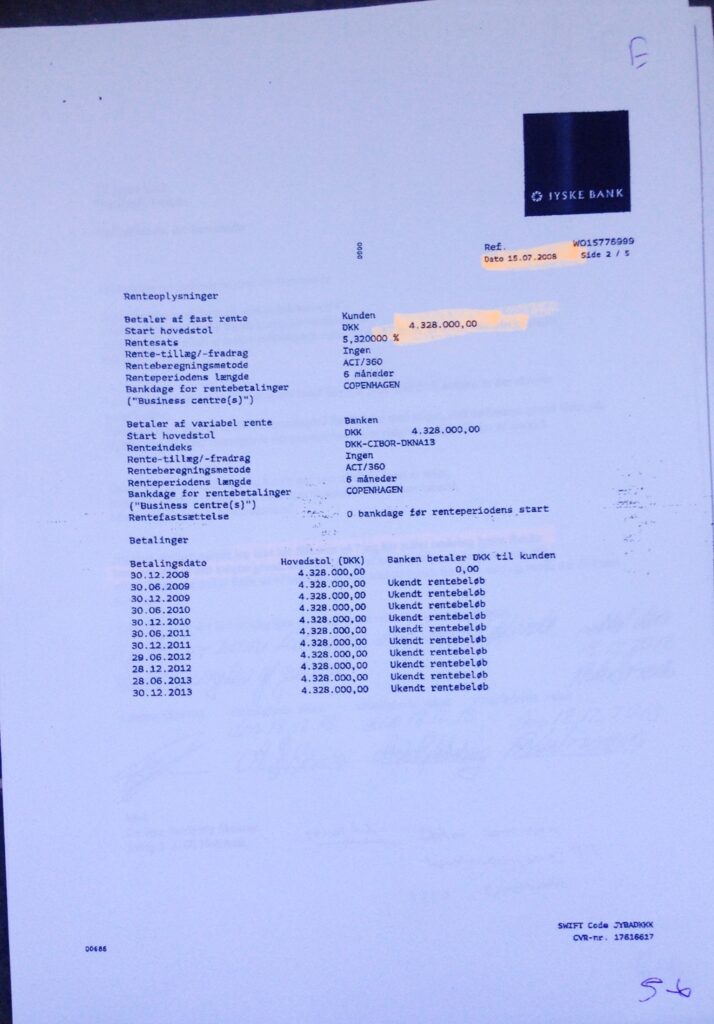 Sandheden er. Der er ikke optaget noget lån på 4.328.000 DKK der er ikke lagt noget lån om, den godkendte swap for tilbudet på 4.328.000 lukkes 30-12-2008.
The truth is. No loan of DKK 4,328,000 has been raised.
Når Jyske Bank fjerner indgået aftale af 15-07-2008 samt at denne aftale lukkes 30-12-2008 er det dokument falsk
When Jyske Bank removes a signed agreement of 15-07-2008 and that this agreement is closed 30-12-2008, the document is false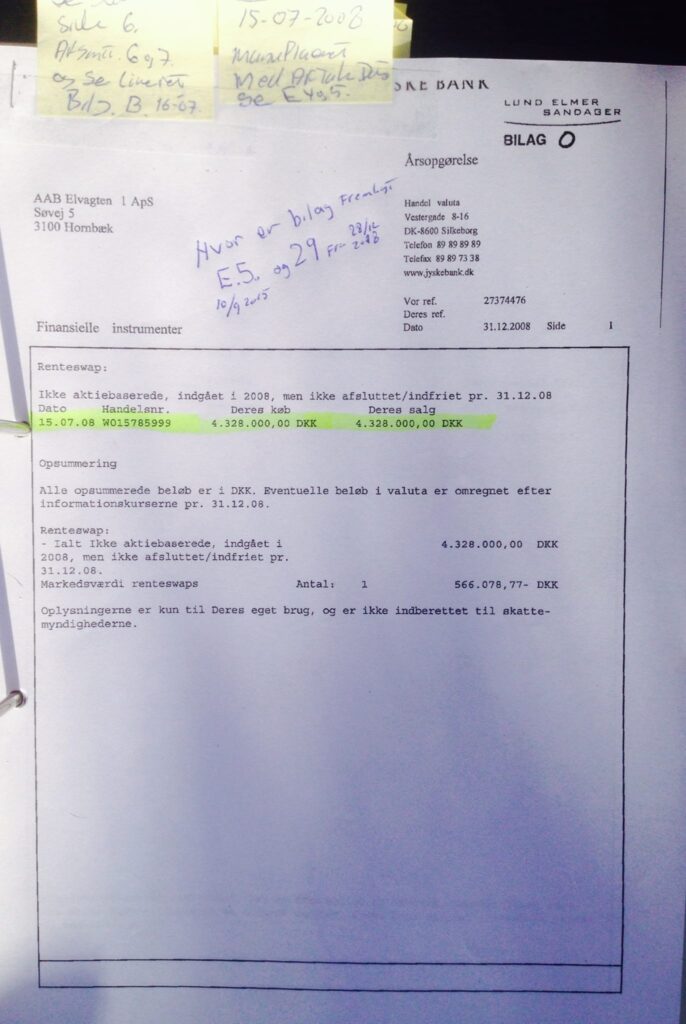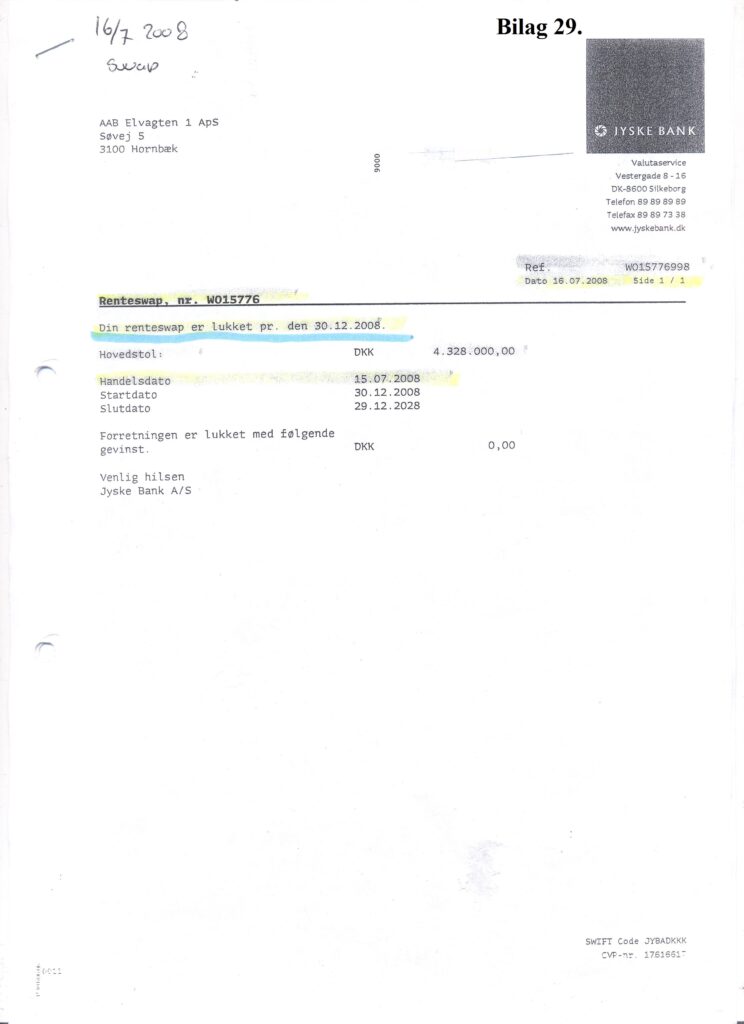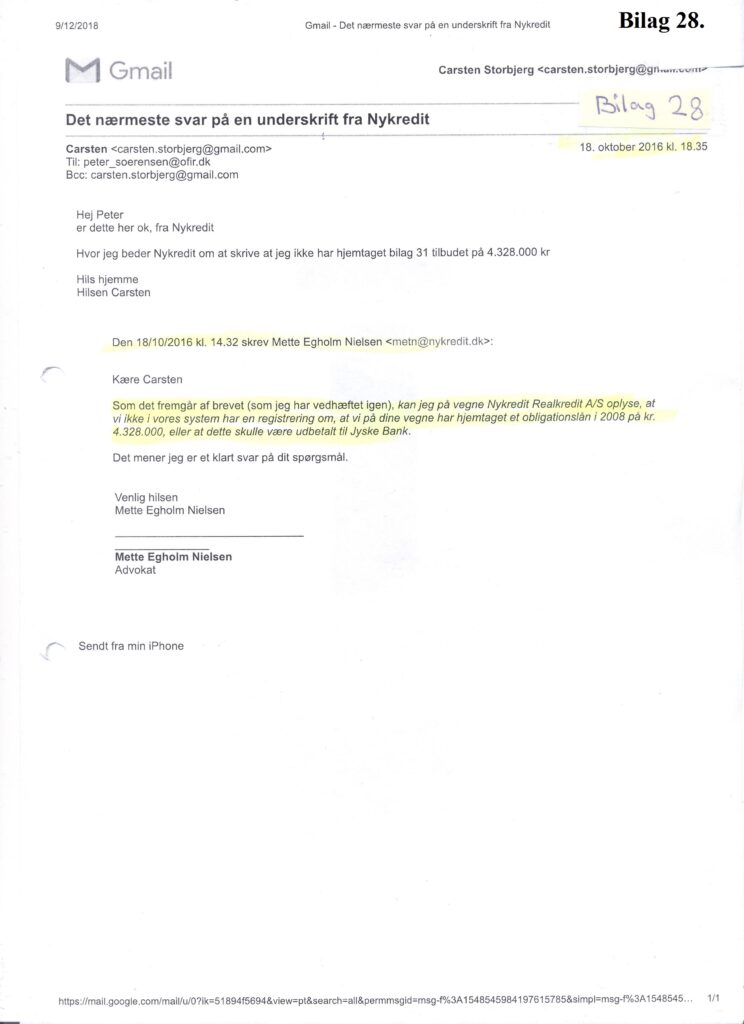 Når Jyske Banks ansatte fortæller at banken ikke ved om kunden lyver på Bank nyt, så lyver Jyske Bank igen.
When Jyske Bank's employees say that the bank does not know if the customer is lying on Bank new, Jyske Bank is lying again.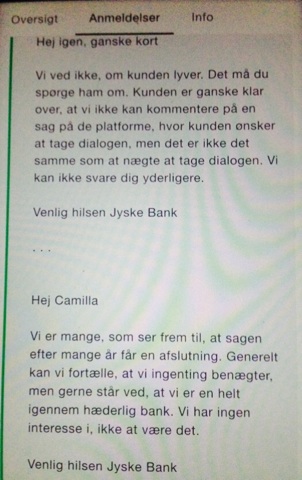 The case that 30-12-2019 is still not the main hearing in the courts, is solely due to Jyske Bank's actions, we trust our our new lawyer makes sure to present our claims more understandable to the judgment.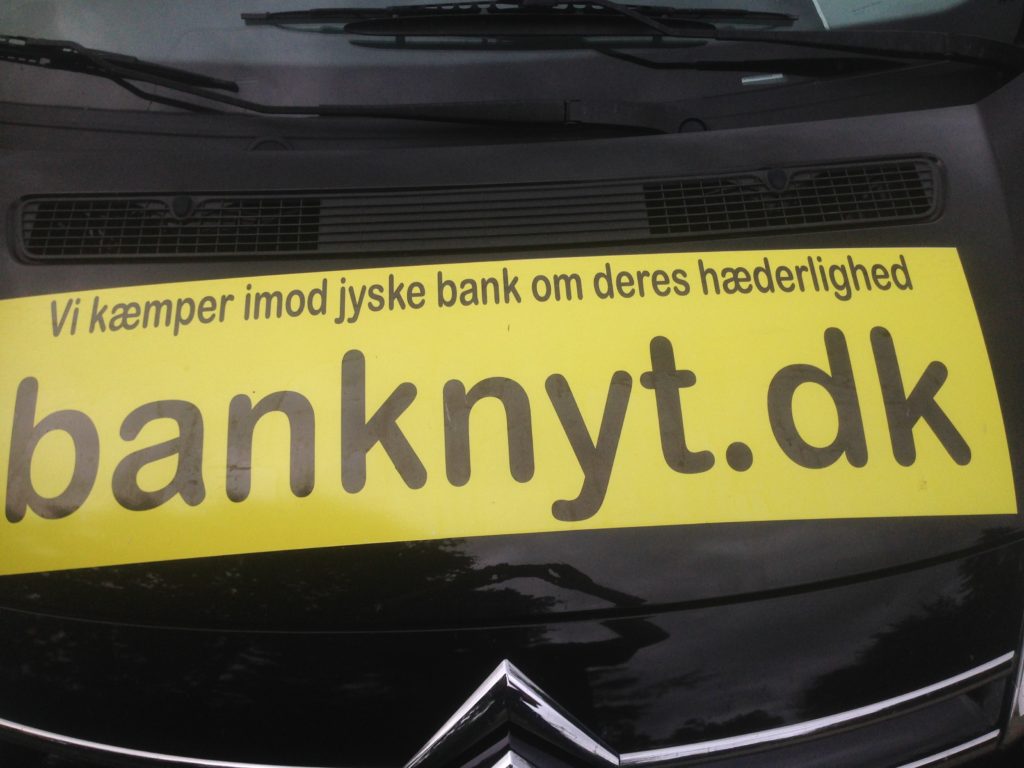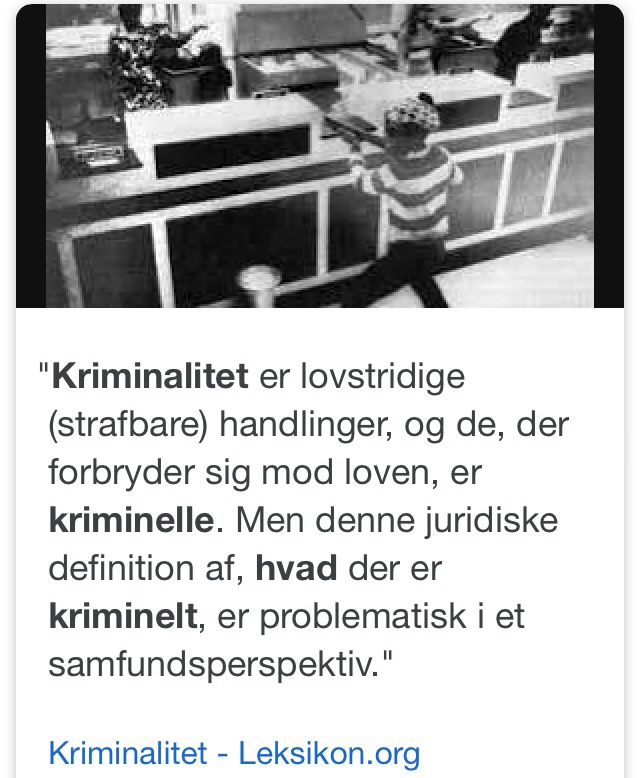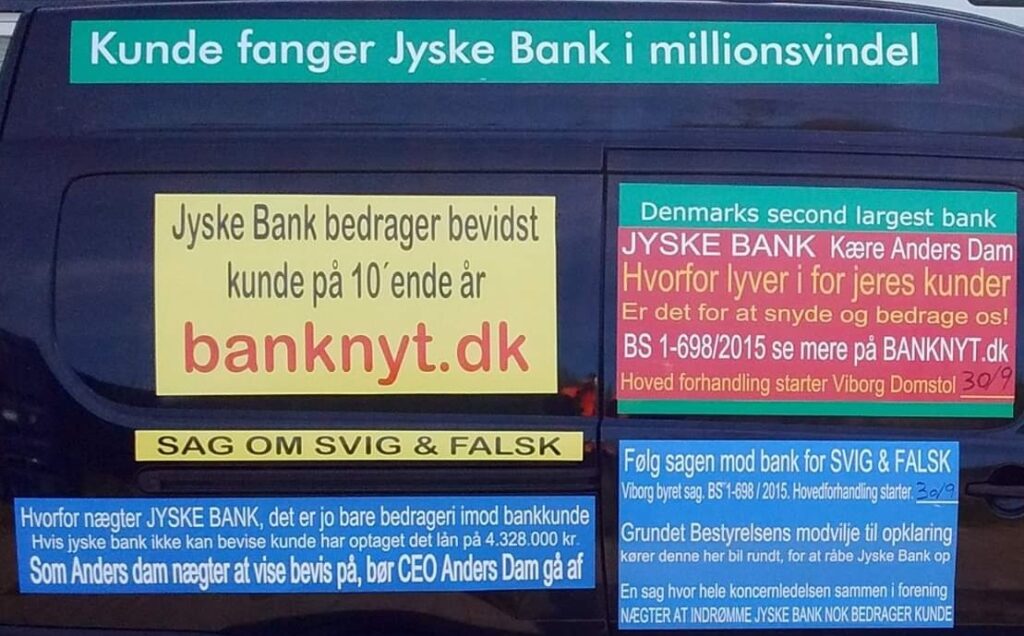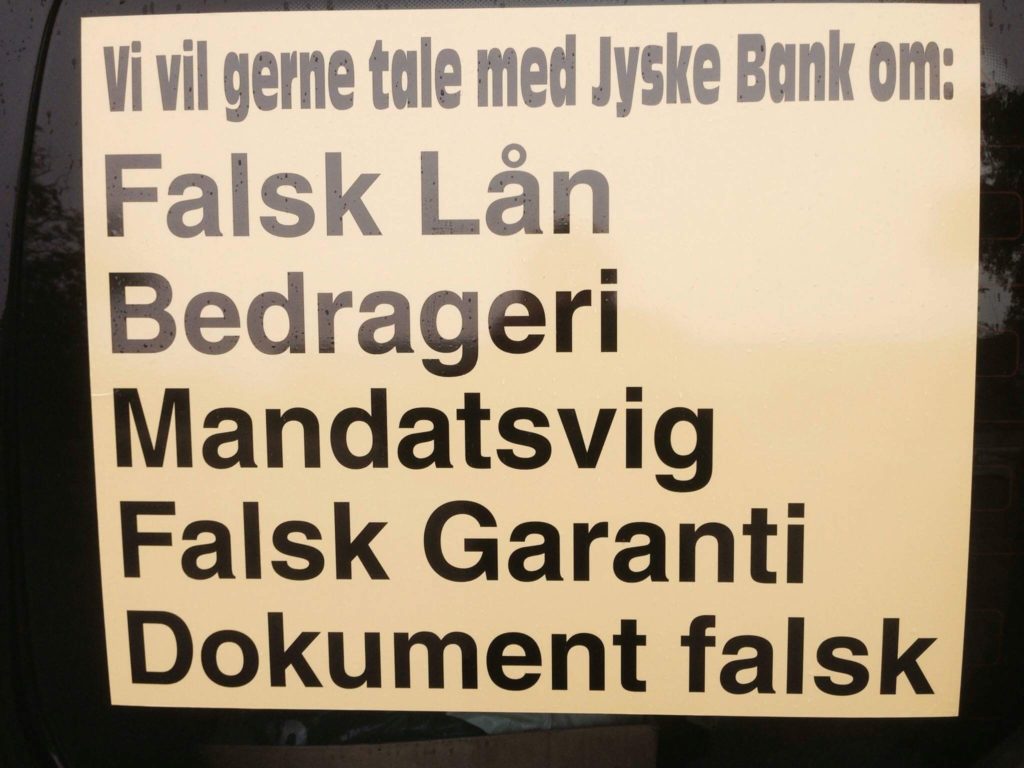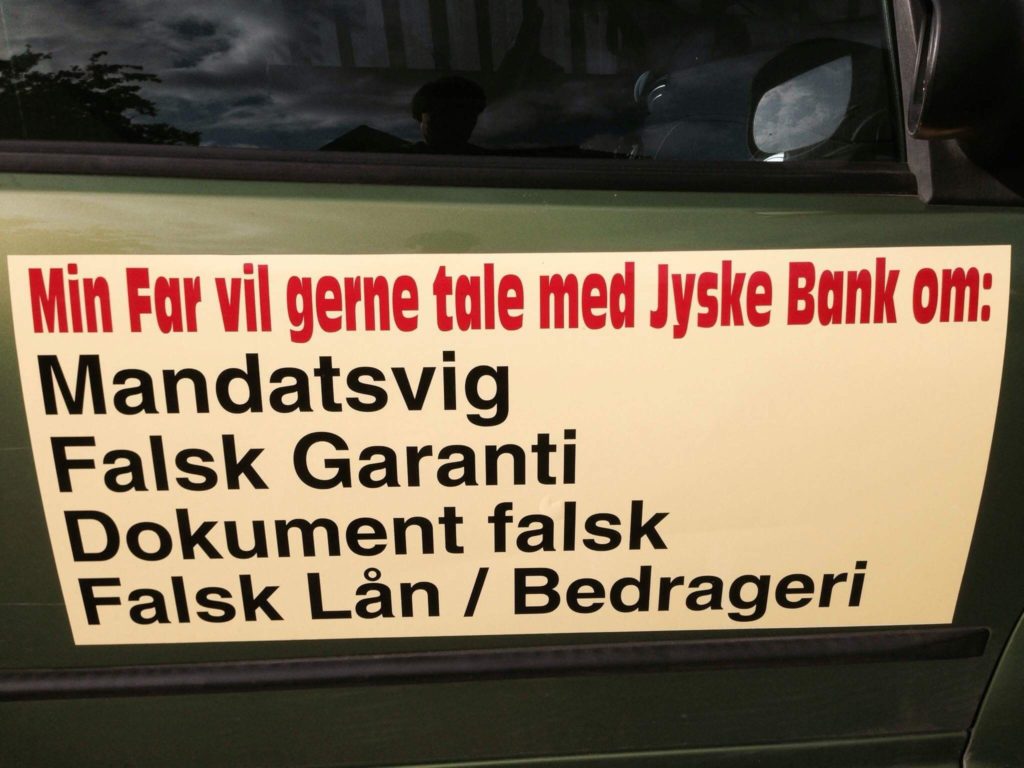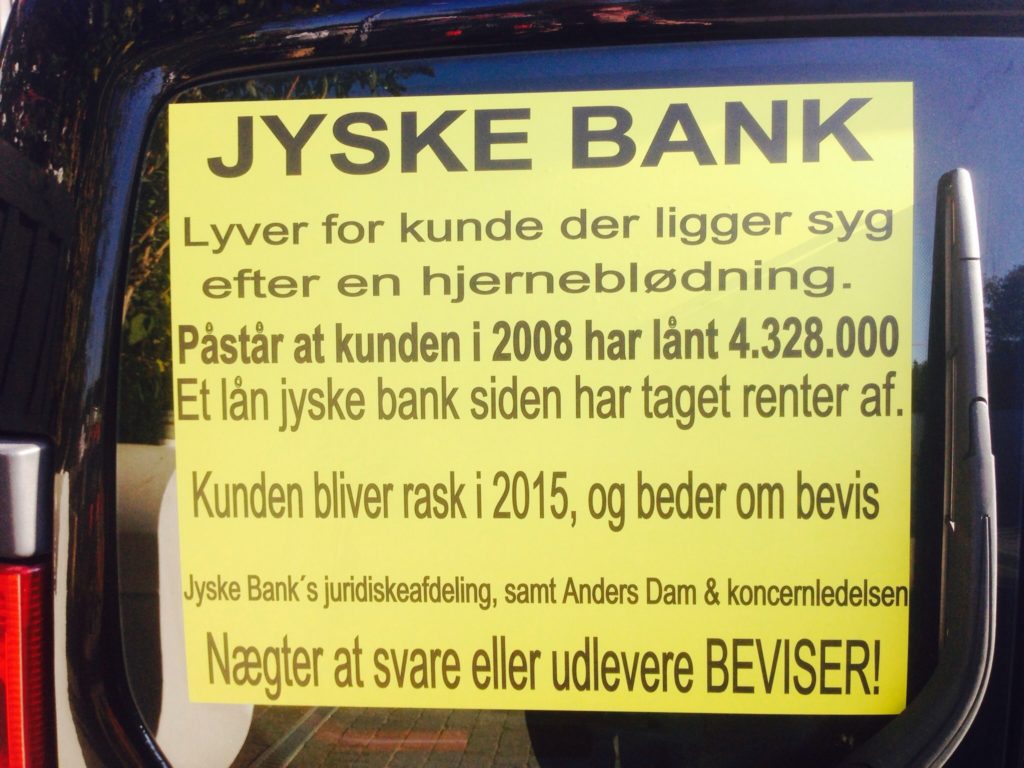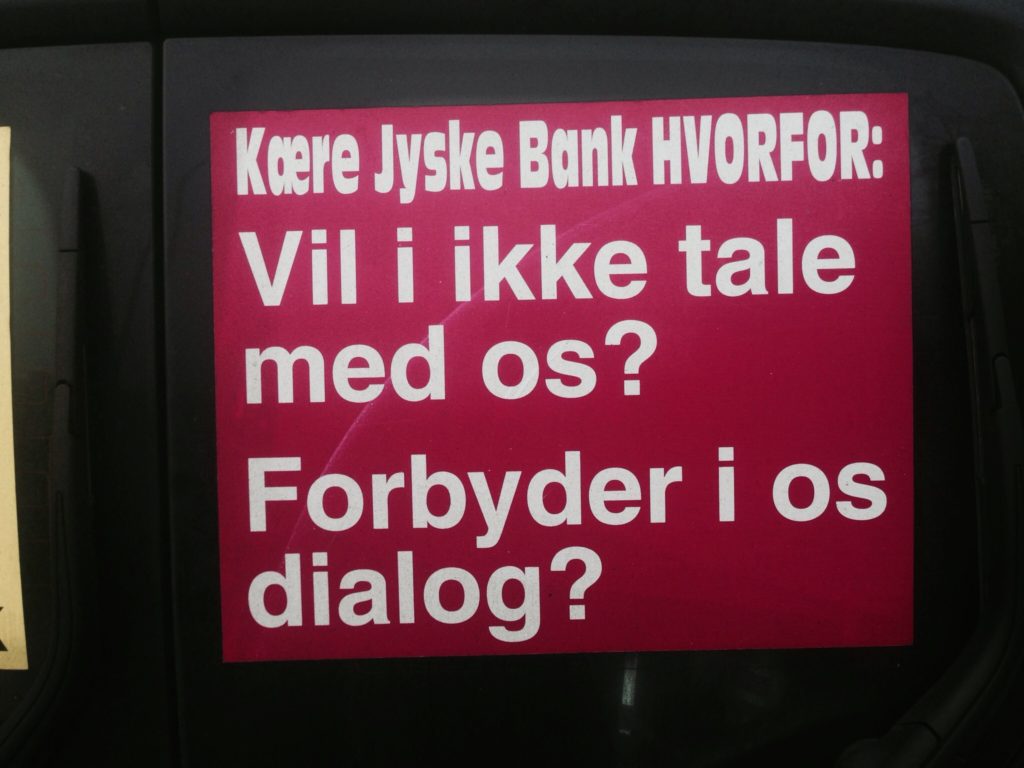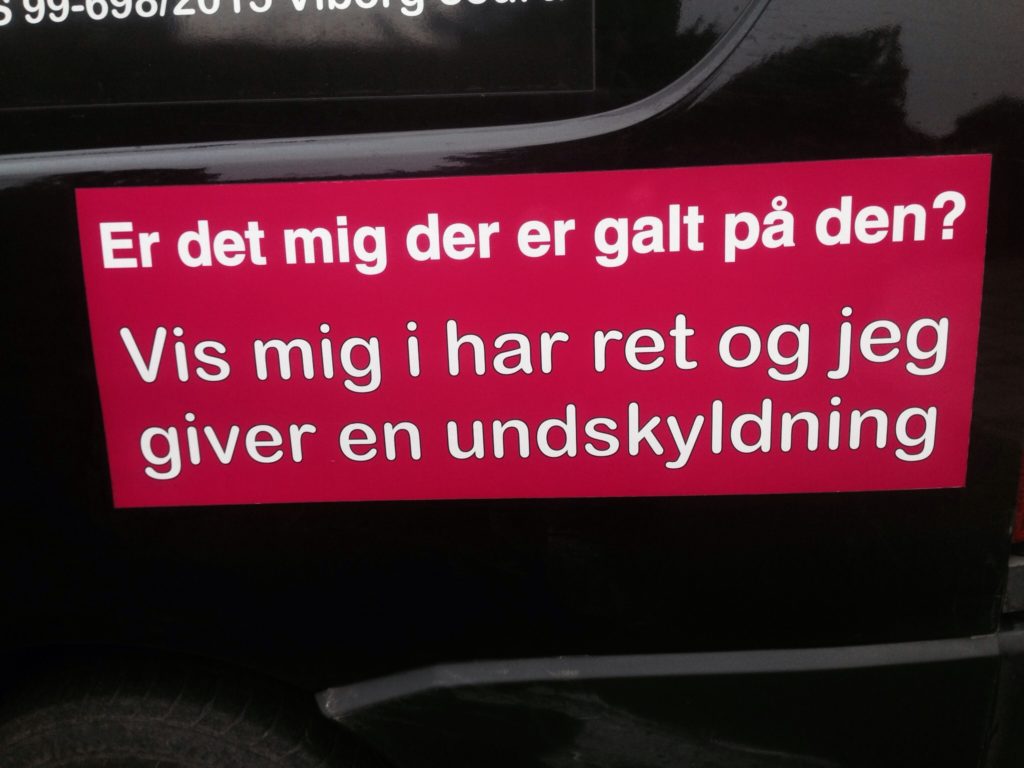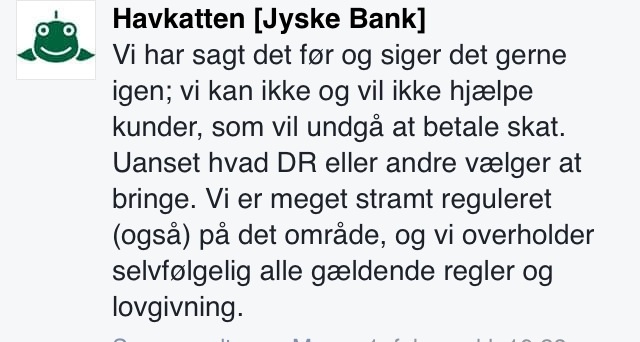 The original Danish review can be found under this translated.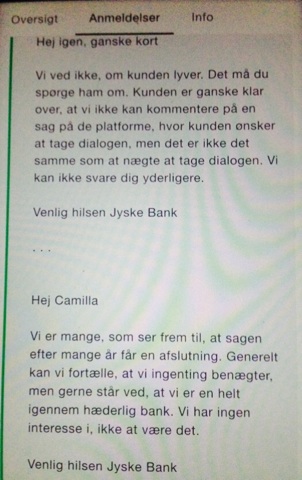 27-12-2019 The translated review by Jyske Bank, where banking news, about the criminal Danish banks.
Which has repeatedly been financially assisted by the Danish state, when Jyske Bank itself was in distress.
🙂
After reading much more about Jyske Bank at BANKNYT dk. It seemed that the board really gambled on the bank's lack of credibility.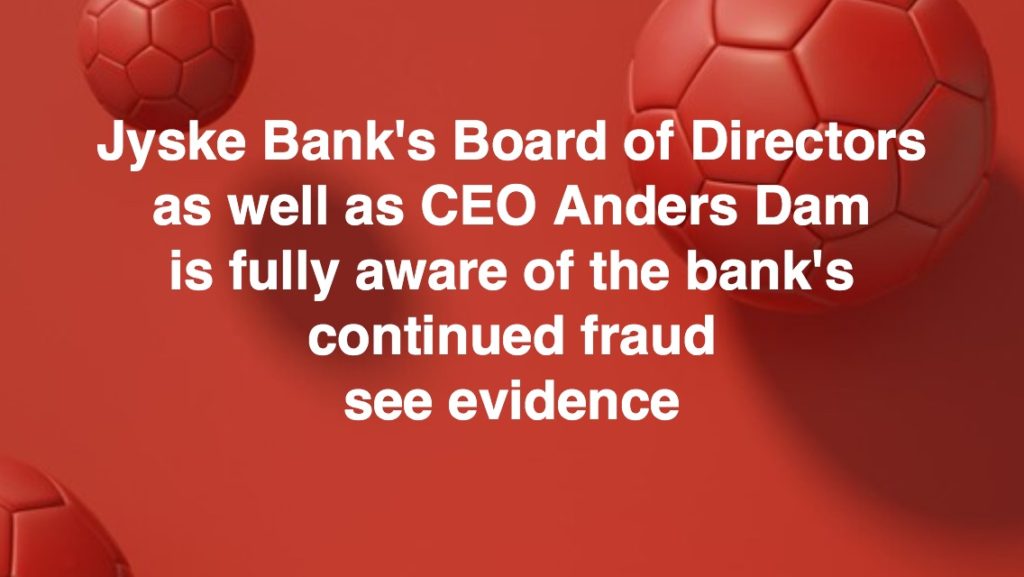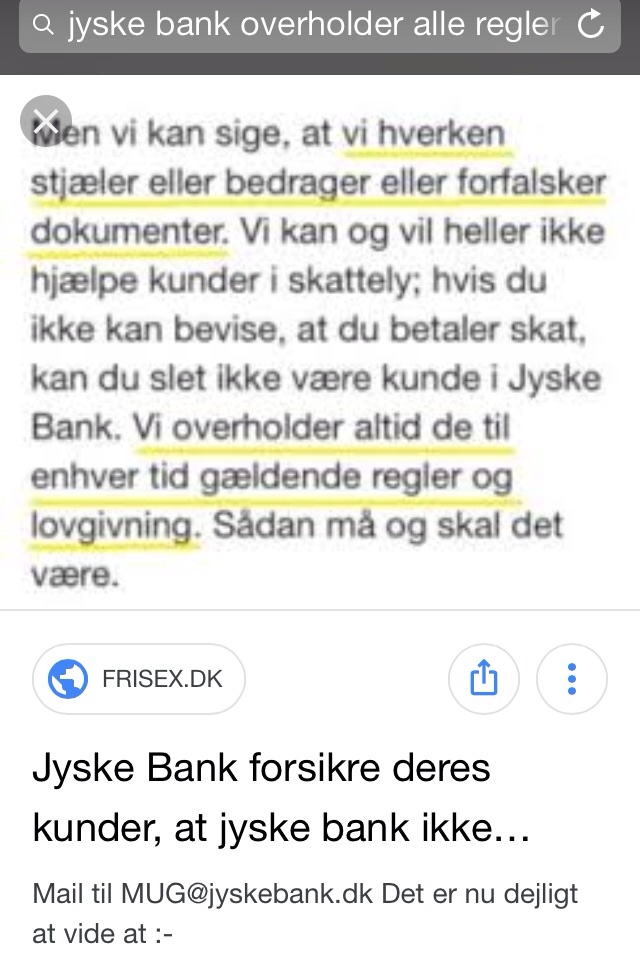 Therefore, it becomes extra exciting to follow the case against the Jyske Bank Group in court, a case of Fraud against the bank's own customers, that the bank's management probably bought the client's lawyer to work for Jyske Bank, Jyske Bank is so dirty that the bank assumed the client's lawyer for damaging the client's case against Jyske Bank ?.
Does the customer lie on BANKNYT about Jyske Bank, or does Jyske Bank lie to the customer.
A case in which Jyske Bank's management is accused of contributing to Jyske Bank's continued fraud against the bank's customer.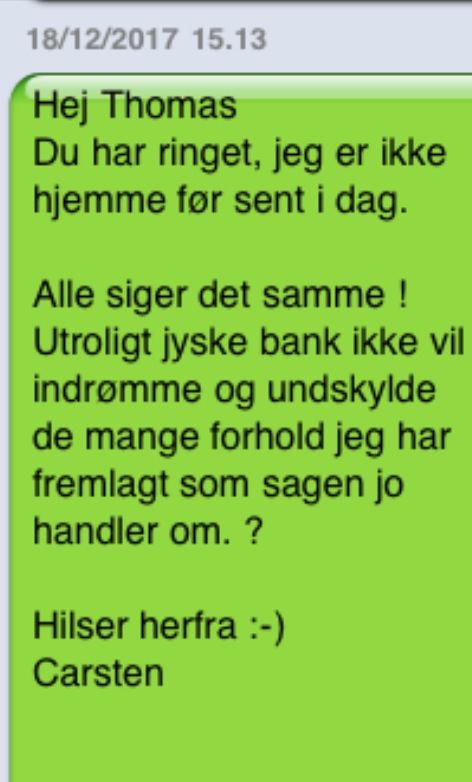 The customer asks Jyske Bank's executive chairman to call their customer, and an appointment is arranged to make an inquiry.
If there are mistakes and misunderstandings then call your customer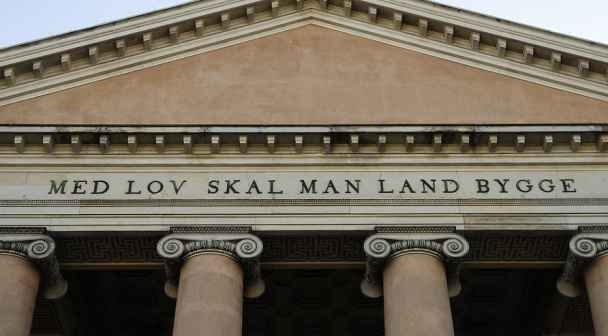 The case is the one at BANKNYT dk
BS-402/2015-VIB Read 43 pages of our allegations against Jyske Bank for fraudulent conduct here. date 28-10-2019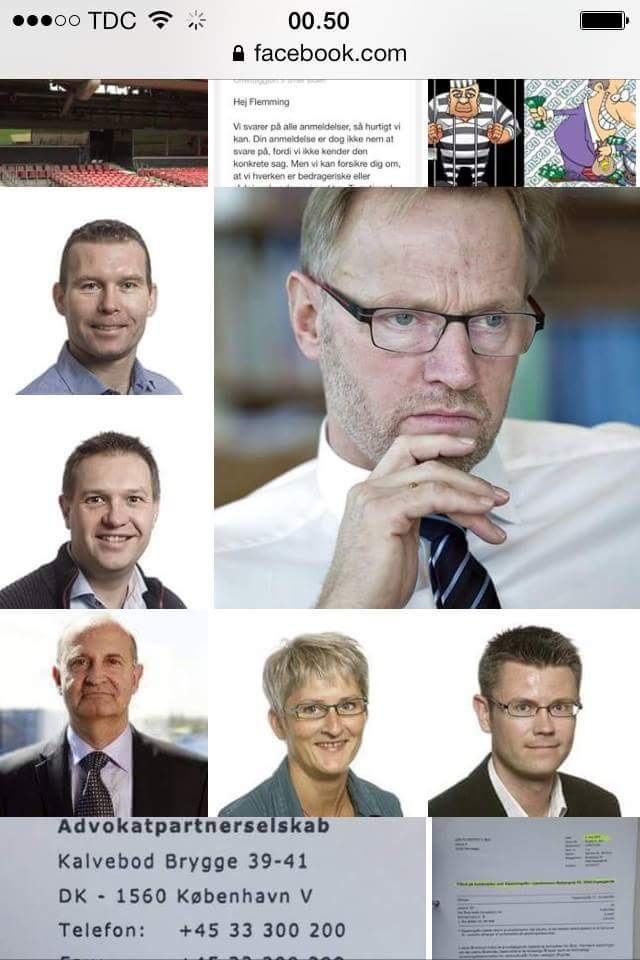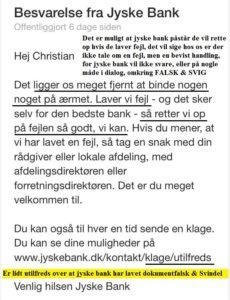 The question is whether any of what is said on BANKNYT is true or whether the Jyske Bank Group denies everything that the bank usually does.
The bank must have some knowledge of whether what it says on BANKNYT is true or not, so Jyske Bank has not read it ?.
Here is the evidence that Lundgren's lawyers work for Jyske Bank, and therefore became incompetent, when Lundgrens chose to work for Jyske bank, and, Redstone lawyers and Lundgren's lawyers subsequently did not present the many fraud allegations against Jyske Bank, it looks like bribery and corruption.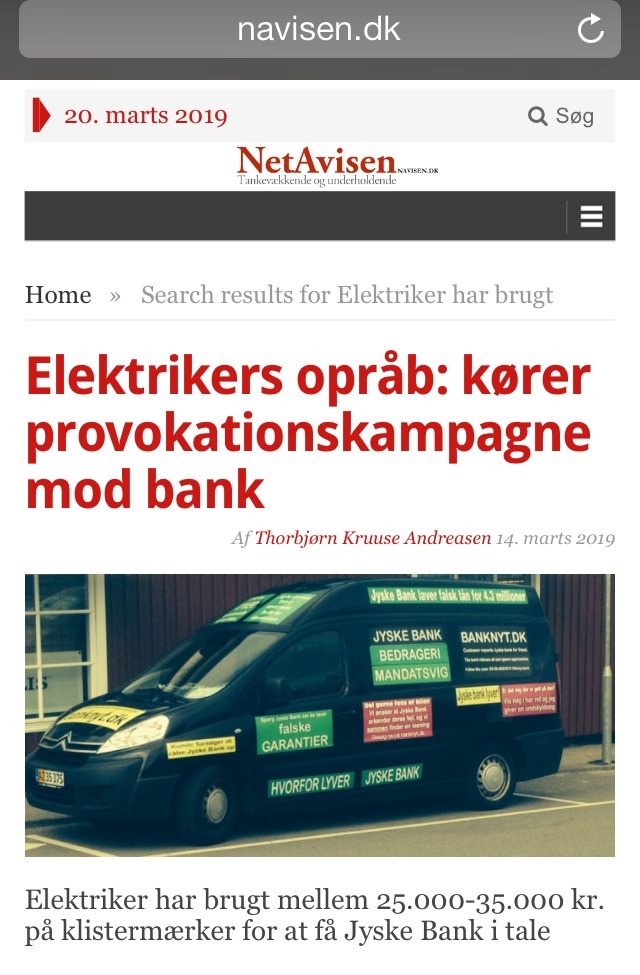 Når ledelsen / bestyrelsen i Jyske Bank mindst siden maj 2016, har stået bag bankens fortsatte svindel mod Jyske Banks kunder.
Er ledelsen i Jyske Bank yderst kriminelle efter straffelovens bestemmelser.
Spørgsmålet er om staten har økonomiske interesse i Jyske Bank ?.
Siden den danske stat støtter den Danske bank Jyske Bank, ved ikke at gribe ind i banks ulovligheder.
Men istedet, fortsat lader Jyske Bank udfører bedrageri imod bankens kunder.
Hos den danske bank Jyske Bank er Anders Dam uenig i bedrageri mod bankens kunder er ulovligt.
Det er jo bankens fundament, at optræde uærligt og i sadelshed uhæderligt, kunne resten af Jyske Banks bestyrelse tænke.
Mens Jyske Bank sikkert er stolte over at banken, har købt den advokat Lundgrens, der skulle fører svigsagen mod Jyske Bank koncernen.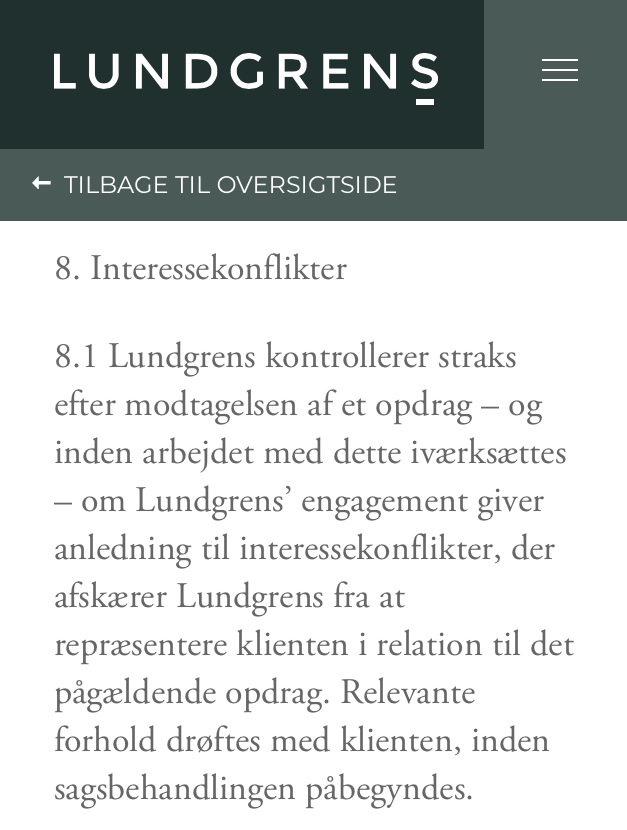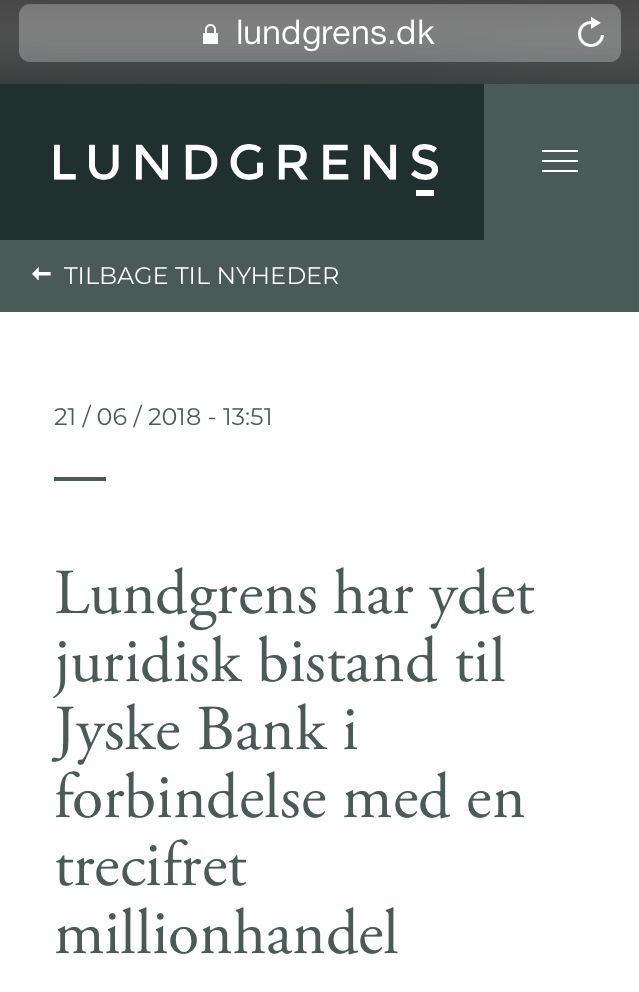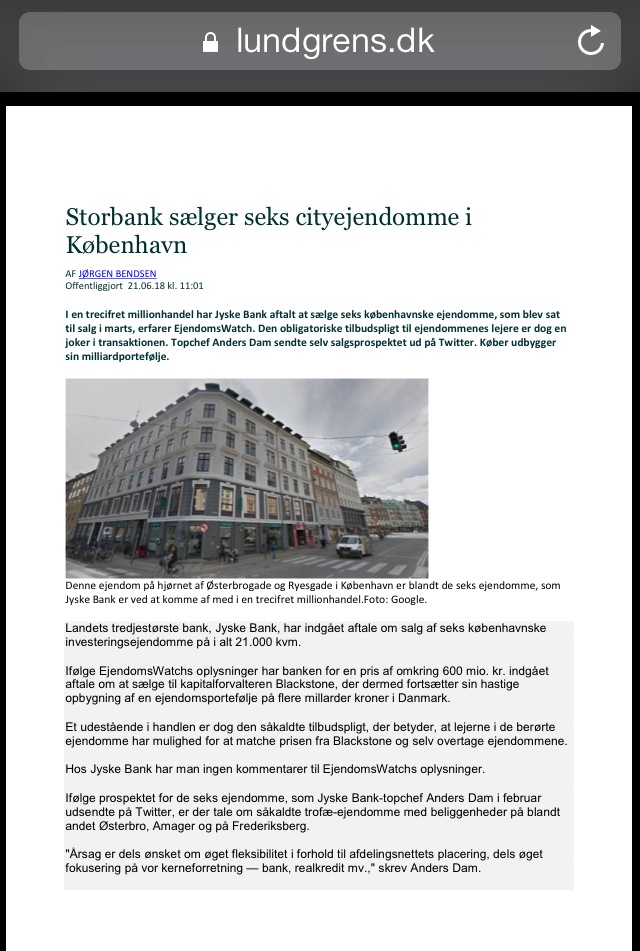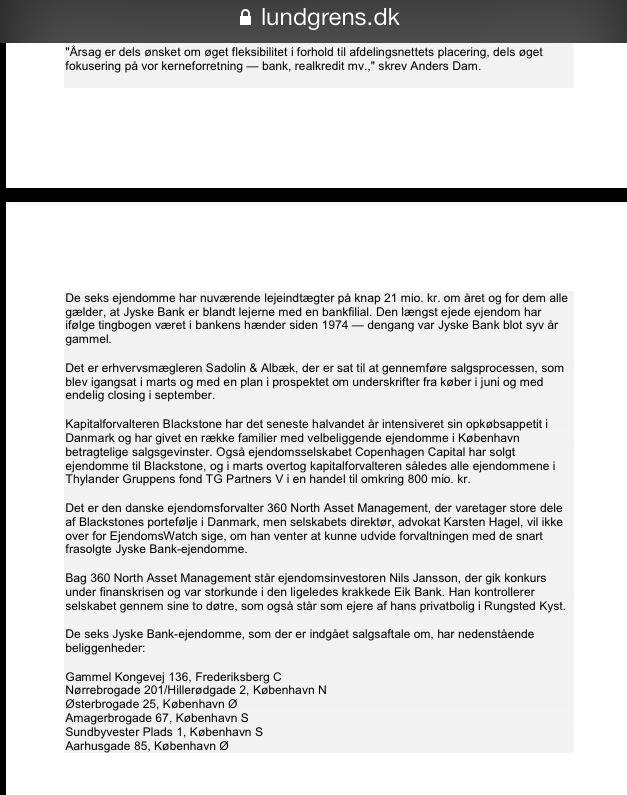 The continued translation of Jyske Bank's review on Trustpilot.
It seems that quite a few documents have been shared since May 2016, when the client shows the first letter they (he) sent to your lawyer and the presiding chairman, stating that the client is probably exposed to a huge fraud, has the bank did not respond to the inquiries, investigated the case and answered the customer !.

There seems to be a lot about Jyske Bank, and these are cruel conditions when you get chopped down the page, there are some repetitions on the page, which more indicates the customer has a case that is just as much about Jyske Bank's foundation, such as Jyske Bank making fraud.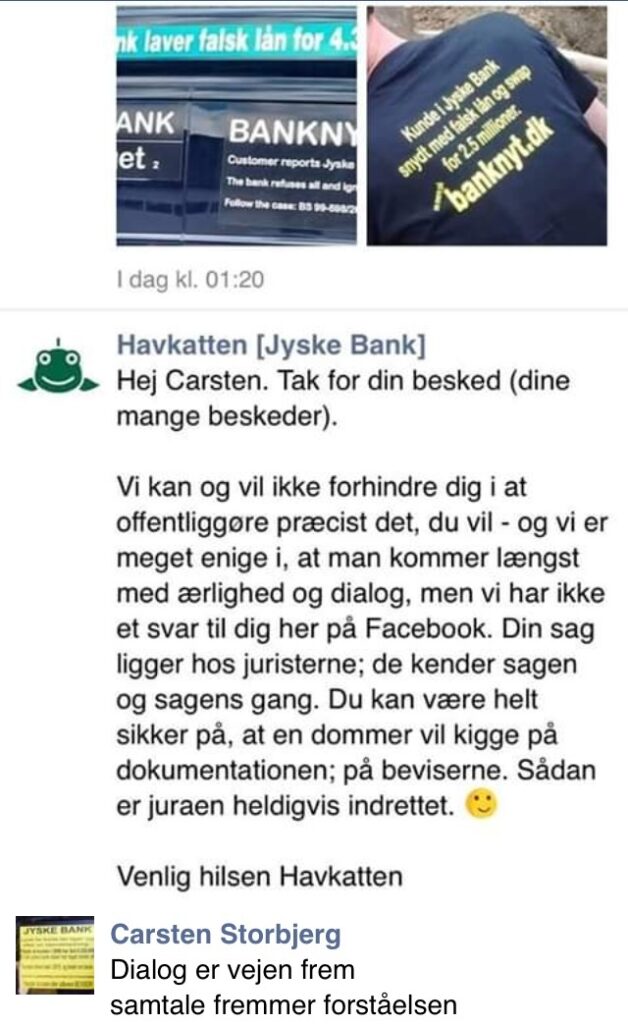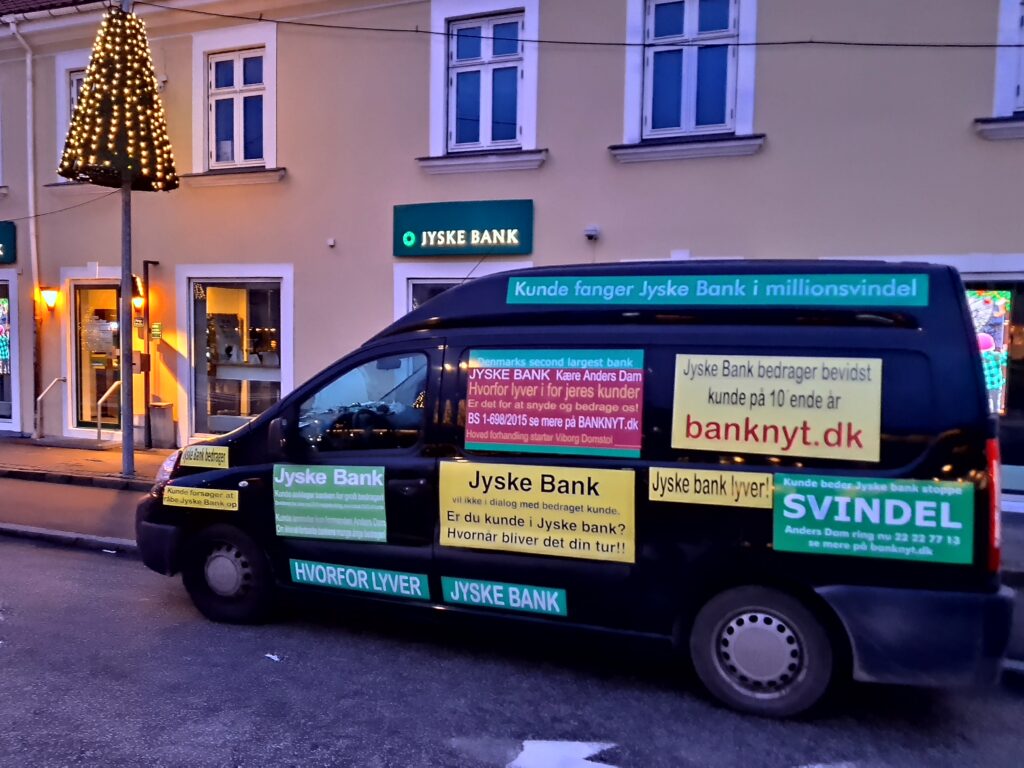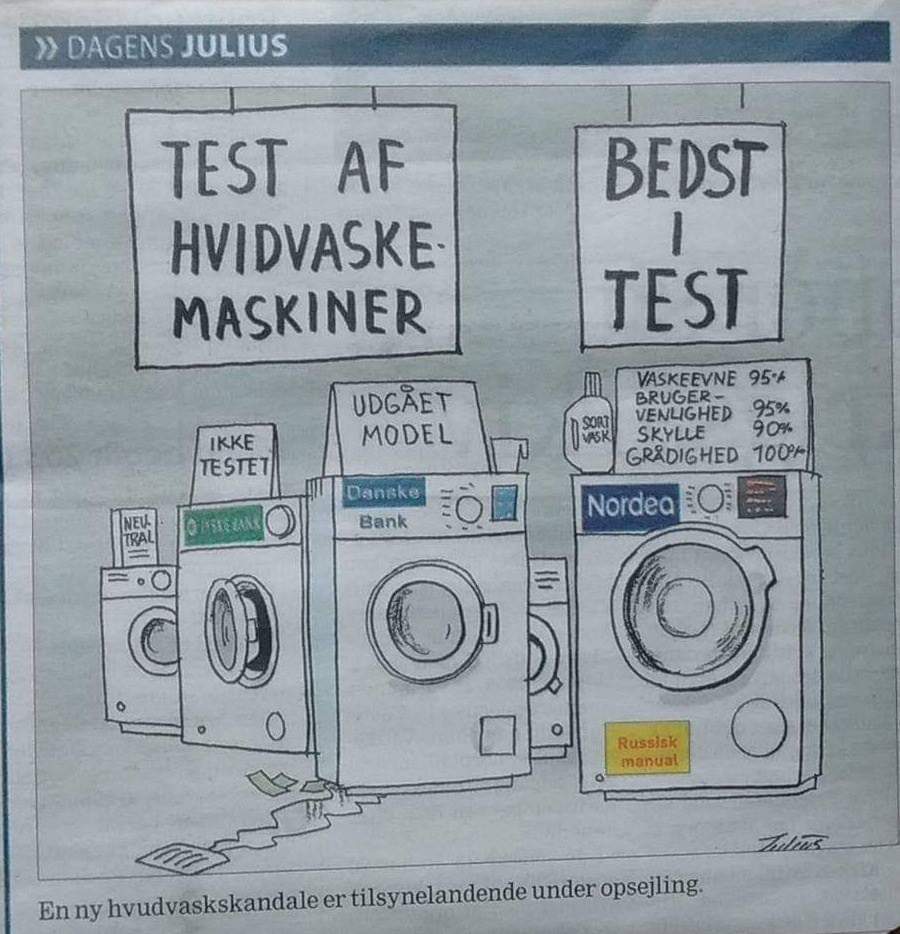 Don't think there are any other banks that can do as much dirt on their customers as Jyske Bank can.
If the bank does not expose the customer to fraud, is fully conscious, and is the bank's foundation, or the bank's positions, then Jyske Bank is quite unlucky with your seemingly different way of doing bank business.
On the page BANKNYT dk informs the client, very clearly, to have written to the bank's top management, even your executive chairman has written to the client, in addition to several letters that have been sent to your lawyers for a meeting.
Do not Jyske Bank want to answer those of your customers who write that Jyske Bank is fraudulent on BANKNYT.
The customer is trying to get in touch with you / Jyske Bank so that you can jointly review the case against Jyske Bank, certainly about the customer's claims, that your bank exposes the customer to fraud mentioned several letters to the management and that the management refuses dialogue, here at Trustpilot you / Jyske Bank deny that the bank refuses dialogue.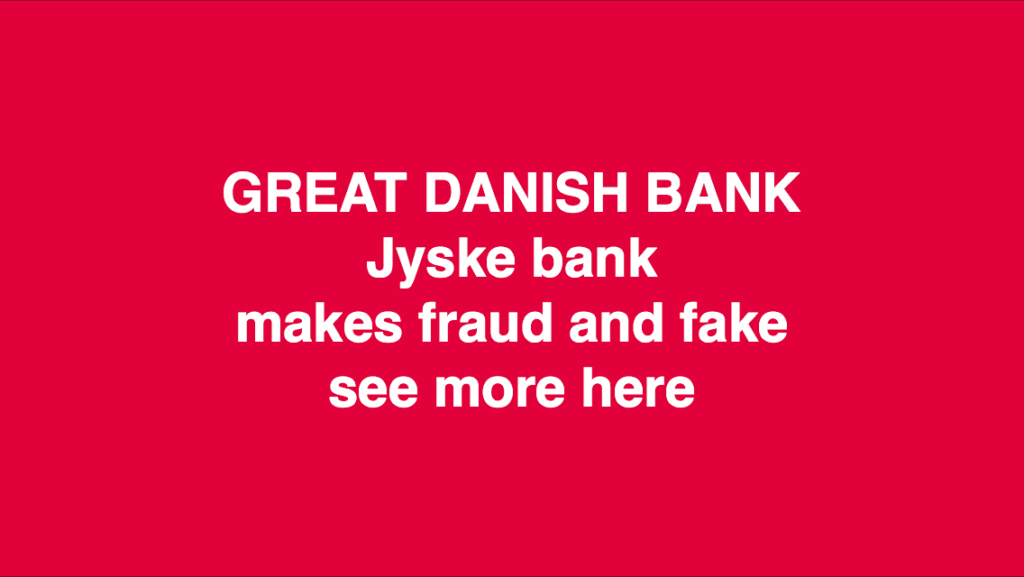 So as I read what you / Jyske Bank has answered here, Jyske Bank refuses certain dialogue.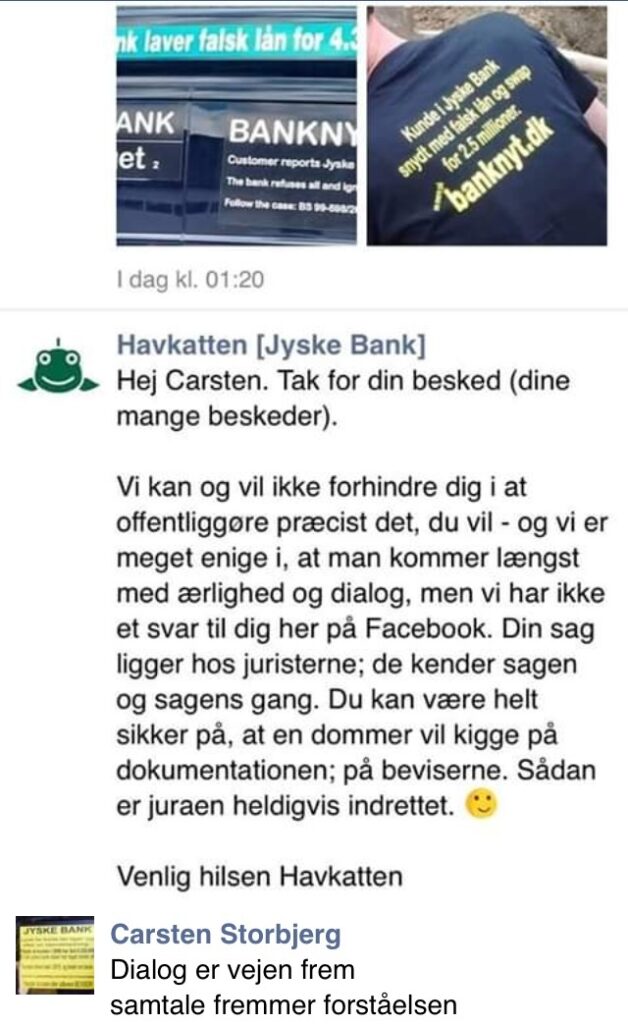 Also read that the customer has written to the court that they want to meet, but neither does Jyske Bank want to accept yes.
So it is not on some platforms that Jyske Bank refuses dialogue as you / Jyske Bank write.
You can meet in court, say in one or more letters, and talk about your case, which is a larger case, with obviously more illegalities.
The fact that Jyske Bank consistently refuses to talk to your customer, and does not respond to their letters, I did not think is fair, you must finally answer if it is misunderstood.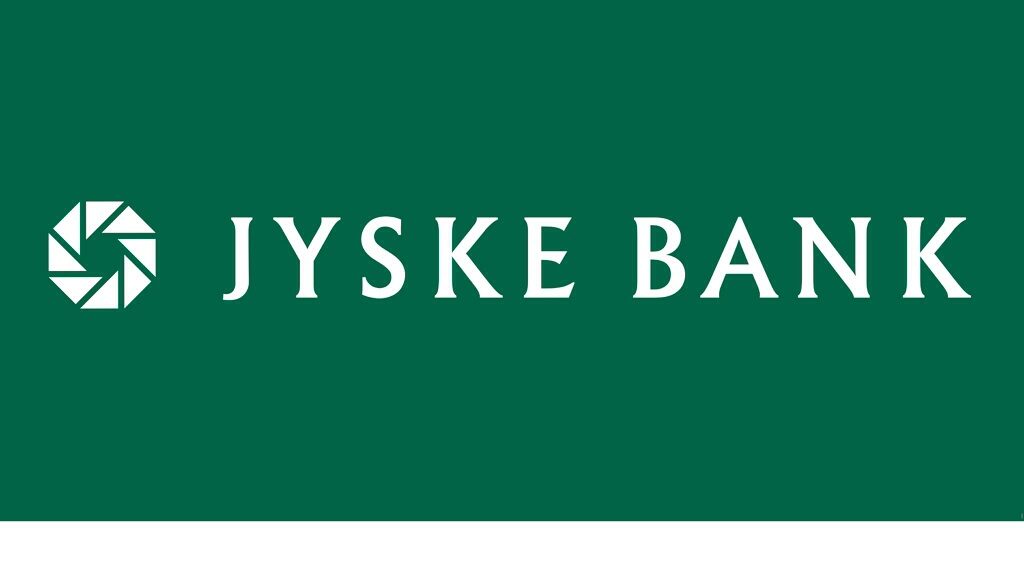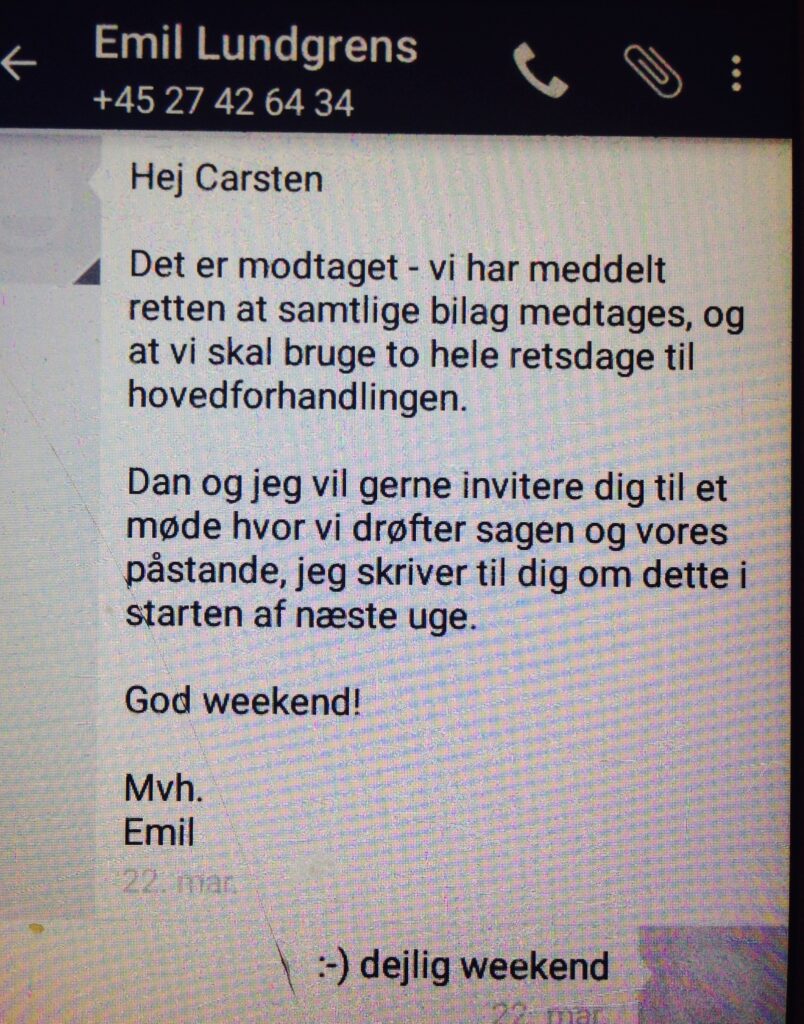 The document testimony and allegations of 02/09/2019 stated in Appendix 164, appendix number, corresponds with the supporting documents presented in the case against Jyske Bank for fraud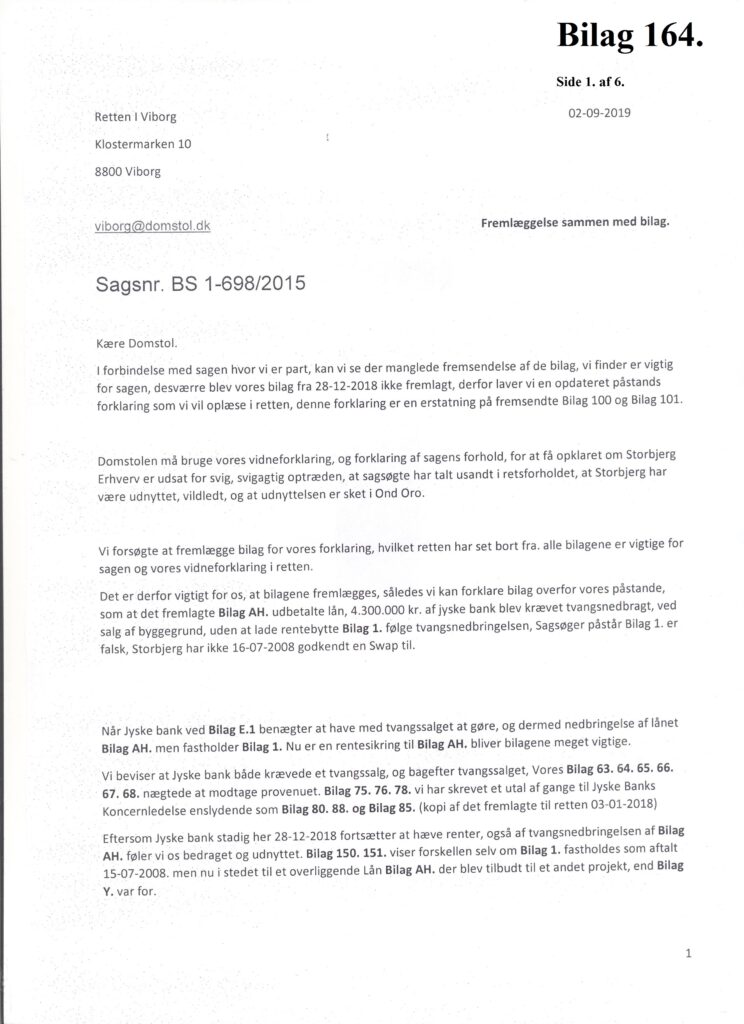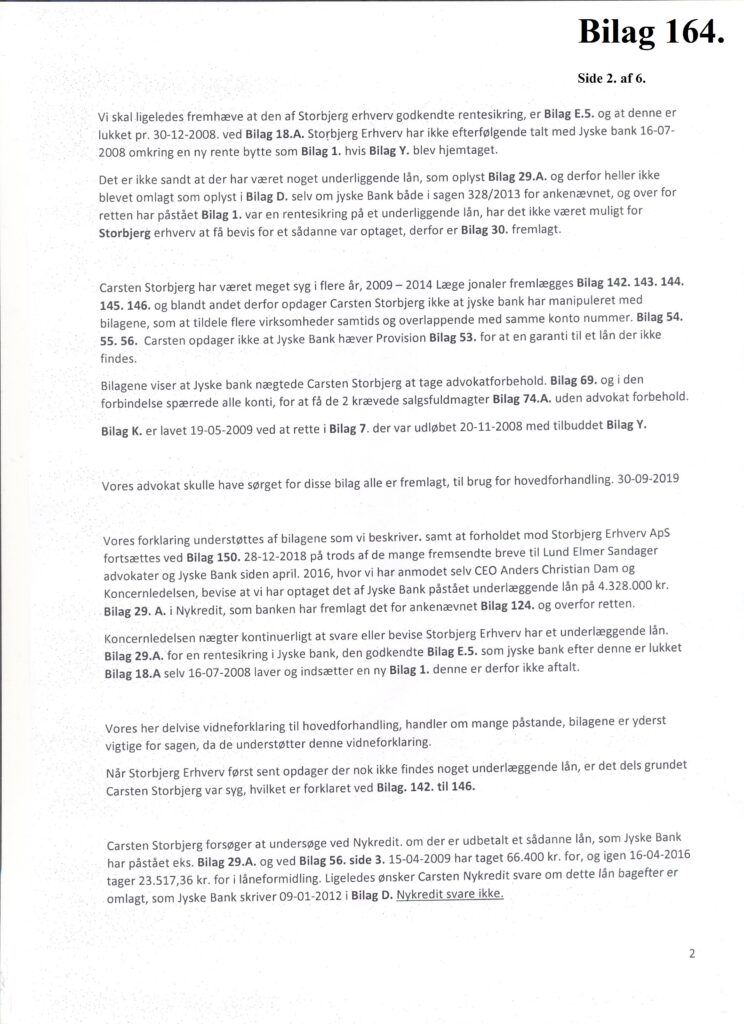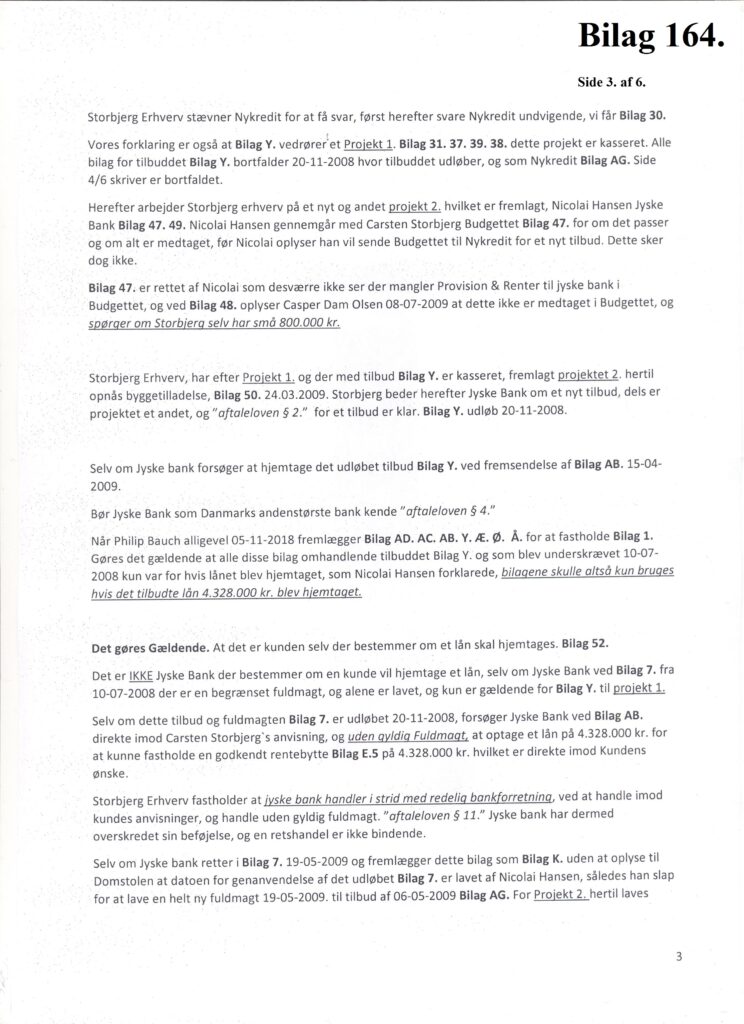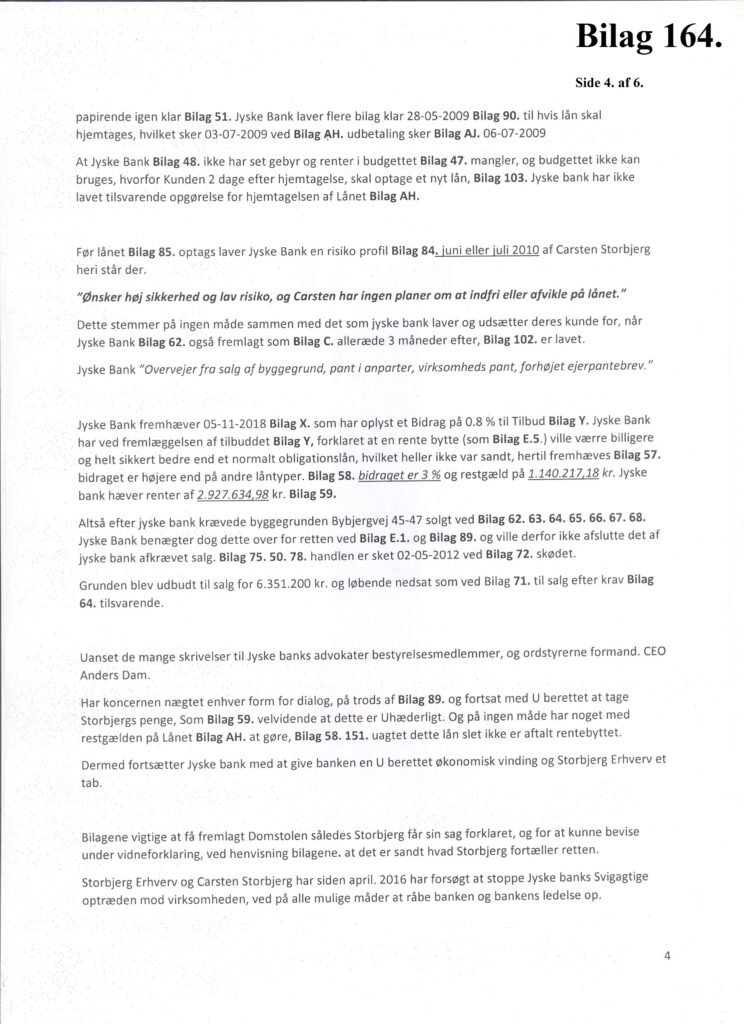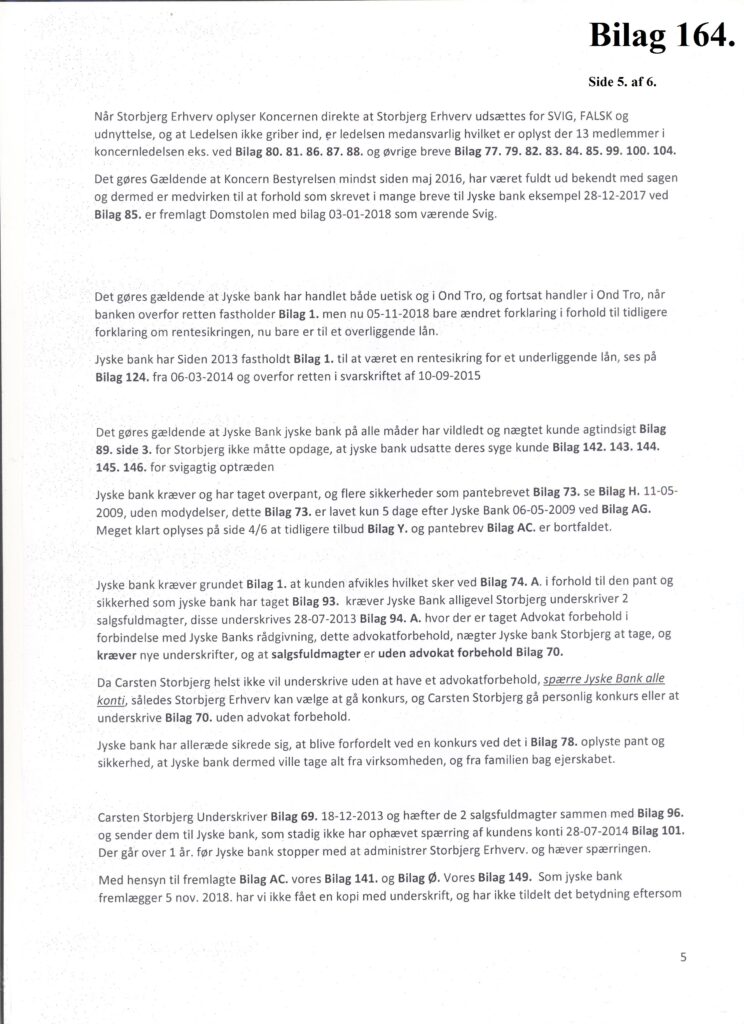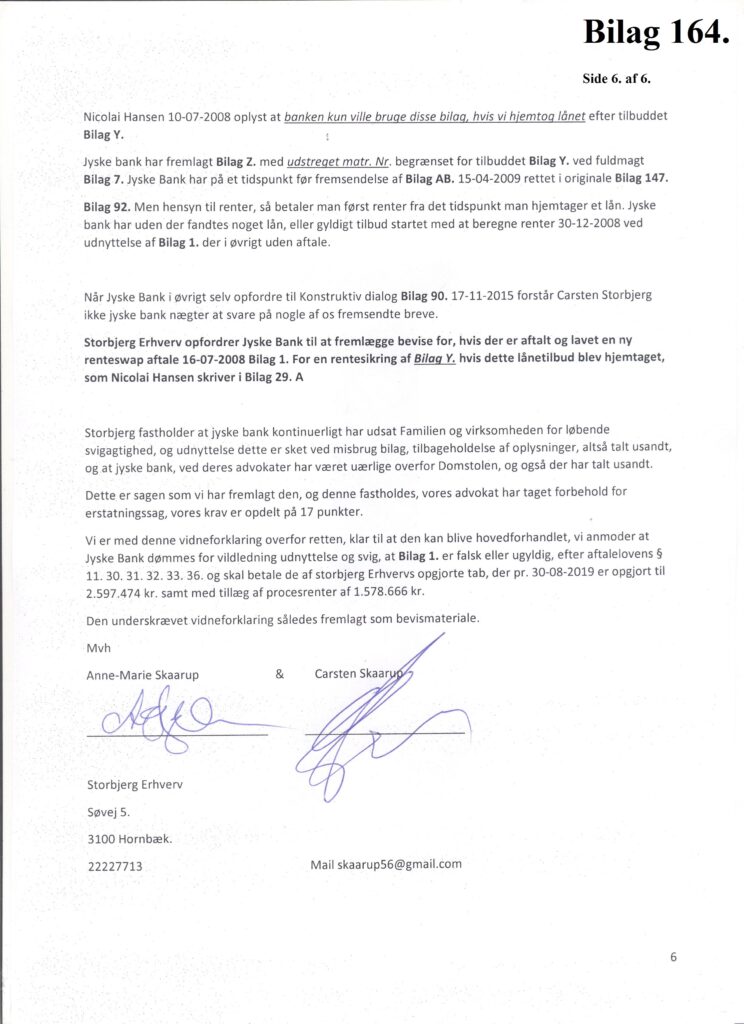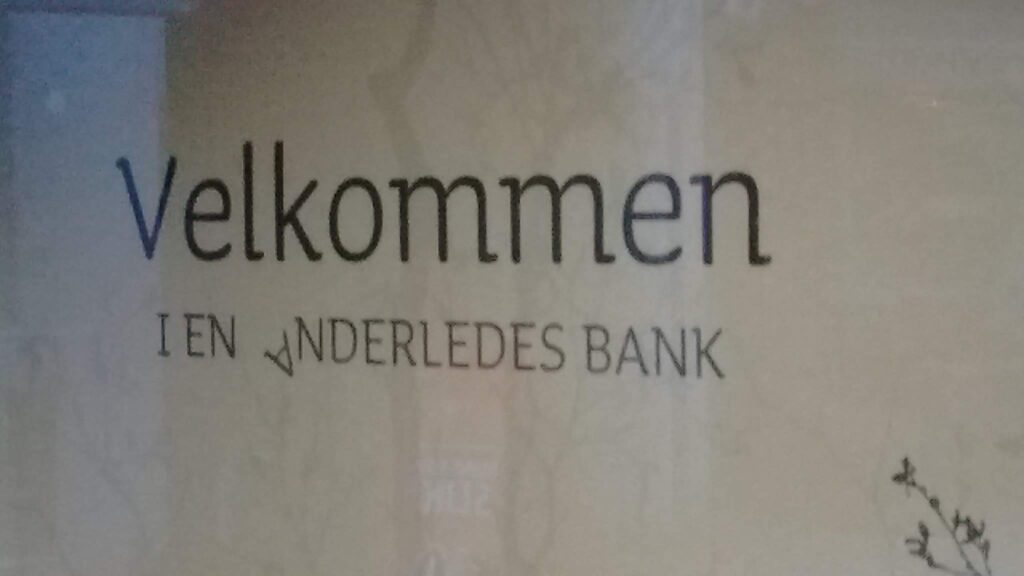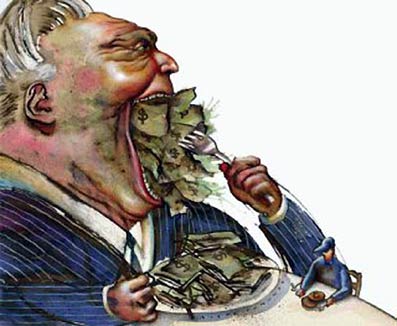 Now remember that this diary should be seen as a breath of fresh air for Jyske Bank's Board of Directors, with a desire to enter into dialogue, even if there is somewhere Jyske Bank thinks we are lying here, please call us on 004522227713 and say where, we will of course correct immediately, or as soon as we can.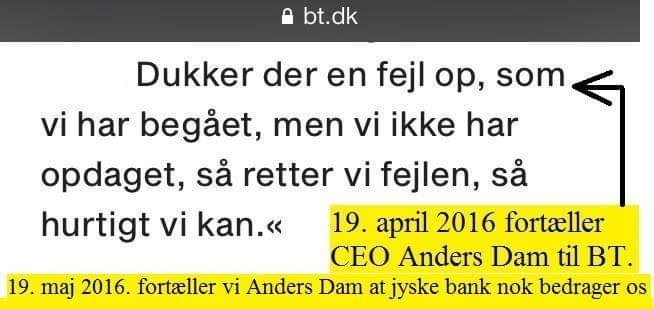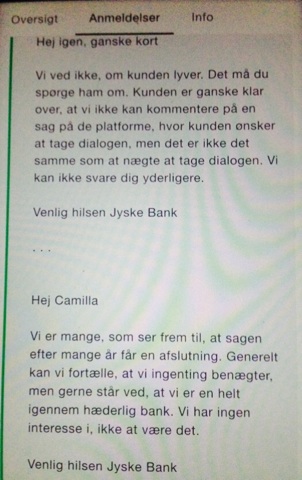 Is the actual management behind it, that the customer is still exposed to fraud, according to their claim.
Jyske Bank in should read, or reread BANKNYT dk, it seems that he is quite confident in his case, documentation seemed to be honest and truthfully written, and actually supported for their claims.
I don't have to ask some customers if they are lying about Jyske Bank's honesty, but after reading much more on BANKNYT dk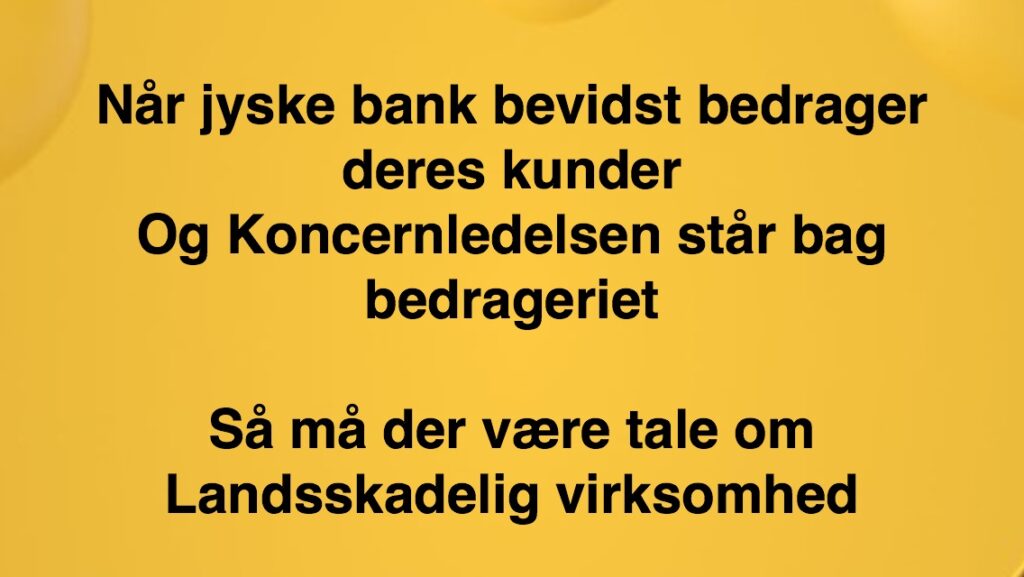 It seemed more like Jyske Bank, which has been very dishonest to your customers, at BANKNYT some links are missing from their claims and to the individual attachments.
BANKNYT dk is clearly a call for help, hoping they will share the text with their many claims against Jyske Bank, and make a link from each of the listed documents so that the documents mentioned in the letters can be viewed with a single click.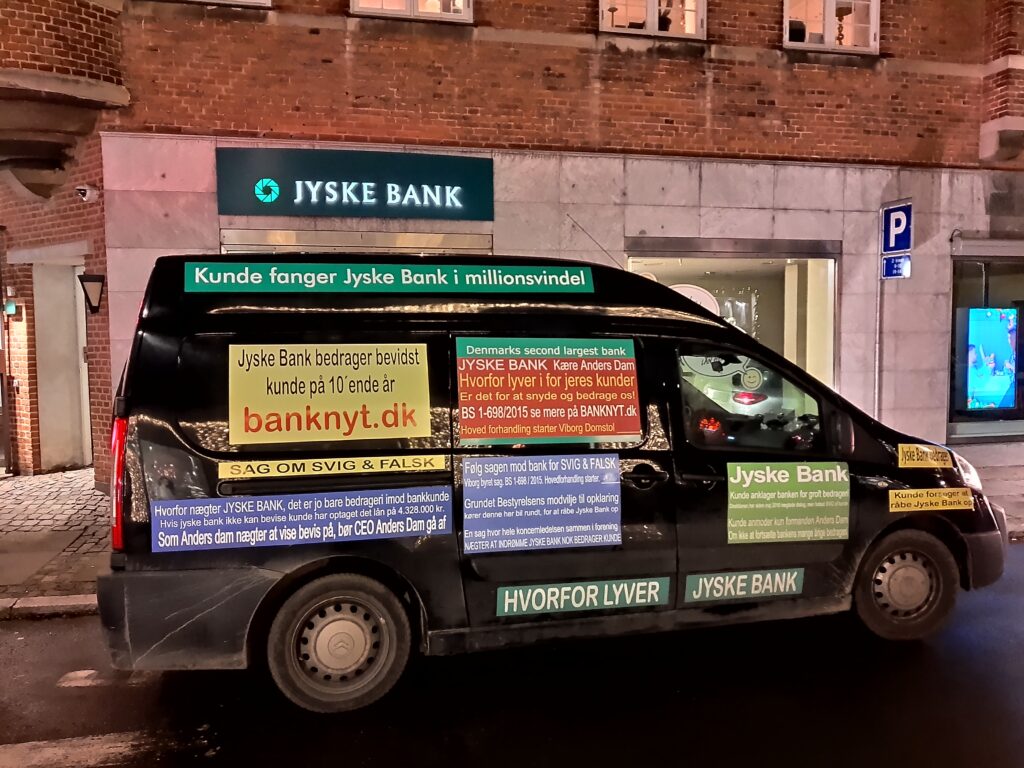 There are several things about Jyske Bank that I read and understand, so the management is together that Jyske Bank exposes your customers like them at BANKNYT to fraud.
I only write that Jyske Bank should not lie, or make the fraud that is in the client's claims, without mentioning all the many claims the client himself has presented to the courts, since your joint lawyer unfortunately forgot to present the case.
It was after your lawyer, and the client's now former lawyer, had been discovered working for Jyske Bank, which is very unfortunate, at least if it is not deliberate action.
The case very clearly points out that there are major problems, with the bank's foundation, at least if the customer does not lie on BANKNYT dk, because then Jyske Bank lies, and how do we then know who in the bank is lying and who does not.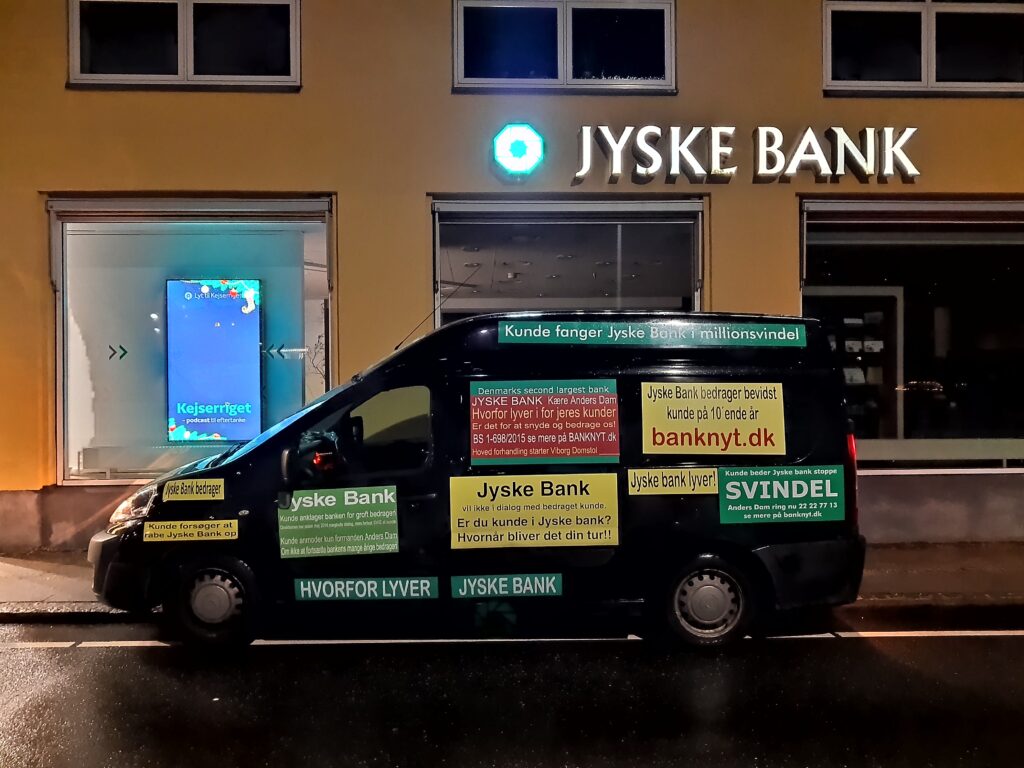 You who are dealing with Jyske Bank should read the case at BANKNYT, and familiarize yourself with the customer's claims against Jyske Bank for fraud.
Can understand in here at Trustpilot will only write that you are basically honest, whether or not it is also true, but thank you for the answer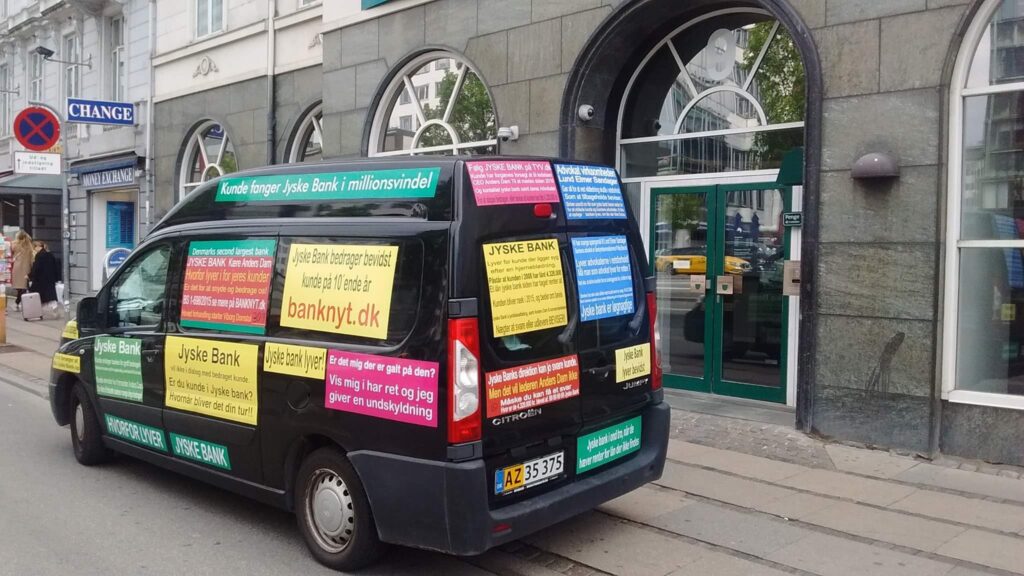 Good day.
Added comment.
It says Jyske Bank has denied dialogue with your client, and that the client also had to hire a new lawyer, after it was discovered that the client's former lawyer who had to present the case against Jyske Bank had been hired by Jyske Bank, and then has not presented your client's fraud allegations against Jyske bank, is it really true that Jyske Bank has also bought the client's lawyer ?.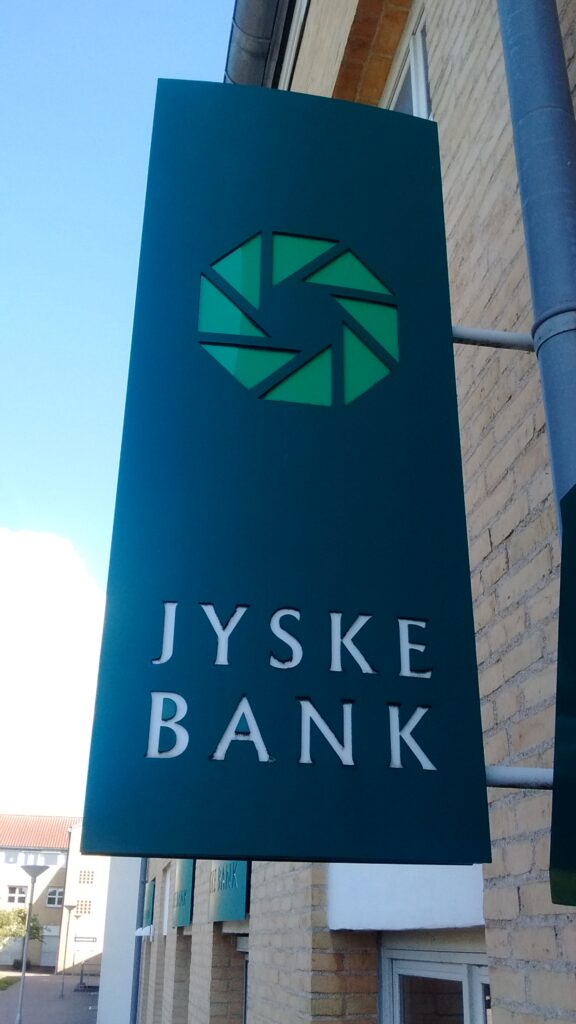 When DR clarified Jyske Bank helped clients with tax evasion, the bank subsequently denied everything, so why shouldn't it be the same in this case, where Jyske Bank exposes customers to fraud, has not read about similar conditions in other banks.
Jyske Bank in writes that you can say, "that we deny nothing"
I understand that Jyske Bank does not deny that the bank is behind deliberate fraud against your customers. So what is written about Jyske Bank and the board of directors of BANKNYT is true.
If it is misunderstood, then I / Jyske Bank must deny, but only if some of what is written on BANKNYT is not true, it encourages the customer himself to several places on the site
Have read a lot more on BANKNYT dk, even though there is a lack of order, it is nonetheless hard-to-read reading, at least if only a fraction of what Jysk Bank says is true.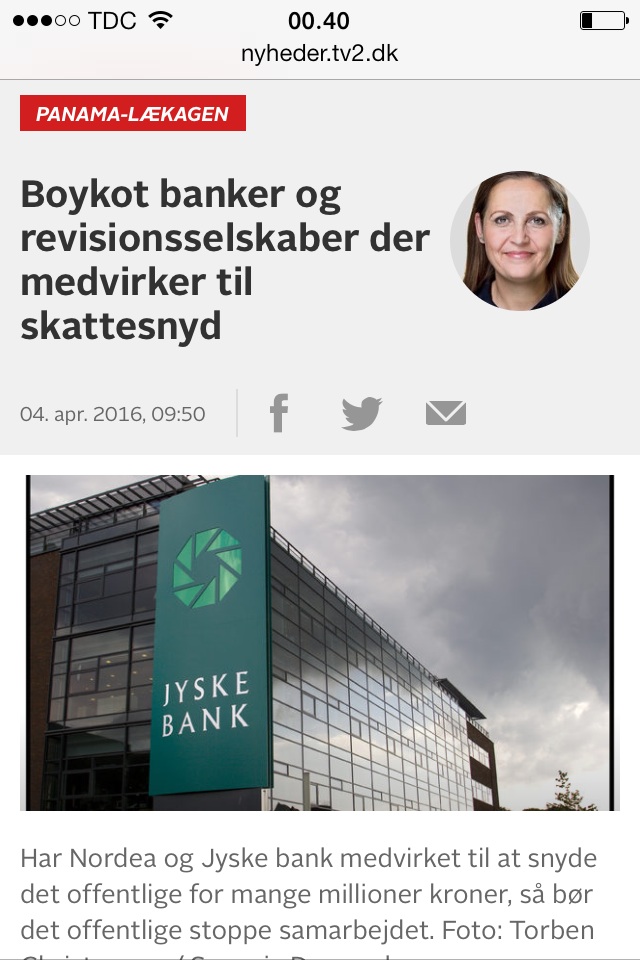 Would like to be absolutely sure if Jyske bank is really also through a reputable Bank, as you write yourself.
Does your honesty in Jyske Bank mean that Jyske Bank has not bought and paid for your client's lawyer at all to work for Jyske Bank, and that is perhaps why the client's lawyer did not present the client's claims against Jyske Bank ?.
Will you answer this question ?. Does the customer at BANKNYT lie about Jyske Bank?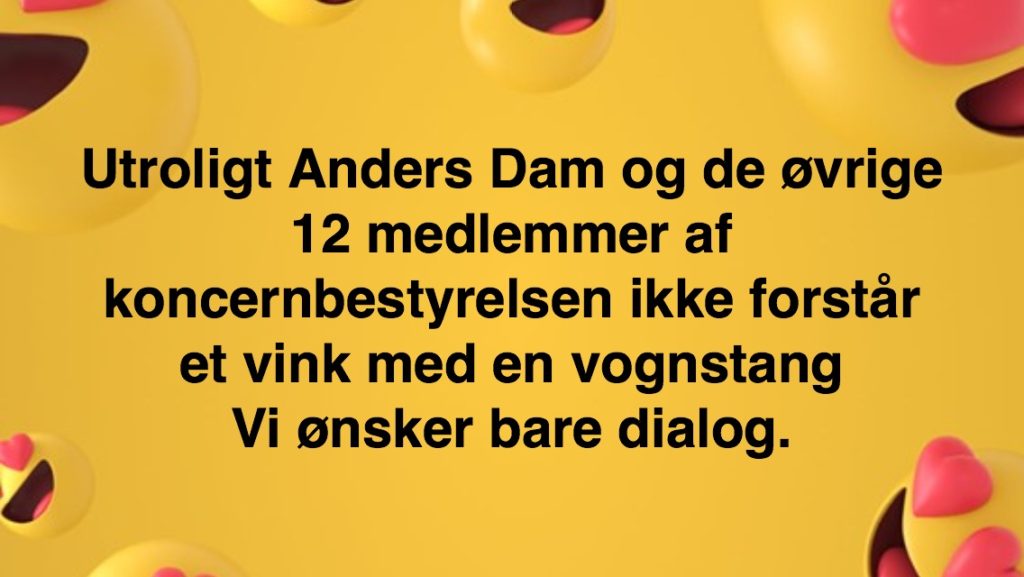 Inserted comment.
The evasive answers suggest that the customer at BANKNYT dk is actually exposed to the many years of fraud conditions supported by the shared documents on their website.
When you / Jyske Bank answer that Jyske Bank does not know if the customer is lying on BANKNYT, about Jyske Bank's lack of fairness.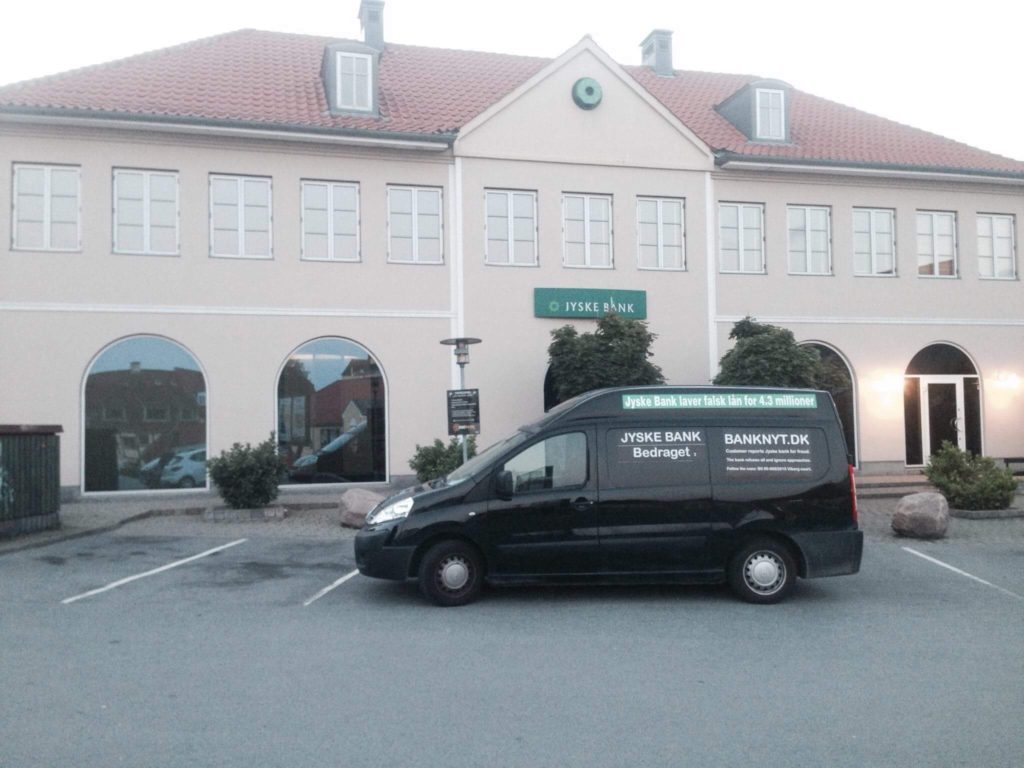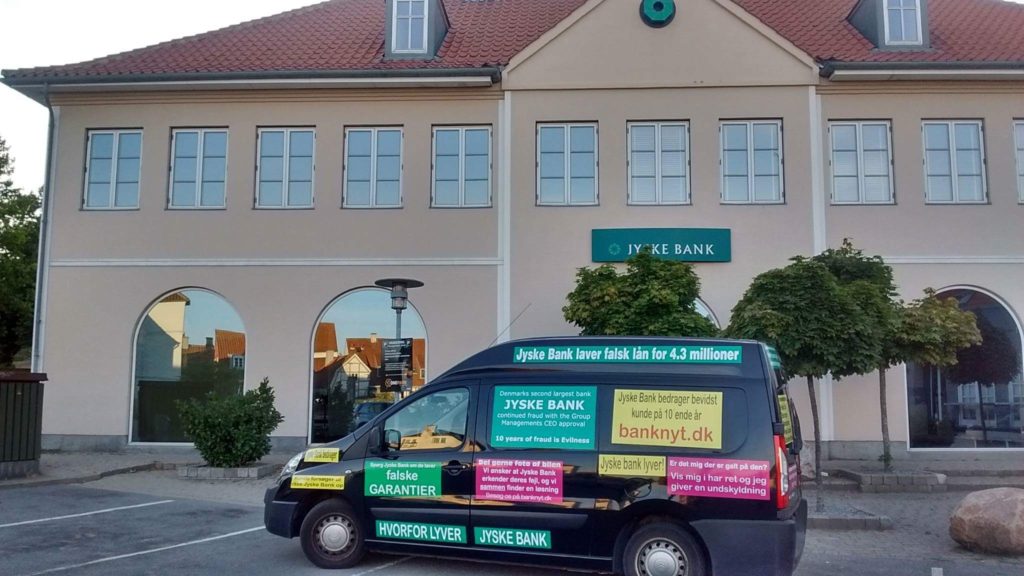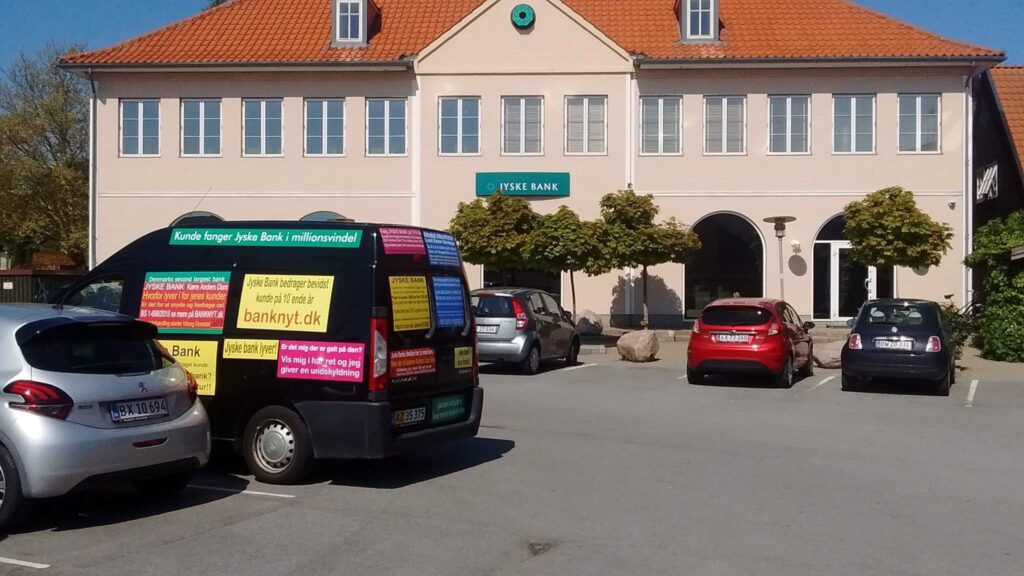 Jyske Bank writes that we ourselves have to ask the customers who inform that Jyske Bank is making a fraud if they are lying.
It is time to consider whether Jyske Bank is actually lying to the bank's customers as it is manufactured at BANKNYT.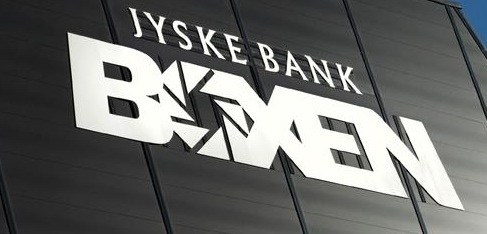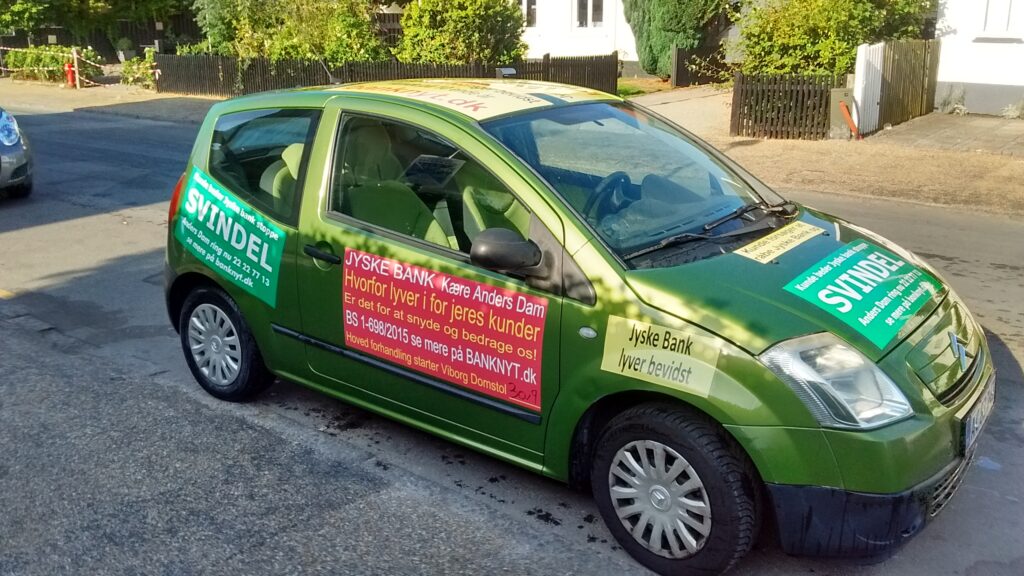 So if the customer is right, then both you and the rest of Jyske Bank already know it, but since Jyske Bank responds differently, not to admit the bank's attitudes towards fraud against customers in Jyske Bank, is not okay.
Whether fraud is accepted and approved by the board.
Jyske bank has here given a guarantee that Jyske Bank is bottom honest, by writing the bank is a completely through a reputable bank, but then what is on BANKNYT may not also be true.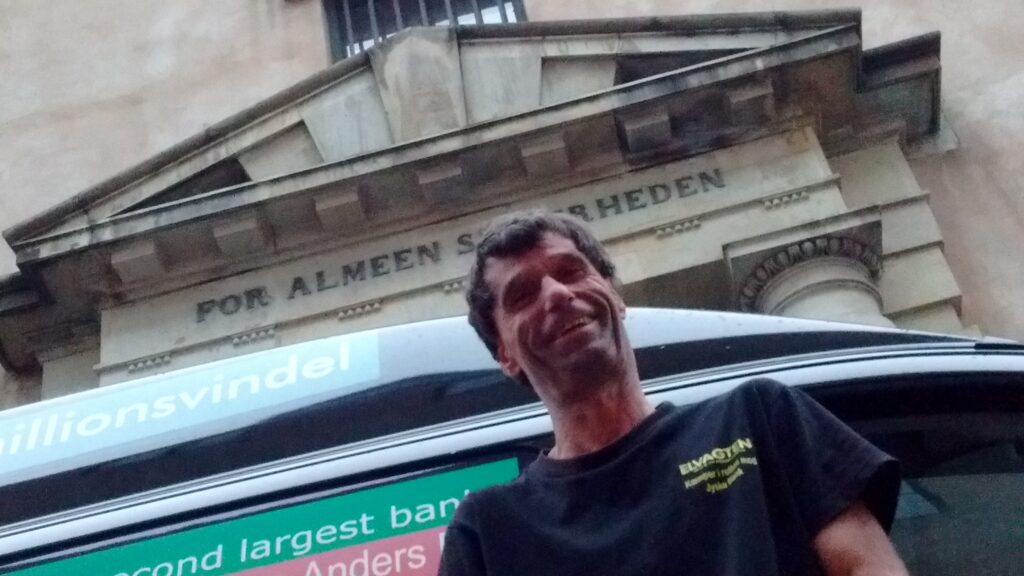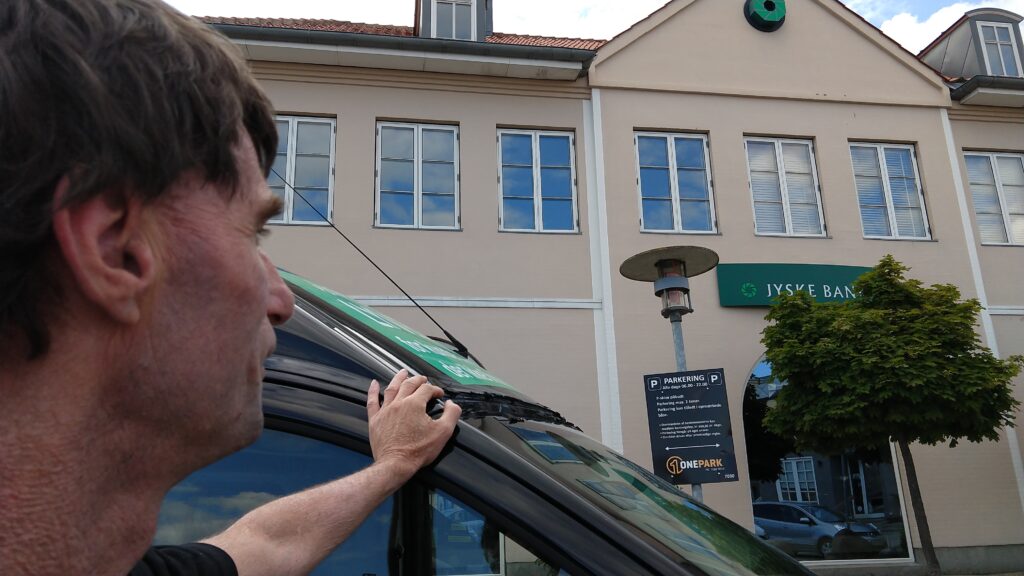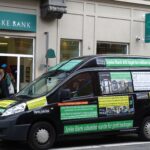 So what's true? What's on BANKNYT ?. or that Jyske Bank is basically honorable ?.
It has been an exciting read if Jyske Bank here makes the fraud against the bank's customers who are alleged on BANKNYT, Jyske Bank is anything but honorable, and then it becomes sad especially on top of the bank cases, about the Danish banks' lack of morality about their already many cases of money laundering.
Can't see what date the case is going to court? Where do I find that date? Jyske Bank does not even write anything about the matter, and everything is on your own website, and there you defend your honesty.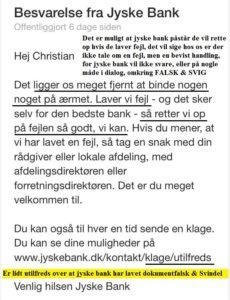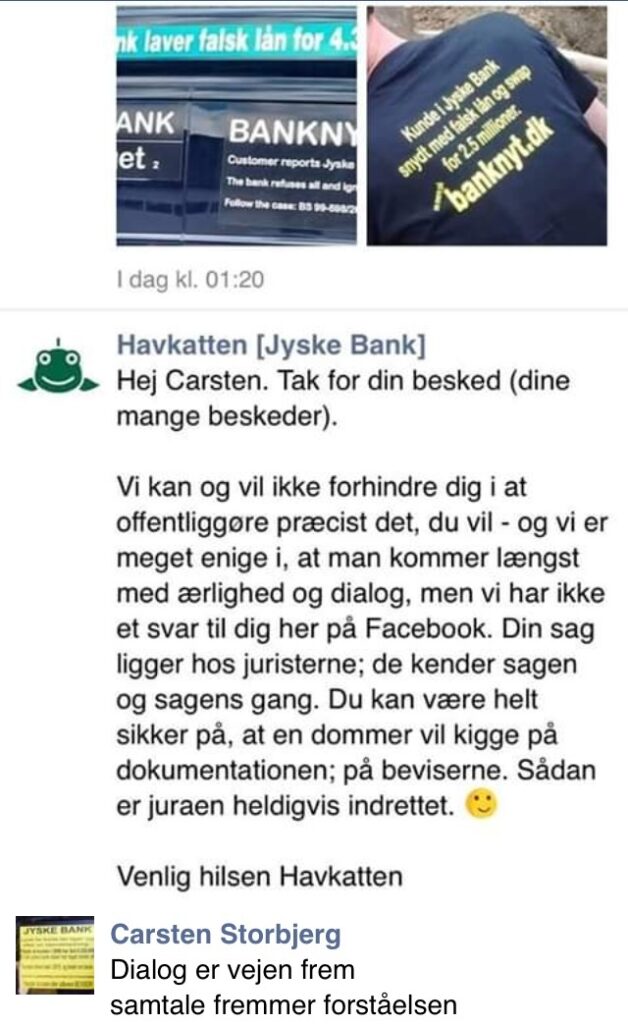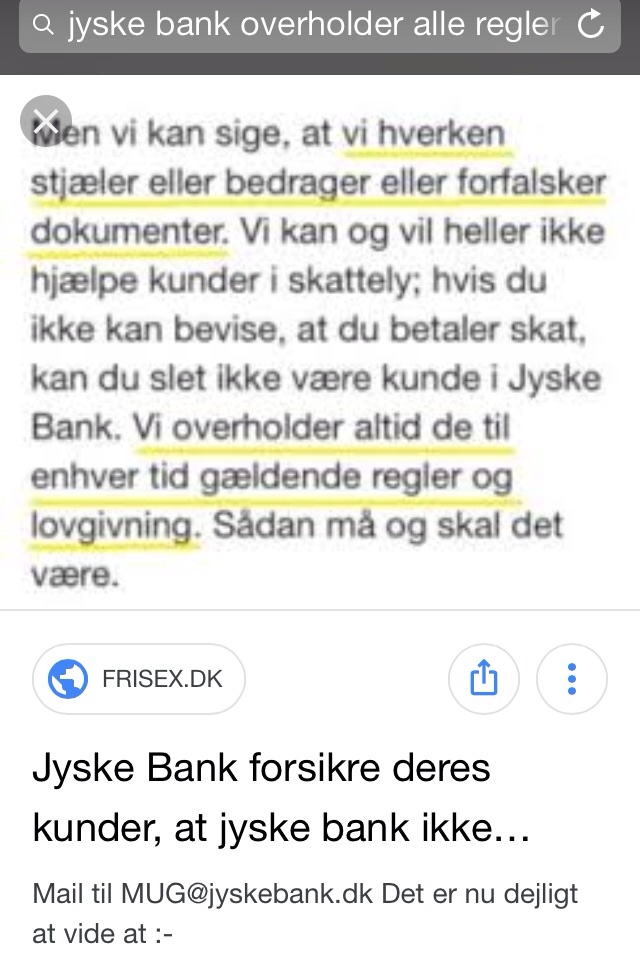 The more you read on BANKNYT, the more strange it is that you as a bank refuse dialogue with the customer.
You / Jyske Bank can then admit if Jyske Bank exposes your customers to fraud, Jyske Bank has done so much else, such as recommending your customers, to buy your own shares in the distressed company Abengoa, which was Jyske Bank just smart enough, is that how your foundation is put together?
If Jyske Bank is not as dishonest as it says on BANKNYT, then go into a dialogue with the customer and find out if Jyske Bank is lying, it must then be easy to investigate without first having the case settled in the district court, and then in the High Court.
You wrote it in Jyske Bank's first answer, as if the case is soon to be closed, after what I read about the bank, Jyske Bank does not adhere to the bank's banking committee, always appeal the court's decisions if it goes against the bank, and presume your customer according to their claims , will also appeal if they lose, so we do not talk about several years before the case becomes a judicial decision.
An interesting appendix.
Google: BS-402/2015-VIB Appendix 164.
Click on pictures and read the attached Appendix 164. from September 2, in which the customer describes the case, which seems quite grotesque if the evidence the customer refers to is genuine.
It is the bank's credibility that the corporate management gamble about, it seems that Jyske Bank is anything but bottom line, as the bank claims, and guarantees us who question Jyske Bank's fairness.
But we still wish Jyske Bank a merry Christmas.
2019. 24 december

The Danish bank Jyske Bank is fully aware that the Group is fraudulent towards its customer.

But now that the group management has December 20, 2019. our new lawyer has stated that the group does not want to meet as adults and talk together.

So, of course, we hope that Jyske Bank in the future will not use dirty tricks to cover up our now-presented claims against Jyske Bank and also against Jyske Bank's management for contributing to the bank's continued fraudulent conduct.

Probably we have only one lawyer, he alone, with the plaintiff, going against an organization that seems to work directly against not only against good practice, but also directly violated several of the penal provisions of the law.

Of course, we accept the decision of the group and the board that we will fight in the Danish courts.

We stick to actual conditions done according to the timeline

So when we meet for a main negotiation, we will review what the Jyske Bank Group has exposed us to, and which the overall group still exposes us, ie their customer.

Here we again ask if the Jyske Bank Group will not reconsider whether the Bank will not neglect to expose our customers to fraud.

Or at least answer us, tell us why the Jyske Bank Group is constantly lying, and is completely dishonest.

Because we do not lie about Jyske Bank's board when we write they contribute to our being exposed to fraud, regardless of whether Lundgrens did not think the management of the group has any responsibility here in the case.

Anders Christian Dam is still welcome to call us on +4522227713

Even if Anders Dam has just seen something on BANKNYT that the group thinks is untrue, we should probably correct any mistakes, just in rings, instead of sticking our heads in the bush, and continue to hide behind Lund Elmer Sandager, who dare not meet either with us.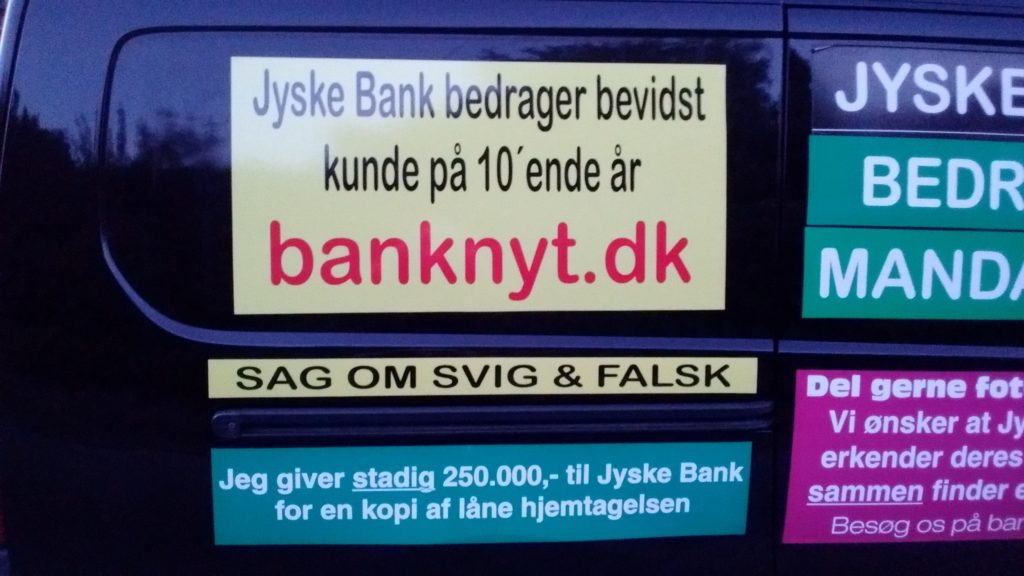 27-12-2019 Jyske Bank anmeldelser på Trustpilot, vi kan selv ikke læse den, da den på kriminelle bank koncern har slettet den, men her er den.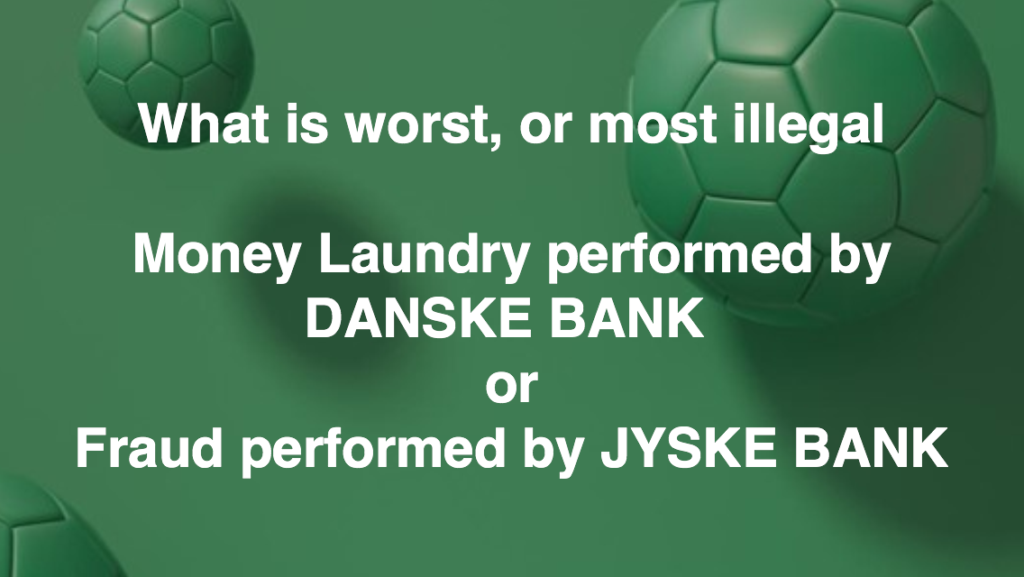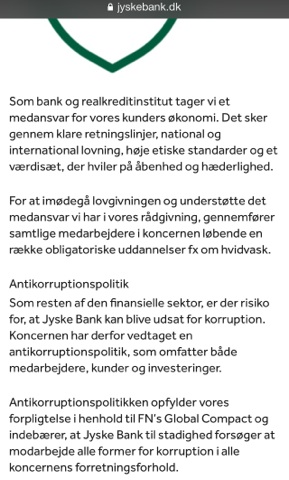 Har netop modtaget kopi af denne anmeldelse af Jyske Bank på Trustpilot, den omhandler Jyske Banks uhæderlige måde at drive bank forretninger på, med henvisning til BANKNYT.
Og ikke mindst hvilket kriminalitet Jyske Banks koncern ledelse står bag.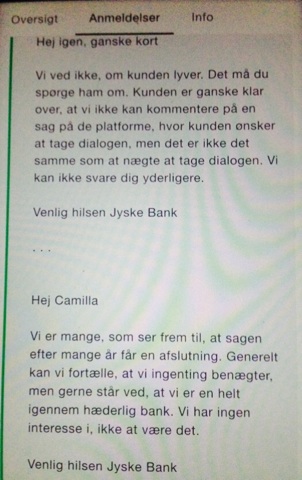 Sandheden om Jyske Banks koncern kunne banken ikke lide, og sletter de anmeldelser om jyske bank, som banken ønsker at skjule overfor bankens aktionærer og kunder.
VI DELER GERNE.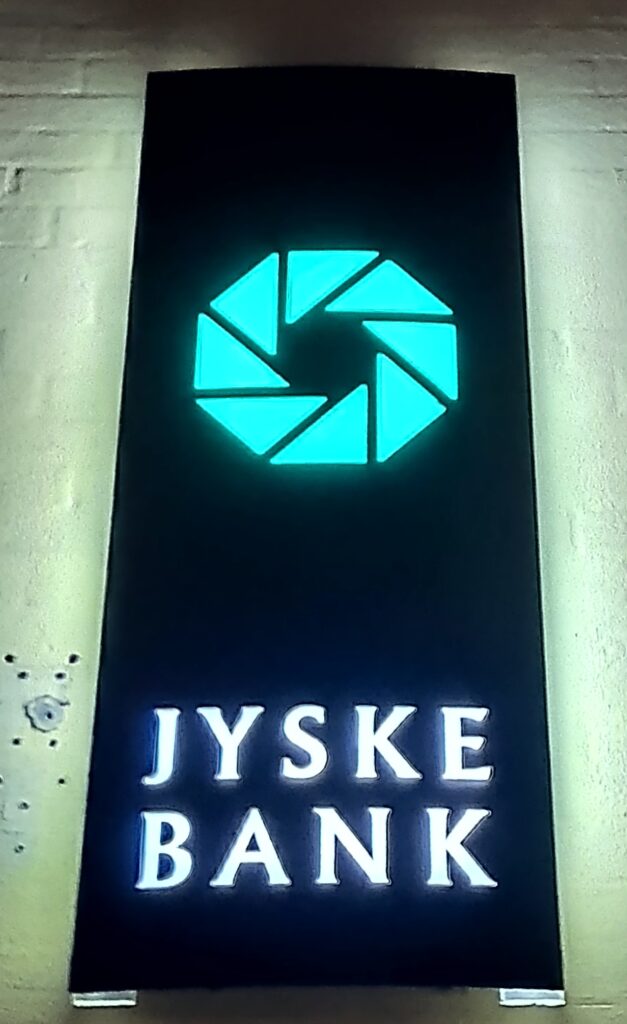 Jyske Bank er siden 2016 gentagne gange bet om at svare på beskyldninger om svindel. Hvilket Anders Christian Dam personligt nægter at give svar på.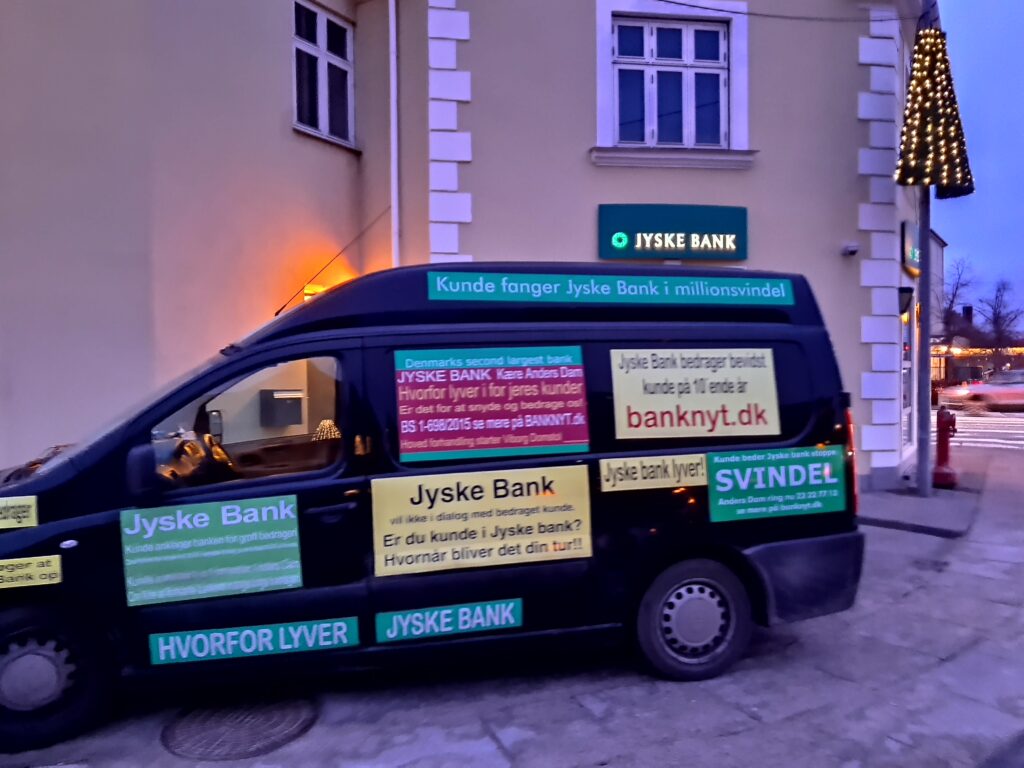 Spørgsmålet er om Jysk Bank er hæderlig. Det bliver spændende at følge svig sagen mod #JyskeBank.
Om Jyske Bank har antaget kundens advokat, "Lundgrens" for at advokaterne ikke måtte fremlægge kundens svig påstande mod Jyske Bank for million svindel.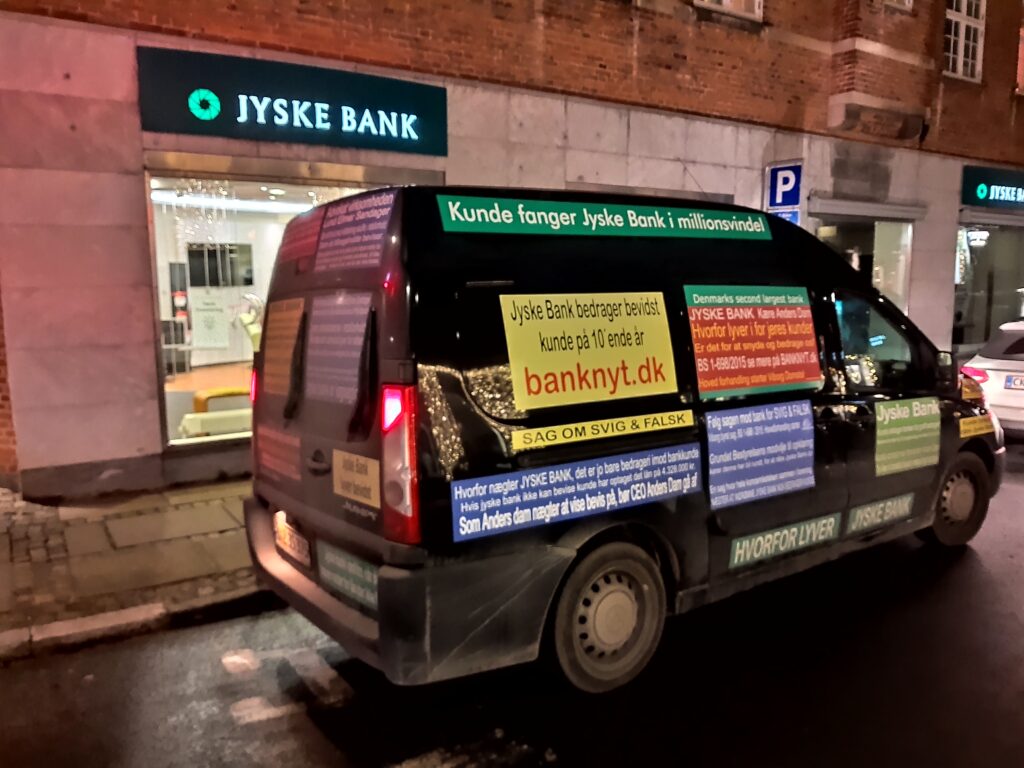 Her er anmældelsen af Jyske Bank.
Efter at have læst meget mere om Jyske Bank på BANKNYT dk. Syntes det at bestyrelsen reelt gambler om bankens manglende troværdighed.
Derfor bliver det ekstra spændende, at følge sagen mod Jyske Bank koncernen i retten, en sag om Svig imod bankens egne kunder, at bankens direktion, sandsynligvis har købt kundens advokat til at arbejde for Jyske Bank, er Jyske Bank så beskidte at banken antog kundens advokat for at skade kundens sag mod Jyske Bank?.
Lyver kunden på BANKNYT om Jyske Bank, eller lyver Jyske Bank overfor kunden.
En sag hvor Jyske Banks ledelse er beskyldt for at medvirkende, til Jyske Banks fortsatte svig mod bankens kunde.
Kunden beder Jyske Banks ordstyrerende formand, at ringe til deres kunde, og der aftale et møde for at få lavet en udredning.
Er der tale om fejl, og misforståelser så ring da til jeres kunde
Sagen er den på BANKNYT dk BS-402/2015-VIB
Spørgsmålet er om noget af det der står på BANKNYT er sandt, eller om Jyske Bank koncernen benægter alt, som banken plejer.
Banken må om nogle have viden, om det der står på BANKNYT er sandt eller ej, har i altså Jyske Bank ikke læst det?.
Det ser ud til at der er delt ret mange bilag, siden maj 2016, hvor kunden viser det første brev som de (han) sendte til jeres advokat og den ordstyrerende formand, hvori der står at kunden nok er udsat for et kæmpe bedrageri, har banken ikke reageret på de henvendelser, undersøgt sagen og svaret kunden!.
Syntes der står ret meget om Jyske Bank, og det er grusomme forhold, når man får hakket ned gennem siden, der er en del gentagelser på siden, hvilket mere tyder på kunde har en sag, der lige så meget handler om Jyske Banks fundament, som det at Jyske Bank laver svig.
Tænker ikke der findes nogle andre banker, der kan lave så meget snavs mod deres kunder som Jyske Bank kan.
Hvis ikke banken udsætter kunde for svig, er helt bevidst, og er bankens fundament, eller bankens holdninger, så er Jyske Bank altså ret uheldige med jeres tilsyneladende anderledes måde at drive bank forretninger på.
På siden BANKNYT dk oplyser kunden, meget klart at have skrevet til bankens øverste koncernledelse, selv jeres ordstyrerende formand har kunden skrevet til, udover er der nævnt flere breve, som er sendt til jeres advokater for at få et møde istand.
Har Jyske Bank slet ikke lyst til at svare de af jeres kunder, som skriver at Jyske Bank er bedragerisk på BANKNYT.
Kunden forsøger komme i kontakt med jer / Jyske Bank, for at i sammen kan gennemgå den sag mod Jyske Bank, sikkert om kundens påstande, om at jeres bank udsætter kunden for svig, der er nævnt flere breve til ledelsen og at ledelsen nægter dialog, her på Trustpilot benægter du / Jyske Bank, at banken nægter dialog.
Så jo som jeg læser det du / Jyske Bank her har svaret, så nægter Jyske Bank bestemt dialog.
Har også læst at kunden har skrevet til retten, at de ønsker at mødes, men heller ikke det ønsker Jyske Bank at takke ja til.
Det er altså ikke på nogle platforme, Jyske Bank nægter dialog på som du / Jyske Bank skriver.
I kan mødes i retten står der i et eller flere breve, og tale om jeres sag, som er en større sag, med åbenbar flere ulovligheder.
At Jyske Bank konsekvent nægter at tale med jeres kunde, og ikke svare på deres breve, syntes jeg ikke er hæderligt, du må endelig svare hvis det er misforstået.
Er det selve direktion der som stå bag?, at kunden stadig er udsat for svig, efter deres påstand.
Jyske Bank i bør læse, eller genlæse BANKNYT dk, det virker til at han er ret sikker i sin sag, dokumentation syntes at være ærlig og sandt skrevet, og faktisk understøttede for deres påstande.
Jeg skal ikke spørge nogle kunder, om de lyver om Jyske Banks ærlighed, men efter at have læst meget mere på BANKNYT dk
Syntes det mere at være Jyske Bank, der har været meget uhæderlig over for jeres kunder, på BANKNYT mangler der nogle links fra deres påstande, og til de enkelte bilag.
BANKNYT dk er tydeligt et opråb om hjælp, håber de får delt teksten med deres mange påstande mod Jyske Bank, og laver link fra hvert af de oplyste bilag, så de dokumenter der nævnes i breve, kan ses med et enkelt klik.
Der står flere ting om Jyske Bank, som jeg læser og forstår det, så er ledelsen sammen om at Jyske Bank udsætter jeres kunder som dem på BANKNYT for svig.
Jeg skriver kun at Jyske Bank ikke skal lyve, eller lave det svig som står i kundens påstande, uden at næve alle de mange påstande kunden selv har fremlagt for domstolene, eftersom jeres fælles advokat desværre glemte at fremlægge sagens påstande.
Det var efter jeres advokat, og kundens nu tidligere advokat, var blevet opdaget i at arbejde for Jyske Bank, hvilket er meget uheldigt, ihvertfald hvis det ikke er bevidste handlinger.
Sagen påpeger meget tydeligt, at der er store problemer, med bankens fundament, ihvertfald hvis kunden ikke lyver på BANKNYT dk, for i så fald lyver Jyske Bank, og hvordan skal vi så vide hvem i banken der lyver og hvem der ikke gør.
Du som har med Jyske Bank at gøre bør læse den sag på BANKNYT, og sætte dig ind i kundens påstande mod Jyske Bank for svig.
Kan forstå i her på Trustpilot kun vil skrive at i er bund hæderlige, uanset om det også er usandt, men alligevel tak for svaret God dag.
Tilføjet kommentar. Der står Jyske Bank har nægtet dialog med jeres kunde, samt at kunden også måtte ansætte en ny advokat, efter det blev opdaget, at kundes tidligere advokat der skulle fremlægge svigsagen mod Jyske Bank, var blevet ansat af Jyske Bank, og derefter ikke har fremlagt jeres kundes svig påstande mod Jyske bank, er det virkelig sandt?, at Jyske Bank også har købt kundens advokat?.
Dengang DR opklarede Jyske Bank hjalp kunder med skatte undragelse, benægtede banken bagefter alt, så hvorfor skulle det ikke være det samme i denne her sag, hvor Jyske Bank udsætter kunder for svig, har ikke læst om ligende forhold i andre banker.
Jyske Bank i skriver, at i kan fortælle, "at vi ingenting benægter"
Det forstår jeg til at Jyske Bank ikke benægter at banken står bag bevidst svig mod jeres kunder. Altså det som står skrevet om Jyske Bank og bestyrelsen på BANKNYT er sandt.
Hvis det er forkert forstået, skal i / Jyske Bank da benægte, men altså kun hvis noget af det som er skrevet på BANKNYT ikke er sandt, det opfordrer kunden selv til flere steder på siden
Har læst meget mere på BANKNYT dk, selv om der mangler orden, er det alligevel hårdrejsende læsning, ihvertfald hvis bare en brøkdel af det som står om Jysk Bank er sandt.
Vil gerne være helt sikker på, om Jyske bank virkelig også er helt igennem en hæderlig Bank, som i selv skriver.
Betyder jeres hæderlighed i Jyske Bank, så at Jyske Bank slet ikke har købt og betalt jeres kundes advokat, til at arbejde for Jyske Bank, og det måske er grunden til at kundens advokat ikke har fremlagt kundens påstande mod Jyske Bank?.
Vil i svare på dette spørgsmål?. Lyver kunden på BANKNYT om Jyske Bank?
Indsat bemærkning. De undvigende svar, giver mistanke om at kunden på BANKNYT dk rent faktisk er udsat for de mange års svig forhold, som de delte dokumenter på deres hjemmeside understøtter.
Nå du / Jyske Bank svare at Jyske Bank ikke ved, om kunden lyver på BANKNYT, omkring Jyske Banks manglende redelighed
Jyske Bank skriver at vi selv skal spørger de kunder der oplyser at Jyske Bank laver svig, om de lyver.
Det er tid til eftertanke, om Jyske Bank rent faktisk lyver overfor bankens kunder, som det er fremstillet på BANKNYT.
Altså hvis kunden ret, så ved både du og resten af Jyske Bank det allerede, men da Jyske Bank svare afvigende, for ikke at indrømme bankens holdninger til at lave svig mod kunder i Jyske Bank, er ikke iorden. Uanset om svig er accepteret og godkendt af bestyrelsen.
Jyske bank har her givet en garanti på at Jyske Bank er bund hæderlig, ved at skrive banken er en helt igennem en hæderlig bank, men så kan det som står på BANKNYT ikke også være sandt.
Så hvad er sandt?. Det der står på BANKNYT?. eller at Jyske Bank er bund hæderlig?.
Det er blevet spændende læsning, hvis Jyske Bank her laver det svig mod bankens kunder, der bliver påstået på BANKNYT, er Jyske Bank alt andet end hæderlig, og så bliver det trist særligt ovenpå de bank sager, omkring de danske bankers manglende moral omkring deres i forvejen mange sager om hvidvaskning.
Kan ikke se hvilke dato sagen skal for retten?, hvor finder jeg den datoen? skriver jyske Bank ikke selv noget om sagen, og ligger alt frem på jeres egen hjemmeside, og der forsvare jeres hæderlighed.
Jo mere man læser på BANKNYT, jo mere mærkeligt er det, at i som bank nægter dialog med kunden.
Du / Jyske Bank kan da godt indrømme, hvis Jyske Bank udsætter jeres kunder for svig, Jyske Bank har jo lavet så meget andet, så som at anbefale jeres kunder, at købe jeres egne aktier i det nødlidende selskab Abengoa, der var Jyske Bank lige smarte nok, er det sådan Jeres fundament er sat sammen?.
Jyske Bank hvis ikke i er så uærlige som der står på BANKNYT, så gå da i dialog med kunden, og find ud af om Jyske Bank lyver, det må da være nemt at undersøge uden at i første skal have sagen afgjort i byretten, og derefter så i landsretten.
Du skrev det i Jyske Banks første svar, som om sagen snart bliver afsluttet, efter det jeg har læste om banken, retter Jyske Bank sig ikke efter pengeinstitutankenævnet, anker altid byrettens afgørelser, hvis den går banken imod, og formoder jeres kunde efter deres påstande, også vil anke hvis de taber, taler vi så ikke om flere år før sagen får en retslig afgørende.
Et interessant Bilag. Google: BS-402/2015-VIB Bilag 164.
Klik på billeder, og læs det fremlagte bilag 164. fra 2. September, deri beskriver kunden sagen, som virker ret grotesk hvis de beviser kunden henviser til er ægte.
Det er bankens troværdighed koncernledelsen gambler om, det virker til at Jyske Bank er alt andet end bund hæderlig, som i fra banken påstår, og garanterer os der der stiller spørgsmålstegn til Jyske Banks redelighed.
Men alligevel ønsker vi Jyske Bank god jul.