01-12-2019 Here is the first Appendix to the case. This is where the case starts back in 2013. as Case 328/2013. before the case in 2015 was continued, and brought to justice. BS-402/2015-VIB / Update regularly with attachments, and explanation of appendices trust danish banks
---
Perhaps Denmark's biggest fraud case, where a large Danish bank is deceiving their client.
And getting help from the client's lawyer, the client says it's like being in a bad movie.
🙂
🙂
🙂
Now, we just want Jyske Bank Group management to admit that the bank is exposing us to fraud.
It shouldn't be that hard to understand.
Here at the top is the Chairman of Jyske Bank A/S
CEO Anders Christian Dam, and below we have the next chairman of Jyske Bank's Board of Directors Kurt Bligaard Pedersen.
---
First, Jyske Bank makes FRAUD against the bank's customers. Then Jyske Bank is discovered in Fraud. Subsequently, Jyske Bank then uses Bribery in order to continue with Jyske Bank's Fraud THAT'S HOW THE DANISH BANK #JYSKEBANK WORKS Here are 45 pages of the closing litigation, which we ourselves had to make and present, to Jyske bank for millions fraud against the bank's customer, that is us. / Our new closing response 28/10/2019 is not as Lundgrens and the Jyske Bank Group have agreed that Lundgren's lawyers should present the client's claims. As you can see, by comparing the closing litigation from 18-12-2018 against the Jyske Bank Group, Lundgrens has omitted all the client's claims against Jyske bank. 🙁 🙁 IF NOT JYSKE BANK'S TOP MANAGEMENT, THEY HAVE BEEN ARRANGED LUNDGREN'S ADVOCATES. How should CORRUPTION be understood? / That Lundgren's lawyers are corrupt and have received bribery from Jyske Bank in the form of a return commission for failing to present the client's claims against Jyske bank. Must be for Lundgren's lawyers to help Jyske bank continue the Bank's Fraud against Lundgren's own client. And this has happened, by running a dishonest law firm, by wanting to help Jyske bank disappoint in legal matters. / That Lund Elmer Sandager Attorneys, several places and several times in legal matters, have provided false information to the court. THEREFORE, THE LIE has gone to court. Must also be done, to help Jyske Bank to continue, to make Fraud against the bank's customers. And that Lund Elmer Sandager Attorneys has therefore lied to the court, solely to disappoint in legal matters. 🙁 🙁 Jyske bank must respond to our closing defense on December 11, 2019. It is submitted that Lund Elmer Sandager Attorneys in the case, several times in legal matters have lied to the court. It has also been submitted that the Jyske Bank Group has bribed Lundgren's attorneys not to submit the client's fraud allegations against Jyske Bank. But now read for yourself what we have presented and ask whether Lundgren's lawyers from Jyske Bank have accepted bribes, not to present the client's claims. 🙁 Just as it is submitted that Lundgren's attorneys have received a bribe in the form of a return commission, for failing to present the client's claims presented here. The Danish police have refused to investigate JYSKE BANK and Lund Elmer Sandager Attorneys, which the State Attorney supports. When large lawyer houses such as Lundgrens and Lund Elmer Sandager Advokater, in this way, the Jyske Bank Group helps to continue the Fraud against the bank's client. Seemed to need outside help.
This case is about some people can trust at the major Danish banks. And trust lawyer houses in Denmark. Or if they lie as much, as we provide evidence here. When we claim Jyske bank by their lawyers are lying to the court, that is what we have presented to the court Jyske Bank is lie to the court to disappoint in legal matters. and use bribery also to disappoint in legal matters. We have asked CEO Anders Dam to talk with him But management refuses dialogue, and hides behind Philip Baruch in Lund Elmer Sandager Attorneys. Now Jyske Bank also deals with insurance, but dare you buy from the many sellers in the bank.Denmark's strangest bank, refusing to talk to the customers the bank is deceiving. Now Jyske Bank also deals with insurance, but dare you buy from the many sellers in the bank. See new insurance www.nyforsikring.dk A fun page we briefly try to explain what crime we are up against. See the appendix and follow the thread, it is deeply criminal banking, Jyske Bank and their lawyers are behind, and we just want them to stop exposing their clients to fraud.
Appendix 1 of the case deals with an interest rate hedge of DKK 4,328,000 made by Jyske Bank on 16-07-2008. The claim since 2016 is that it is without any form of agreement with the plaintiff, ie Appendix 1. has since 2016 been alleged to be FALSE. This has not been presented by Roedstenen Advokater i AArhus or Lundgren's lawyers from Copenhagen, despite 100 letters, mails and sms about this. Wonder why. If no bribe has been paid by Jyske Bank, in the form of a return commission to Rødstenen and Lundgren's lawyers, for not presenting the client's claims. THIS IS WHAT THE MATTER IS NOW ABOUT. Fake documents and bribes. Appendix 1. was made by Jyske Bank Vesterbrogade formerly Finans Banken on 16-07-2008 to the offered and allegedly raised underlying loan in Nykredit of DKK 4,328,000 The offer Appendix Y. was sent to Jyske bank 20-05-2008 The loan as Appendix Y. and as both by the Jyske Bank Group and Lund Elmer Sandager's lawyers, several times both for the Banking Institutional Board and for the court, has lied as if it existed. See Appendix 29. Here, Jyske Bank reports that the loan of DKK 4,328,000 was repaid in Nykredit, and on Appendix D. Jyske Bank discloses the underlying loan for Swappen Appendix 1. has been restructured. While the truth is that the approved Swap for the Offer Appendix Y. was made on 15-07-2008, this is Jyske bank lying to the court, and hope their customer does not discover it. This approved Swap from 15-07-2008, submits Jyske Bank Board member Philip Baruch at. Appendix E. page 4. THERE ARE ONLY A FEW PROBLEMS. On the other hand, Jyske Bank has removed Annex E. page 4. from the annual report on 31-12-2008. Annex O. Jyske Bank has also deleted the track on Bilag. O. from 31-12-2008 That Annex 18.A Page 2. the agreed SWAP from 15-07-2008 will be closed on 30-12-2008. Jyske Bank also lied about the alleged underlying loan of DKK 4,328,000 for the SWAPPEN of DKK 4,328,000 does not exist at all. Appendix 18.A page 1. But here you just need the supporting documents that are now presented. The case is about far more than just fraud and corruption in the Danish banks and lawyer's houses.
WE HAVE BEEN FIGHTING SINCE 2016 TO GET THIS APPENDIX SUBMITTED. You first get our witness explanation Appendix 164. which replaces Appendices 100 and 101, December 28, 2018, which Lundgren's Attorneys made sure was not presented Where after we ourselves, tried to get our case presented, but Lundgrens instead let us believe they were presented.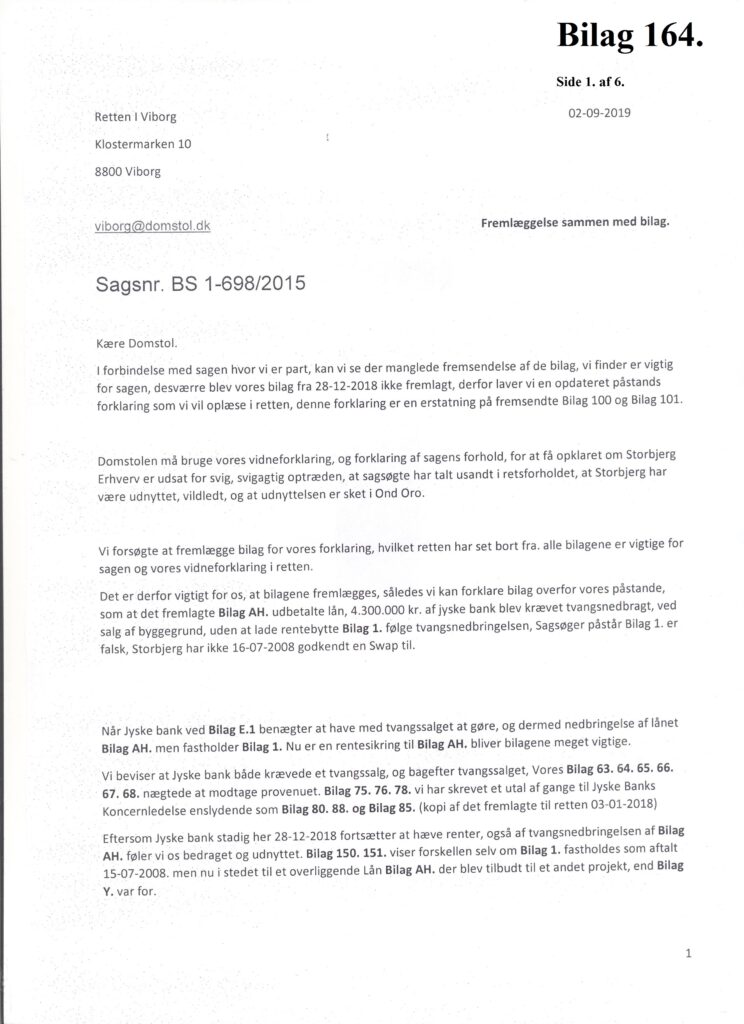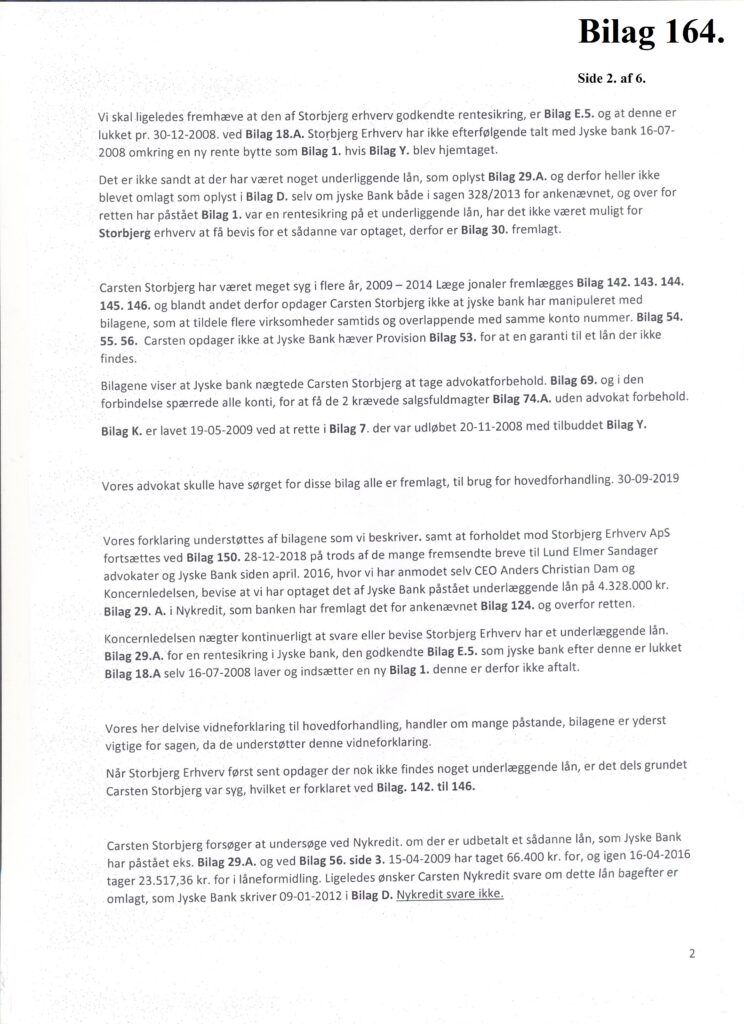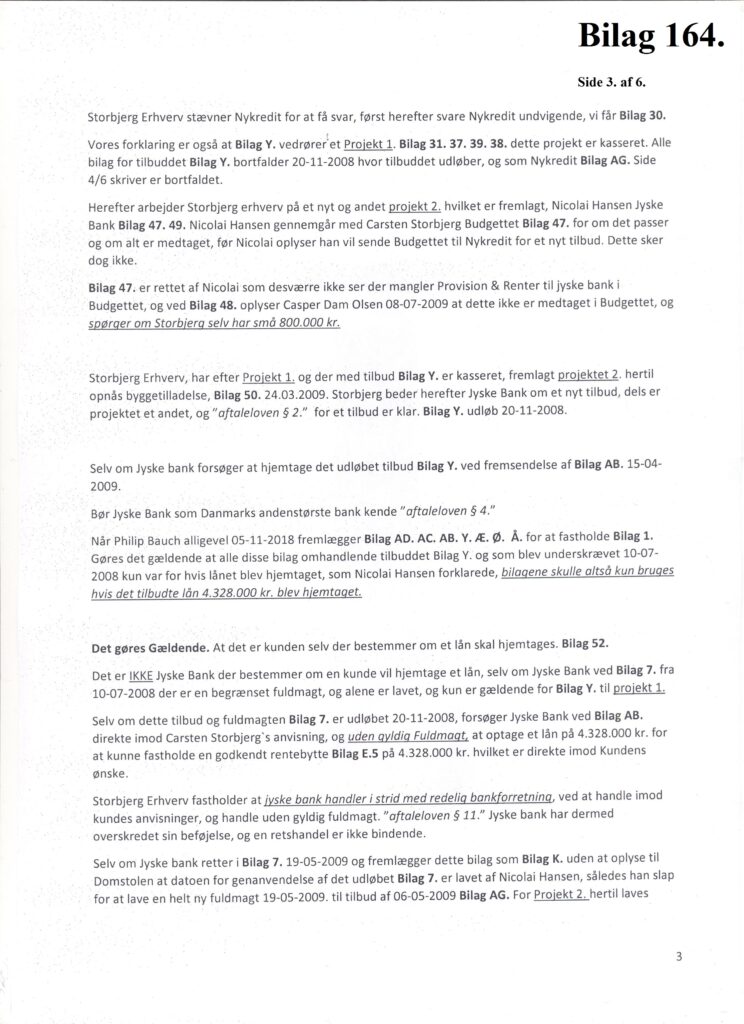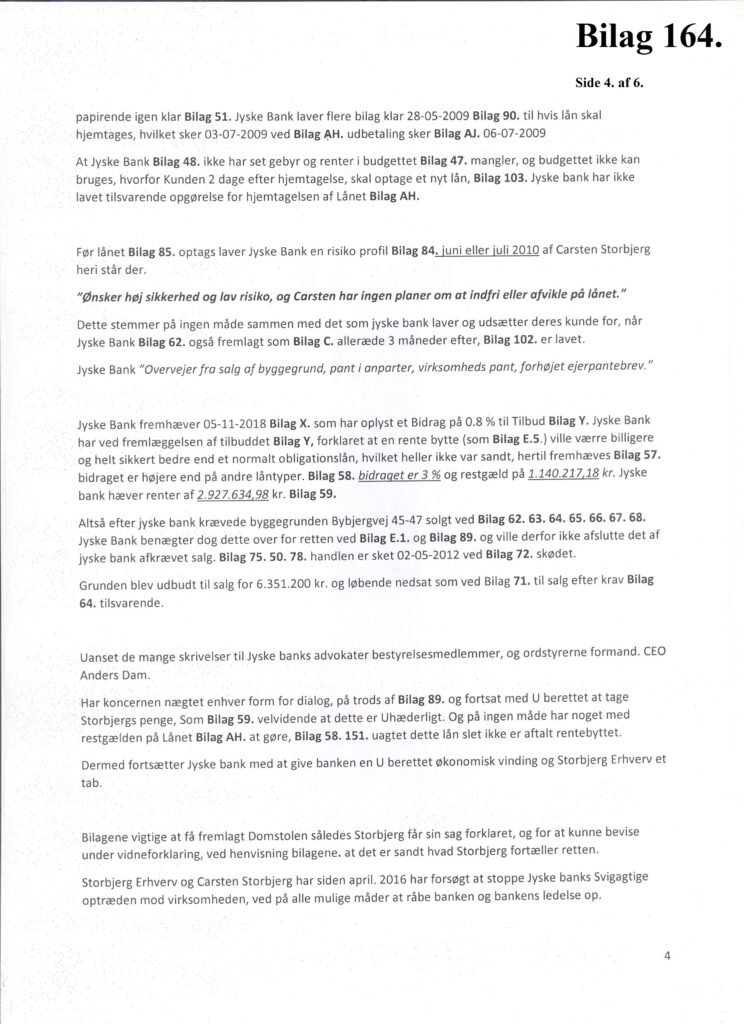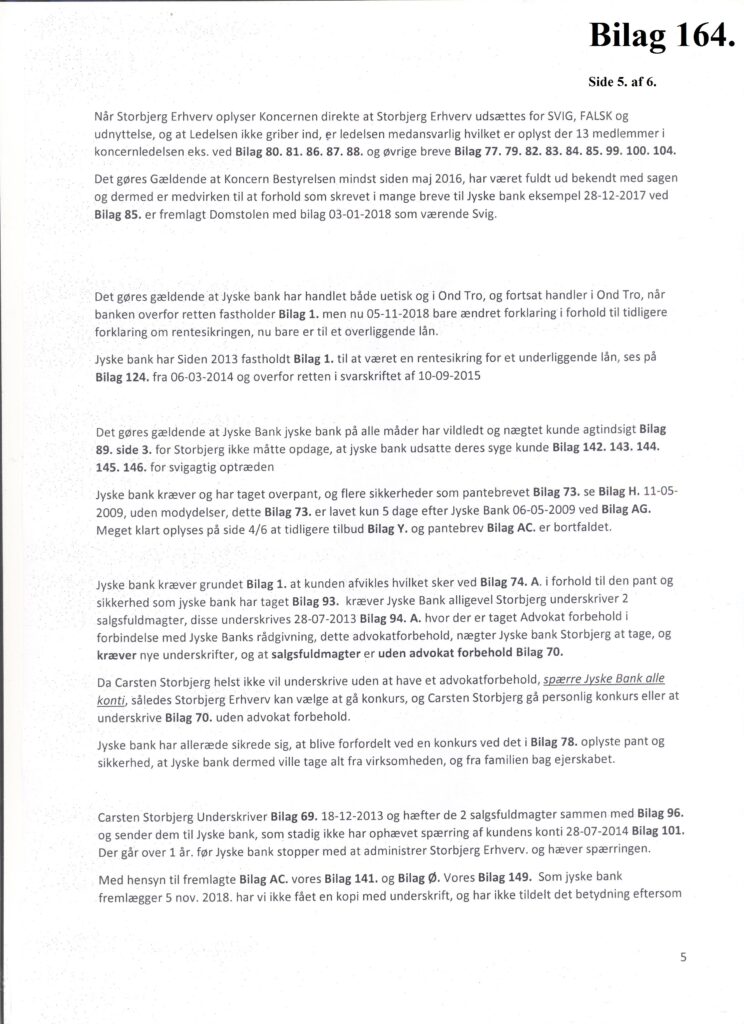 We will create a lookup where we take the text from Appendix 164. and insert the text neatly into a lookup, with the said appendices, as well as links to appendices. We will also do the same with our closing remarks, which is the framework of the allegation document to be made by our lawyer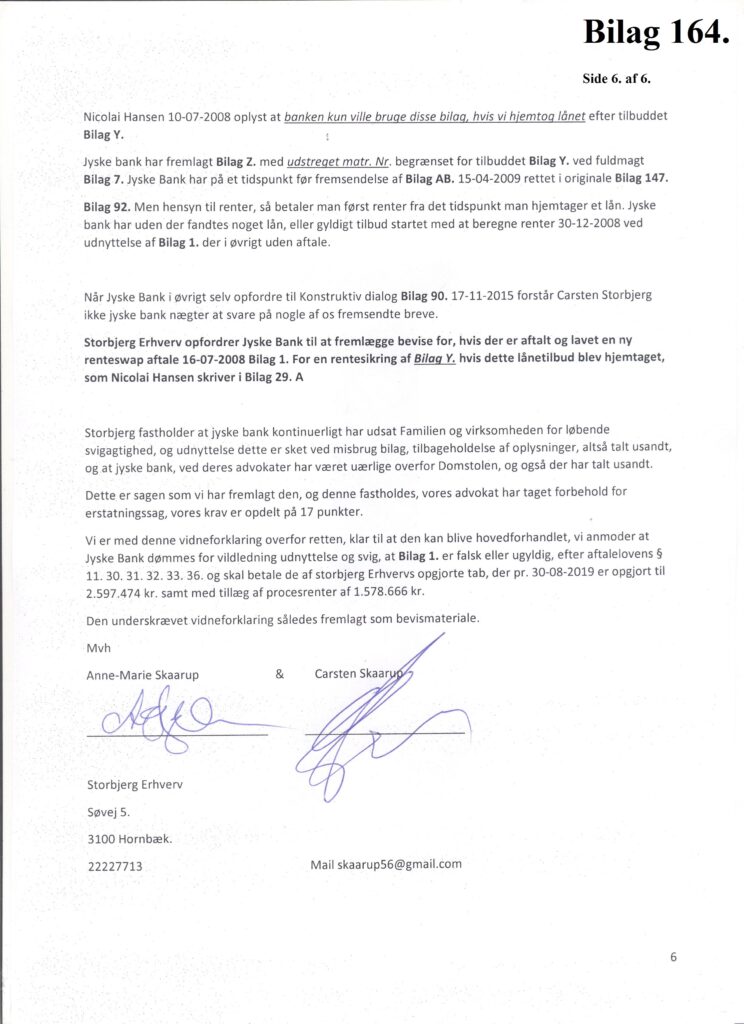 Appendix 1. a SWAP of DKK 4,328,000 Made by Jyske bank 16-07-2008. for a loan offer of DKK 4,328,000 THIS IS PURE FACTS The fight against a criminal institution in Denmark
Appendix 1. SWAP W015785 We have not agreed this Swap with Jyske Bank Therefore it is false.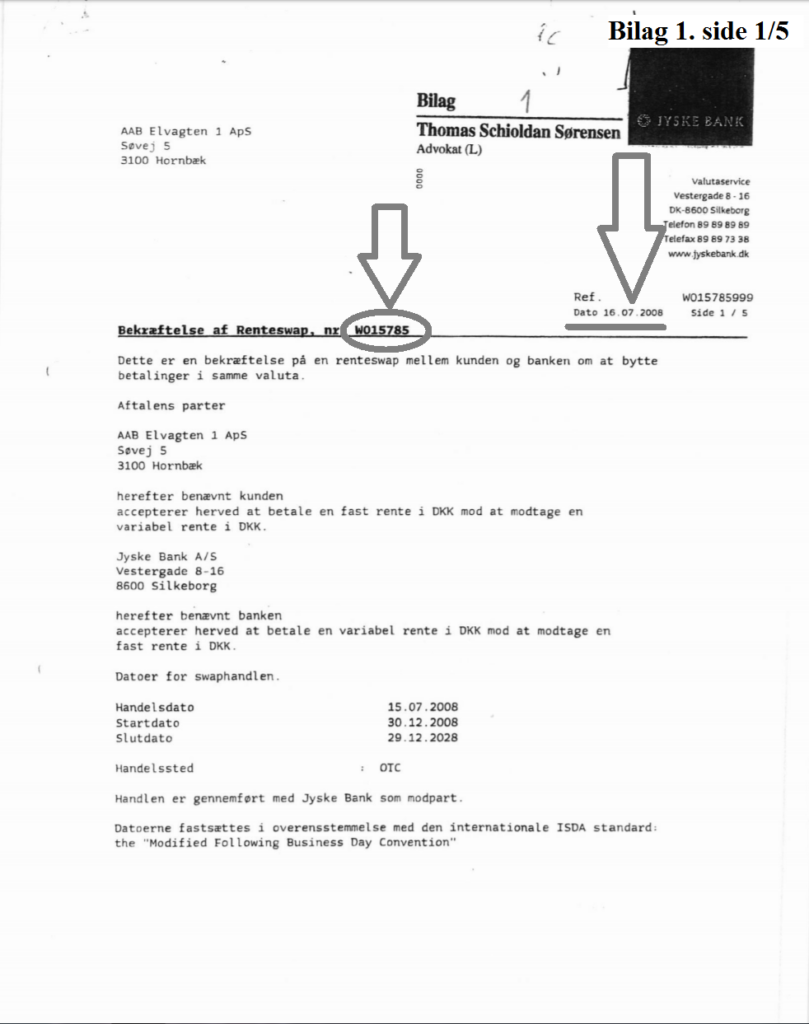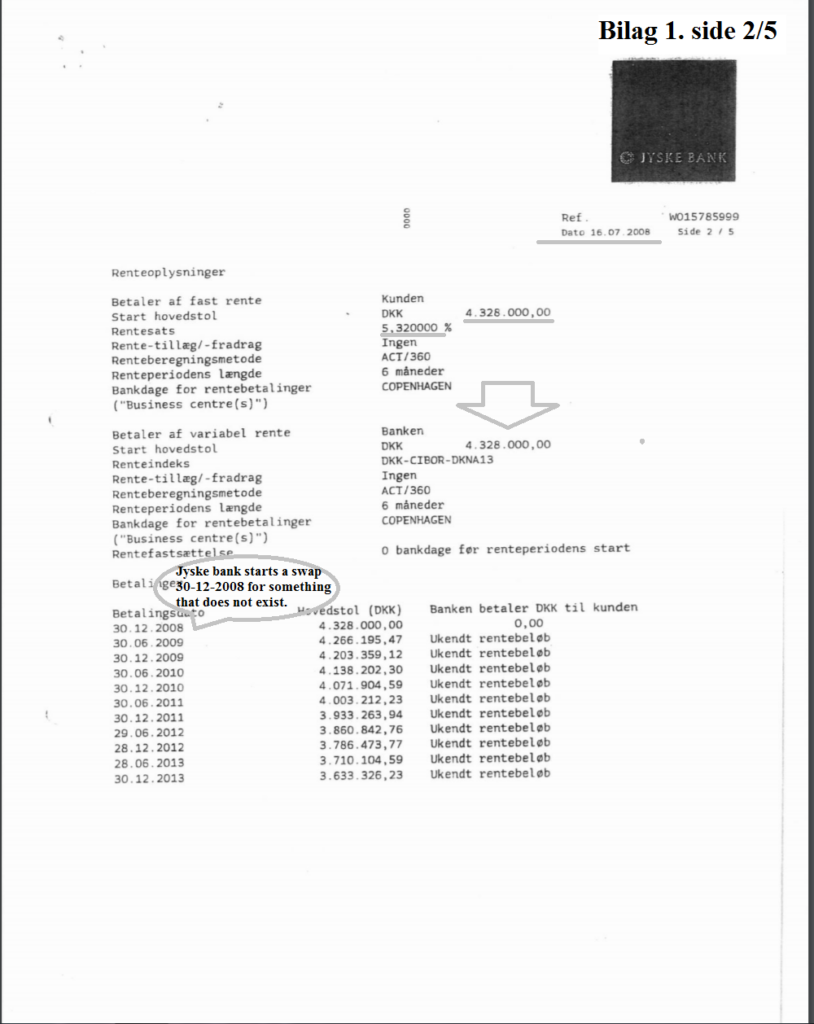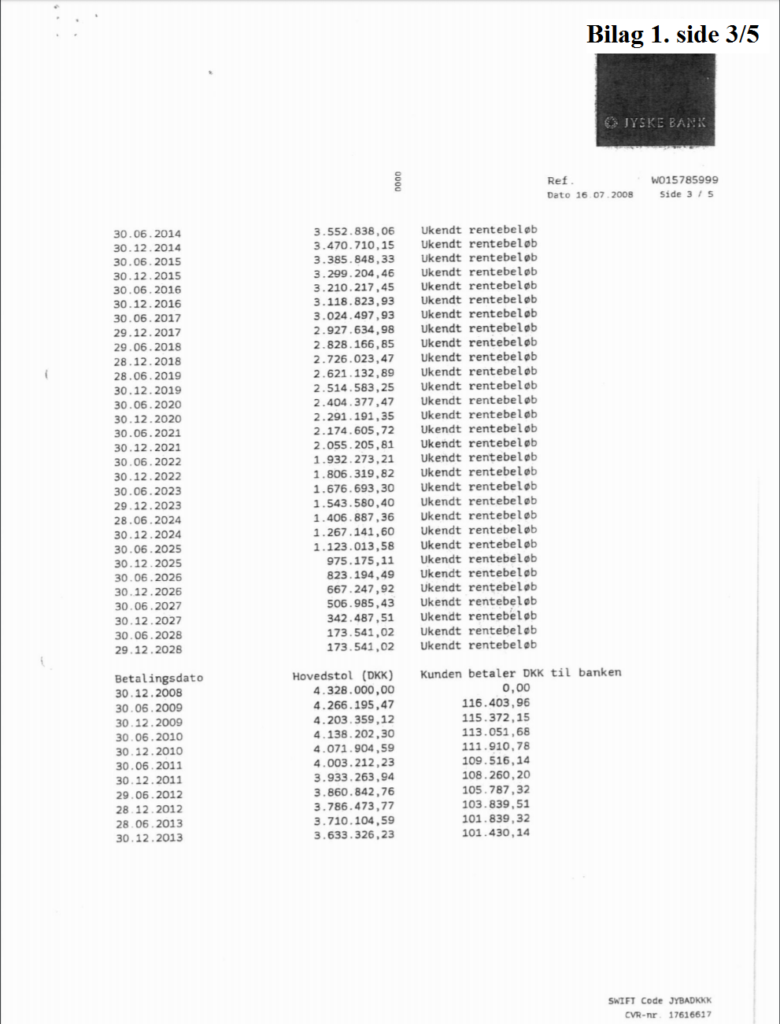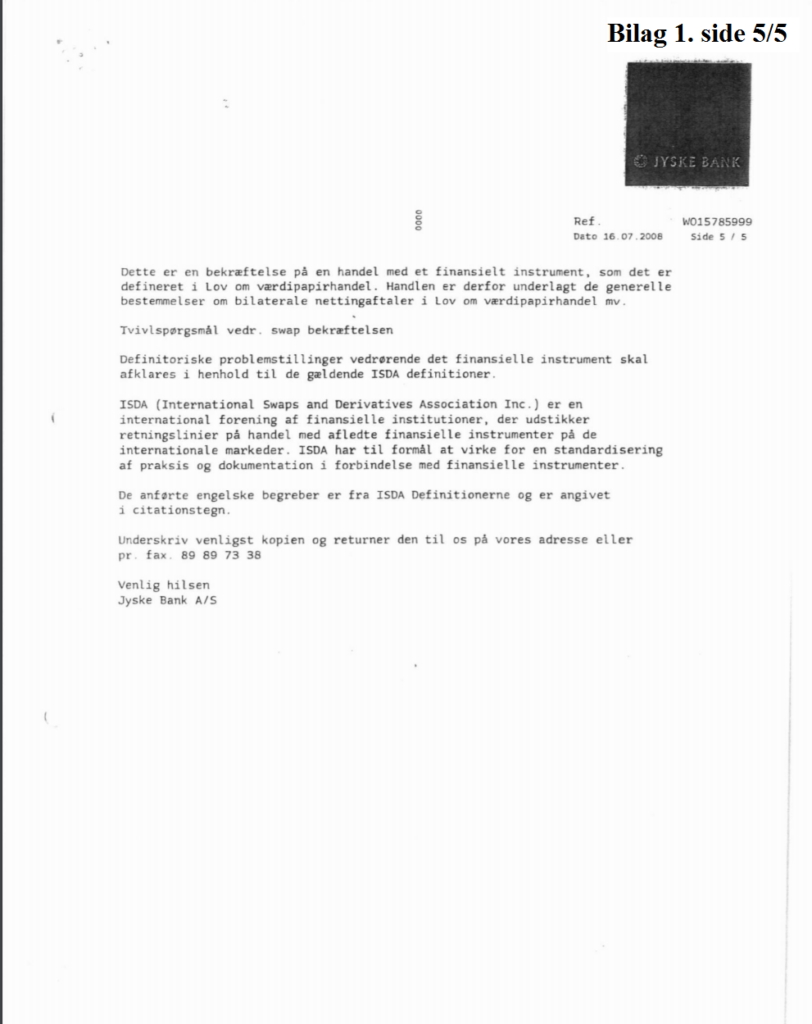 But this is SWAP Appendix E. pages 4 and 5. We have only approved, the swap if we wanted to take out the loan offered in Appendix Y. 4.328.000 DKK in advance for Jyske Bank's proposal to make a swap 4.328.000 DKK to the loan.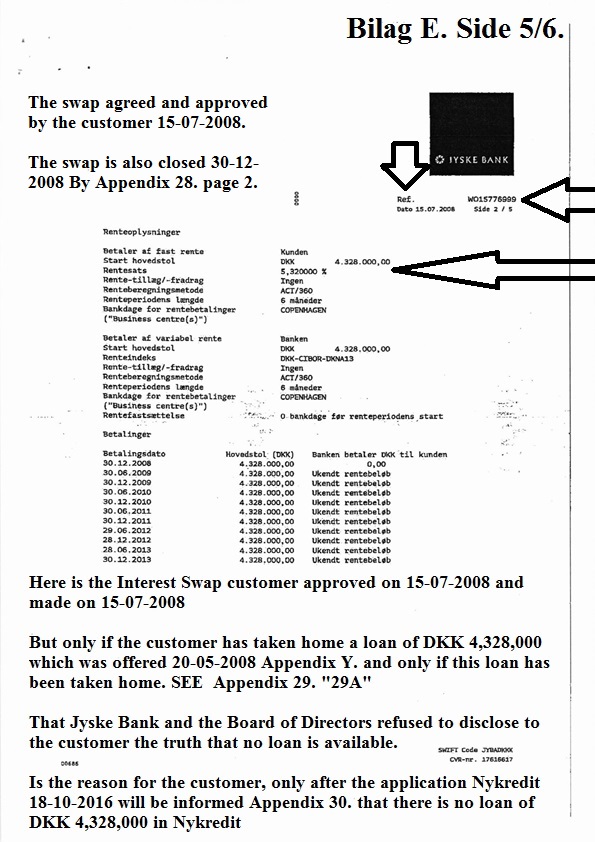 Jyske Bank, have at this time, before the financial crisis, very busy with cheating many of their customers with bad advice. And entices them to say, yes to the bank's offer of SWAP, in this way Jyske Bank and other banks helped 100 of cooperative housing associations to go bankrupt. The case in Denmark is not outstanding, and as long as the Danish state supports these banks, nobody will be able to rely on Danish banks in the future either.
But here in the case, it is the Jyske bank group management that requires their employee to lie to their customers in order for the Bank to generate more money. It's about harnessing the trust each customer has with their banker In our case, everyone from 2008 and 2009 is still employed, some have been promoted, for example Anette Kirkeby has become Head of Department in Helsingør. So there are not some in Jyske bank who have not done what the management has wanted, And the management has not corrected anything, although they have been able since May 2016. We have no doubt that this is a deliberate act, and the overall group management is responsible for the Jyske Bank group doing a million scams. We have done what we could to get in dialogue and get Jyske Bank to admit fraud, but now Jyske Bank has paid our former lawyer Lundgrens to counteract us Do we actually get angry, for bribery, concurrent with fraud against the bank's customers, it is very ridiculous that the police and the state do not care, is probably because Jyske bank is supported by the state
Den swap W015776 vi har aftalt og godkendt 15-07-2008 er i øvrigt lukket 30-12-2008 Annex Appendix 28. page 2.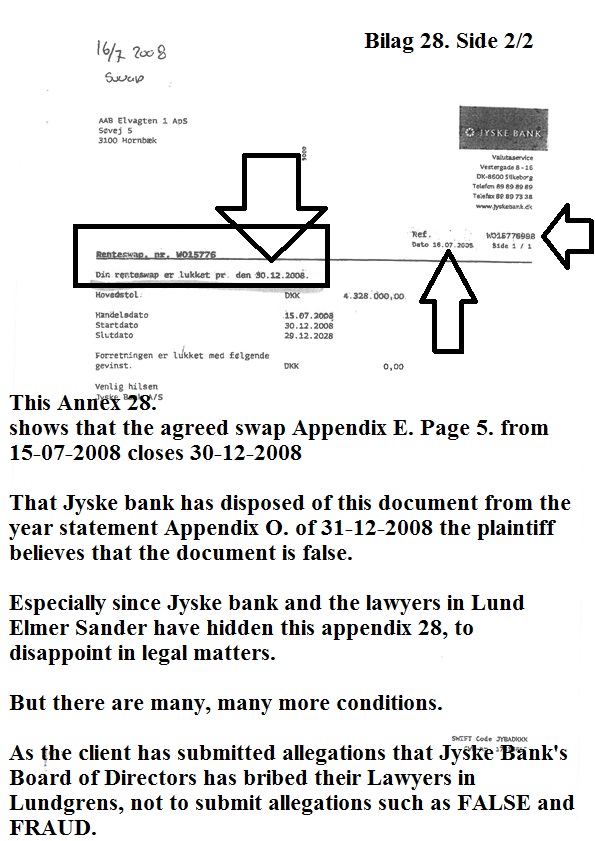 But this agreement Appendix E Page 4. and Appendix 28. Page 2. Has Jyske bank tried to remove, even for the annual report 2008 Appendix O.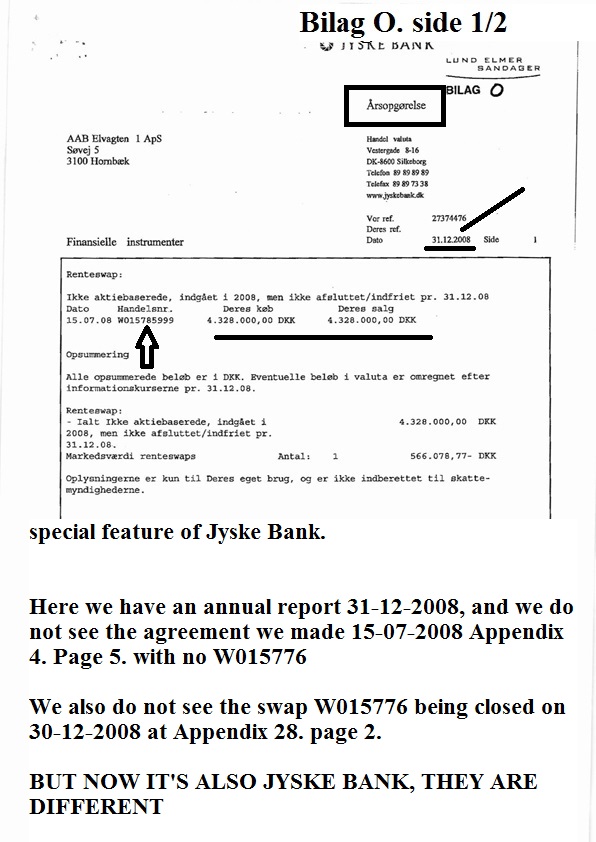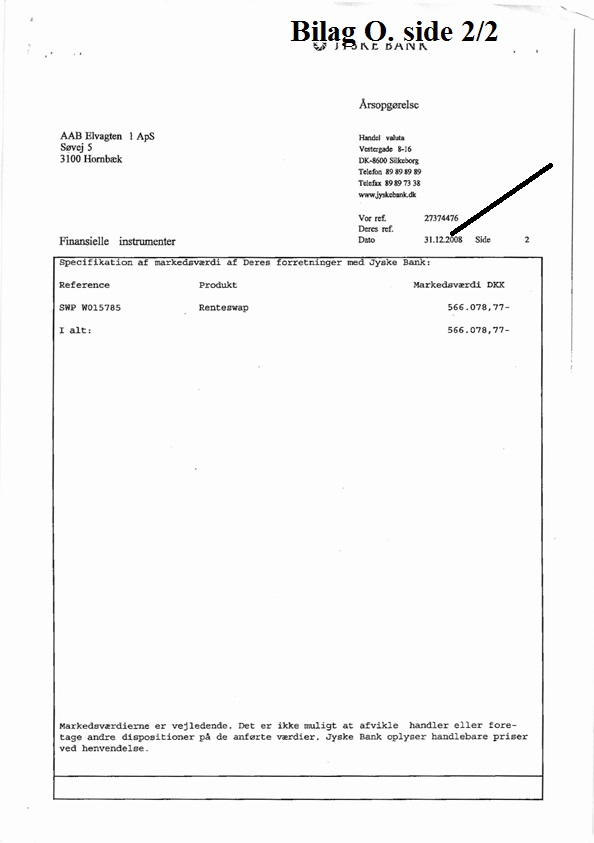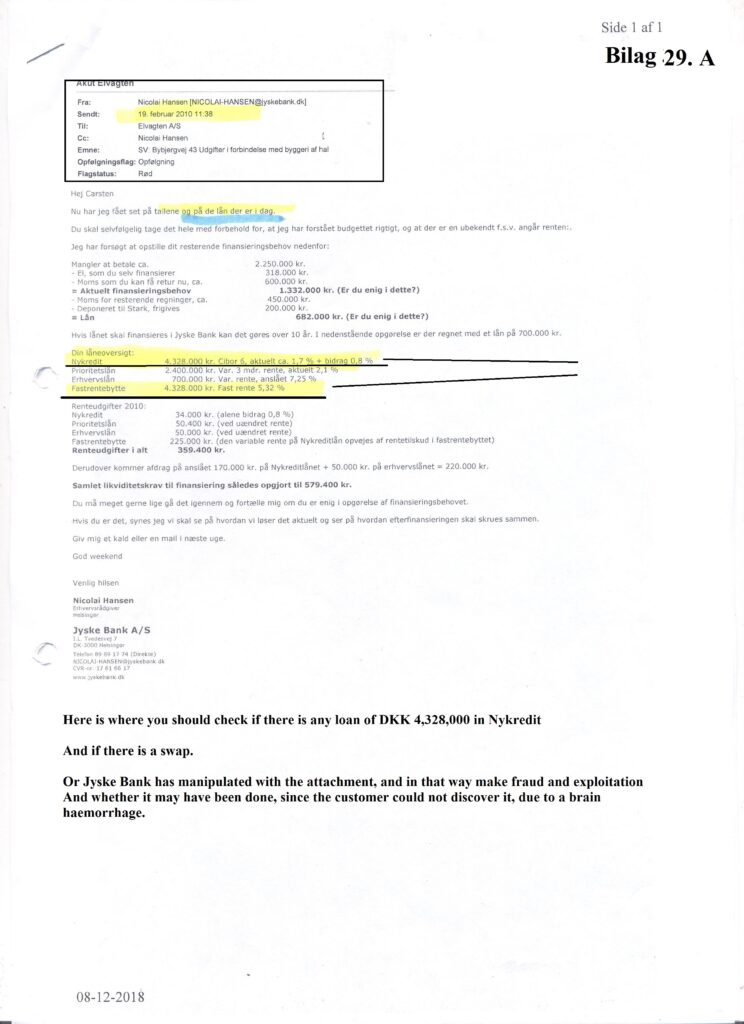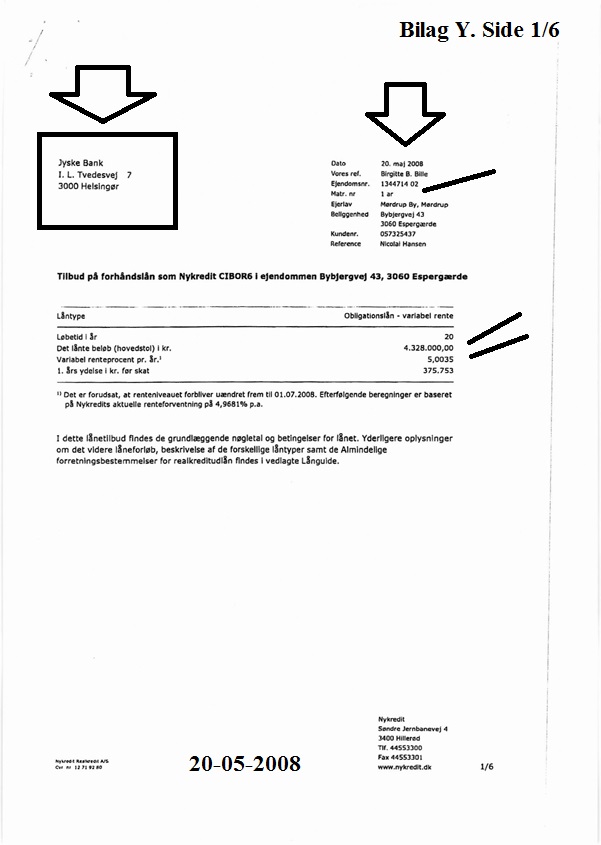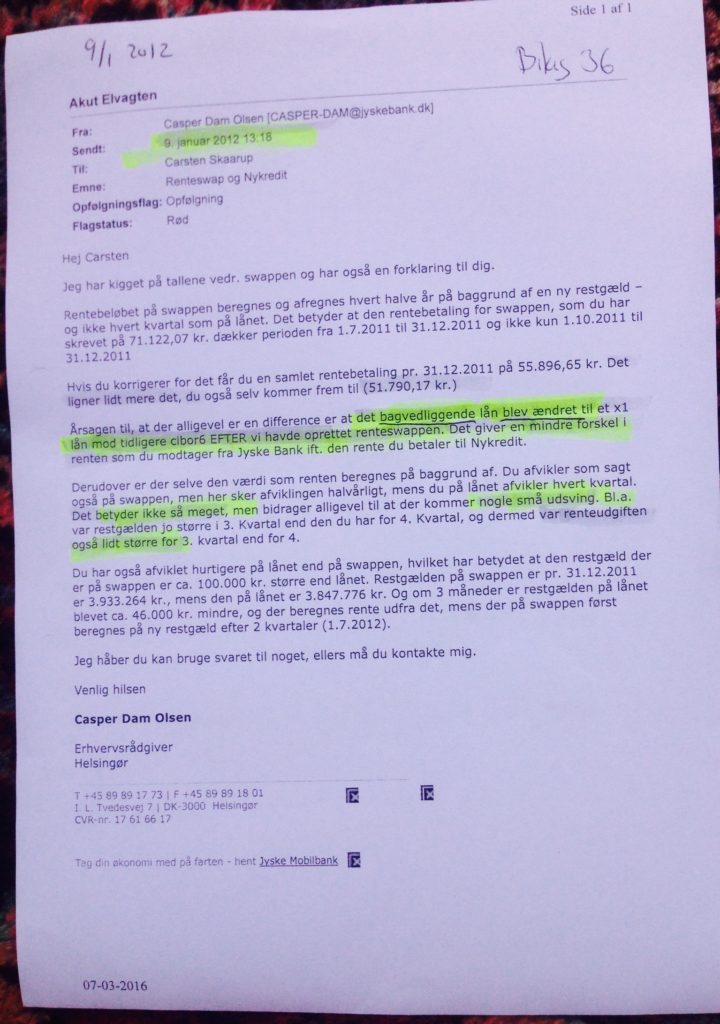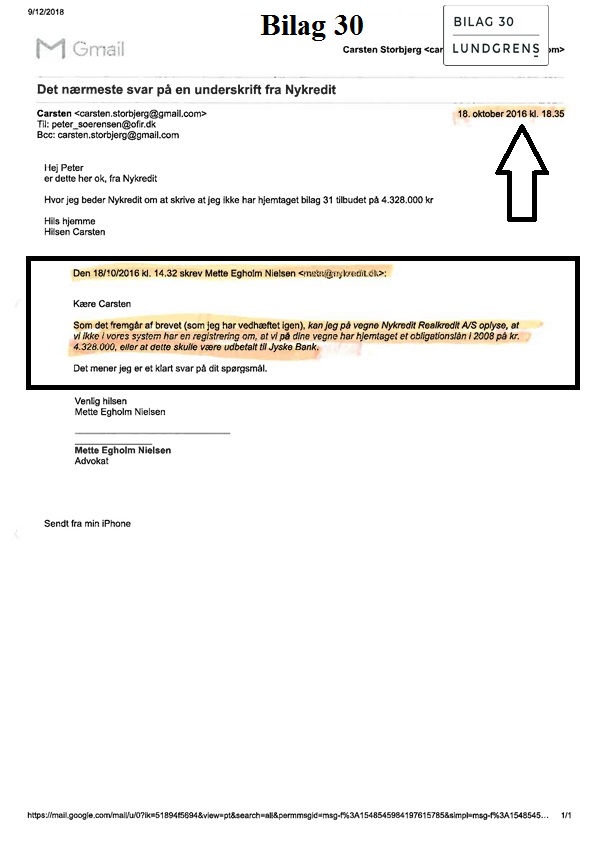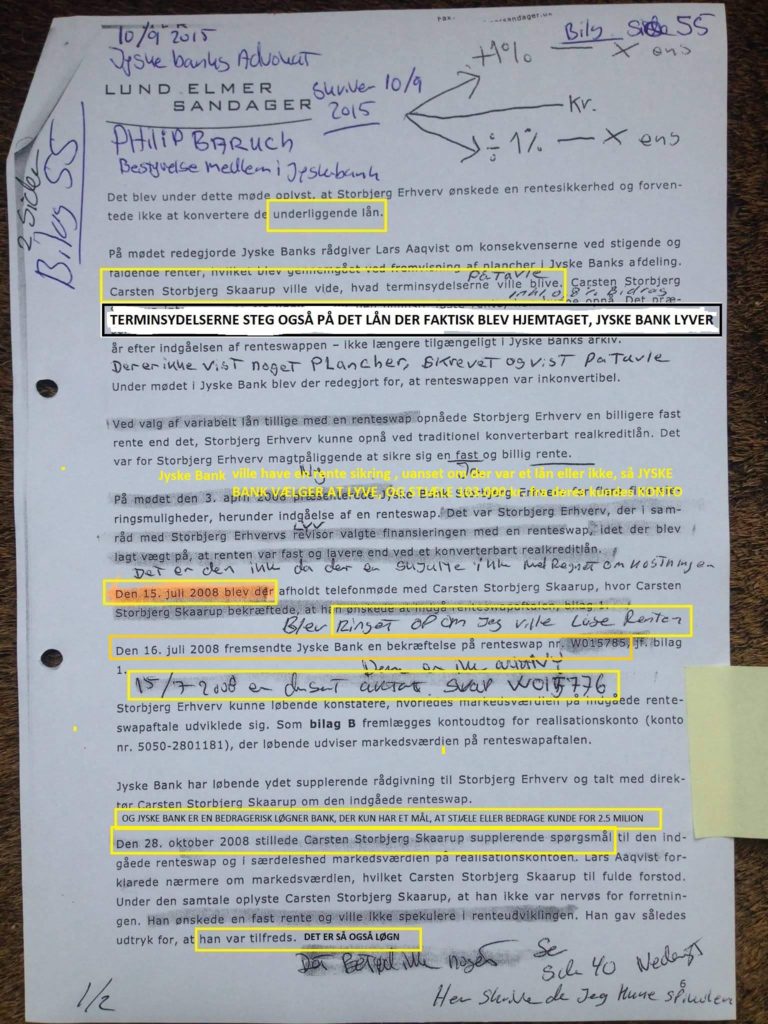 In the case Appendix 2.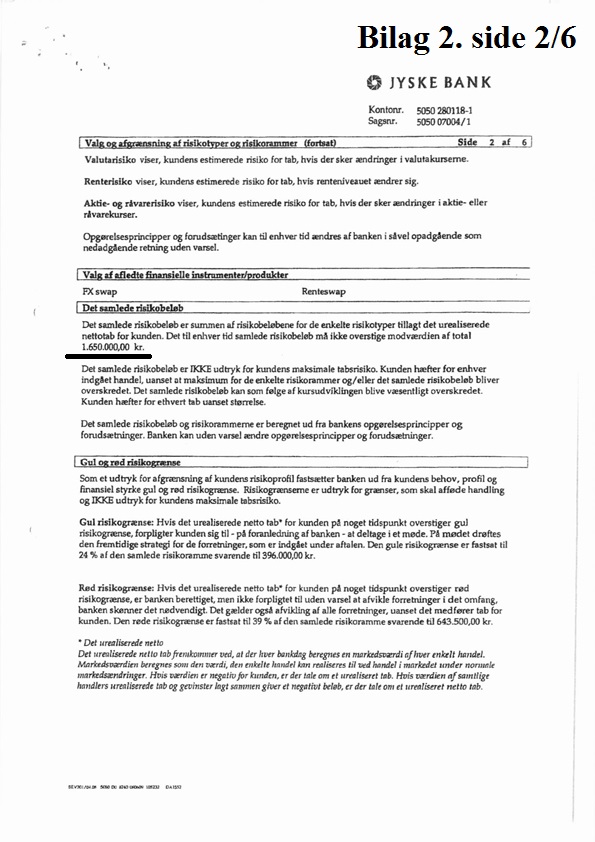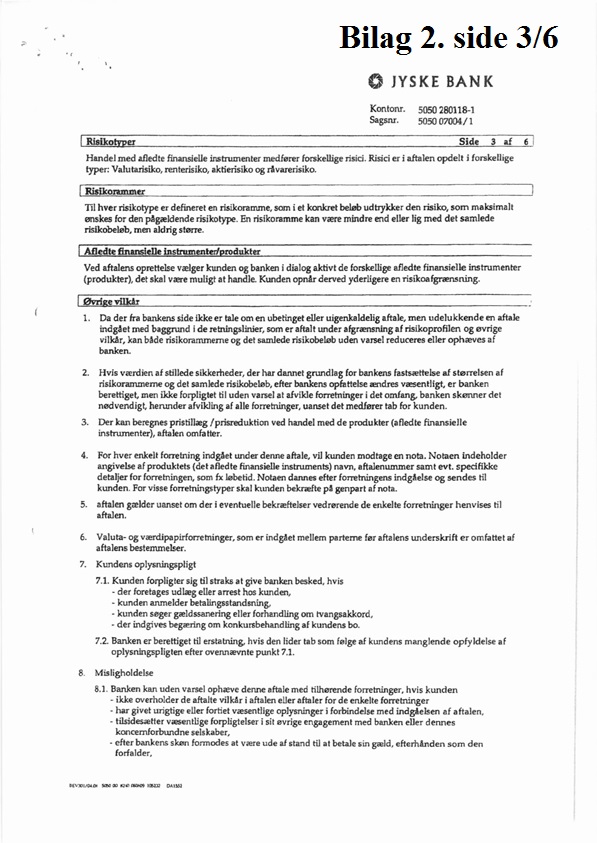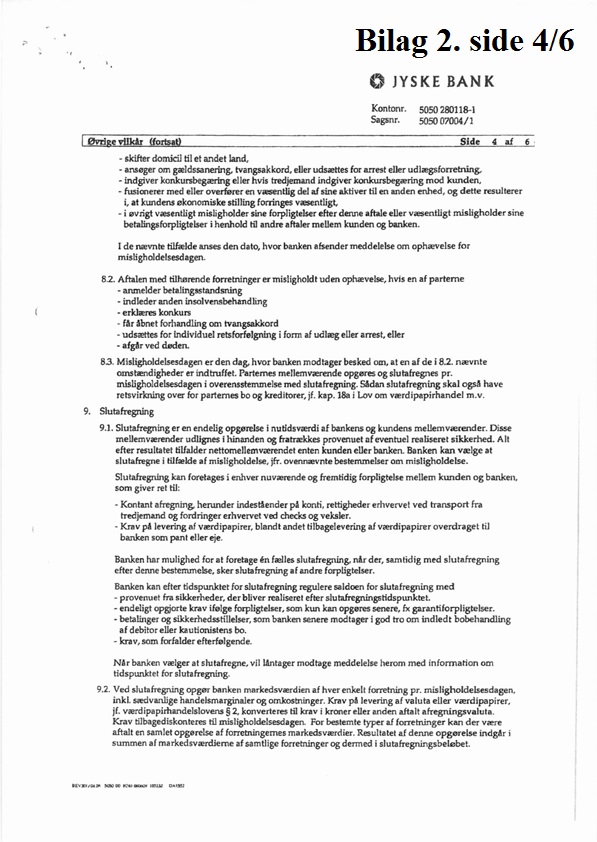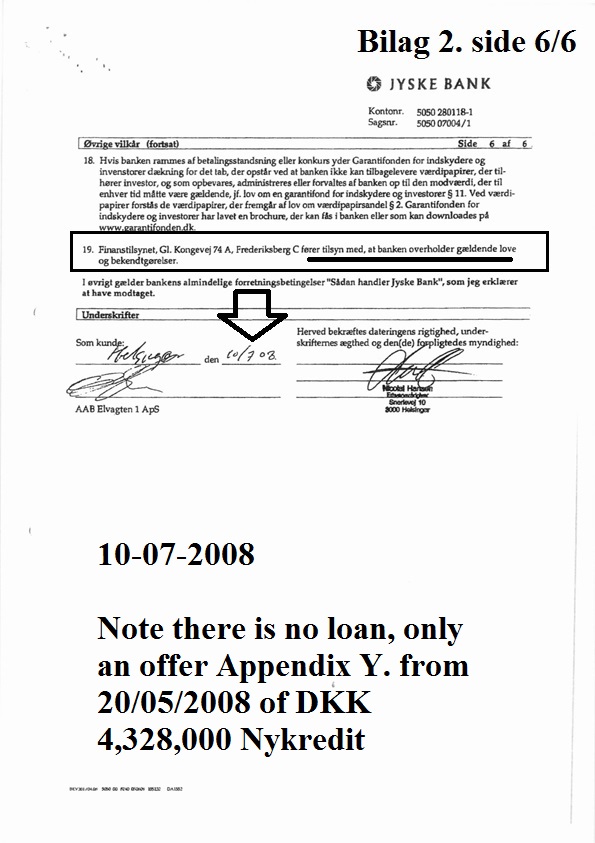 Appendix 3.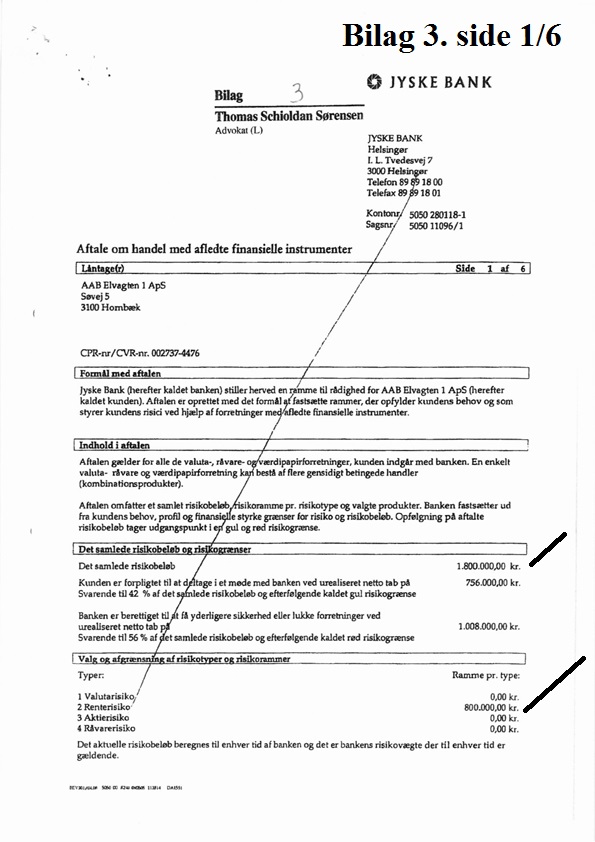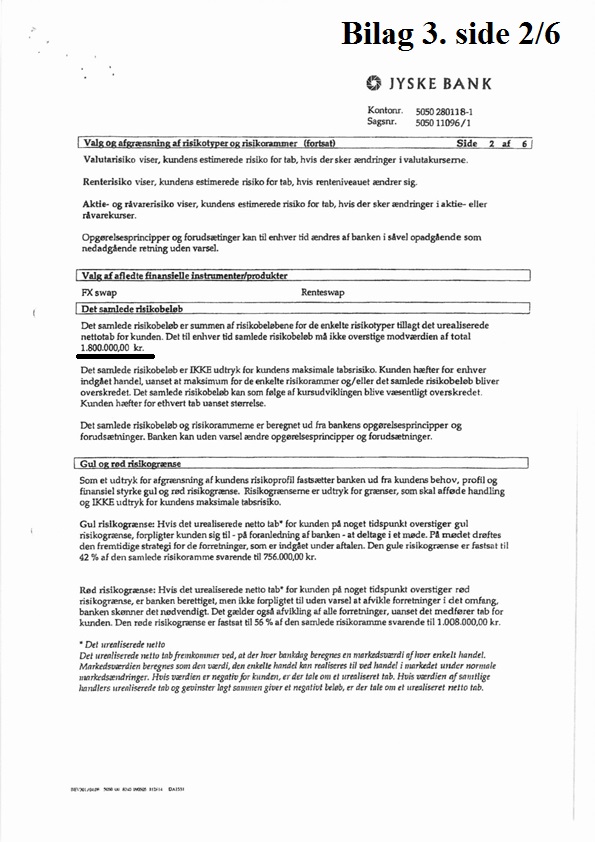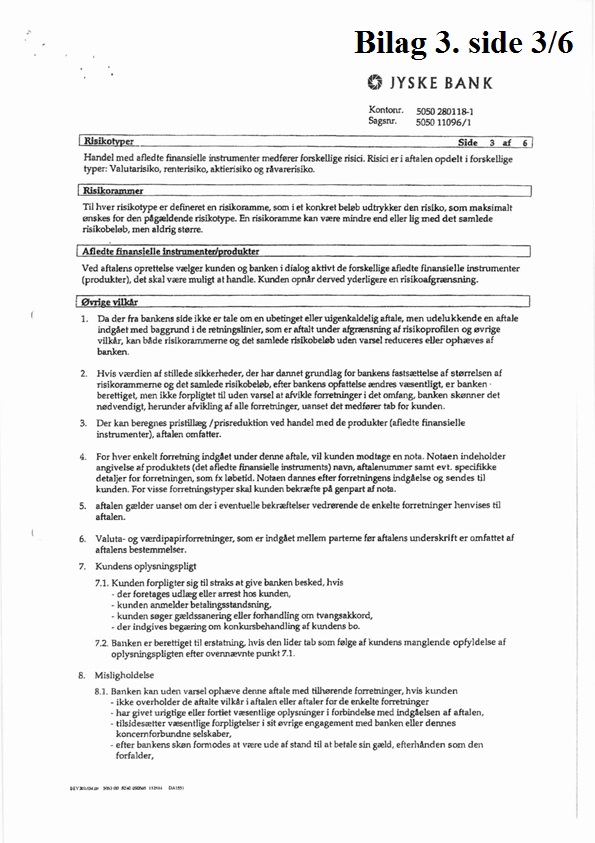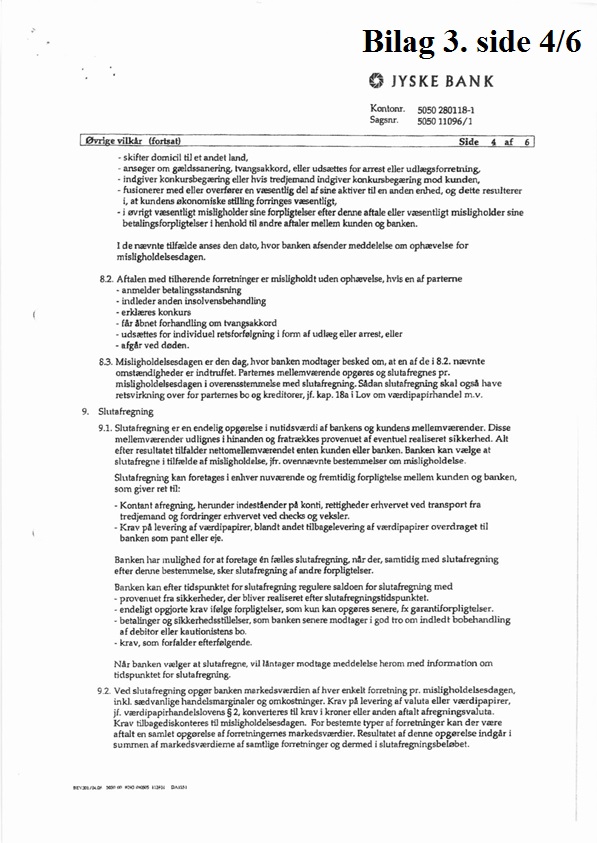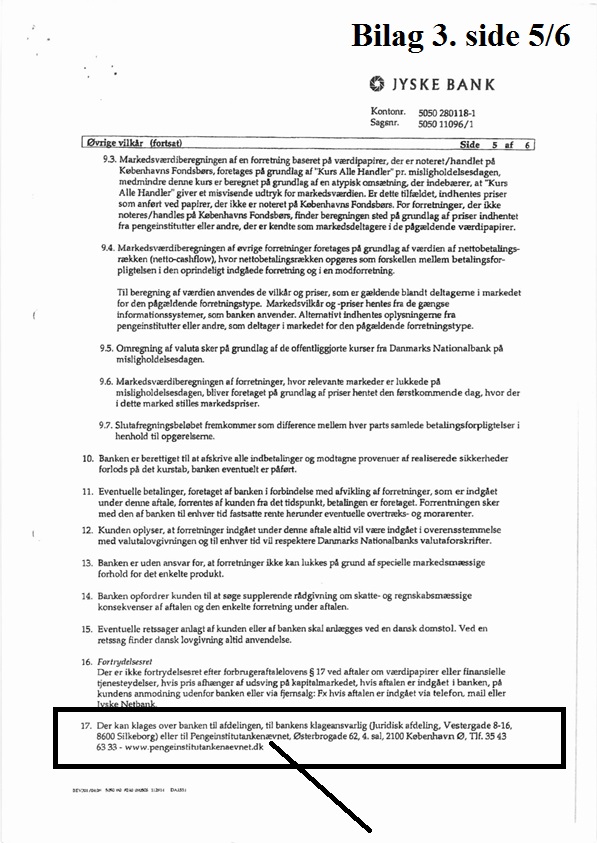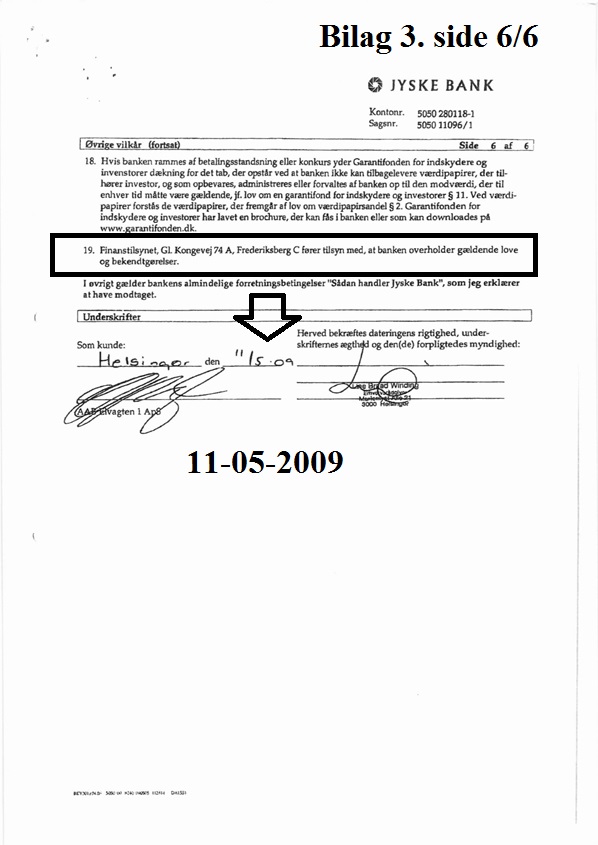 Appendix 4.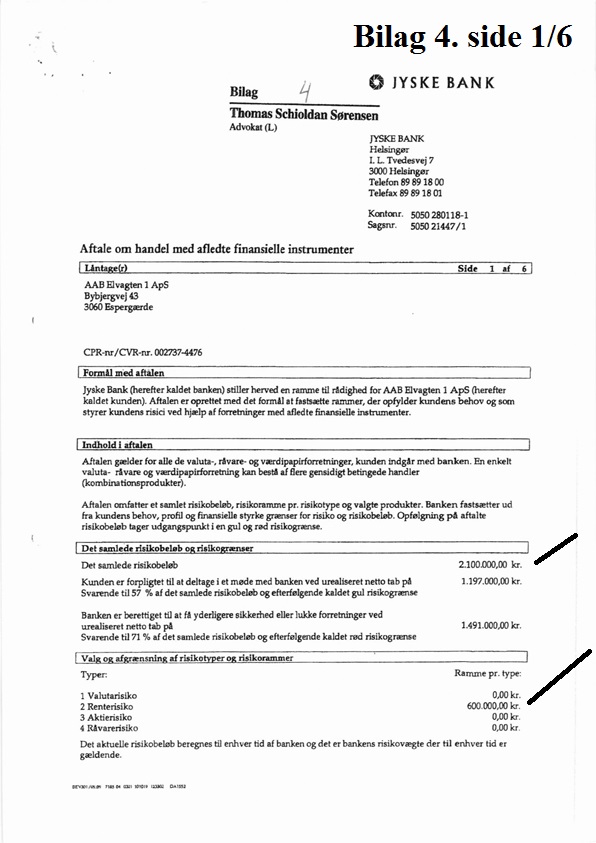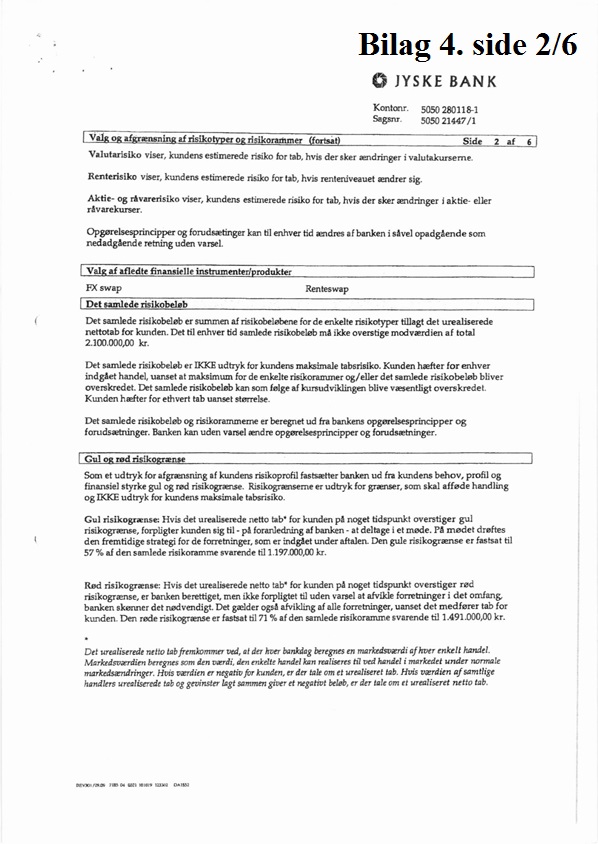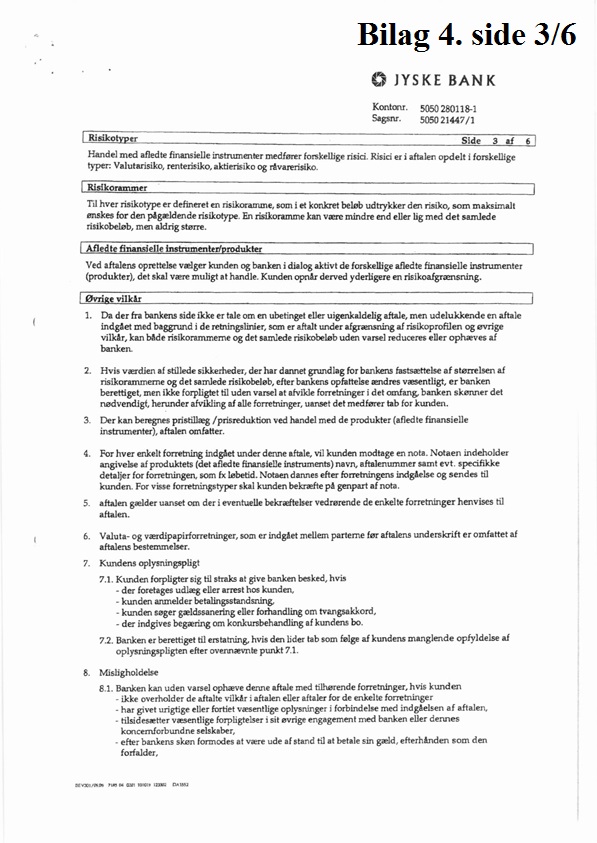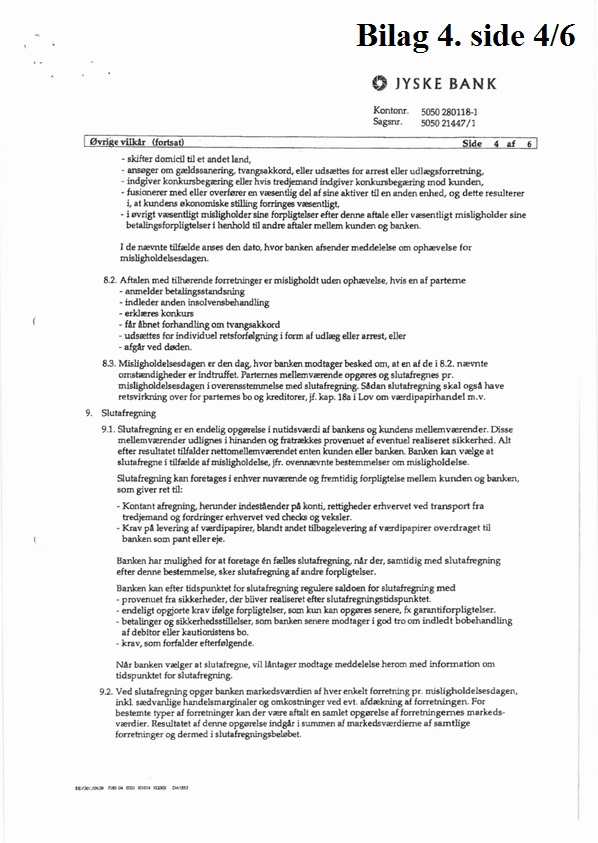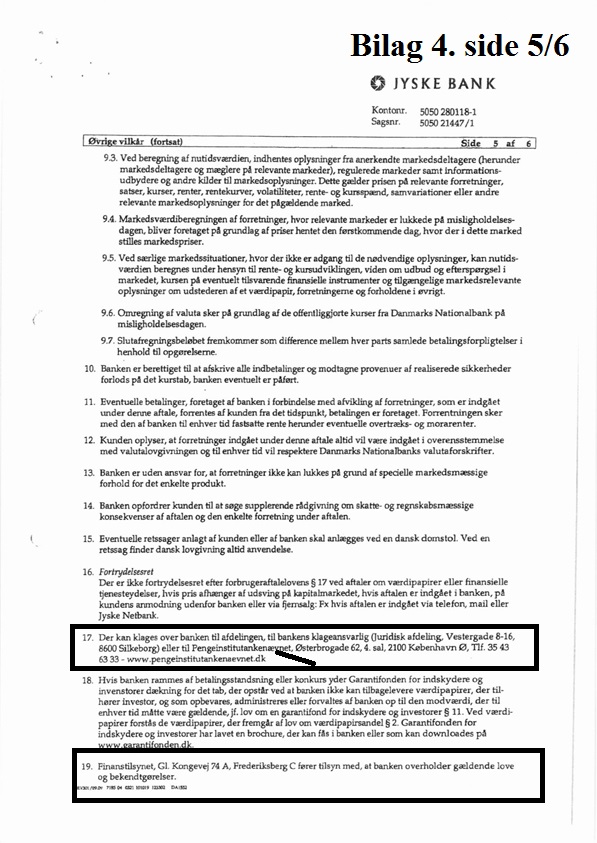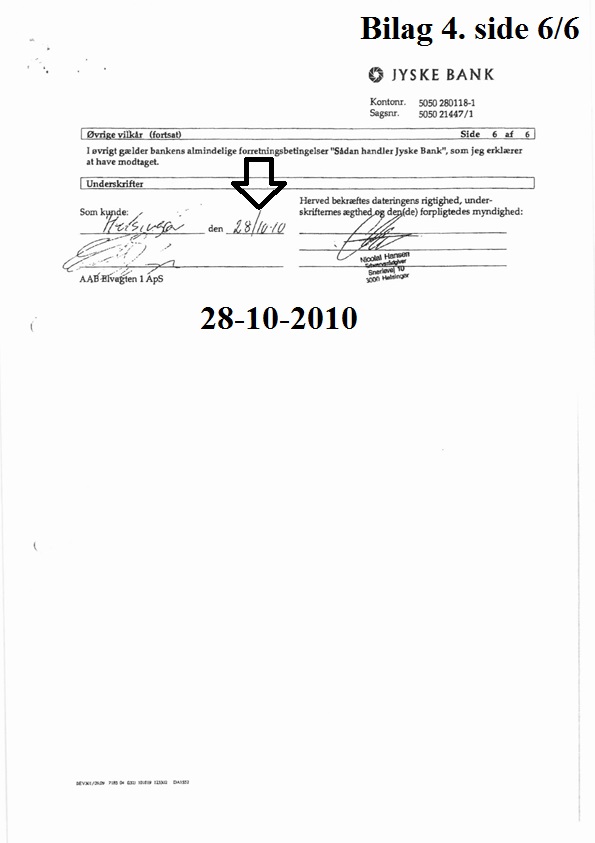 Appendix 5.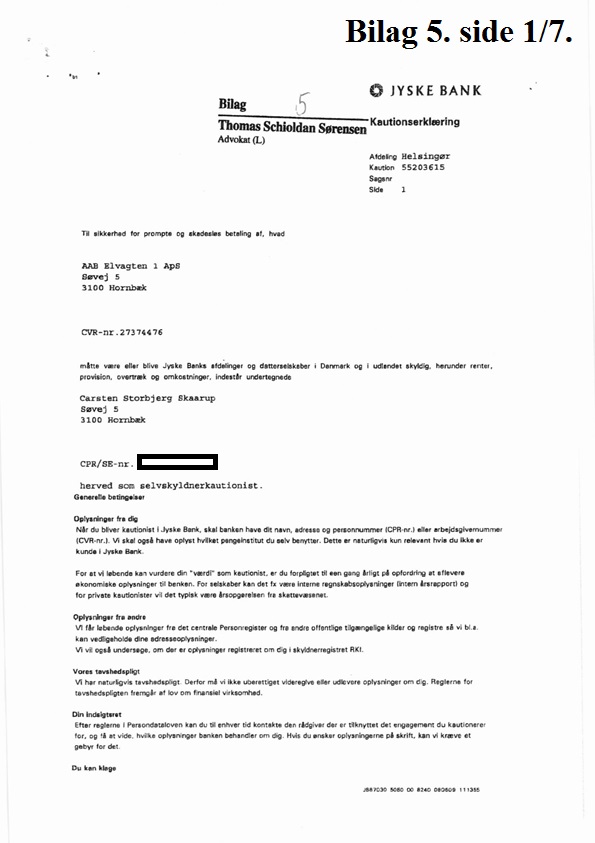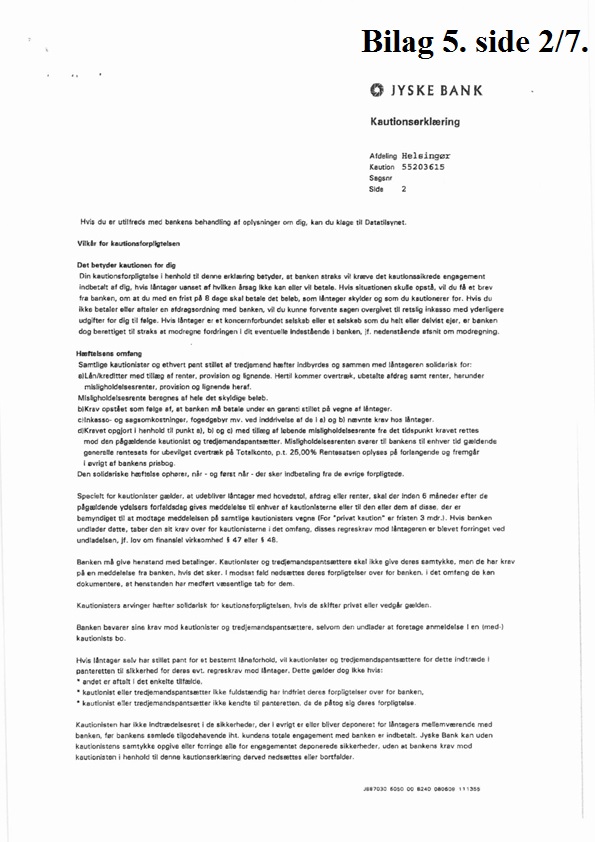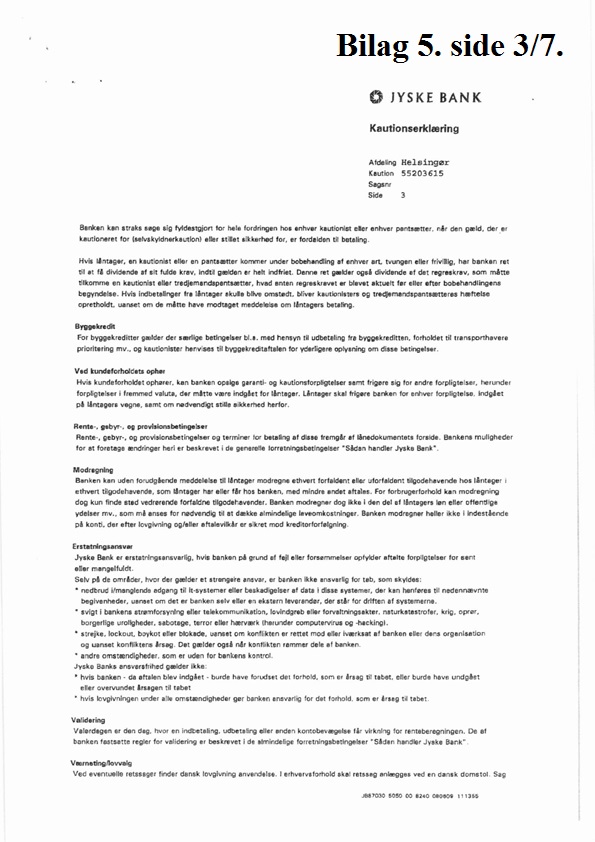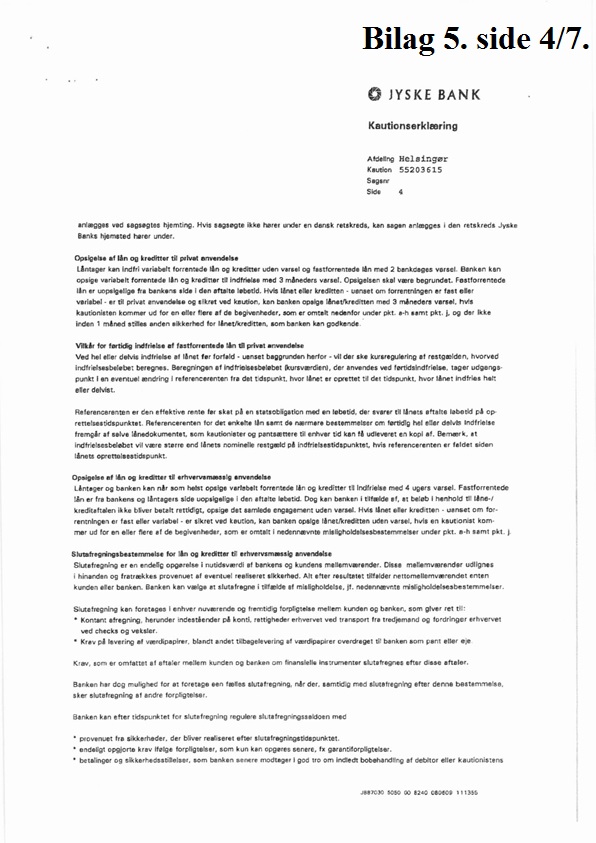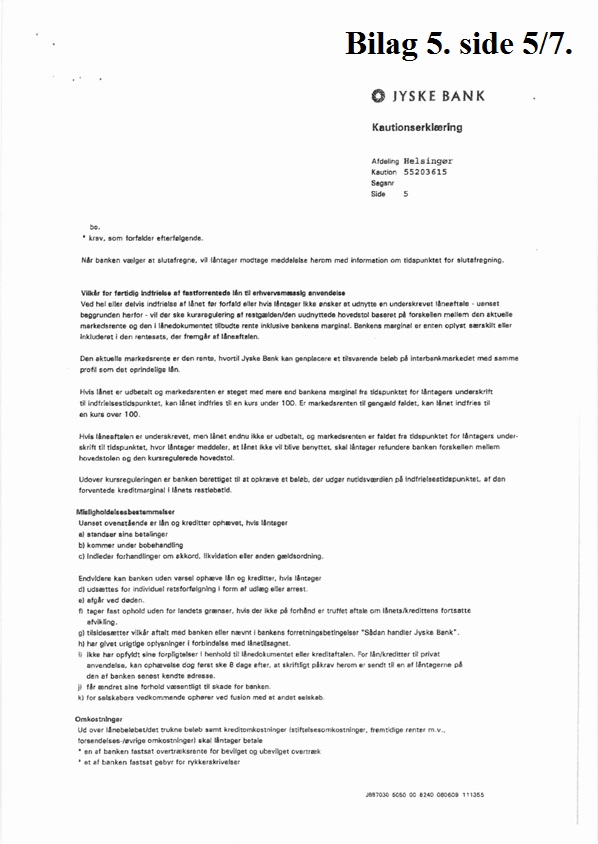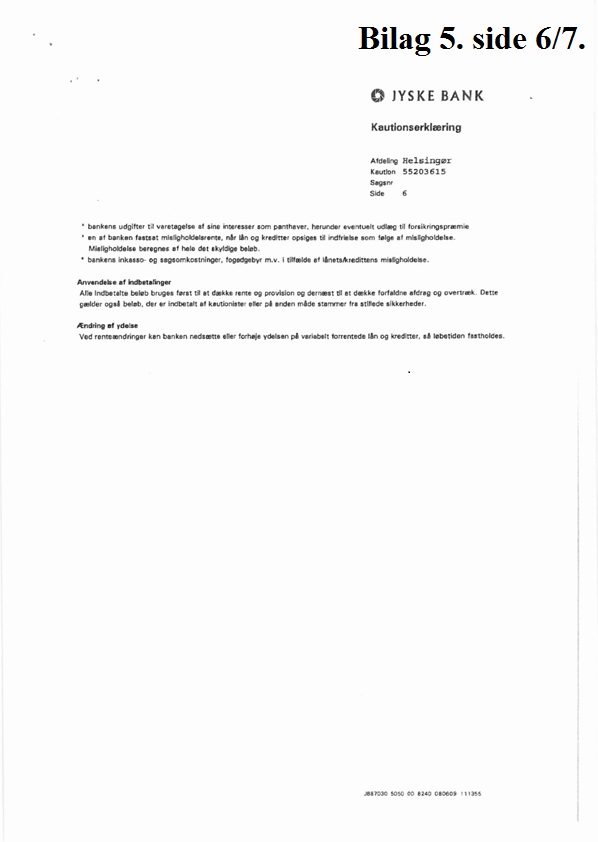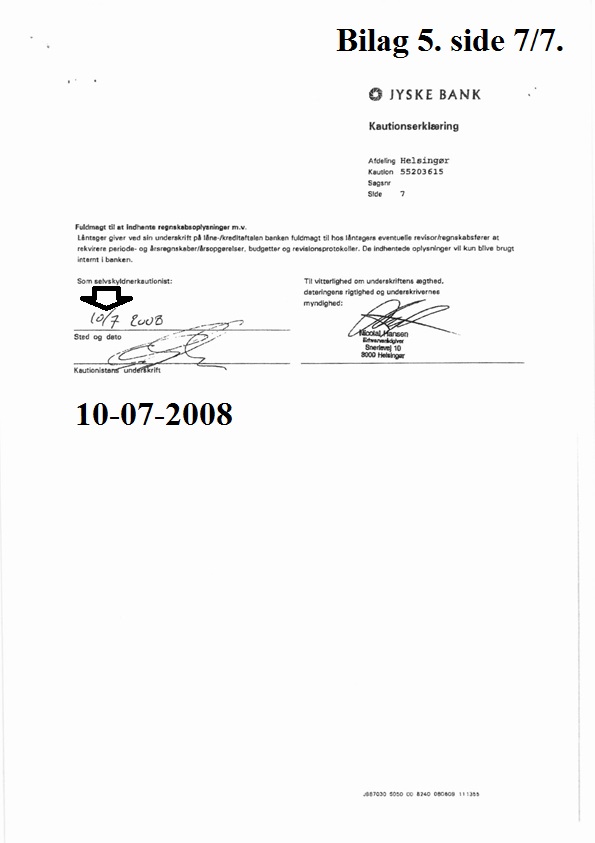 Appendix 6.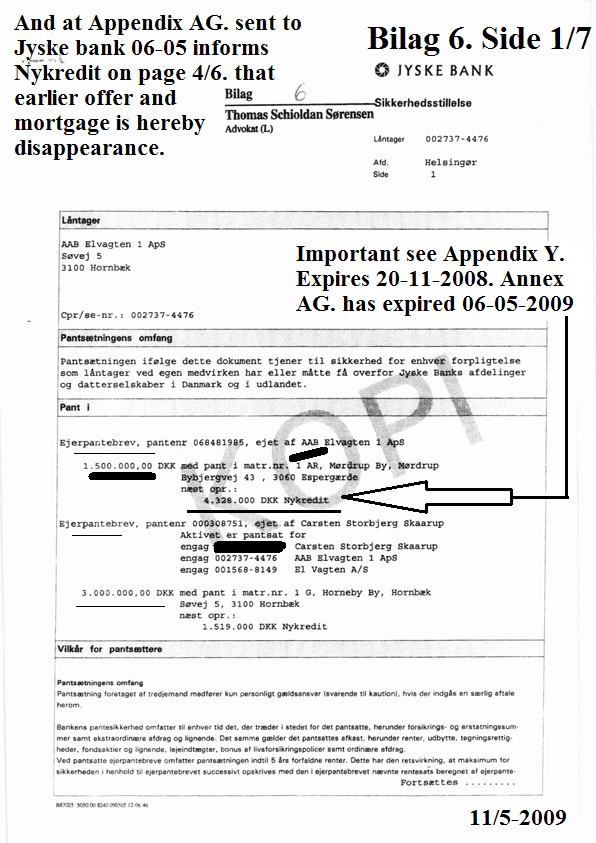 IT'S ABOUT EVIL FAITH IN JYSKE BANK. It is only about what can be proved, and if Jyske bank did not pay our lawyer bribe, just to remove our evidence and allegations against Jyske bank. Then the case, would have come to court years ago.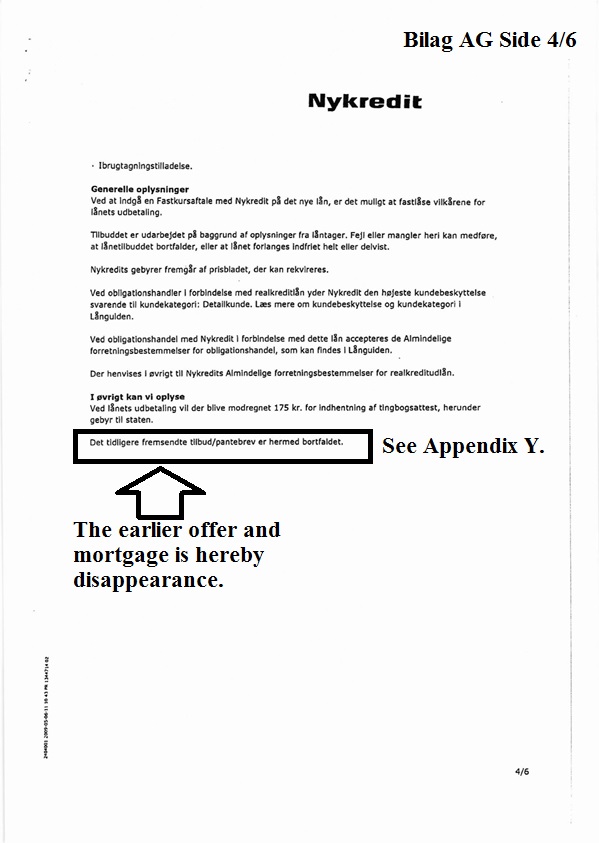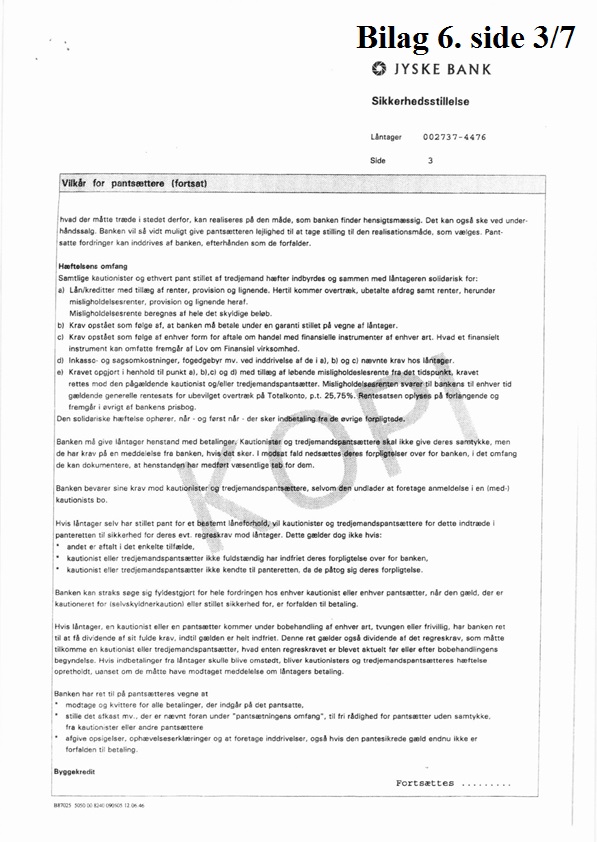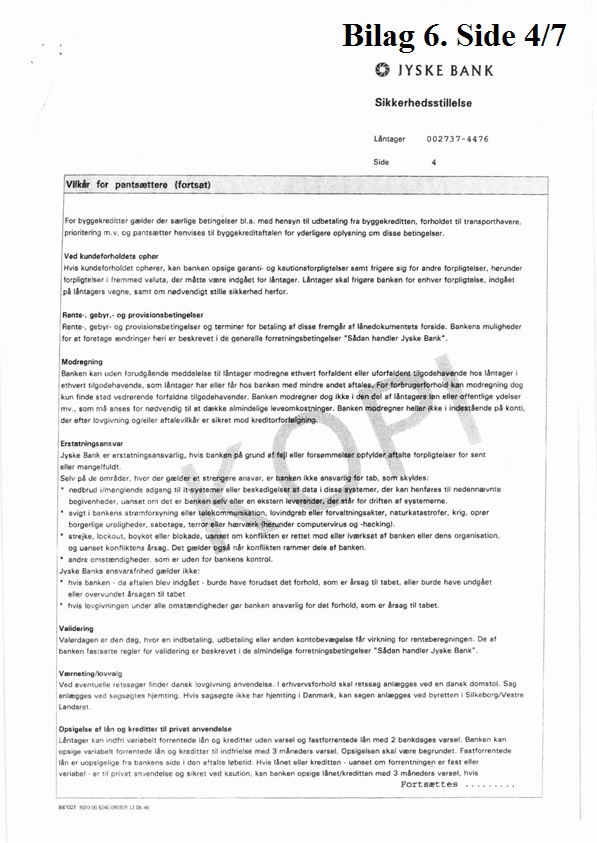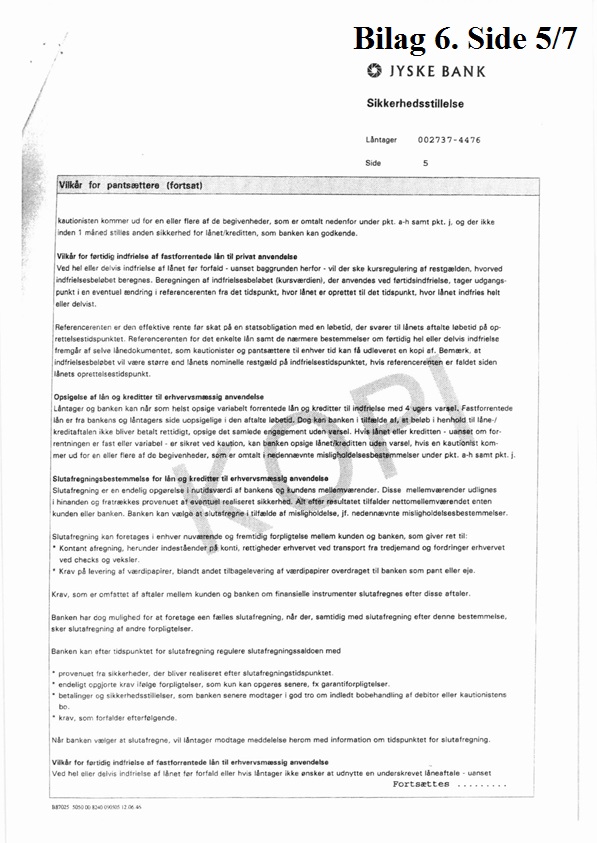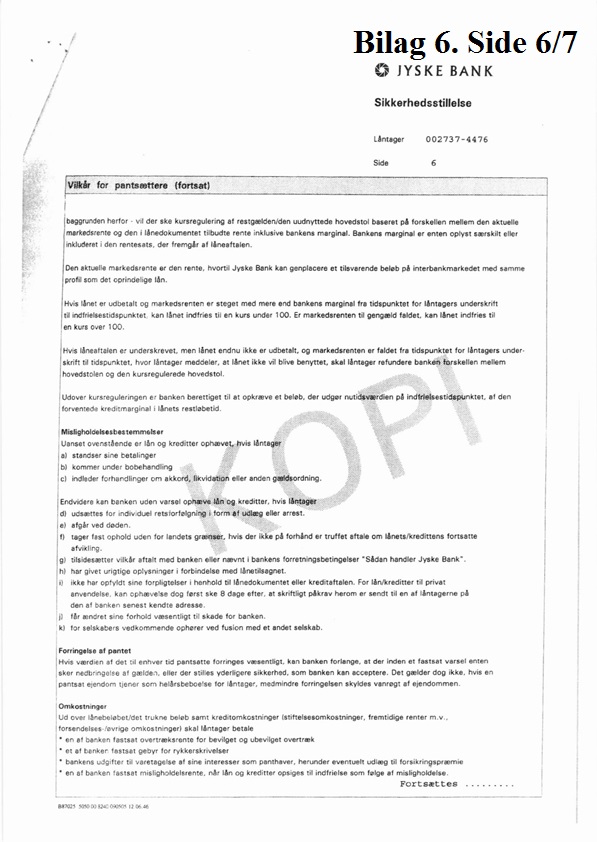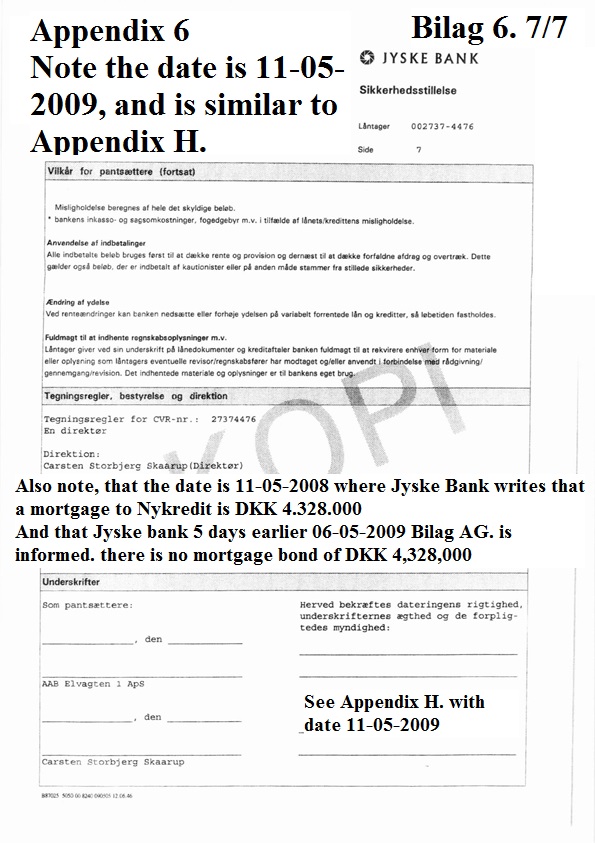 Appendix Y. side 3. "3/6"
Appendix AG. side 3. "4/6"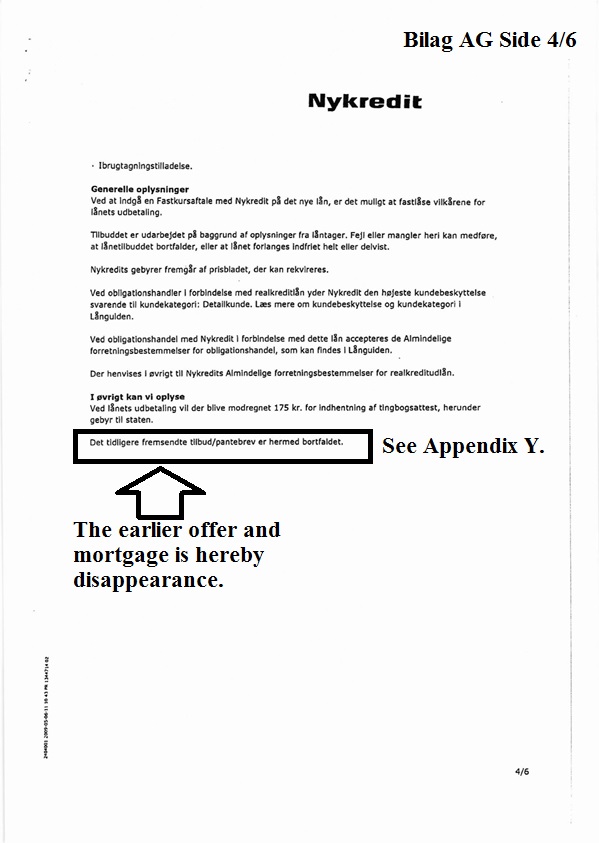 Appendix 6A. 6.A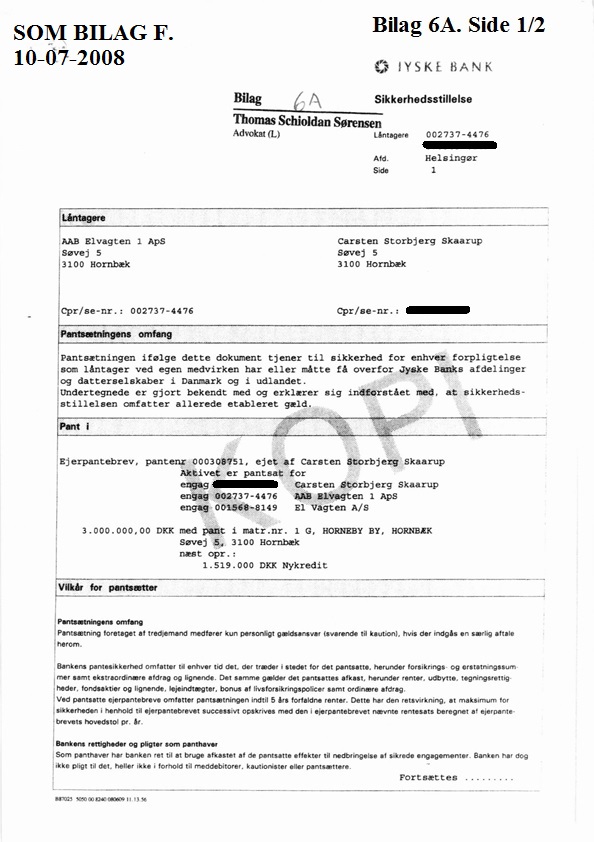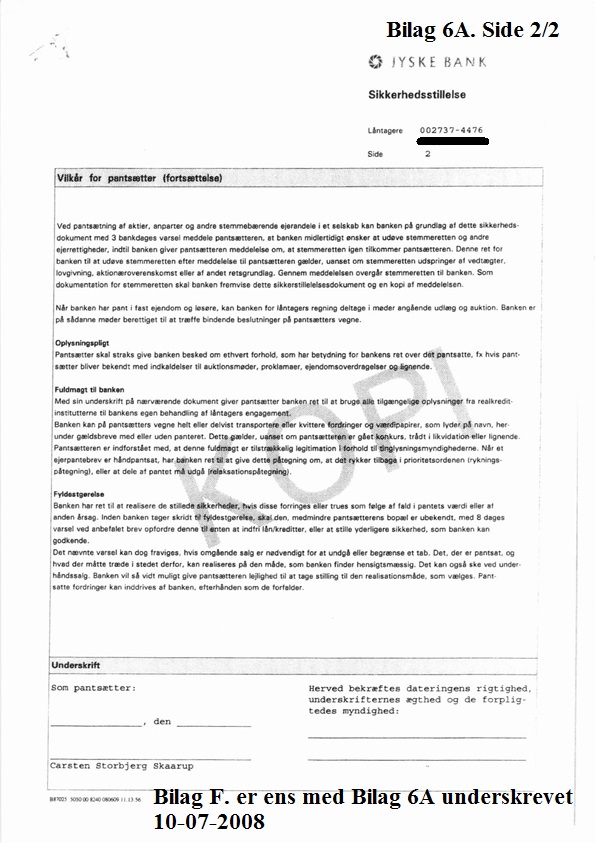 Appendix 7.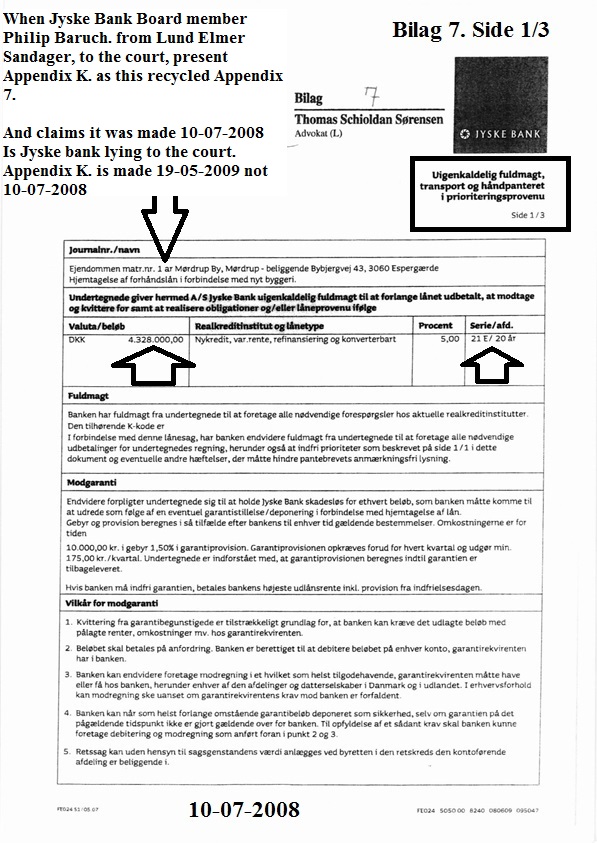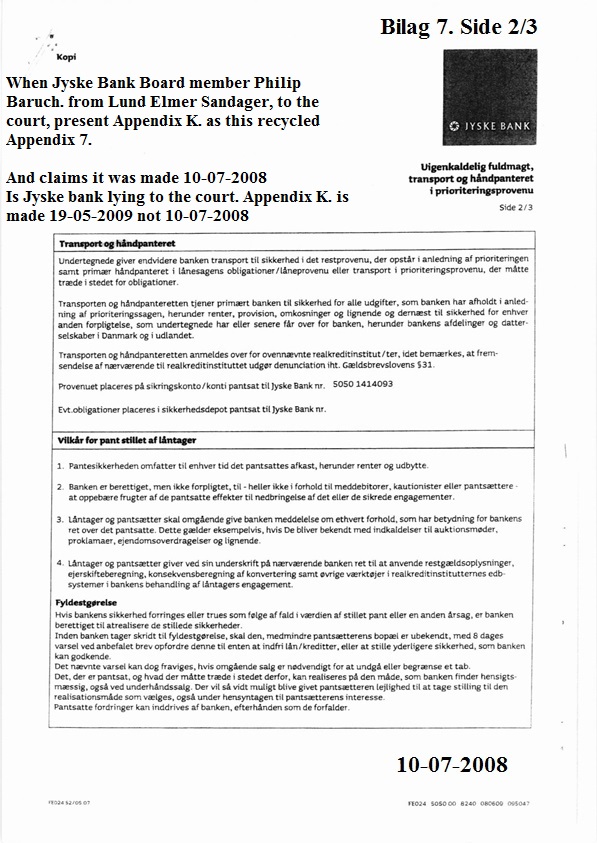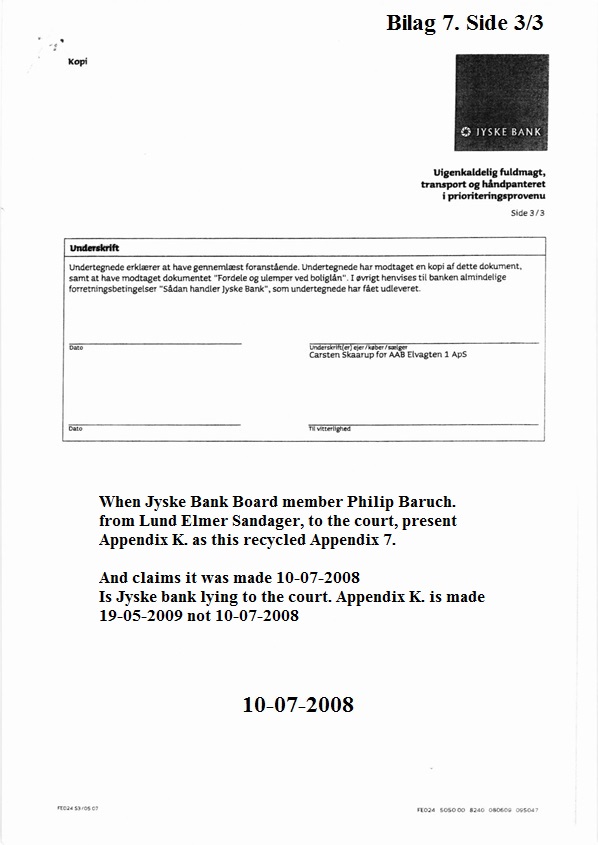 Appendix 28. Page 2.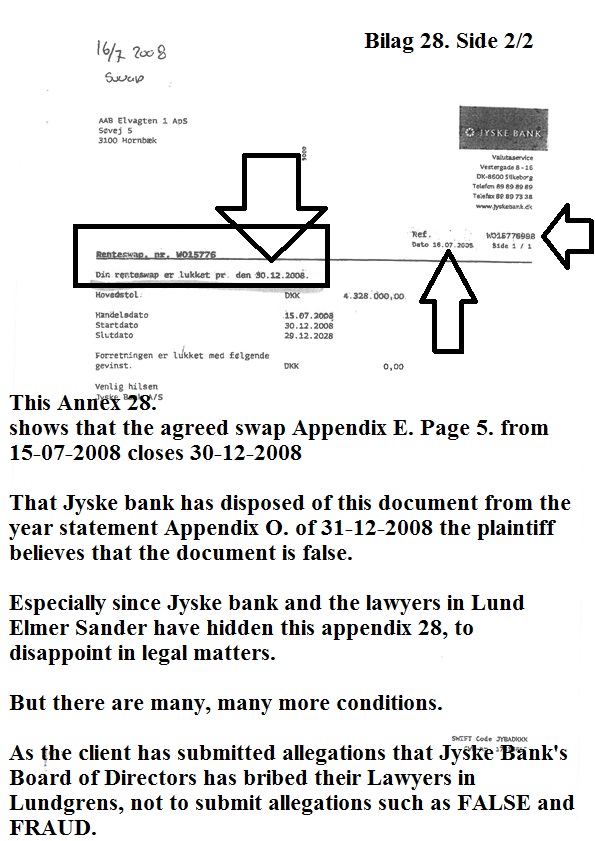 Appendix 29.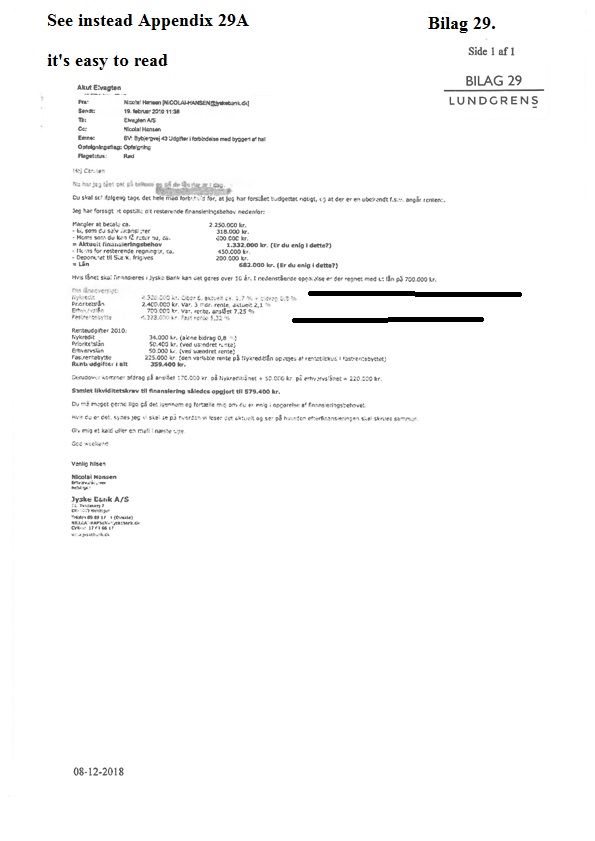 Appendix 30.