Opdateret senest 1. April
Du finder mere på dansk nederst
TEKST I BUNDEN. UNDER SMS
If Lundgrens believes that they havoe answered some of the SMS here.
SO JUST PROVE IT.
WE MUST REQUEST
Lundgren's lawyers partner company that their board of directors investigate whether Dan Terkildsen works alone or together with the lawyer's stand in Lundgrens to damage our

 case.
The Board is requested to prove that Dan Terkildsen does not lie when he writes in Mail 27-09-2019.
To present documentation on the repeated occasions of your partner Dan Terkildsen.
Having said that we can not find just a little habitable lawyer's office that has no relationship with such a large bank, such as Jyske Bank. ?
And we ask your partner what letters and emails Dan Terkildsen refers to, when he refers to the repetitive times when Dan has said we cannot find a lawyer is nothing to do with Jyske bank. ?
We must also ask Lundgren's Board of Directors to explain to us a little about the lawyer's ethical rules.
Thus, where it is prohibited to submit fraud allegations as this is of significance to the case and has an effect on the limitation period of the third year. by bad advice like Jyske Bank as always claims in court.
When Jyske Bank makes fraud, the deadline is increased to 10 years.
Will Lundgrens explain how, it can hurt the client to provide proof of a bank's fraudulent conduct.
Remember Lundgren's lawyers are not a judge here in the case, although Mette Marie next appeared like that on 18-12-2018 when she called at approx. 17. and explained that we could not drop the case and we did not have to present our claims.
We should like to share some of the footage, if in doubt. Lundgrens got the case brought on February 5, 2018, so when to answer and write Lundgren's attorneys, the first time that allegations of fraud are not allowed.
Your pupil Emil Hald Winstrøm has confirmed by telephone that he was aware that the case was a fraud case, Emil has telephone reviewed allegations and witnesses, March 2019, but in September he has forgotten everything.
Lundgrens thought it was a good lawyer.
Lundgrens thought it was good lawyer practice that money from the client account has disappeared Did Lundgren think it is good practice not to answer their client?
Lundgren seemed to be a good lawyer to change the client's claims.
Did Lundgren think there is a good lawyer to withhold court documents against the client.
What the hell is going on for you.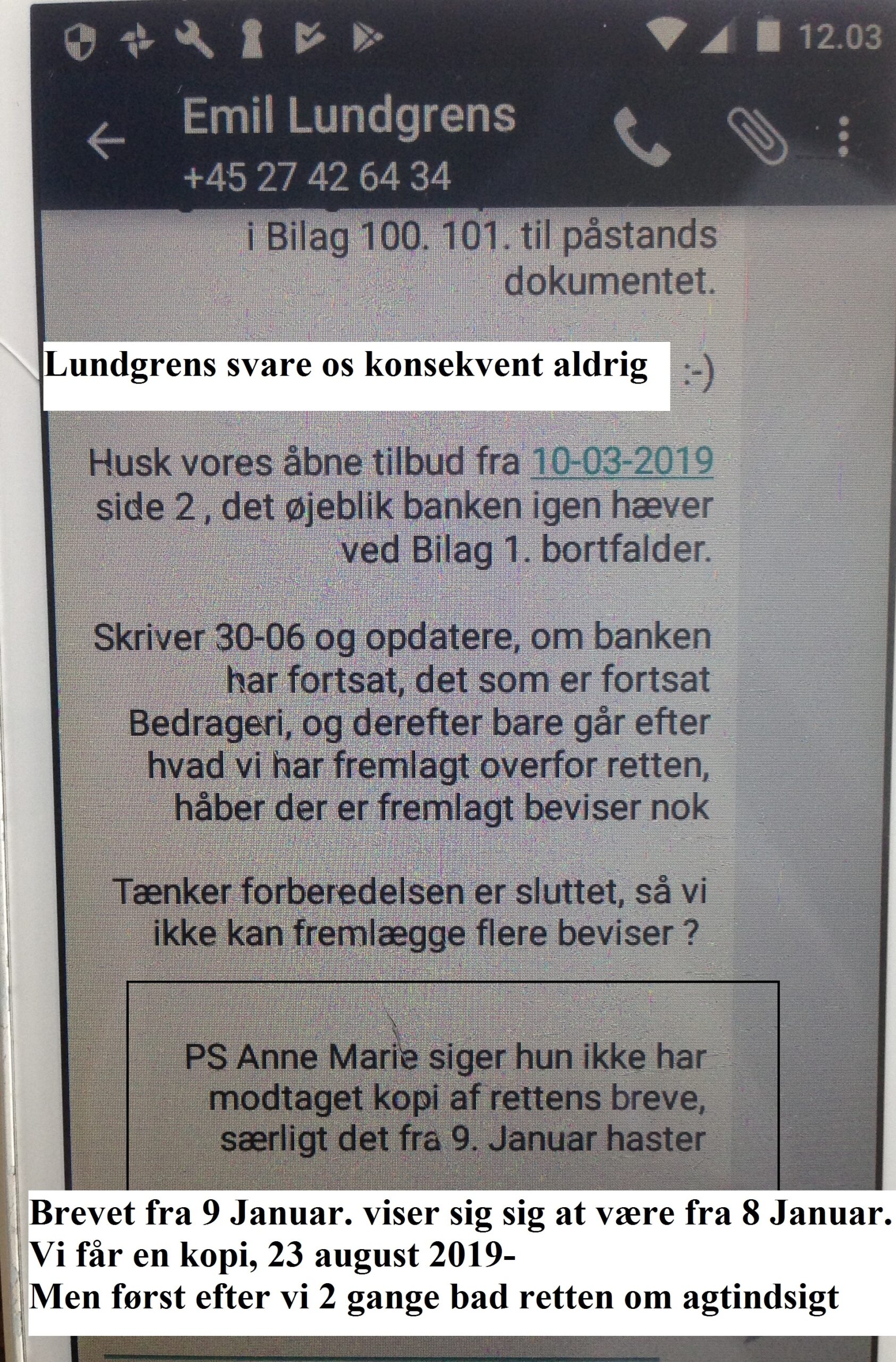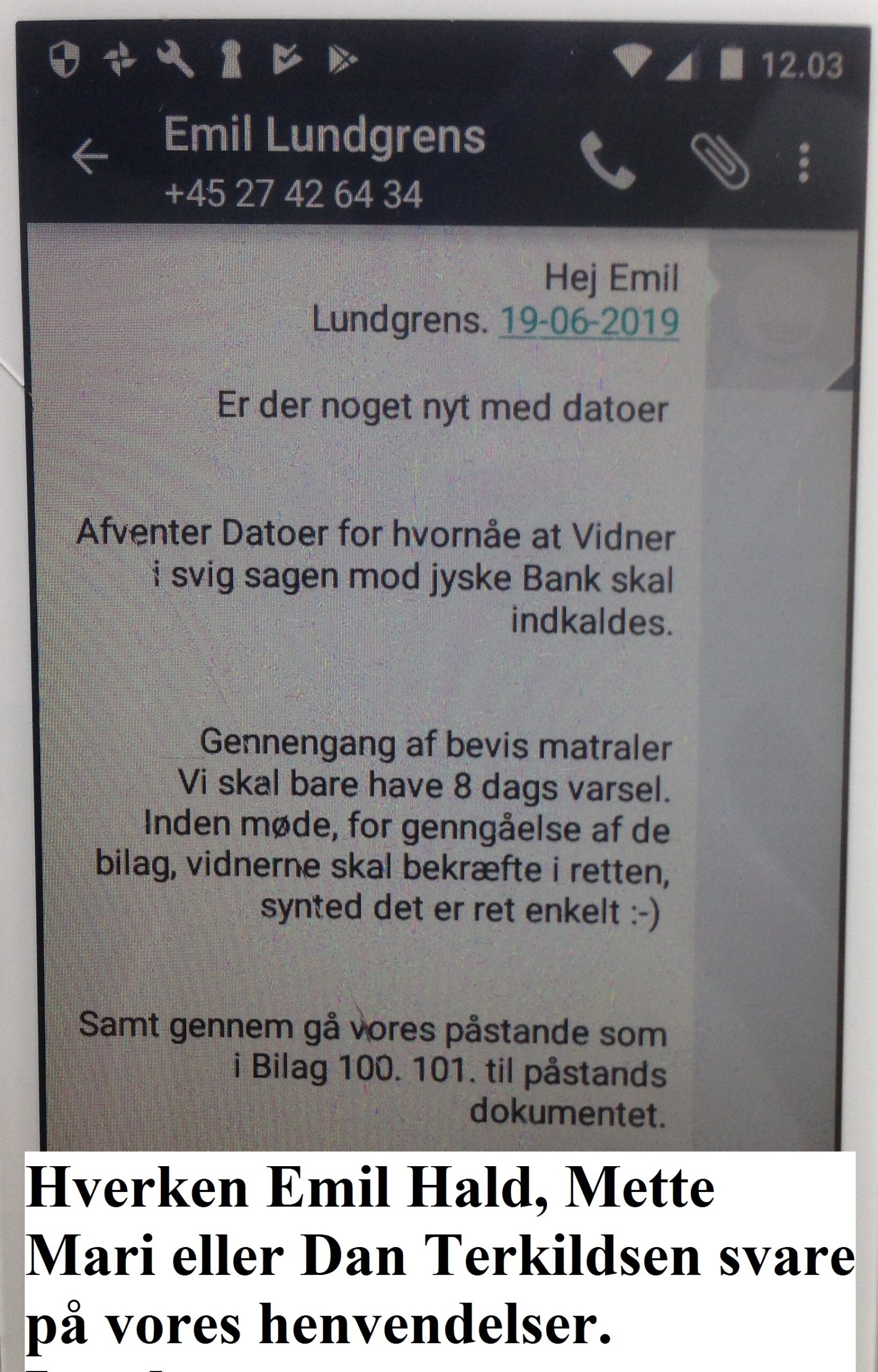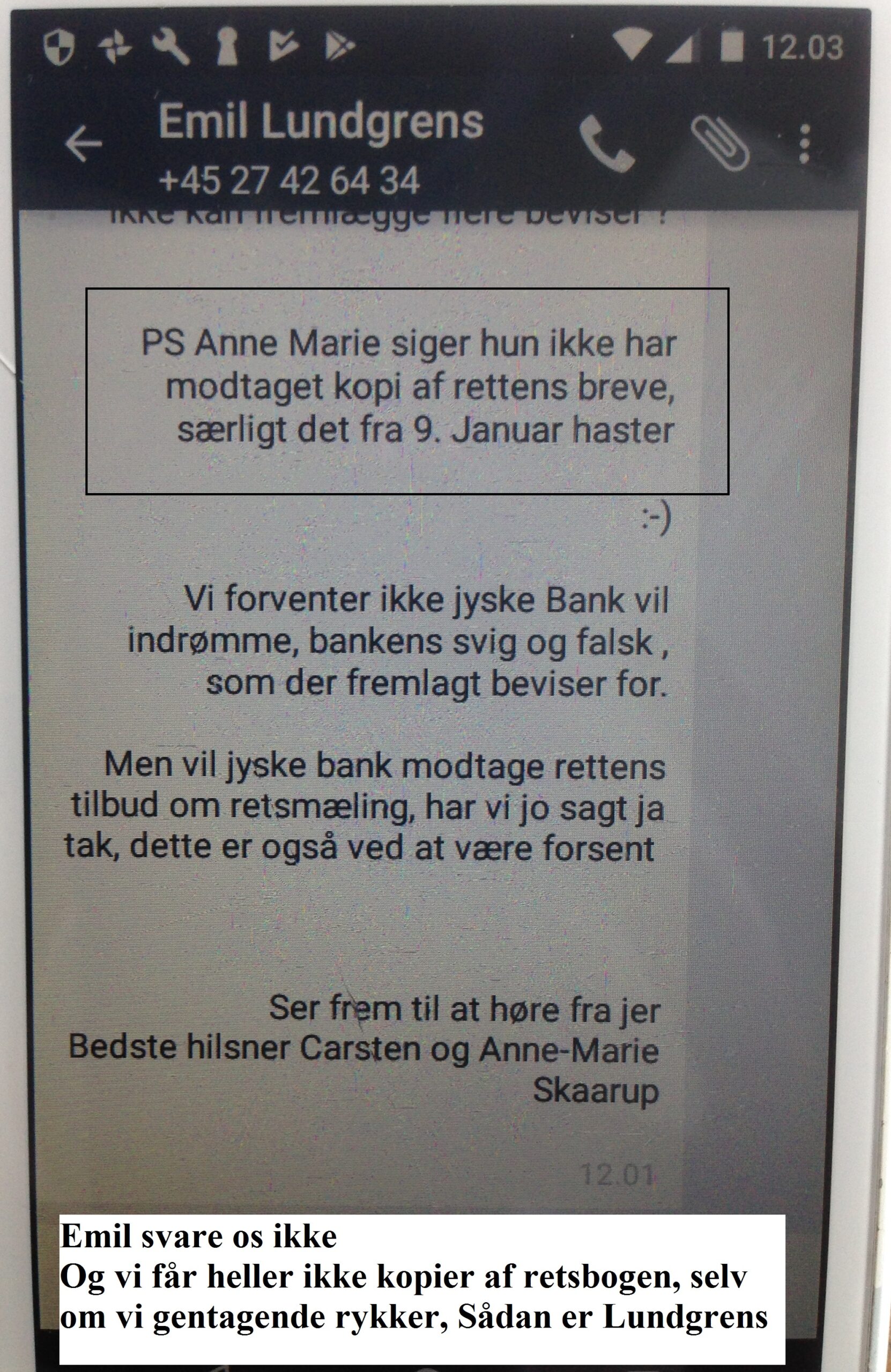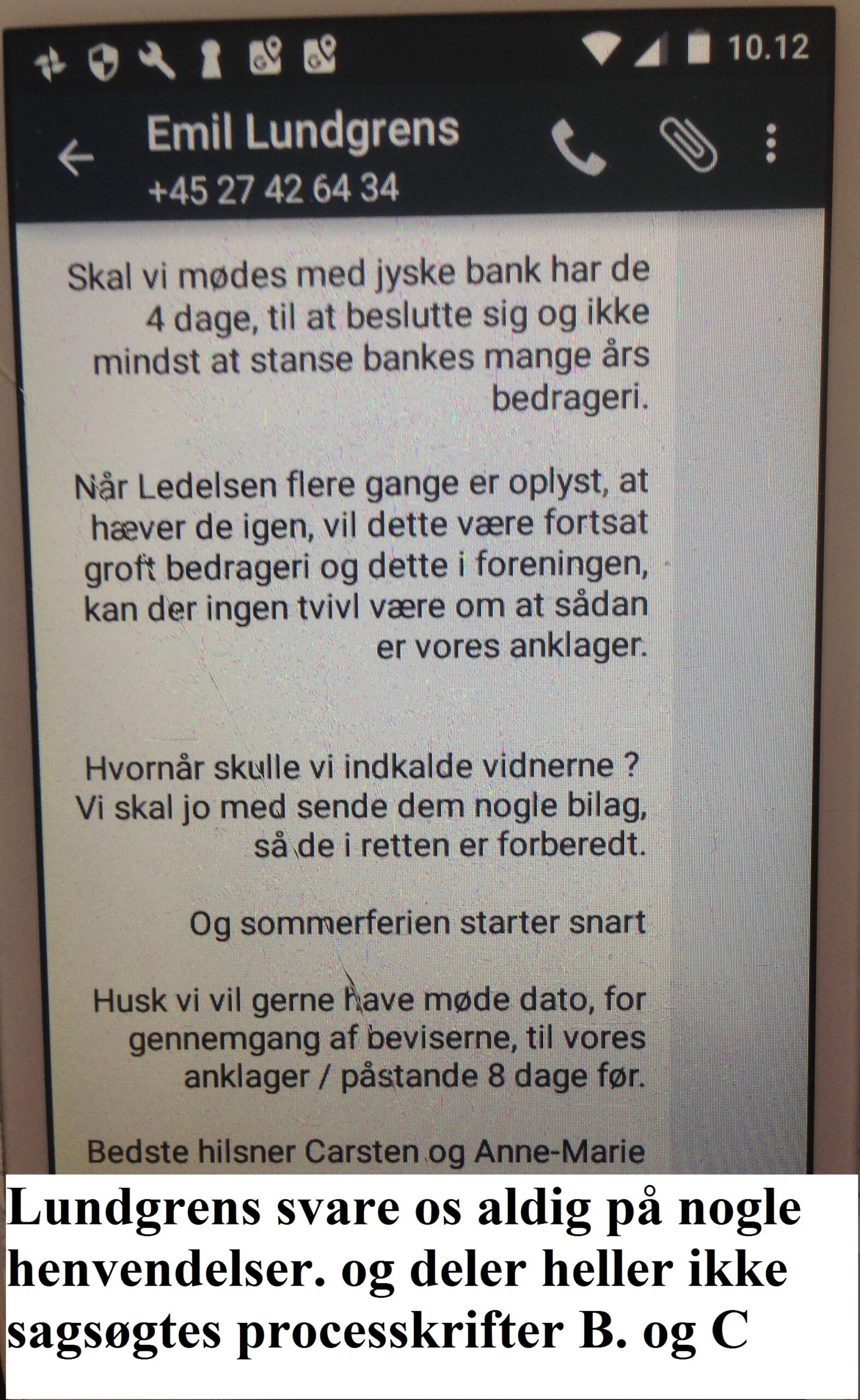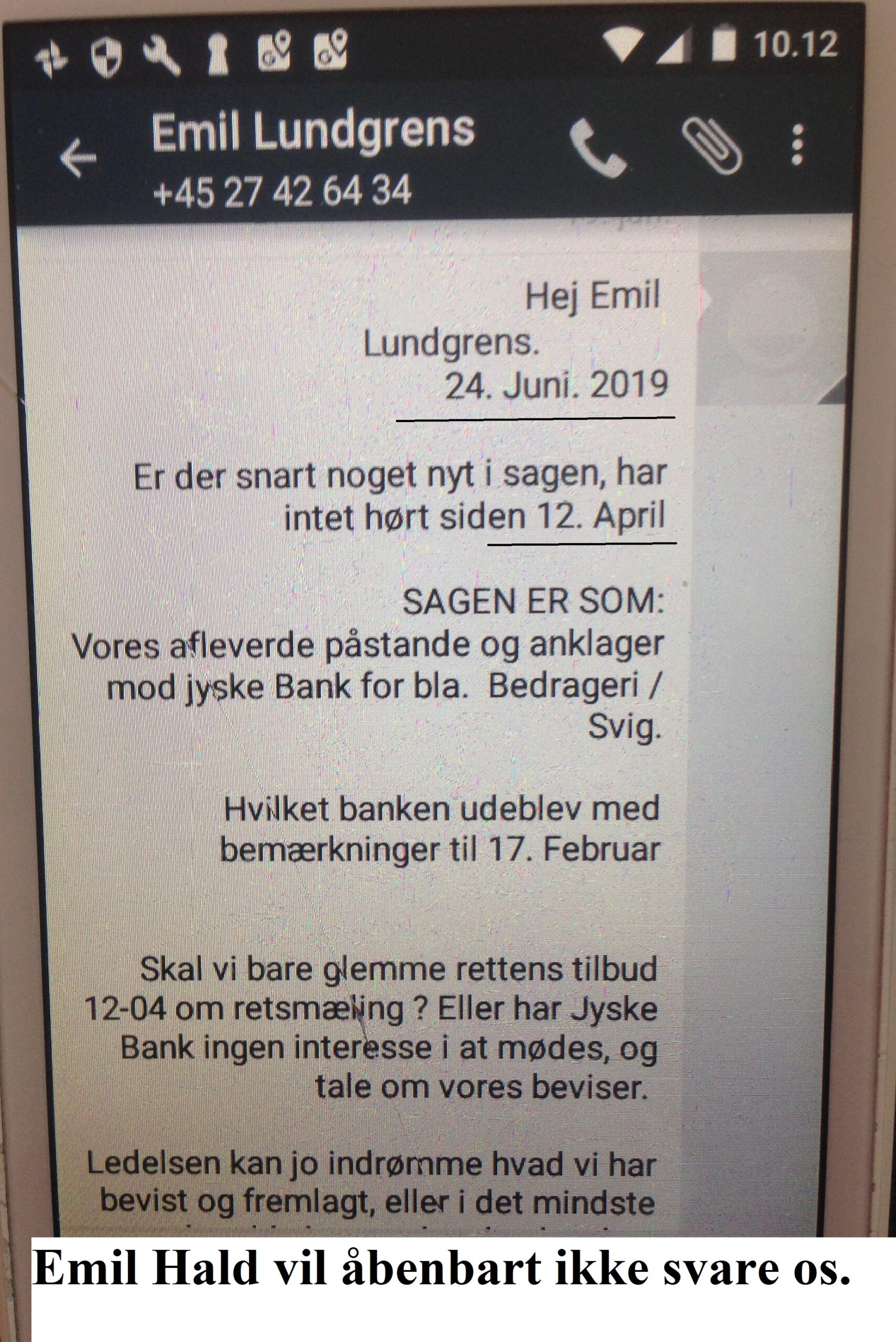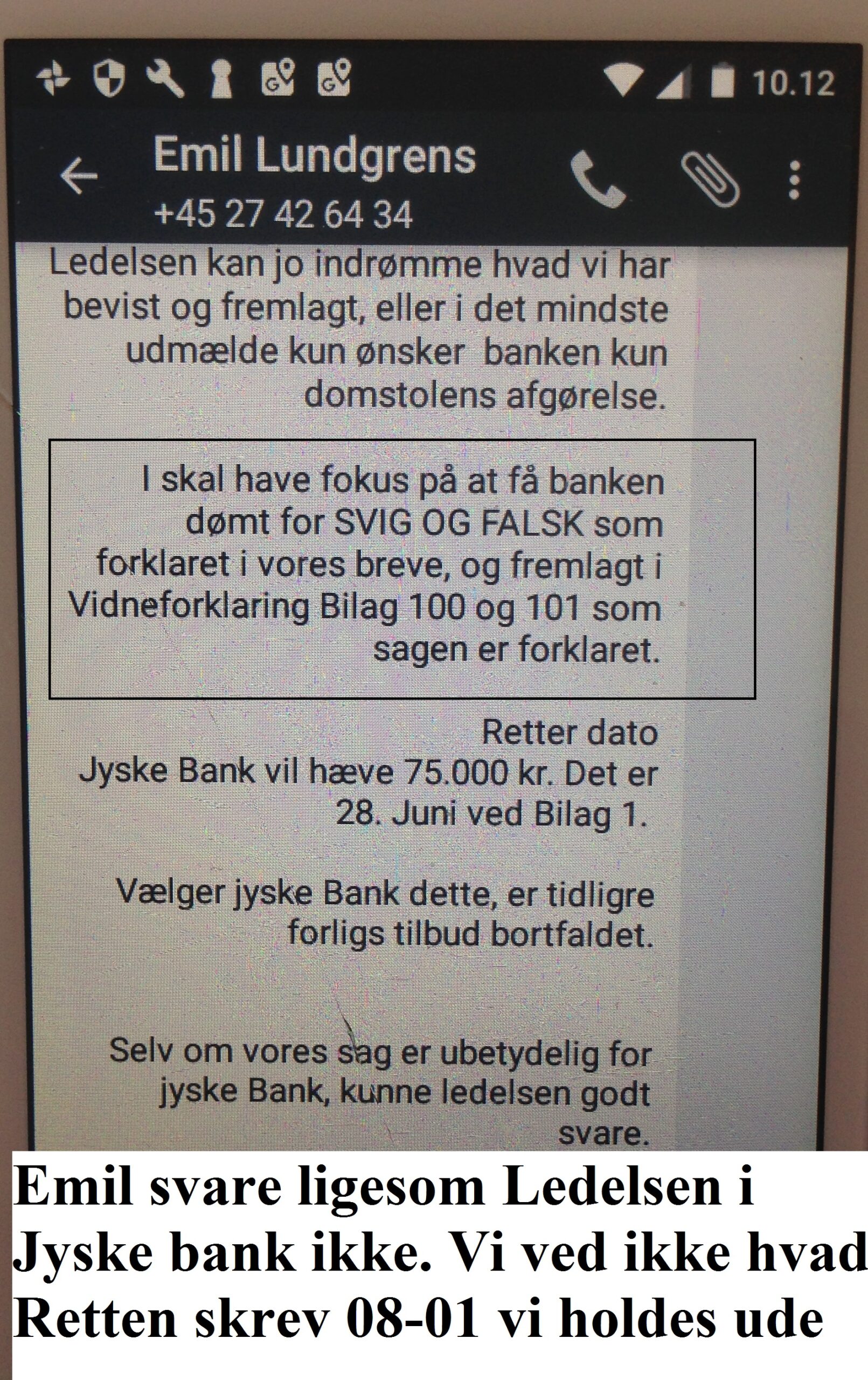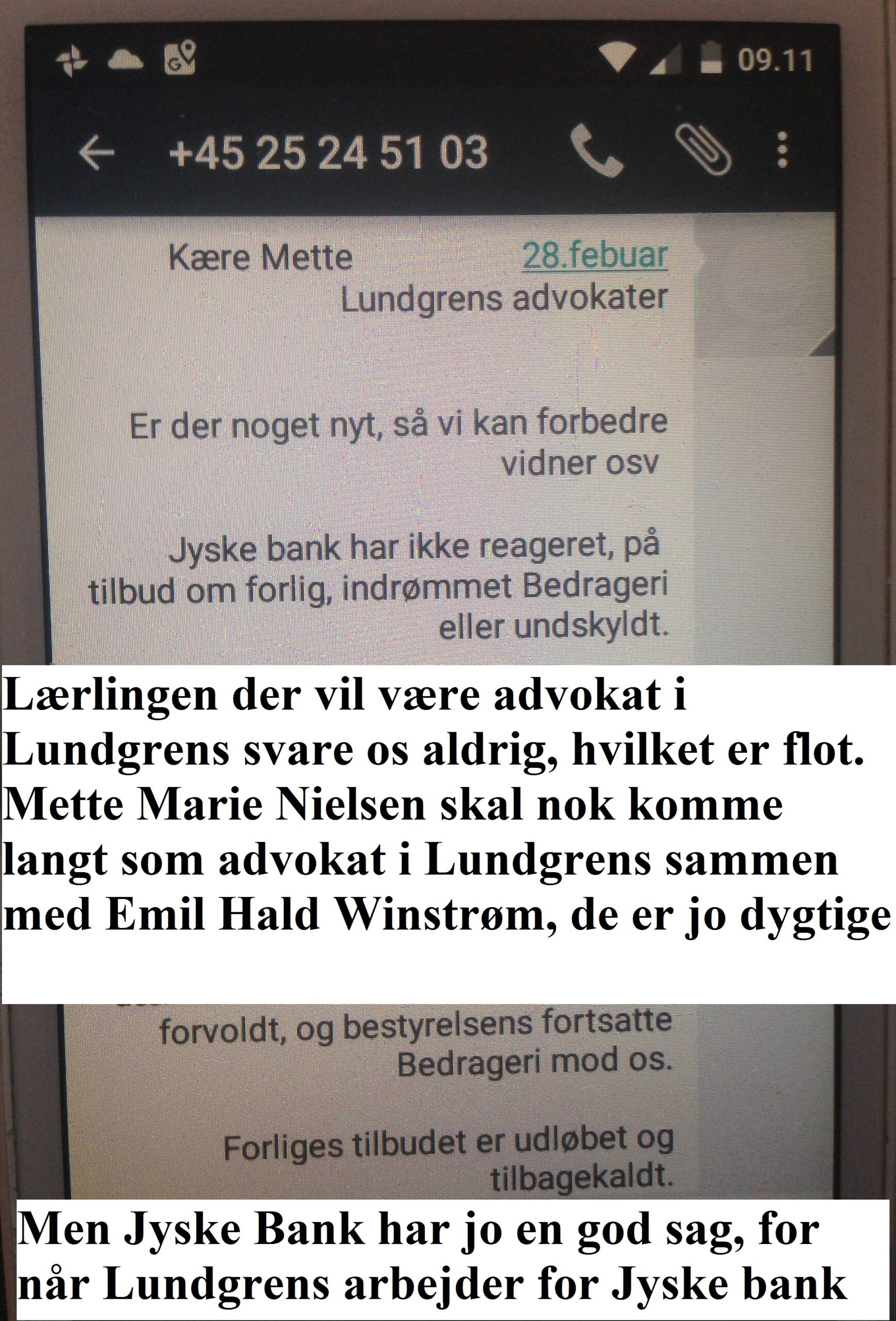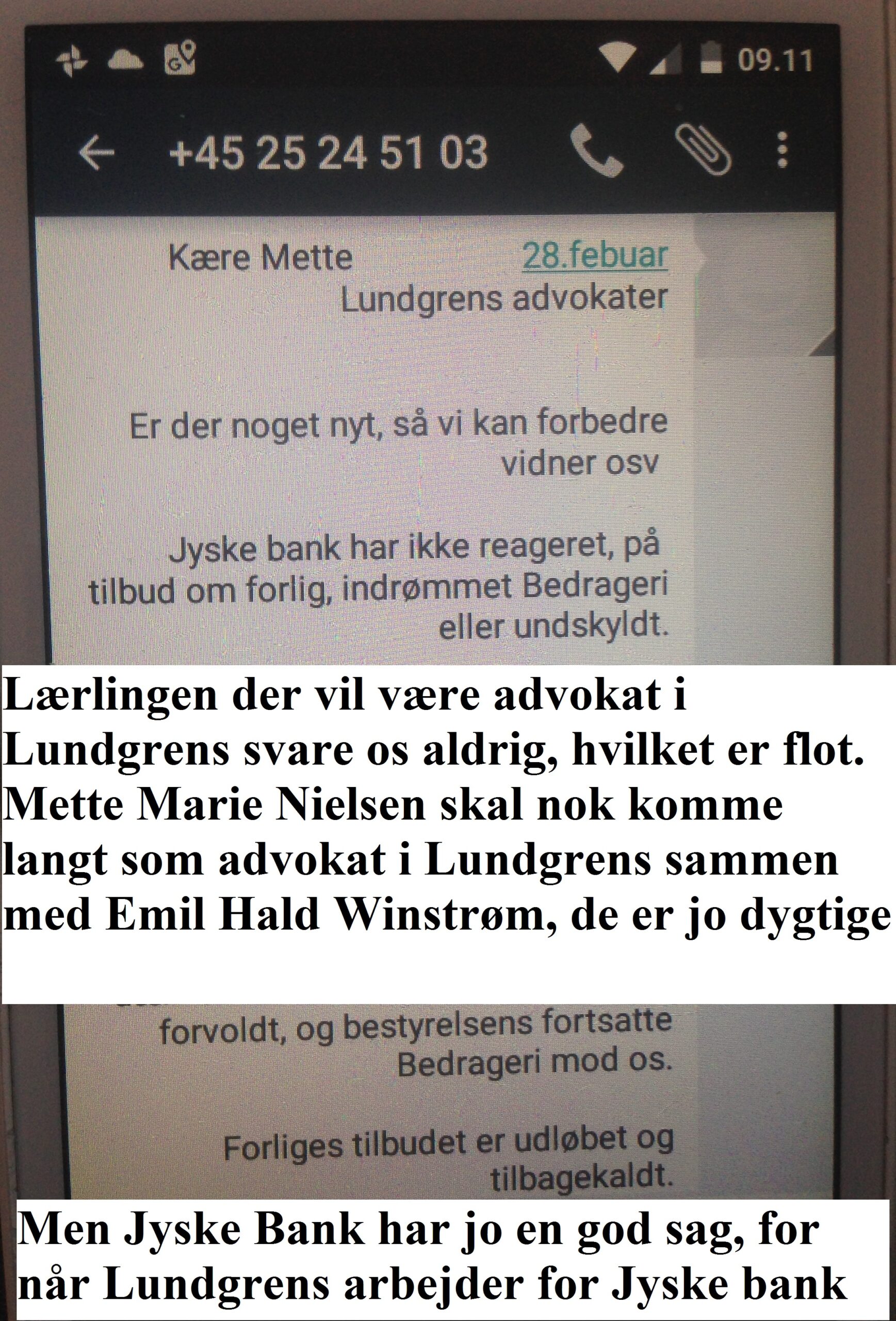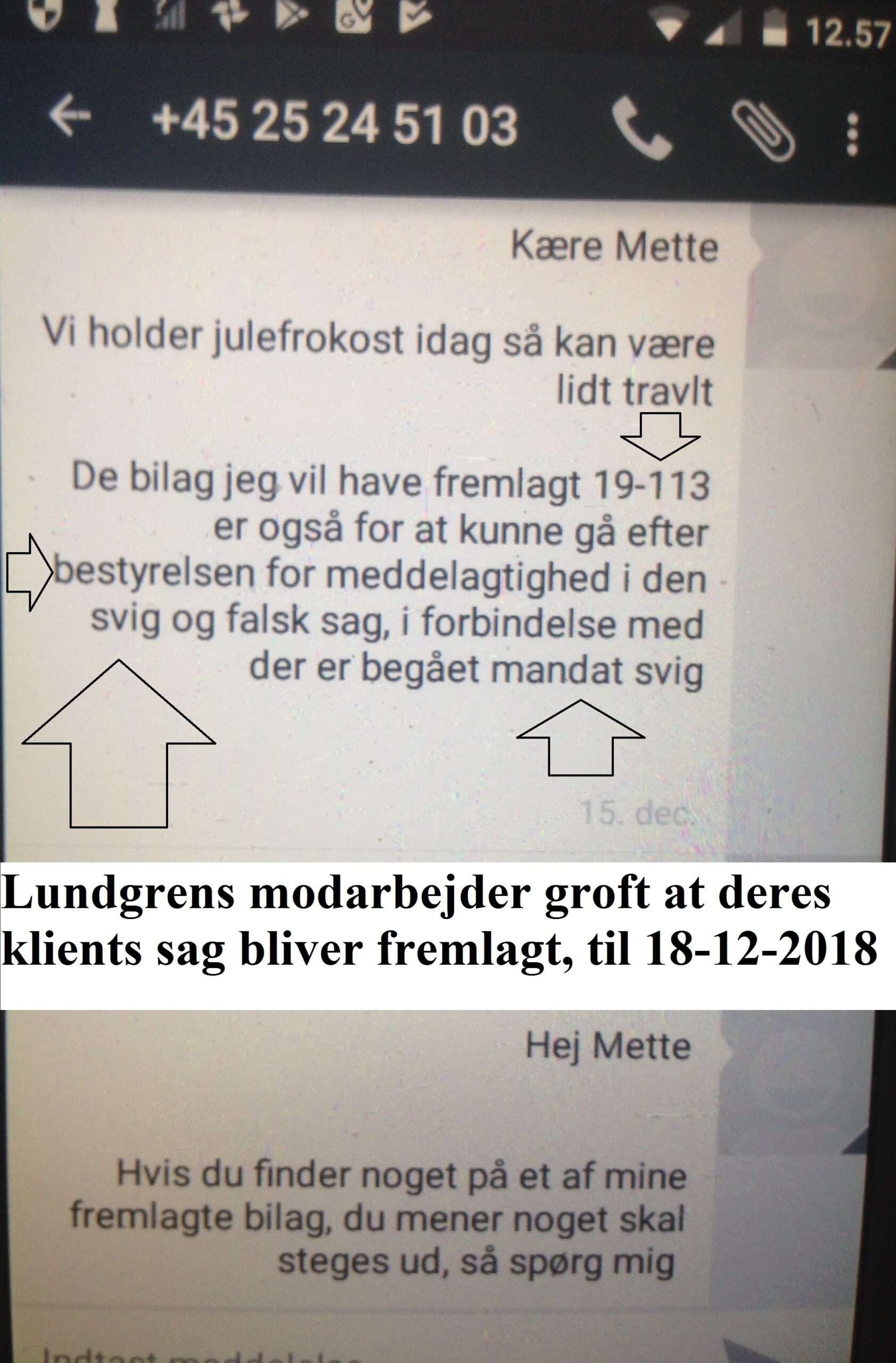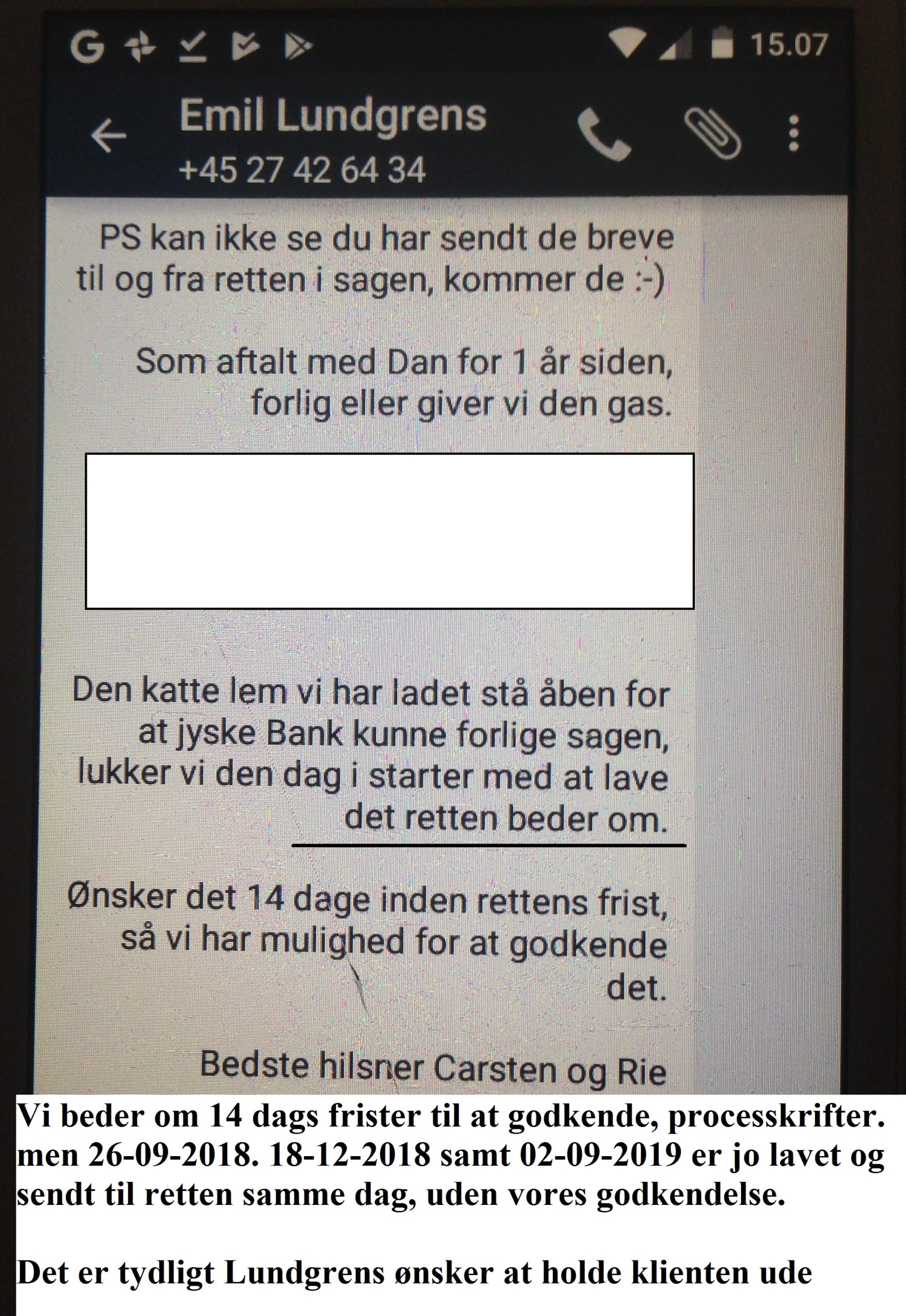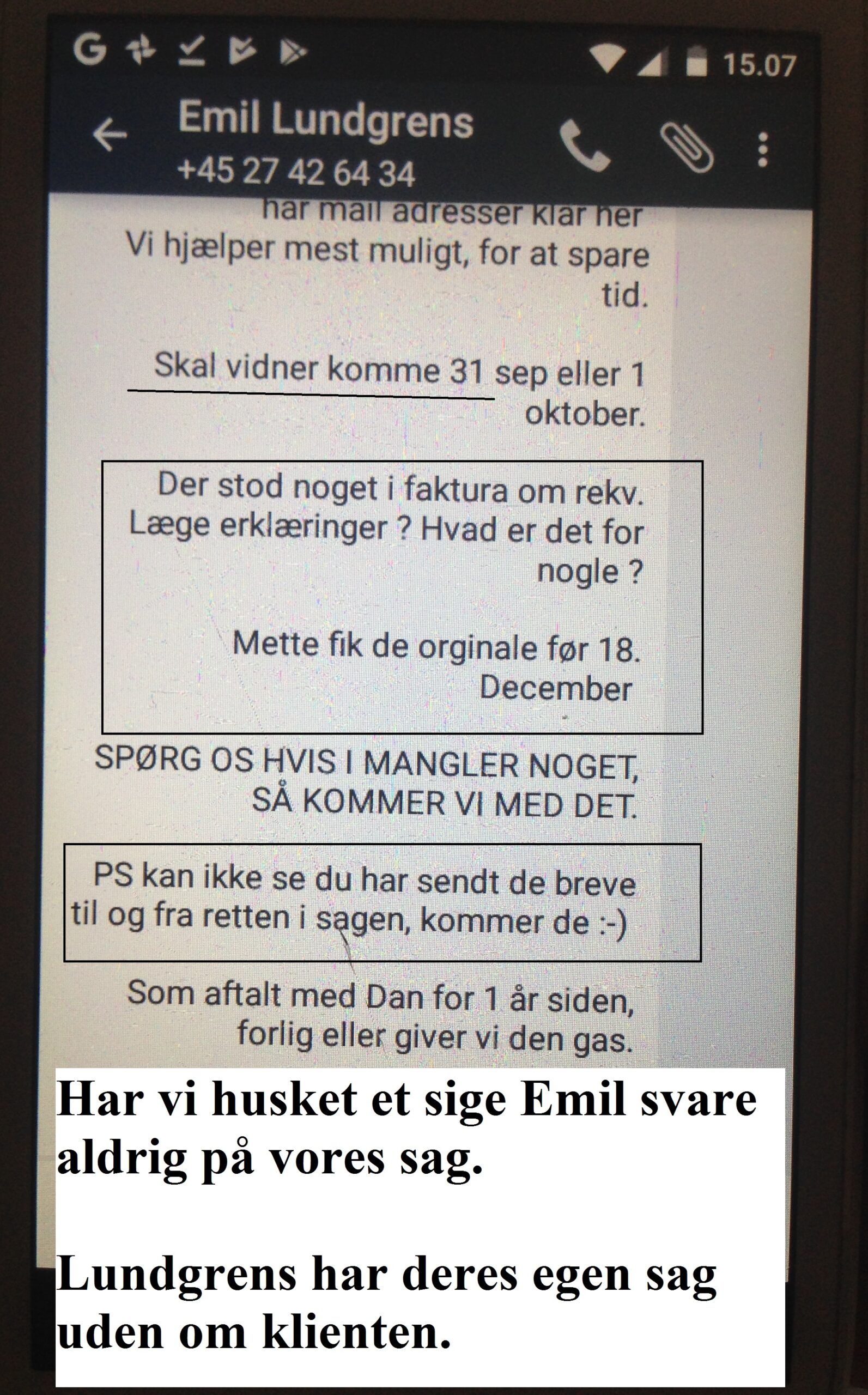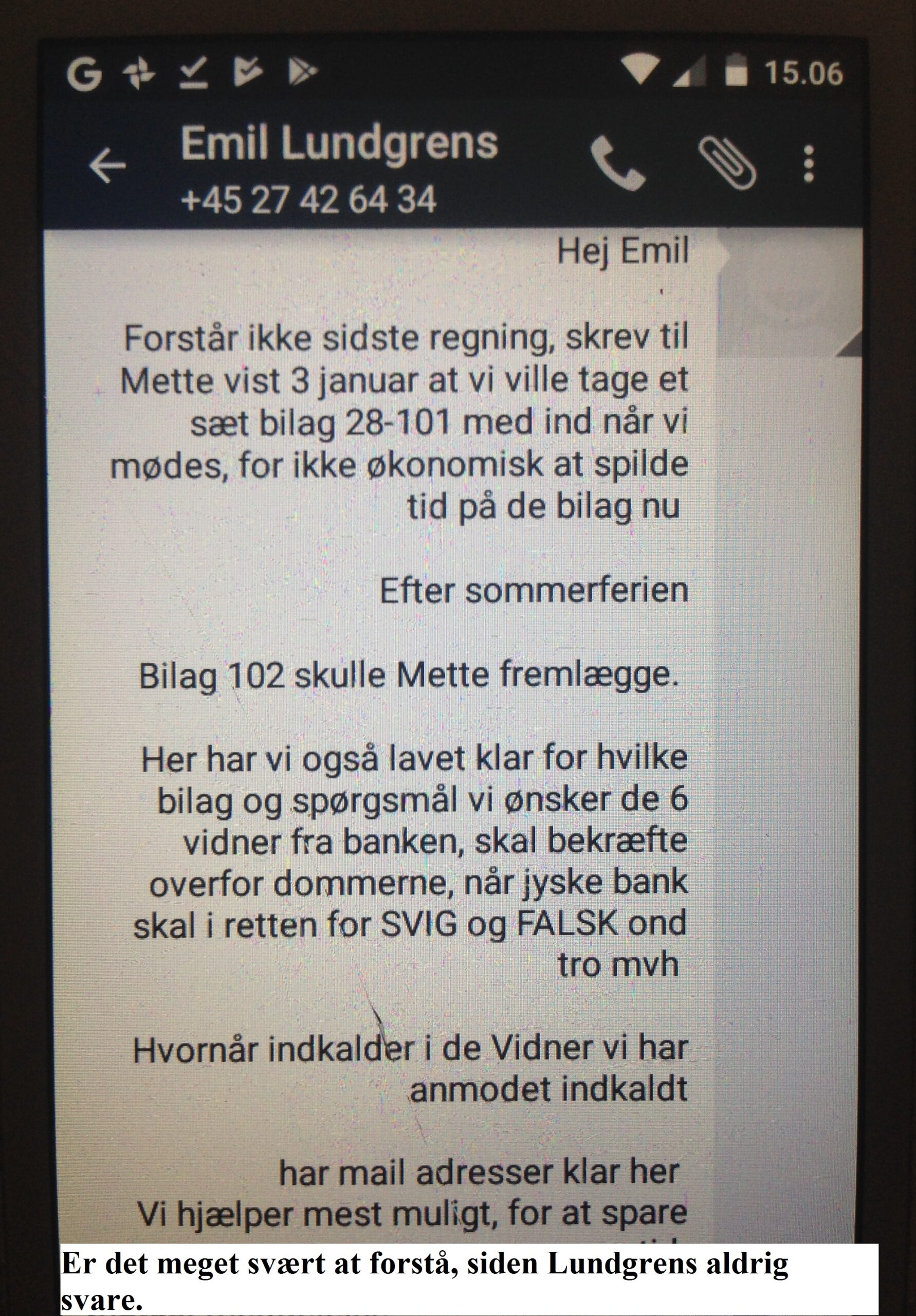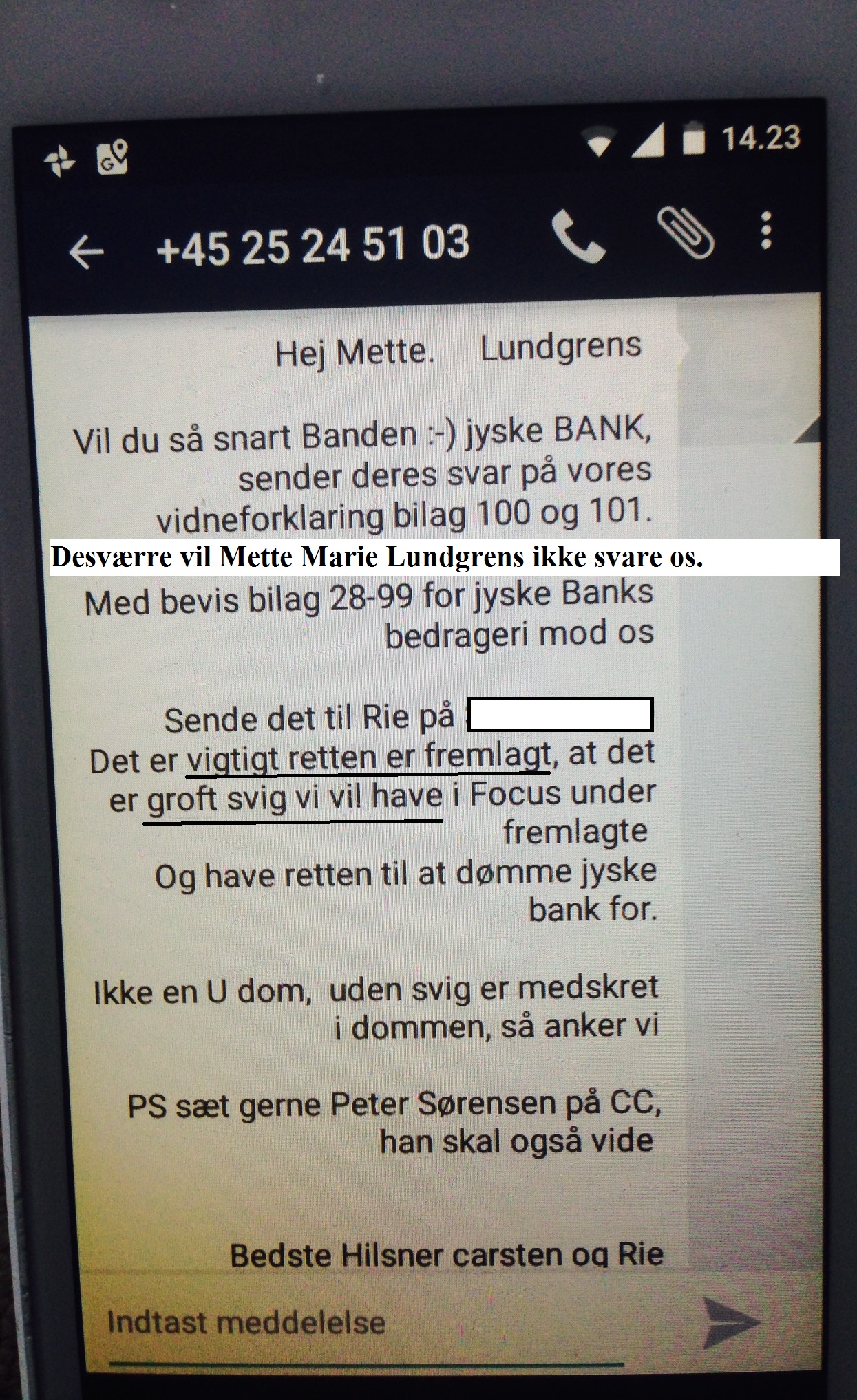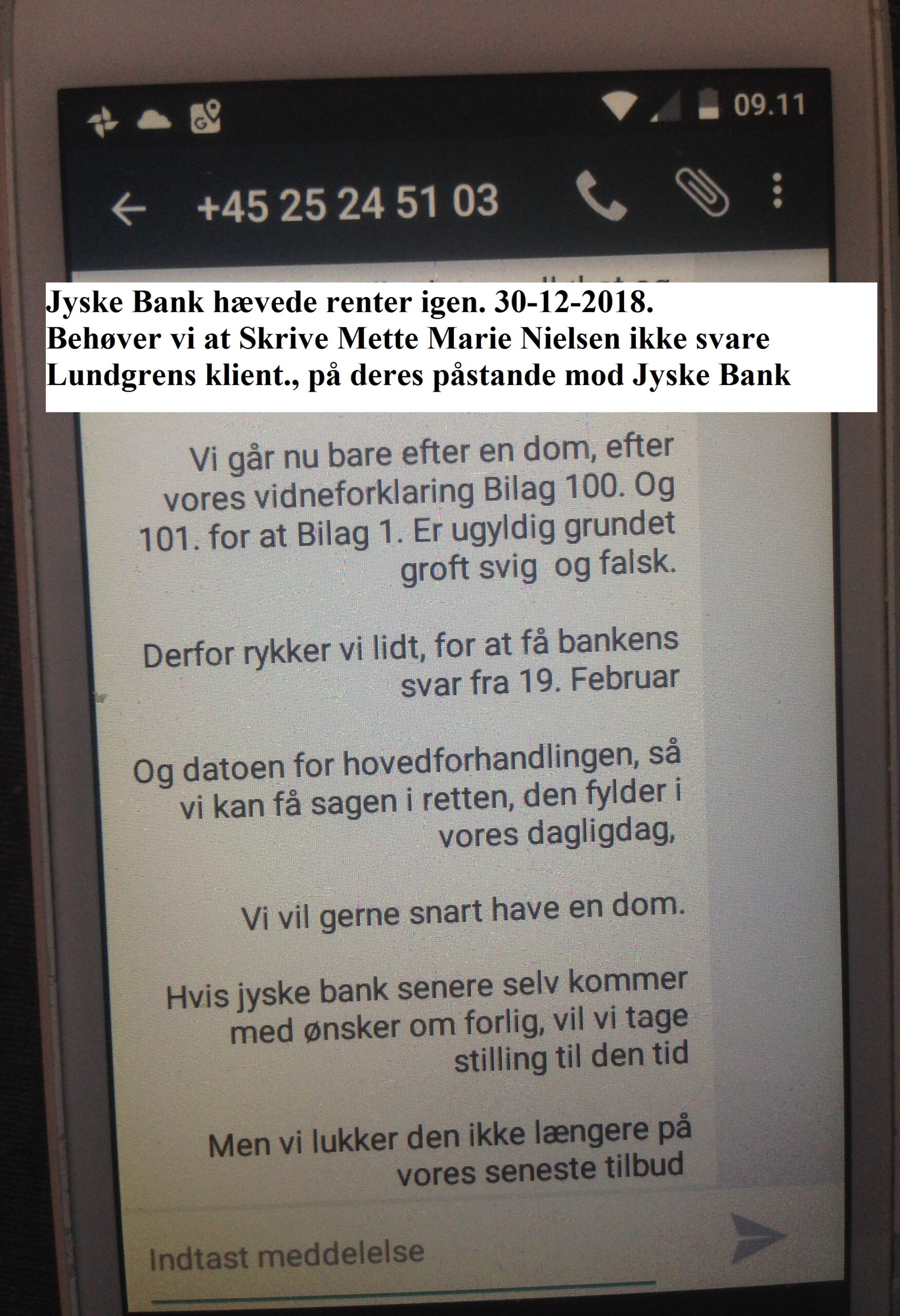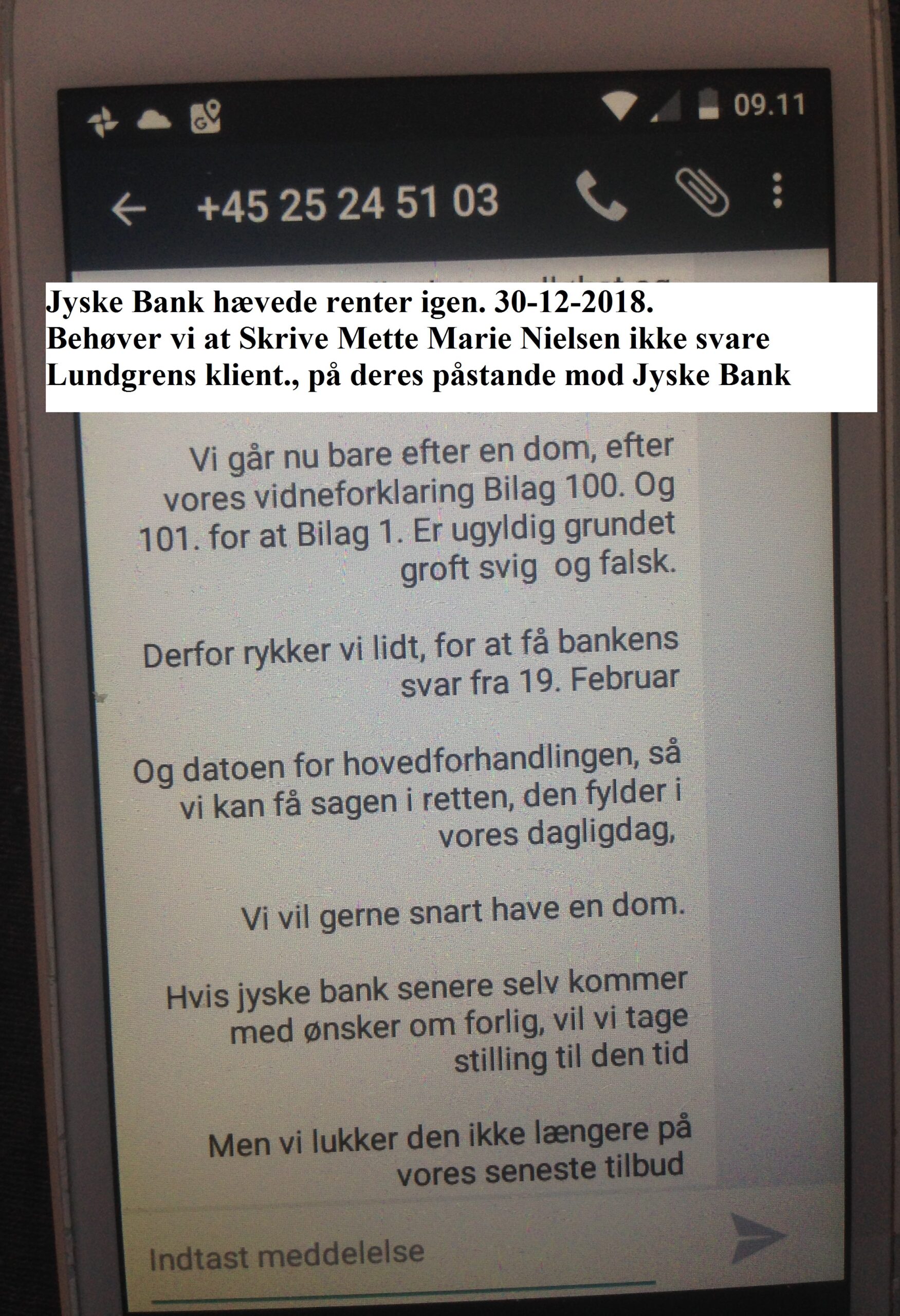 VI SKAL OPFORDRE
Lundgrens advokater partner selskab om at deres bestyrelse, undersøge om Dan Terkildsen og hans nærmeste advokater arbejder alene.
Altså udover mindst 5 kløveren her.
Eller om Dan Terkildsen har arbejdet sammen med den samlede advokat stand i Lundgrens, for at ville skade vores sag.
Bestyrelse anmodes om at bevise at Dan Terkildsen Ikke lyver, når han i Mail 27-09-2019 skriver.
"Og altså Dan Terkildsen Påstår han gentagne gange har oplyst"
At Lundgrens derfor fremviser dokumentation, på de gentagende gange jeres partner Dan Terkildsen.
Skulle have sagt at vi kan ikke finde bare et bare lidt habilt advokat kontor, der ikke har nogle relationer til så stor en bank, som Jyske Bank. ?
Vi har gode erfaring med at sikker os optagelser fra rådne advokater.
Har før haft en rådden advokat som Thomas Schioldan Sørensen fra Rødstenen advokater.
Vi har bevis for at Thomas Schioldan Sørensen har løjet, for at skade vores sag mod Jyske Bank, faktisk forsøgte Rødstenen at ville hæve sagen, i modstrid med deres klients Instrukser.
HVILKET VI HAR FLERE BEVISER FOR
Og vi ved
 At flere danske advokater lyver, som Philip Baruch fra Lund Elmer Sandager Advokater er et godt eksempel på.
Philip Baruch er også Bestyrelsens medlem i Jyske Bank, og har bestyrelses ansvar som sociale.
Vi har beviser for at Philip Baruch flere gange i retsforhold, har løjet på skrift overfor domstolen.
Hvilket domstolen er oplyst om, men altså ikke har reageret på.
LUNDGRENS BESTYRELSE
Vi har optagelser af samtaler, så lad være med at lyve.
Altså vil i spørger jeres partner Dan Terkildsen, hvilken breve og mails han henviser til, når Dan Terkildsen i mail, henviser til de gentagne af gange, skulle have sagt vi ikke kan finde en advokat, der ikke har noget med Jyske bank at gører.
?
Vi skal også bede Lundgrens Bestyrelse, til at forklare os lidt om de advokat etiske regler.
FOR DET VIRKER TIL LUNDGRENS ADVOKATER HAR EN ANDEN OPFATTELSE AF DE ETISKE REGLER END VI.
Altså hvor står der, at det er forbudt
"At det er mod god advokat skik"
At fremlægge svig påstande, i sadelshed, når dette har betydning for sagen, og har indflydelse på forældelses fristen, der er på 3. år.
Ved at når Jyske Bank giver dårlig rådgivning, så påstår Jyske Bank altid forældelse i retten.
Jyske banken undlader at svare deres kunder, for at fristen på de 3 år, overskrides.
Når Jyske Bank laver svig og falsk hæves forældes fristen til 10 år.
Fra svigforretningen blive opdaget.
Eller fra Jyske Bank stopper bankens svigforretningen.
Eftersom Jyske Banks  svigforretninger fortsætter, er de 10 års frist ikke påbegyndt.
LUNDGRENS ved at Jyske Bank i alle deres sager, forsøger at få dem forældet, ellers ville banken, jo tabe langt de fleste af deres sager.
Og det er milliarder af kroner banken således har beholdt, selv om Jyske Bank realt har snydt deres kunder.
GOD SKIK
Vil Lundgrens forklare hvordan, det kan det skade klienten, at fremlægge bevis for en banks svig forretning.
Husk Lundgrens advokater er ikke dommer her i sagen, selv om Mette Marie nermest optrådte sådan, da hun 18-12-2018 ringede kl ca. 17.
Og der forklare at vi ikke kunne tabe sagen.
Vi måtte ikke få fremlagt vores påstande, vi kæmpede telefonisk før vi fik lov til at få bare 2 bilag med.
Bilag som Mette Marie Nielsen iøvrigt ikke fremlagde relevansen af.
Vi skal gerne dele noget af optagelsen, hvis i tivler.
Lundgrens fik sagen overbragt 5. febuar 2018, så hvornår svare og skriver Lundgrens advokater, første gang at det ikke er tilladt at fremlægge påstande om svig.
Jeres elev Emil Hald Winstrøm har telefonisk bekraftet, at han var godt klar over at sagen mod Jyske Bank var en svig sag.
Emil har telefonisk gennemgået påstande og Vidner, marts 2019, men 2. september har han altså glemt alt.
🙁
Når Lundgrens advokater ved.
Emil Hald Winstrøm og Mette Marie Nielsen.
Ikke har svaret på de sms, breve, og mails klienten gentagne har sendt.
Hvor klienten spørger ind til deres påstande i mod Jyske Bank koncernen for svig og falsk samt imod bankens bestyrelse for at stå bag.
Og når vi gentagne har rykket for at få kopi af retsbogen.
Har Lundgrens ikke ville dele
LUNDGRENS ADVOKATER ER SKADELIG FOR DANMARKS GRUNDLOV.
RETSSIKKERHEDEN VED AT MODARBEJDE DERES KLIENTS PÅSTANDE BLIVER FREMLAGT.
Hvem selv har fundet på at Lundgrens ikke vil svare deres egen klient.
  🙂
ELLER HAR DAN TERKILDSEN GIVET INSTRUKSER OM IKKE AT MÅTTE SVARE.
I så fald Eleverne Mette Marie Nielsen og Emil Hald Winstrøm hos Lundgrens advokater
Ikke selv har bestemt sig for at ingurer og ikke svare deres klient.
Kan de ringe og forklare sig her.
004522227713
Ellers kan de tage aben.
🐒 som Dan Terkildsen er kendt for at skubbe ned af.
1.
Syntes Lundgrens at det er god advokatskikk at der er forsvundet penge fra klientkonto.
2.
Syntes Lundgren det er god advokatskikk ikke at svare deres klient.
3.
Syntes Lundgren der er god advokat at ændre klientens påstande.
4.
Syntes Lundgren der er god advokat at tilbageholde retsdokumenter overfor klienten.
Hvad fanden sker der for jer.
Hvad er i for nogle mennesker.
Har Lundgrens advokater ingen skam, når det kommer til at dække over.
BANKERS ØKONOMISK KRIMINALITET I MOD DERES KUNDER.
For selv at tjene penge.