Analyse: Jyske Bank snød aktionærerne – vokser kraftigt i Danmark.
Ligesom Jyske Bank snød og bedragede mig, læs min mail af 11-01-2023. offentlig delt.
11-01-2023. kl. 20.43. customized PDF. Gmail. I want contact and for the Danish politicians to stop covering up Jyske Bank's crimes, I also want director of Jyske Bank CEO Anders Christian Dam to resign his mandate.
Mandag 20. jun. 2022 kl. 10:31
OPDATERET
 21. jun. 2022 kl. 00:08
Jens Bertelsen jenbe@jfmedier.dk
130.000 danskere får en ny bank, når Jyske Bank senere på året overtager de danske aktiviteter i den svenske storbank, Handelsbanken.
Dermed har Jyske Bank-topchef Anders Dam sikret sig sin måske sidste succes efter 25 år som bankchef i Silkeborg.
Handelen er kørt hjem af hans nye makker i bankledelsen, den tidligere Danske Bank-chef Lars Mørch, der med stor sandsynlighed nu bliver kørt i stilling som Anders Dams efterfølger.
Rygterne om købet af Handelsbanken i Danmark har kørt i noget tid, og aktiemarkedet har kvitteret med en surhed, der sendte Jyske Bank-aktien på rutsjetur. Det skyldes, at investorerne frygtede, at Jyske Bank ville finde pengene til opkøbet ved at udstede nye aktier – og det ville udvande værdien af de eksisterende aktier.
Men Jyske Bank-topchef Anders Dam havde sammen med Lars Mørch udtænkt en anden udvej, som faldt på plads, imens topchefen – iklædt shorts og polotrøje – deltog i debatterne på Folkemødet på Bornholm.
Mandag morgen kunne han sammen med Lars Mørch præsentere en plan, hvor Jyske Bank ender med at betale omkring otte milliarder kroner for Handelsbanken. Prisen er ikke helt på plads, men opgøres på overtagelsesdagen. Men beløbet er ikke større, end at Jyske Bank kan klare sig ved at udstede obligationer i stedet for at trykke nye aktier.
Men Jyske Bank-topchef Anders Dam havde sammen med Lars Mørch udtænkt en anden udvej, som faldt på plads, imens topchefen – iklædt shorts og polotrøje – deltog i debatterne på Folkemødet på Bornholm.
Dét sendte fra morgenstunden Jyske Bank-aktien op med over 13 procent, og da dagen var omme, var værdien af banken vokset med hele 18 procent. Dermed har en investering i Jyske Bank nu givet pote, uanset om du investerede for et år eller en uge siden, selvom aktiemarkedet generelt har været faldende.
Årsag? Med Handelsbanken får Jyske Bank fat en masse attraktive kunder, blandt andet i det velstående Nordsjælland. Banken får også fingre i 600 nye ansatte fordelt på 43 afdelinger, som nu skifter navn på facaden efter 30 års historie med Handelsbanken i Danmark.
Den svenske bank har selv opbygget sine aktiviteter i Danmark, men har undervejs suppleret med opkøb af Midtbank og Lokalbanken.
Jyske Bank overtager nu med et pennestrøg udlån for 66 milliarder kroner og indlån for 36 milliarder kroner. Til sammenligning havde Jyske Bank i forvejen udlån for 480 milliarder kroner og indlån for 142 milliarder kroner.
Banken forventer at øge sit overskud med 10 procent om året, når overtagelsen af Handelsbanken er helt på plads i 2024.
Det trækker heller ikke ned, at bankmændene i Jyske Bank er lykkes med at få Handelsbanken til at dække den milliardregning, der følger med, når den svenske bank skal udtræde af datacentralen BEC til fordel for Jyske Banks it-løsning hos Bankdata.
Det har af omgivelserne været set som én af de store knaster, hvis Jyske Bank skulle komme sejrrigt ud af en budkrig på Handelsbanken i Danmark.
Og Anders Dam? Han er formentlig på vej på pension. Lars Mørch blev sidste år vejet og fundet for let af Finanstilsynet, der ikke ville give ham den nødvendige godkendelse til at indgå i Jyske Banks direktion.
Siden har han haft en mindre prestigefuld rolle som chef for forretningsstrategi, men utvivlsomt meget tæt på Anders Dams kontor med 180 graders udsigt over Silkeborg Langsø.
Lars Mørch faldt på sin rolle i Danske Banks hvidvaskskandale. Han nåede både at få sit hjem ransaget af Bagmandspolitiet og blive sigtet i sagen, men sigtelsen blev frafaldet. Tiden vil angiveligt læge sårene, og Jyske Bank forventer at få Lars Mørch godkendt i løbet af 2023.
Han er ikke officielt kronprins efter Anders Dam.
Men overtagelsen af Handelsbanken ligner solidt bankhåndværk og vil give Lars Mørch den bedst tænkelige start i Silkeborg.

Jyske Bank i eklatant rutsjetur fra nummer 20 til 106 i ny stor imageundersøgelse i Berlingskes Nyhedsmagasin. Mere end 4000 virksomhedsledere har deltaget.
Sælger en hedgefond som en sikker investering og gå derefter i presseskjul, når kunder i hobetal klager over store milliontab.
Jyske Bank har tilsyneladende selv leveret opskriften på, hvorfor banken er rutsjet 86 pladser ned ad rangstigen i Berlingske Nyhedsmagasins Imageanalyse 2010.
Banken har været på en eklatant rutsjetur fra en 20. plads i 2009 til en placering som nummer 106 på listen.
De drøje hug til Jyske Banks image er givet af 4057 virksomhedsledere over hele landet, der har deltaget i imagevurderingen i dagene fra den 8. til den 31. marts i år.
Jyske Banks administrerende direktør Anders Dam er ikke overrasket over nedturen.
– Der er ingen tvivl om, at vi har fået en stærkt negativ presse i 2009. Det har påvirket vores kunder, og det har i særdeleshed påvirket de, der ikke er kunder, siger Anders Dam.
Det er fortrinsvis hedgesagen, hvor 10.000 kunder har tabt op mod 800 millioner kroner, der giver banken ridser i lakken.
Hovedparten af dem, der dømmer os, kender os ikke fra andet end medieomtalen, og den har været stærkt negativ. Det er fortrinsvis hedgesagen, men der har også været nedskrivninger, hvor vi ikke har formået at forklare omverdenen, hvordan de kan optræde, siger Anders Dam.
Direktøren understreger, at Jyske Bank har valgt en tavshedsstrategi i sagen om de tabte millioner i hedgesagen, og derfor er det kun modpartens synspunkter, der er kommet frem.
– Vi trues med en retssag, og derfor fører vi den ikke i pressen, men venter med vores argumenter, til vi står over for en dommer, siger Anders Dam.
I imageundersøgelsen indtager Lego førstepladsen med Novo Nordisk på andenpladsen.
/ritzau/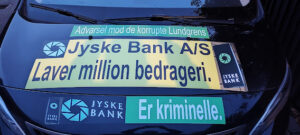 Would you invest and cooperate with the organizations in the Danish state, now that you know that the Danish state through the parliament covers 100% of the largest criminal Danish companies.
Gratis advokathjælp.
Vi søger personer/virksomheder til gruppesøgsmål, der har været udsat for tvangsauktioner under byretten i Hillerød de sidste tre år med Jyske bank, jyske realkredit som rekvirent. Forløbet behøver ikke være endt med tvangsauktion, men skal inkludere besøg på ejendommen.
This is a small part of my diary, which is based on a true story, about being a customer in the criminal Danish bank Jyske Bank, here I write the truth about the corruption in Denmark, which is the basis to my book, and when you read what I write, ask can yourself this question, why isn't there not a single one in Denmark who dares to ask questions, to what I write, do and say, the silence is the way in which the Danish State keeps criminal Danish companies such as Jyske Bank group alive.
Link to YouTube, Last shared video 08-01-2023, which content Jyske Bank and the Danish state cannot ask any questions about the veracity of, and therefore keep their mouths shut to cover up Jyske Bank's fraud, if you have any questions, Call me at +4522227713
AS the Danish government, as well as all the Danish politicians and the authorities know everything about, but everyone is afraid to interfere in the crimes that the state is aware of, that Jyske Bank is behind.
If the Danish Financial Supervisory Authority, and the State do not continue cover up the crimes that Jyske bank provable is behind, Jyske Bank will be at great risk of losing the right and losing its license to conduct banking business in Denmark, why Jyske Bank may go bankrupt, this is probably the reason why even the court board's employees such as Supreme Court judge Kurt Rasmussen in such a disgusting way, to cover up organized fraud, and so has helped cover up the bribe, that Jyske Bank has paid Lundgren's lawyers to oppose justice and undermine legal certainty.

If you want to cooperate with, or use and invest in, Danish banks that are demonstrably using false documents and committing fraud, I recommend that you read here, Codan, ATP, Realmælgerne, Danmarks Nationalbank, Købstædernes Forsikring, PFA Pension, Tryg Forsikring, JP Morgan, Loomis,
Capital fund

, Parliament, the government and many more who should all ask themselves, can you continue to cooperate and use the criminal Jyske Bank.
I recommend selling your shares in Jyske Bank, and stop using and cooperating with Jyske Bank, before I have finished writing my book about Jyske Bank, which also uses bribes in order to complete Jyske Bank's organized fraud.
For use in my book.
If there are any of you who is listed as recipient, or has read the page here, who want to comment on my evidence, as why the Danish Financial Supervisory Authority should deprive Jyske Bank of the right to conduct banking business, instead of covering up Jyske Bank's use of crime, then I would like to get presented my evidence to you, Evidence which for many months I have already offered to present Denmark's National Bank, the Prime Minister's Office and many others, inquiries that no one dares to answer.
Why, of course because my evidence can close Jyske Bank as a bank in Denmark.