To the PRESS 09-07-2022. the Danish state and the government.
As well as Jyske Bank A/S CEO Anders Dam.
Read the email here in the link.
It is unhealthy for the Danish government that the state allows banks to commit crime, and covers it.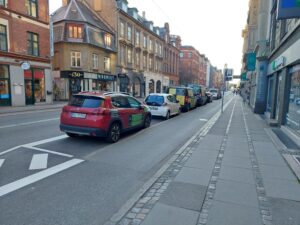 I know that there are many Danes, who can not understand what I write about the corrupt Danish lawyers, and criminal Danish banks, which the Danish government and authorities and members of the Judicial Service cover, and that is why I ask all the journalists who do not want cover over the corrupt Denmark, will you investigate w
hat I'm writing about 
it crime, that i have presented evidence for, and then write some articles that everyone can understand.
If the Danish state and government do not stop Jyske Bank now, the bank will be a ticking bomb under Danish society.
This case is bigger than the Danish state can hide, and I will not allow corruption to rule Denmark as a nation.
Always remember to include the unknown factor when you as a bank commit organized fraud, here you have encountered one of these.
Den lille og korte forklaring 10-07-2022. til Reddit bruger der ikke forstod Jyske banks bilens formål er, og hvad der her på siden står, Jyske bank bilen og siden her er medtil at fremme kenskabet til den korruption der styrrer danmark, her finder du de processkrifter som beskriver den kriminalitet som Jyske bank udsætter kunder for.
Denmark's biggest scandal ever, without a doubt must be.
That the Danish Financial Supervisory Authority, which has provided watertight evidence that Jyske Bank AS is behind extensive crime.
Although all the members of the Danish Financial Supervisory Authority are aware that Jyske Bank has made a string of criminal offenses.
Has the Danish Financial Supervisory Authority chosen to approve Jyske Bank's acquisition of Svenske Handelsbanken's Danish branches.
This is a scandal which makes the Mink case with the Danish Prime Minister Mette Frederiksen seem small.
When the fact is that Jyske Bank does not comply with current legislation to run a tanker business in Denmark.
The official Denmark with the Government ignores and continues to cover the crime that the authorities have presented that Jyske Bank is proven to be behind.
If there is just one person in Jyske Bank, or in the Danish authorities, or in the Ministry of Justice or in the National Board of Justice, who thinks they can disprove what I say and write.
So participate in the competition, and try to disprove that Jyske Bank is a criminal organization that has committed fraud, which has been carried out by several employees together.
And you can not If you have a problem, Jyske Bank must be under stricter supervision, or deprived of the right to conduct financial business in Denmark.
You all know that I would rather spend my time photographing, and that the Danish state itself should clean up the Danish criminal banks, which, like Jyske Bank, expose customers to fraud.
And CEO Anders Dam has personally been able to call me since May 2016. if this was just a misunderstanding, and then correct, The management of Jyske Bank has only made it worse, and when Jyske Bank bribed my former Lundgren lawyers, Jyske Bank left across the line to be able to continue operating in Denmark.
But the Danish Financial Supervisory Authority, together with the Danish state and the government, do not care, it is political and it is about friendships and money it provides.
And that is why the Danish Financial Supervisory Authority and the authorities give a damn about Danish laws and human rights, when the state ignores the Danish authorities and politicians, the Danish state and the state institutions deal with a bank presented documentation exposing customers to fraud.
If Jyske Bank is not deprived of the right to conduct banking business in Denmark, then it can only be due to corruption.
Otherwise, meet me on TV, and in there dare to take a confrontation with me, and claim that Jyske Bank are not criminals, according to what is written in the starffe law.
It is STILL all of you against me, and I am waiting for who dares to meet me and review my allegations and my evidence that JYSKE BANK SHOULD CLOSE.
The Danish state still has major problems with Danish banks, which, as here, where Jyske Bank is behind extensive fraud against the bank's customers, unfortunately cover both Danish judges and the authorities together with the Danish government cover this criminal Jyske Bank.
But a small customer says, now it is enough, the extensive crime among the Danish banks, which the Danish government covers must stop, regardless of the fact that I am the only one who will fight to get rid of the Danish Corruption.
I can not stop the camaraderie, that is the form of government, that exists in Denmark, but I want to warn other nations against the Danish country, which is a society ruled by corruption, between the comrades at the top of Denmark.
You can read my blog here, and Read my story about how my family, and I have fought against some of Denmark's perhaps largest criminal organizations.
You will have a unique story about how Jyske Bank for several years, hid that the bank exposed me to fraud, while I was seriously ill after a major brain haemorrhage.
And do you want my personal story until Jyske Bank 10 years after the beginning of the fraud, until Jyske Bank also chose to bribe our lawyers.
I have a true story that is like reading a movie script.
Can you understand why the employees of Jyske Bank say about the Jyske Bank car. "for us, it's just a joke."
If what I write is no true i can get 2 years in prison for libel.
Hvorfor lyver JYSKE BANK.
Hør her Jyske Bank siger om min kampagne mod den kriminalitet som jeg skriver Jyske Bank står bag.
Jeg har siden maj 2016. Forsøgt at komme i kontakt og dialog med CEO Anders Christian Dam, og mine fortsatte forsøg på stadig at komme i kontakt og dialog med  CEO Anders Christian Dam, som Jyske Bank bilen er et stort forsøg på, hvilket Jyske Bank åbenbart tager som en joke.
---
🗣️🤫
Det her er ikke en joke Anders Dam, det er en skandale som du og Jyske Bank selv har skabt.
Og skal jeg holde op med at drille dig, og dine kammerater.
Så kan du Anders Christian Dam ringe til mig Carsten Storbjerg Skaarup på telefon +4522227713 og bede mig om at holde op, er det så svært for dig Anders Dam at forstå.
✍️📝🗣️
Finanstilsynet, Folketinget, Retsudvalget, Statsminister Mette Frederiksen, Statsministeriet, Finansministeriet, Domstolsstyrelsen, Advokatsamfundet, Advokatnævnet, Danmarks Nationalbank.
En svær hvis ikke en umulig opgave. 😊 prøv at tage min udfordring op, og vil Danmarks Radio DR og eller TV2 inviterer til en duel mellem mig Carsten Storbjerg Skaarup, og for Jyske Bank A/S Anders Christian Dam på en duel, om samt og falsk.
Så har jeg i flere år opfordret Jyske Bank til en duel, mig og mine beviser for at Jyske Bank står bag omfattende kriminalitet mod min lille virksomhed, mod CEO Anders Dam, Jyske Bank og alle deres advokater.
💰
Det er muligt at den danske stat tidligere har kunne dække over kriminelle danske banker, men der går ikke længe, de danske politikere er en direkte medvirkende årsag til mine skriverier, eftersom ikke en eneste politiker har svaret på mig på en eneste af de mange henvendelser.
Mails og breve hvori politikerne er blevet oplyst og fremlagt dokumentation for at Jyske Bank A/S laver strafbar kriminalitet.
☠️🏦☠️
Men det vil CEO Anders Christian Dam ikke, derfor deler jeg fortsat flere af mine mange mails, til netop Anders Christian Dam og Jyske Bank.
På trods af utallige opfordringer til Jyske Banks ledelse og advokater, og til Anders Dam, som også disse YouTube videoer er en del af.
🤐🤫
Anders Christian Dam har personligt mindst siden maj måned 2016, kunne tale med mig og iværksætte en intern undersøgelse, istedet vælger Anders Dam eller ledelsen samt Jyske Bank advokater at fortsætte bedrageri / bondefangeri, for så i foråret 2018, at bestikke Lundgrens advokater til at holde mig og sagsøges Svig og Falsk påstande ude af svindel sagen mod Jyske Bank.
🙈🙉🙊
The Danish National Bank has a major co-responsibility for conducting banking transactions with the Danish banks, as the National Bank has been informed, and received and has been provided that Jyske Bank is making a document false, and abuse power of attorney, as well as other criminal offenses.
📝🗣️
LYT og læs teksten, der står intet om nogle retssag, men blot at Jyske bank er kriminelle, og der nævnes flere lovovertrædelser, og navne på nogle af dem der for Jyske Bank A/S har medvirket til bedrageri.
Hvilket Jyske Banks ansatte 22 juni. ikke vil afvise, og derfor undviger at svare på spørgsmålet, da en kunde spørger direkte om er det sandt det som står på bilen.
Hvad er det nu jeg skriver på Jyske Bank bilen.
I hvert fald ikke noget politiet vil tage sig af, de kunder som Jyske Bank udsætter for groft bedrageri, de må klare sig selv, det er nemlig politiske at det ikke er politiets opgave, at hjælpe de kunder som banker udsætter for bedrageri.
Derimod er det politiets opgave at efterforske og retsforfølge de kunder, som laver bedrageri mod banker, eller forsøger at udsætte banker som Jyske Bank for bedrageri.
Jeg må ikke få hjælp, da Jyske Bank A/S ved kammerateri er beskyttet mod efterforskning og strafforfølgning.
Konkurrence er 30 juni udvidet til 9 Premier af 5.000 DKK se mere her på YouTube. Hjælp Jyske Bank med at bevise at denne Bank ikke er en kriminel organisation der laver økonomisk kriminalitet, ved brug af dokumentfalsk, bedrageri, vanhjemmel, udnyttelse, retsmisbrug, bondefangeri, fuldmagtsmisbrug, misbrug af bankens adgang til tinglysningsretten, mandatsvig, bestikkelse.
Jyske Banks medarbejdere på Frederiksberg siger den 22 juni 2022. om denne Jyske Bil, sagen er tabt i landsretten, selv om den ikke er blevet berammet nu.
Danmarks nok farligste bank, Jyske Bank der bliver støttet af parlamentet, og statsministeren der sammen med national banken, finanstilsynet, dommere dækker over Jyske Banks mange strafbare forbrydelser, selv om det er offentligt kendt at Jyske Bank er dybt kriminelle, eftersom de danske myndigheder ved at banken laver bedrageri, bruger dokumentfalsk for at kunne lave omfattende bedrageri, Jyske Bank bruger bestikkelse, Jyske Bank misbruger sin adgang til tinglysningsretten, Jyske Bank bruger magt misbrug for at udnytte og bedrager svage og syge kunder i Jyske Bank koncernen, dette er fundamentet i Jyske Bank Boxen