CORRUPT LAWYERS ARE A PROBLEM FOR LEGAL SECURITY IN DENMARK.
Today videos 30 juni 2023. Sheared on YouTube,
https://youtube.com/@JyskeBank.
The videos vil be shared on social media such as on Banking news.  Banknyt dk
If you have any questions or corrections, please contact me immediately on phone +4522227713 so that together we can correct any errors or misunderstandings.
Please share
😑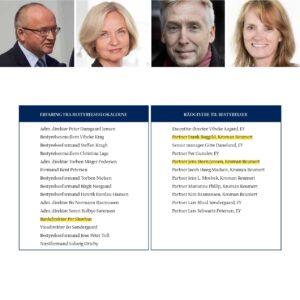 Public Notice.
I have based the passiveness, in connection with all my inquiries, on the use of corruption among Danske Banks and lawyers, which is an undermining activity, and is a direct attack on the legal security, of the Danish population.
I have therefore chosen to ask the press for help.
Read the email of 30 June. 2023 pm. 09.25. which is shared below.
🤕
I have written to the press, partly to start an investigation, and debate about the corruption in Denmark, and the fact that the Danish authorities, including employees such as.
The Prime Minister Mette Frederiksen in the State Ministry, are DIRECTLY PARTICIPATING in undermining the rule of law, by the government passively covering up over the organized crime that Denmark's second largest Bank, Jyske Bank thas is demonstrably behind use of document false and fraud.
😵
I am asking whether anyone will assist in launching an investigation into my claims, that the Danish authorities and the Bar Council are undermining legal certainty.
As when employees of the Danish Courts Agency, by the Supreme Court Judge Kurt Rasmussen, and partners in Kromann Reumert lawyers by Jens Steen Jensen, as well as Horten lawyers by Birgitte Frolund.
etc. Deputy director Henrik Hyltoft in Dansk Erhverv, and Rikke Skadhauge Seerup Krogsgård, there with the support of Martin Lavesen from DLA Piper lawyers, who all are agree
🧐
The client has no claim, or right to know what their lawyer is doing in the client's own case.
The client does not need to know, what their lawyers present or receive in cort, in the client's own case.
Nor does the client benefit from the fact, that the other part "JYSKE BANK." in the client's case, chooses to employ the same law firm "LUNDGRENS. in another case." as the client has employed, to present Jyske Bank's fraud, and Jyske Banks use of false documents.
😱
Since the judge Kurt Rasmussen, partner Jens Steen Jensen, partner Birgitte Frølund, Rikke Skadhauge Seerup Krogsgård, Henrik Hyltoft
Where several of these have had, or have an ongoing collaboration with Jyske Bank, and therefore they all in association chose to cover up Jyske Bank's crimes, that thay have decided.
A.
It is not a breach of good legal practice, when lawyers such as Lundgren's lawyers have concealed, and withheld both the client's own pleadings and withheld Jyske Bank's pleadings in the client's case.
B.
It was not a violation of good legal practice, that Lundgren's lawyers allowed themselves to be bought / bribed by Jyske Bank A/S to advise Jyske Bank in a deal for 600,000,000 Danish kroner.
😤
So even if Lundgren's ally had been hired by the client, to present Jyske Bank's use of fals and fraud, which Lundgren not presented to thecourt, and hid this from the client, by refusing to hand over to the client a copy of the pleadings, which support that Lundgren's lawyers are corrupt.
✍️
✍️
Read here the mail to the press.
I AM ASKING
BT-1929 1929 • 1929@bt.dk
EB 1224 • 1224@eb.dk
1234@tv2.dk
1212@dr.dk
chefredaktionen@pol.dk
ssl@dr.dk
redaktionen@altinget.dk
Arbejderen Redaktion • redaktion@arbejderen.dk
redaktion@borsen.dk
redaktion@midtjyllandsavis.dk
redaktion@bornholmstidende.dk
SENDT
Cc. To.
postkasse@advokatsamfundet.dk
REU@ft.dk
Statsministeriet • stm@stm.dk
fm@fm.dk
Justitsministeriet • jm@jm.dk
Folketingets Oplysning • folketinget@ft.dk
Kommunikation • kommunikation@nationalbanken.dk
FOR THERE HELP I THIS MAIL
I alone cannot stop the lawyer society, that works by nepotism and cronyism.
And that is the same as corruption.
THAT IS WHY I REQUEST THE PRESS TO HELP BY SHARED THIS VIDEOS.
✍️
✍️
✍️
"corrected."
To the press, you will help shed light on corruption in Denmark
Watch the 3rd Videos and please share them with those mentioned.
✍️
Horten lawyers, Birgitte Frølund.
Kromann Reumert lawyers, Jens Steen Jensen.
Jyske Bank Juridiske, director Martin Skovsted-Nielsen.
CEO Anders Dam.
The court where Kurt Rasmussen ther is acting judge.
Danish Business, Henrik Hyltoft.
Lundgren's lawyers, Dan Terkildsen.
And ask me if this is something you want me to keep writing.
🗣️
Say hello from me, and say I've tried to get in touch and dialogue.
And of course, you are all welcome to ask questions about what I have written and shared.
✍️
✍️
I am fighting for Denmark to be free of corruption, and abuse of power, as well as to be free of cronyism, which is an undermining activity against the alleged legal security of the Danish people.
As long as there are no answers, or no one will take care of the problems I enter in my diary, then it is a growing problem.
🗣️✍️
Who dares to be the first to make an investigation of what I write, because if it is not true then it is slander.
But if there is even a gram of truth in what I write, then Denmark is Fockt up.
And Jyske Bank must be deprived of the right to conduct financial business in Denmark.
Best regards
Carsten Storbjerg Skaarup
Søvej 5.
3100. Hornbaek
banknyt@gmail.com carsten.storbjerg@gmail.com
+4522227713
✍️
✍️
✍️
Learn more about Denmark's probably biggest fraud companys, and JYSKE BANK A/S, which is demonstrably behind organized economic financial crime against customers, supported by the Danish government and Ministry.
Fraud that the Danish State, the Government of Prime Minister Mette Frederiksen is still covering up.
Fraud which also includes those, who are covered up the crime, or who ther are covered up Jyske Bank's use of forged documents, and Jyske Banks bribery of Lundgrens lawyers.
.
Ther are several members of the Danish government, including the Prime Minister Mette Frederiksen, and employees of the Ministry of Justice, the Bar Council, the Prosecuting Authority, the State Attorney, the Ministry of Prime Ministership, who together with employees of Kromann Reumert lawyers, Horten lawyers, the Danish Supreme Court, the consumer complaints board, Dansk Erhverv, DLA Pipper lawyers, Lund Elmer Sandager lawyers, Lundgren lawyers, who by passivity have covered Denmark's probably largest criminal enterprise.
I refer to Jyske Bank's fraud as a problem for the Danish State, since several employees such as Jens Steen Jensen, Birgitte Froelund, Kurt Rasmussen, Soeren Ejdum, Rikke Skadhauge Seerup Krogsgård, Henrik Hyltoft, Martin Lavesen, Dan Terkildsen, Mette Marie Nielsen "Danske Bank", Emil Hald Vendelbo Winstrøm "Rambøll", Sebastian Lysholm, Thomas Schioldan Sørensen from Rödstenen lawyers, Morten Ulrik Gade, Anders Christian Dam, and many more, ther are directly involved, aktiv or passively.
What they all have in common, is that they cover up Jyske Bank's crimes, as the state and the authorities, have large financial interests in this particular criminal Danish bank.
.
It is about corruption in Denmark, and that Denmark's second largest bank, Jyske Bank A/S, is behind  Document forgery,  and fraud, which Nicolai Hansen and Jeanett Kofoed-Hansen together in union, started for Jyske Bank A/S.
Read more at Banknyt dk. banking news.
.
If you have questions about anything
Bankingnews.press@gmail.com
+4522227713
Carsten Storbjerg Skaarup
Soevej 5.
3100. Hornbaek
Denmark
#JyskeBank, #dkpol, #bank, #atp, #stm, #jm, #fm, #dknews, #banking, #crime, #criminal, #invest, #shares, #economics, #money, #banks, #investment, #dkpol, #dkmedier, #aktie, #AndersDam, #JyskeBank, #Car, #HMC, #Realmægler, #Horten, #KromannReumert, #Lundgrens, #DLAPiper, #Penge, #Investments, #DI, #DA, #Criminals, #Maersk, #MetteFrederiksen, #Realmægler, #Government, #Corruption, #Fraud, #Criminal, #Rödstenen, #DanskeBank, #Folketinget, #Regeringen, #Statsminister, #Parliament, #JensSteenJensen, #BirgitteFrølund, #KurtRasmussen, Rikke, Skadhauge, Seerup, Krogsgård, Rikke Skadhauge Seerup Krogsgård,